The Scream 2 Role That Jessica Simpson Once Auditioned For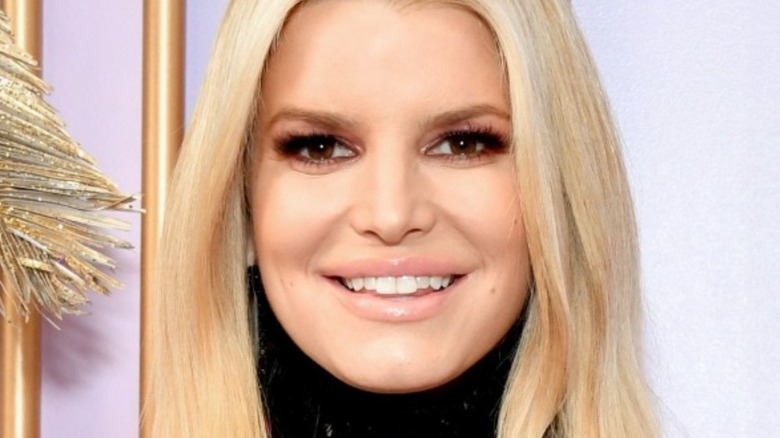 Amy Sussman/Getty Images
Early next year, "Scream 6" will be hitting theaters and bringing Wes Craven's iconic Ghostface character back in front of audiences to scare us all once again. But like any good horror franchise, in order to move forward, we must also take a look back — specifically at "Scream 2," and the surprisingly unknown story of how Jessica Simpson, the famous singer and reality star, reportedly auditioned for a role in the movie.
Horror films, in general, have served as huge launching pads for Hollywood stars in the past, with major names like Jennifer Aniston, Jared Leto, Matthew McConaughey, George Clooney, Johnny Depp, and Leonardo DiCaprio, all getting their starts in the genre (via MovieWeb). Musicians have also had some success on the big screen, like late singer Aaliyah in "Queen of the Damned" and Busta Rhymes in "Halloween: Resurrection," whose performance basically stole the show.
As for Simpson's foray into the acting world, the legendary singer first got her start on "That '70s Show" before eventually jumping to the cinema side of things with the 2005 film adaptation of "The Dukes of Hazzard." Some of her other credits include "The Love Guru" with Mike Myers and "Entourage." But before all of it, Simpson apparently tried to land a role in what was arguably the biggest horror franchise in the 1990s — "Scream" — and its much-anticipated sequel.
Simpson auditioned to be Sidney's college roommate
According to screenwriter Kevin Williamson, an unknown Jessica Simpson had auditioned to be Sidney Prescott's (Neve Campbell) college roommate in "Scream 2," but was unable to land the role. Her music career hadn't even started yet, per Williamson, who spoke to The Hollywood Reporter about the audition. "I don't remember [Timothy Olyphant's] audition, but I remember Jessica Simpson," Williamson said, laughing. "If I remember correctly, I think she auditioned for [Sidney's] roommate," he added. 
Simpson would go on to become a music and reality TV show icon, while the "Scream" franchise would flourish into a full-fledged horror heavyweight — with multiple sequels and an adapted MTV series. For the sixth installment, Paramount Pictures will be bringing Ghostface to New York City for a "Scream" movie unlike anything we've ever seen before, according to main star Melissa Barrera (via Collider). 
"It's like 20 times more mortifying," Barrera told Collider in September. "It's awful. Because you also see how, in a city like New York City, everyone is kind of doing their own thing and someone is screaming for help, and no one will come to their help ... you know, like, everyone's kind of like, 'I'm not getting into that.'" According to Barrera, "Scream 6" will be the bloodiest one yet. 
"With the last Scream, [directors Matt Bettinelli-Olpin and Tyler Gillett] were tip-toeing and trying to be very respectful of what the franchise had been, up until that point, and keeping their inner gory dreams at bay," said Barrera. Her co-star Jenna Ortega told Entertainment Tonight in June 2022: "It just gets more and more gory. I think that this is probably the most aggressive and violent version of Ghostface we've ever seen."