Scream 6 Will Be The Bloodiest One Yet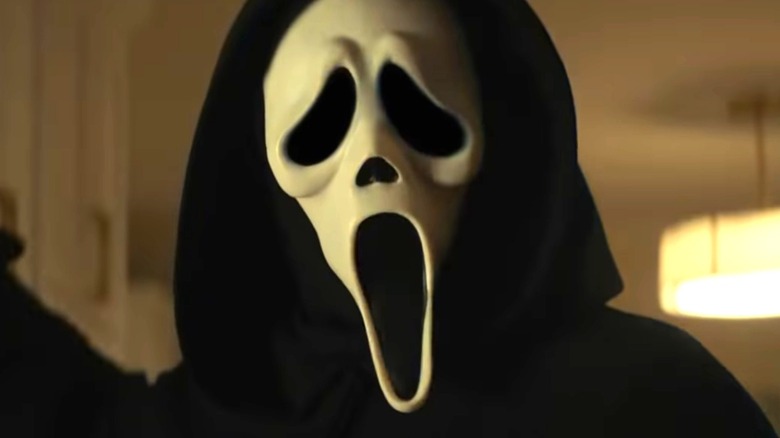 Paramount Pictures
In just a few months, "Scream 6" will be bringing Wes Craven's classic Ghostface character to life yet again — only this time, things will be different. And by different, those involved mean it'll be "a hundred times gorier," per the movie's main star, Melissa Barrera. "With this one, they were like, 'We're going all out,'" Barrera tells Collider in an interview. 
For the sixth installment, Paramount Pictures has decided to take Ghostface out of California for the second time in franchise history and bring the story to New York City. "It's like 20 times more mortifying," Barrera told Collider in September. "It's awful. Because you also see how, in a city like New York City, everyone is kind of doing their own thing and someone is screaming for help, and no one will come to their help... you know, like, everyone's kind of like, 'I'm not getting into that.'"
When we find Barrera's character, Sam Carpenter, in "Scream 6," she will still be recovering from the events of 2022's "Scream" reboot. But this time around, it doesn't appear that any of the old stars will be returning. Instead, the film will focus on Sam and the three other survivors from "Scream" — Tara Carpenter (Jenna Ortega), Mindy Meeks-Martin (Jasmin Savoy Brown), and Chad Meeks-Martin (Mason Gooding), who will all be living in New York. As for how much gore and craziness the crew will endure, Barrera says it'll be unlike anything "Scream" characters have ever been through.
Scream 6 directors no longer feel restrained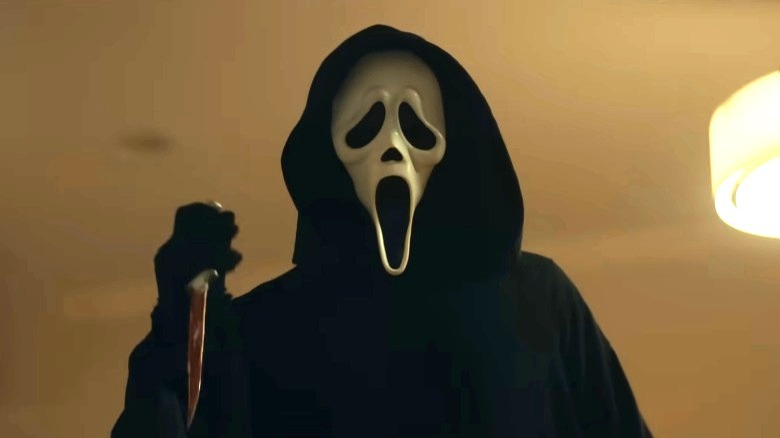 Paramount Pictures
When "Scream 6" directors Matt Bettinelli-Olpin and Tyler Gillett made the 2022 reboot, the filmmakers kept things relatively tame. Sure, there were some brutal kill scenes featuring Ghostface, but as Melissa Barrera puts it, Bettinelli-Olpin and Gillett weren't letting their "inner gory dreams" come to life on the big screen. Now, with "Scream 6," they're letting their gore flag fly.
"With the last Scream, they were tip-toeing and trying to be very respectful of what the franchise had been, up until that point, and keeping their inner gory dreams at bay," Barrera told Collider, noting how it was the complete opposite when making "Scream 6" over the past year. "There was a saying on set because Matt and Tyler were always asking for more blood and more sweat," she said. "They always just wanted more. 'More blood spritz' was the saying because they would just always want more."
Co-star Jenna Ortega echoed Barrera's gore claims in June when discussing the "Scream 6" script with Entertainment Tonight, saying: "It just gets more and more gory. I think that this is probably the most aggressive and violent version of Ghostface we've ever seen,"
When Wes Craven, who died in 2015, was still helming the "Scream" movies, the franchise was focused on being more self-aware and savvy than the average slasher flick. While there was undoubtedly loads of horrific violence, compared to other films from the time, they were mild at best. However, with "Scream 6," it appears that Bettinelli-Olpin and Gillett plan to change pace.