Tyra Banks' Long-Lost Role On The Price Is Right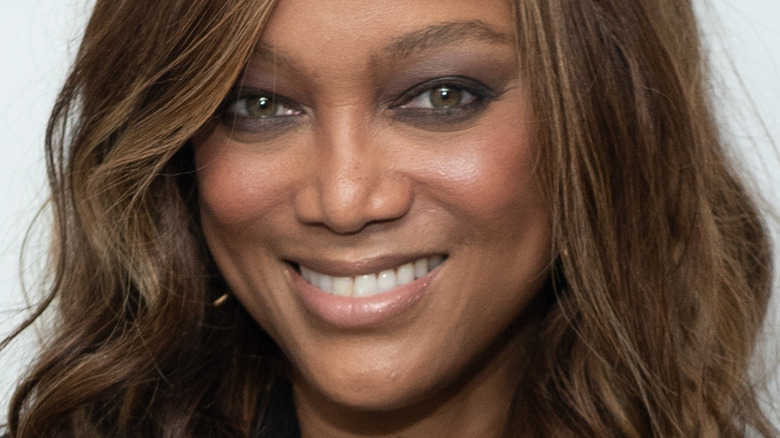 Noam Galai/Getty Images
While host Drew Carey may credit the contestants for the long-running success of the iconic game show, it seems foolish not to give some credit to the breathtaking models and the array of celebrity guest appearances that have occurred over the years. Many famous individuals have come on down to the program, including Tyra Banks, who many may have probably forgotten about her role on "The Price is Right."
Thousands of episodes have been released since the game show first premiered on September 4, 1972 (via IMDb), and ever since that momentous occasion, home audiences have continued to watch all sorts of people randomly chosen to compete against one another by guessing how much things cost. The exciting affair is full of triumphant highs and devastating lows and even has a big wheel that contestants get to spin. Also on the roster are a slew of attractive models showing off all the items on display, like Janice Pennington, who appeared in over 5,500 entries from 1972 to 2000. The so-called "Barker's Beauties" have also appeared in movies like "Iron Man," and other TV shows such as "Grey's Anatomy." And then there was one point where a certain model-turned-TV-personality powerhouse made an appearance.
Tyra Banks went from Victoria's Secret Angel to the big screen in movies like "Coyote Ugly and "Halloween: Resurrection" (via IMDb). She would then find multiple victories on the small screen with "America's Next Top Model," "The Tyra Banks Show," "Dancing with the Stars," and the almost forgotten guest spot on "The Price is Right."
Tyra Banks was one of Barker's Beauties on The Price is Right
According to IMDb, in February 2006, Tyra Banks played a guest model on "The Price is Right." The well-renowned model played one of the Barker's Beauties showing off a Pontiac G6 and forgetting to close the door afterward. But despite that mishap, she still seemed to have a blast the entire time and also got to get a message to viewers about the importance of spaying and nurturing pets before having to leave and tape her own show, which also tapes in the historic Television City in Hollywood (via YouTube).
At the time of filming the episode, she also interviewed Barker for "The Tyra Banks Show." During the back-and-forth, Banks mentioned to "The Price is Right" host that she was born just a year after the show started, and she began watching him tell people to come on down with her great-grandma as a little girl. During those memorable times, she couldn't help but notice the show's stunning models. "As a little girl, I would look at the Barker Beauties, and I thought they were so perfect and so beautiful," Banks enthusiastically exclaimed to Barker (via YouTube). 
Who knew that so many years later, Banks herself would become one of those astounding Barker's Beauties showcasing all the glamorous prizes lucky members of the studio audience have a chance to win on the famous game show?
When it comes to television accomplishments and achievements in modeling, Banks has several to brag about on both accounts, and one honor she most certainly can include on her wall of fame is, without a doubt, serving as one of Barker's Beauties on "The Price is Right."