Willow's Ellie Bamber And Tony Revolori Note The Pressure Of Playing New Characters On The Series - Exclusive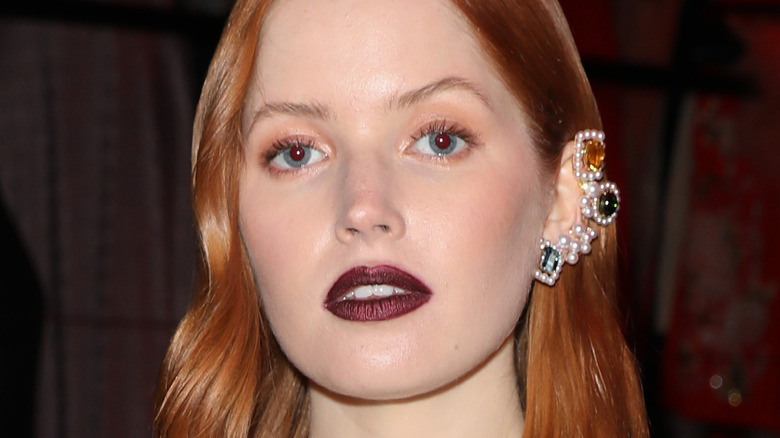 Lia Toby/bfc/Getty Images
While "Willow" stars Tony Revolori and Ellie Bamber have been in the hot seat before playing established characters like "Spider-Man" frenemy Flash Thompson and "Les Misérables" protagonist Cosette, respectively, stepping into the world of "Willow" provided each of the actors with interesting challenges. Yes, like "Spider-Man" and "Les Misérables," the world of "Willow" had been well-established before the new series — but since the story is set 20 years after the 1988 movie classic, several new characters are joining the continuing adventure.
New on Disney+, "Willow" finds the daughter of the evil Queen Bavmorda (Jean Marsh), Sorsha (Joanne Whalley), as the new Queen of the Kingdom of Tir Asleen. Sorsha has twin children with the mysteriously absent Madmartigan (Val Kilmer) — Prince Airk (Dempsey Bryk) and Princess Kit (Ruby Cruz) — but when Airk is kidnapped, Ruby and a fellowship go out to rescue him. Among the fellowship members is Graydon (Revolori), a prince from another kingdom who is meant to marry Ruby as part of an arrangement between his parents and Sorsha. Because she had been carrying on a secret romance with Airk, a kitchen maid, Dove (Bamber), insists on joining the fellowship as well.
Before they begin their mission in earnest, though, the fellowship must enlist the help of the sorcerer Willow Ufgood (Warwick Davis), the only person aside from Sorsha who knows the hidden whereabouts of Elora Danan — the special infant in the original film who was destined to dethrone Bavmorda.
Developed and written by Jon Kasdan, "Willow" features Willow and Sorsha, naturally, but also invites a bevy of new characters to join the story, including Airk, Kit, Graydon, Dove, and other fellowship members Boorman (Amar Chadha-Patel) and Jade (Erin Kellyman). Like Revolori and Bamber, all of the actors were faced with meeting the massive expectations of fans.
A whole new world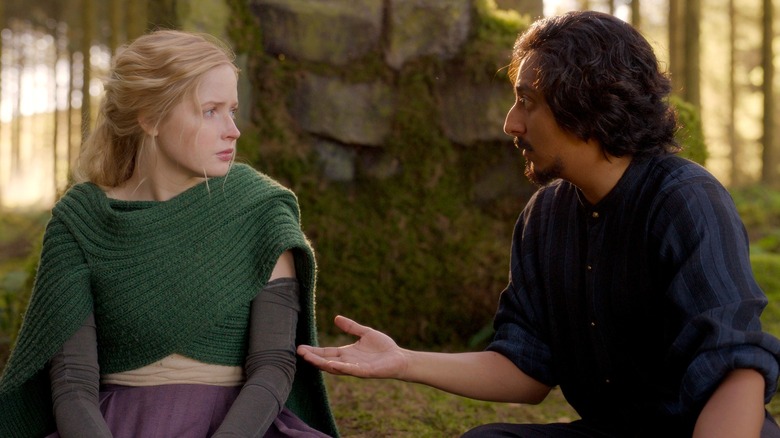 Lucasfilm/Disney+
Discussing their roles as the new kids on Willow's block, Tony Revolori and Ellie Bamber sat down for an exclusive interview with Looper to discuss the excitement and trepidation of stepping into an established franchise as new characters.
Before she worried about introducing Dove to "Willow" watchers, Bamber said she first had to catch her breath walking onto the series' majestic sets. "The sets were huge, and there was such attention to detail. The crew that we were working with were truly at the top of their game. It was mind-blowing, but it was exciting," Bamber enthused. "[It was] also daunting at the same time because it was phenomenal, all the work that had gone into creating the world that we were about to step into."
Revolori said while he was thrilled to meet his fellow cast members, he tried to keep emotions at an even keel knowing the set of expectations they were all facing. "I thought they were phenomenal. They're all incredible actors, and I was a big fan [of their work], so I was excited to work with them and all the OGs who came through," Revolori said. "Beyond that, I was just hoping I'd do a good job."
The actor said since he had already experienced a similar scenario when joining the MCU's "Spider-Man" films — first with "Spider-Man: Homecoming" in 2017 — he was able to ease into "Willow" a bit more. "There's always going to be pressure and expectations, and through my previous work, I've learned to let that go a little bit," Revolori recalled. "When I came on set, I saw how amazing [it was], and we had our crew and our creative team behind us — producers like Max Taylor, Michelle Rejwan, Jon Kasdan, and Tommy Harper — all these amazing people, and I put my trust in them. The nerves weren't as much there. Beyond that, I wanted to show up every day and do the best I could, and I hope fans will love it."
"Willow" is streaming exclusively on Disney+, with new episodes premiering on Wednesdays through January 11.