In Kirstie Alley's Career, One Role Stands Above The Rest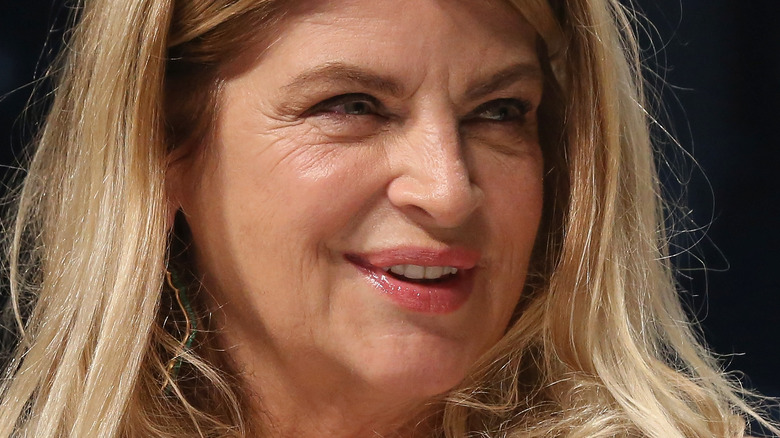 Gabe Ginsberg/Getty Images
Some actors can take you all the way back to your childhood the moment they appear on the screen. Stars from the '80s and '90s create the best nostalgic feelings for every moment they spend in front of us. Not only do they do it on screen, but sometimes they do it when they appear in the news; sadly, that can be when they unexpectedly pass. Recent deaths like those of Jason David Frank, Leslie Jordan, Angela Lansbury, and Robbie Coltrane took fans back to their days as kids or teenagers when they watched "Mighty Morphin Power Rangers," "Harry Potter," "Murder She Wrote," and "Will & Grace."
Unfortunately, the world got the news that another beloved childhood presence passed on Monday when Kirstie Alley passed away from cancer, as announced on her Twitter. She enjoyed a long career with early projects as Saavik in "Star Trek II: The Wrath of Khan," and a number of films with John Travolta (who expressed his own disheartened response on Instagram), "Look Who's Talking," "Look Who's Talking Now," and "For Richer or Poorer." After a 67-episode run on the series "Veronica's Closet," the actress had a relatively quiet '00s with single appearances and in seven episodes of "Fat Actress." She picked up more work later in her career as she landed her own series, "Kirstie," where she was the lead for seven episodes. According to her IMDb, her latest appearances were 10 episodes in "Scream Queens" and one upcoming project.
Like any legendary actor, there are some projects that stand above the rest, and for Alley, there is one role that rises above the others in her filmography.
She found a home in Cheers
1987 saw Kirstie Alley land the most iconic role of her career when she was cast as Rebecca Howe in the long-running TV series "Cheers." She appeared in 148 episodes from the 6th season until the series finale. She even appeared in one episode of "Wings," which takes place in the same universe. She is the only main character of the series not to be featured in the immensely popular spin-off, "Frasier," where Kelsey Grammer reprised his role.
Alley's time as Rebecca started with her playing an uneasy antagonist-turned-ally after Sam (Ted Danson) sold the bar to sail around the world, and she stepped in as the manager for the new owners. She had multiple love interests during the series, but her primary on-again-off-again relationship was with Sam, even going so far as trying to have a baby with him before the end of the series. She also dated Robin Colcord (Roger Rees), who appeared in 17 episodes before it was revealed he was using her to gain financial information about the bar owners until he could launder money from them. He eventually went to jail, and Rebecca left him at the altar upon discovering he had lost his fortune. She is often seen as chasing his money, along with the rest of the cast, who tore up the bar when the character returned to drop the bomb that he had left money belts stashed around it.
The end of Alley's story arc saw her married to a plumber who, after making millions in the industry, left her. In "Frasier," Sam revealed she had returned to the bar, but as a regular, not as an employee. She was able to take her role and spur a career, but she never again reached the legendary level of Rebecca.