Despite Saying Goodbye To The Show, James Marsden Won't Bid Farewell To His Dead To Me Family - Exclusive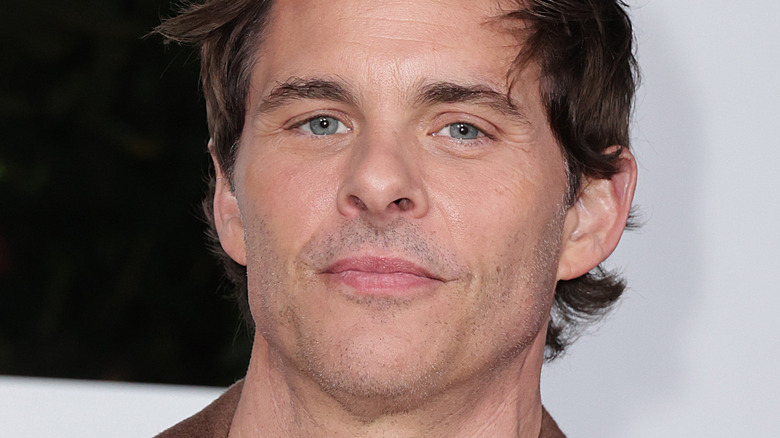 Momodu Mansaray/Getty Images
Since 2019, James Marsden has enjoyed not one but two roles on the hit Netflix series "Dead to Me," where he played identical yet polar opposite twin brothers Steve and Ben Wood. The interesting thing is, Marsden initially thought his turn as Steve Wood in Season 1 was a "one and done" role, but creator Liz Feldman had much more in store the for the actor.
An abusive jerk fiancé to Judy Hale (Linda Cardellini), Steve was involved in the fatal hit-and-run accident that killed the husband of Jen Harding (Christina Applegate). Trying to process what happened in the accident, Judy passed herself as a widower to attend a grief support group, whereby mere happenstance, she encountered Jen. But as Judy reveals her dark secret to her new bestie and Steve catches wind of it, he inserts himself in the middle of the situation. But once Steve taunts Jen about the hit-and-run, Jen accidentally murders him in haste, opening up a whole new can of worms between the two women.
Luckily for Marsden, Ben was written to be the polar opposite of Steve and made his debut as the "good twin" in the second season of the dark comedy. And while the introduction of Ben created a whole new myriad of obstacles in the lives of Jen and Judy, off-camera it gave Marsden the opportunity to build on his close friendships with Applegate and Cardellini.
Naturally, the friendships only became stronger as Marsden was invited back to play Ben — and Steve, opposite each other in flashbacks and fantasy encounters — in Season 3. Sadly, since everyone knew that "Dead to Me" coming to an end with the 3rd season, it also meant that Marsden would have to say goodbye to his beloved co-stars.
Marsden says Applegate and Cardellini are family as much as they are friends
Presley Ann/Getty Images
The third and final season of "Dead to Me" marked the second series run to come to an end for James Marsden in 2022. Less than two weeks before the debut of Season 3 on Netflix, the actor got word that the plug was unceremoniously pulled on "Westworld" — where he played one of the robot hosts of the decadent Western theme park opposite Evan Rachel Wood — after four seasons.
The ending of both "Dead to Me" and "Westworld" was essentially a double whammy for Marsden, since he was not only bidding farewell to friends — but people he considered family.
"You create these little mini-families, especially on TV series, which are multi-year affairs. If you're lucky enough to work with someone like Christina and Linda Cardellini, [who] are the most warm, wonderful, talented, funny-as-hell, compassionate human beings, then you do grow attached to those friendships," Marsden reflected in an exclusive interview with Looper.
"There is a goodbye here because we're saying goodbye to these characters, but I'm not saying goodbye to these friendships ... In this industry, where you're always jumping from city to city [and] different crews to different casts, where you feel a little without a home or without a family or away from your family, they become your family. It's been a really special thing."
Marsden said he essentially feels the same way about his colleagues on "Westworld," who he called "a group of people that are very close to my heart," adding, "I hope they're in my life for a long time, and same with 'Dead to Me.' They are some of the most remarkable human beings on top of being these super, super-talented people," Marsden said, humbly. "So, I feel gratitude. I feel utter gratitude for having the opportunity to be included in these groups. Those friendships will continue and we'll continue to be there for one another, and I'm grateful for that."
All three seasons of "Dead to Me" are streaming exclusively on Netflix.