James Marsden Lifts The Lid On Dead To Me Season 3 - Exclusive Interview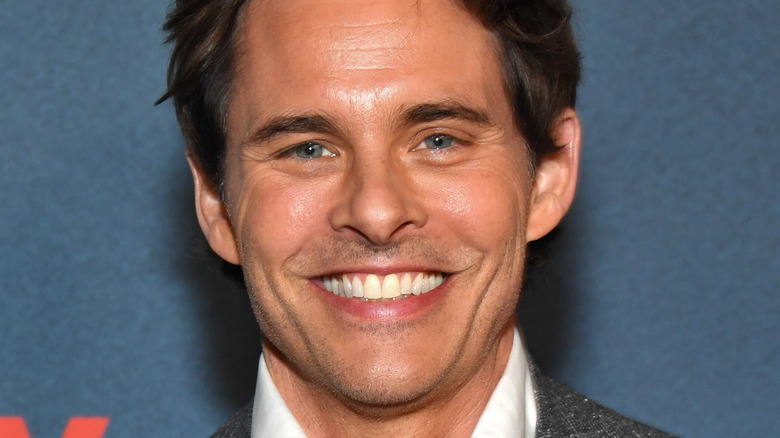 Jon Kopaloff/Getty Images
For a guy who stars in a series called "Dead to Me," James Marsden's acting career, ironically, couldn't be any more full of life as he returns for the show's 3rd and final season. Throughout his career, Marsden has brought a vibrant presence to every character he's played on film and TV. Amassing nearly 80 acting credits since 1993, the beloved actor has done it all, including starring in such horror thrillers as "Disturbing Behavior" and the miniseries "The Stand," romance films including the comedy "27 Dresses" and the drama "The Notebook," and musicals including "Hairspray," "Enchanted," and its new sequel, "Disenchanted."
Additionally, James Marsden has played in the action-comedy space with the "Sonic" movies, as well as Westerns — in a unique, sci-fi sort of way — in the series "Westworld." Marsden also has triumphed in the superhero genre, where he originated the big-screen version of the popular Marvel Comics mutant Scott Summers, aka Cyclops, in the original "X-Men" trilogy.
In 2019, though, Marsden's career took a decidedly devious turn with "Dead to Me," a pitch-black comedy series produced by Netflix. Christina Applegate and Linda Cardellini star as Jen Harding and Judy Hale, respectively, who meet at a grief support group following the tragic loss of Jen's husband. As the women grow closer and learn more about each other's lives, Judy realizes that she and her fiancé, Steve Wood (Marsden), caused Jen's husband's hit-and-run death. Complicating matters, Jen accidentally kills Steve during a volatile encounter.
While Marsden's turn on "Dead to Me" appeared to be over after Season 1, creator Liz Feldman added a huge twist in Season 2 by introducing Ben Wood (Marsden), whose nice-guy demeanor is the polar opposite of that of his abusive identical twin brother, Steve. Before too long, Ben gets mixed up in Jen and Judy's quandaries, and Season 3 begins with the aftermath of a hit-and-run crash involving all three that steers them down another path chock-full of wicked twists and turns.
In an exclusive interview with Looper, Marsden discussed "Dead to Me" Season 3 and other aspects of his illustrious career.
Traveling a road with unexpected curves
Presley Ann/Getty Images
When Liz Feldman pitched "Dead to Me" to you, pitched you to play Steve, was it for only Season 1 or did she lay out a roadmap for all three seasons?
If there was a roadmap back in the corners of Liz Feldman's mind, I didn't know about it [in] the 1st season. The 1st season was a one-and-done for me. Then it became this lovefest where we all enjoyed the chemistry that happened on set with the characters, and it was like, "I don't want this to end."
I remember sending Liz a long email [that said], "Is Steve really dead, or is there flashbacks? I don't want to leave this party." Then she came back to me with this idea about the twin, and I was like, "Ha, you're kidding, right?" and she's like, "I think we could do it." So we dove into that whole idea. As with every series, you['ve] got to roll with where they take you, and if you're lucky, you're in brilliant hands like Liz Feldman['s] and in brilliant company like Christina [Applegate's] and Linda [Cardellini's], and that lovefest continues.
Playing twins on Dead to Me was a first for Marsden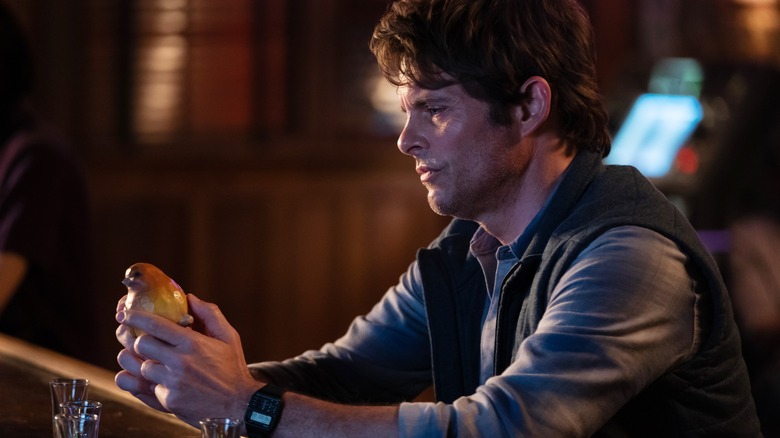 Saeed Adyani/Netflix
In Season 3, what's great is we get to see Ben and Steve sometimes facing off against each other, and you can definitely sense the difference between the two. I would imagine you love that sort of complexity all in one project, where you get to play these two different characters that are twins but are pitted against each other.
I do. I really enjoyed the challenge of that. I've never done that before and I've always been [fascinated] watching films where an actor plays twin brothers. I was always like, "How do you make distinctions that are really specific distinctions between the two?" Liz was a great guide through all of that. She's like, "In that line when you're playing Ben, you do this thing with your eyes, but that's kind of Steve. So just be aware of that." She was guiding you down this path.
I try to treat them as two completely separate individuals, two separate projects: Here's one movie where I play this character, and here's another movie where I play the other. It's a fun, creative challenge to do that, and it's not about me at all. You want this character to serve the story and the bigger picture of the whole thing, and hopefully, he does.
A great week for reunions
Alberto E. Rodriguez/Getty Images
This is an eventful week for you. On Thursday, you have "Dead to Me" Season 3, and [on] Friday, "Disenchanted." What was your first reaction when you learned that, A, the ["Enchanted"] sequel was a go after 15 years, [and] B, it reunites you with Adam Shankman, who directed you in another great film with "Hairspray"?
Talk about [a] lovefest. It was great. "Hairspray" and "Enchanted" both filmed the same year as well. It was 2006, and they both came out [in] 2007. I worked with Adam on "Hairspray" and then went to do "Enchanted," or [rather] vice versa. And now, I'm back in the "Enchanted" world working with Adam ... The familiarity was a great thing in a good, comfortable, safe space there. When they said they're doing the sequel, I didn't know if I believed it because they'd talked about it for several years, and I got my hopes up that we were going to be back in those costumes. I loved playing that character [Prince Edward]. It was so much fun.
Then when they said, "We're actually doing this," I was like, "There's like three other things that are also coming back online at the same time project-wise for me." So [I had] to juggle things ... and "Dead to Me" was one of them. It was tricky, but we got to do it all. I was excited. I was excited to put the suit back on and play that character and sing at the top of my lungs and get to do a little duet with Idina Menzel this time around. It's great. It's fun to be able to have the opportunities to play such different characters along the way.
Marsden welcomes an opportunity for his version of Cyclops to join the MCU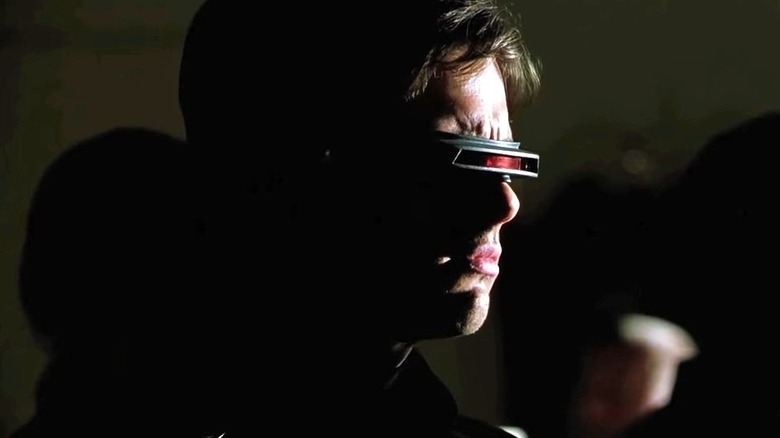 Disney/20th Century/YouTube
As an "X-Men" fan, I would love to see you play Scott Summers again. Since the Marvel Cinematic Universe is wide open to this whole multiverse thing, you have to say "yes" if they offer you Scott Summers-slash-Cyclops again, don't you?
Sure. I keep hearing about this, the MCU anything-can-happen thing, and it's really exciting to think about. That was a really special time in my career. It was the big movie that made me. I felt like it put me out there to the world on an international level [as] a beloved character that the comic book fans were near and dear to, so another character you want to get right. And that became a very close family to me as well, with Hugh [Jackman] and Halle [Berry] and everybody. If they open that back up, then yeah, sure, why not? Of course!
While Marsden's acting gigs end, his friendships endure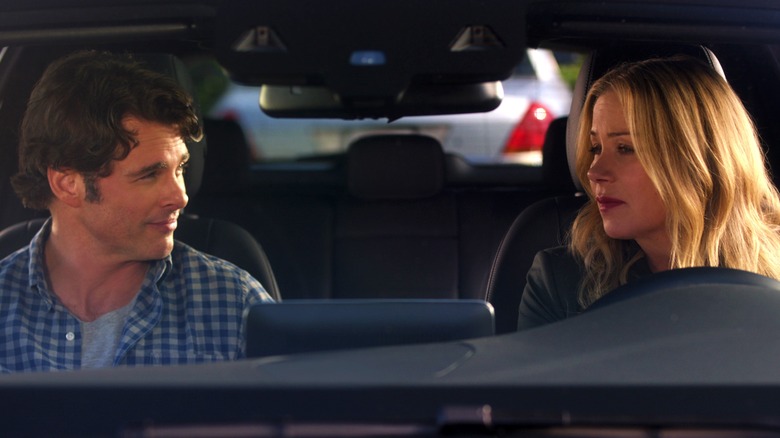 Saeed Adyani/Netflix
With ["Dead to Me" and "Westworld"] in the rearview mirror for you now, are you experiencing any mourning period? With the end of "Dead to Me" being so fresh, I'm sure you're sad about the end of your work with Christina Applegate and Linda Cardellini, because you had something special going on with those two.
Yeah. You create these little mini-families, especially on TV series, which are multi-year affairs. If you're lucky enough to work with someone like Christina and Linda Cardellini, [who] are the most warm, wonderful, talented, funny-as-hell, compassionate human beings, then you do grow attached to those friendships. There is a goodbye here because we're saying goodbye to these characters, but I'm not saying goodbye to these friendships ... In this industry, where you're always jumping from city to city [and] different crews to different casts, where you feel a little without a home or without a family or away from your family, they become your family. It's been a really special thing.
[With] "Westworld," that was a group of people that are very close to my heart, and I hope they're in my life for a long time, and same with "Dead to Me." They are some of the most remarkable human beings on top of being these super, super-talented people. So I feel gratitude. I feel utter gratitude for having the opportunity to be included in these groups. Those friendships will continue, and we'll continue to be there for one another, and I'm grateful for that.
The 3rd and final season of "Dead to Me" is now on Netflix.
This interview has been edited for clarity.