That '70s Show's Topher Grace Will Never Stop Apologizing To Kurtwood Smith And Debra Jo Rupp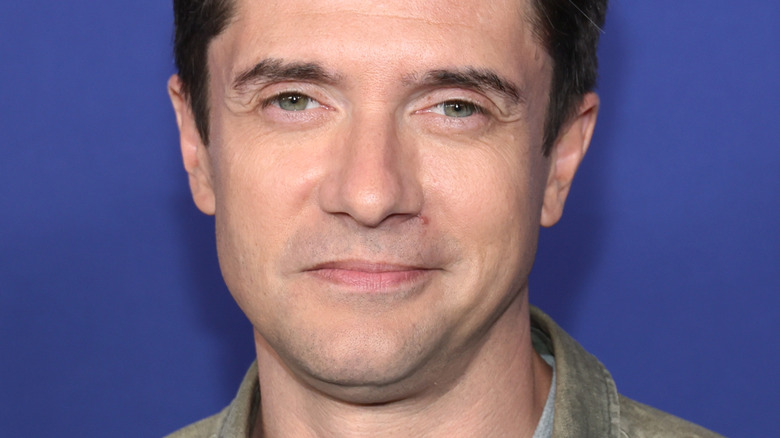 Dia Dipasupil/Getty Images
Despite its hyper-specific setting in time, "That '70s Show" remains arguably one of the most timeless sitcoms in recent decades. Set in Point Place, Wisconsin, the series followed the high school highs and lows of Eric Forman (Topher Grace) and his group of friends. In addition to the show's youths, it also explored the life of a parent in the greatest generation during that tumultuous decade through the eyes of the tough-as-nails dad Red Forman (Kurtwood Smith) and caring mom Kitty Forman (Debra Jo Rupp).
Over the course of the show's run on Fox, the core cast developed a strong rapport with one another, which translated to great onscreen chemistry. Despite those well-developed connections to each other, it seems that series star Grace continues to apologize to Smith and Rupp every time he sees them. In fact, the actor recently addressed this publicly and explained why he will never stop saying sorry to his onscreen parents.
Topher Grace apologized because he was so inexperienced when the show premiered
In a recent interview with Deadline, Topher Grace opened up about his career and noted his experience working on "That '70s Show." When asked about his "most tortured co-stars," the actor pointed out that the candidates for that title likely would be Kurtwood Smith and Debra Jo Rupp because of his inexperience when he was cast as Eric Forman. Grace explained, "I'll always be sorry to Kurtwood Smith and Debra Jo Rupp, who played the parents on That '70s Show. That was literally my first audition, Wilmer [Valderrama] barely spoke English, Laura [Prepon] and Ashton [Kutcher] had never acted, they were models. Now that I have a bunch of years on me, I can see how brave it was for them to choose these kids who had zero experience. It was brave, and kind of smart because we had the time to really learn. And when we learned, we were fresh and ready to learn."
Because the actors playing the show's teens were so young, the main seasoned actors were Smith and Rupp, and Grace now apologizes to them every time he sees them because he acknowledges how inexperienced he was when he worked on the beloved series. "The only people who got caught in the middle of that were these wonderful professionals playing our parents," Grace continued. "Every time I see them now I apologize, not for anything in particular, just because I was so green."
Topher Grace is set to reunite with his former on-screen parents in That '90s Show on Netflix
Topher Grace may not have been incredibly experienced as an actor when he first teamed up with Kurtwood Smith and Debra Jo Rupp for "That '70s Show," but it's clear that his former co-stars are still willing to work with him. In fact, almost all of "That '70s Show's" original cast is set to reunite on Netflix for the upcoming release of "That '90s Show," which (as one could likely guess) will catch up with the characters two decades after fans last saw them. With the exception of Hyde actor Danny Masterson, who has recently been embroiled in legal issues, all of the core cast members from the original series are expected to return in supporting roles.
"That '90s Show" will focus on Leia Forman, the daughter of Eric and Donna (Laura Prepon), as she spends the summer with Red and Kitty in Point Place, Wisconsin. Per Deadline, Leia will be portrayed by Callie Haverda, and she will lead a new crew of young Point Place kids through the trials and tribulations of teenage life in the 1990s. The spin-off will run for 10 episodes on Netflix, with no official release date announced yet.