The Untold Truth Of That '70s Show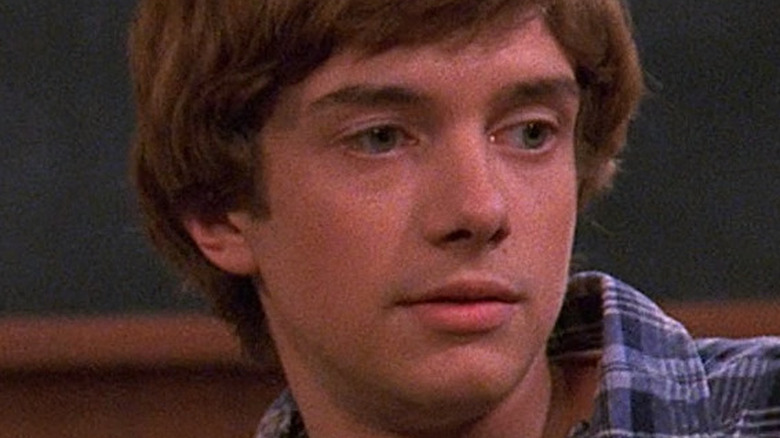 Fox
When it first aired in the summer of 1998, "That '70s Show" quickly became one of the most successful and popular sitcoms of its day, nabbing a total of 16 Primetime Emmy Award nominations during its eight-seasons on the air from 1998 to 2007.
Today, "That '70s Show" remains a popular series among younger audiences, with many viewers enjoying the '70s aesthetic and its cast of relatable characters. As fans await "That '90s Show," the highly anticipated Netflix continuation of the Point Place saga, there still seems like there's plenty of behind-the-scenes information to know about the famous Fox series. This includes certain tidbits explaining how certain actors got their part on the show. We can also talk about a few less than successful attempts at spinoff series that ultimately went nowhere.
Mila Kunis was only 14 when she was cast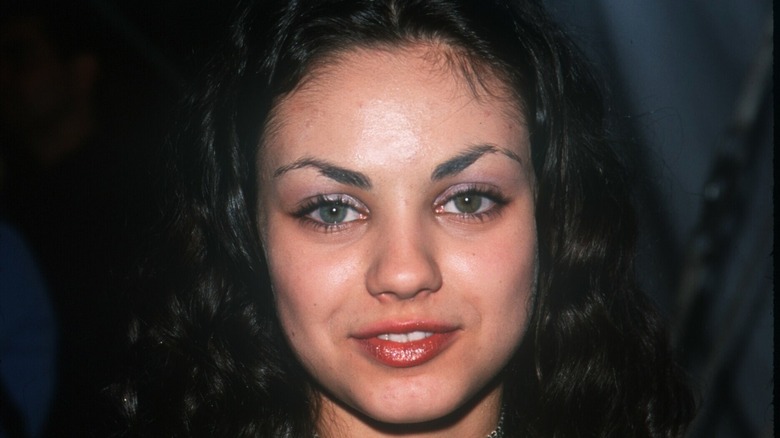 Evan Agostini/Getty Images
One of the most famous and well-known bits of trivia related to "That '70s Show" is the fact that Mila Kunis lied about her age in order to land her role on the series. According to the cast policy of the show, all actors had to be 18 when they auditioned for their parts. When Kunis heard about this policy, the aspiring young actor chose not to reveal her true age when she tried out for Jackie in order to ensure she had a chance of securing the part.
In a 2012 interview on "The Tonight Show," Kunis revealed that she was just 14 when she auditioned for "That '70s Show." However, as she said to host Jay Leno, Kunis sort of lied to the producers about her age, saying, "I told them I was a little bit older ... I told them I was gonna be 18, which is not technically a lie, 'cause at one point ... I was gonna be 18."
Even after finding out Kunis was underage, the producers still decided to keep her on the show, feeling she was a perfect fit for Jackie, and their intuitions were pretty spot on. The role jumpstarted Kunis' career and served as an important milestone in her personal life. While on the show, fellow cast member Wilmer Valderrama taught her how to drive, Danny Masterson was Kunis' prom date, and Ashton Kutcher was her first kiss (via PopSugar). In an ironic twist, Kunis and Kutcher got married some years after "That '70s Show" came to a conclusion. In an interview with Howard Stern, Kutcher revealed their first onscreen kiss was not very romantic or enjoyable, as Kutcher understandably felt uncomfortable about Kunis' age at the time.
Topher Grace was hired after the showrunners saw him in a high school play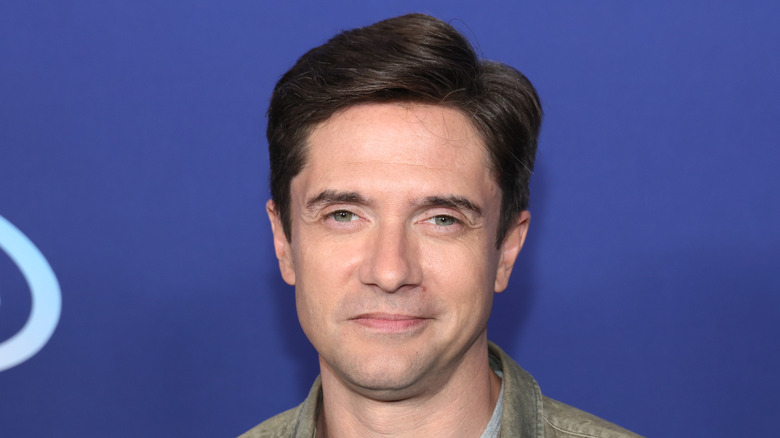 Dia Dipasupil/Getty Images
Many of the younger actors working on "That '70s Show" got their start from the series. Due to their young age, many of them had never had prominent roles in television or film before. Topher Grace was one such actor, having had absolutely zero professional acting experience before joining "That '70s Show." Believe it or not, Grace landed the lead role on a primetime network TV series pretty much by way of a total fluke.
On an episode of PeopleTV's "Couch Surfing," Grace revealed that he was approached to audition for the role of Eric after appearing in a high school production of "A Funny Thing Happened on the Way to the Forum." As Grace remembers it, "I was in a high school play, and I was really only in that because I sprained my ankle, and I couldn't be on the tennis team." The play's set designer was the daughter of Bonnie and Terry Turner, two of the main producers of "That '70s Show."
After seeing Grace's performance in the play, the couple approached him shortly after he enrolled at USC and moved to Los Angeles and asked him to audition for Eric. Grace agreed, and eventually won the part — all thanks to his role in a high school play which, as Grace points out, was only his fifth time acting in anything.
The role of Red was planned for Chuck Norris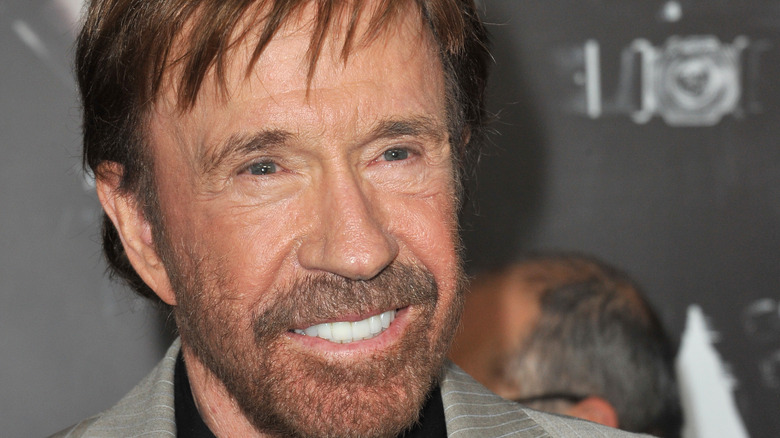 Featureflash Photo Agency/Shutterstock
One of the biggest breakout characters of "That '70s Show" was the strict, surly, no-nonsense patriarch of the Forman household, Red. A constant foil for Eric and his friends, Red routinely acts as the personification of responsibility in the show, punishing his son's friend group whenever they step out of line or get into trouble. Though plenty of positive things can certainly be said about the writing for Red, the main attribute that made the character so fun to watch was the portrayal by Kurtwood Smith.
Astoundingly enough, the creators of the show did not originally have Smith in mind for Red. In fact, a better-known actor — "Walker" himself, Chuck Norris — was initially slated for the part. By casting someone as hyper-masculine as Norris, the producers hoped to establish a clear contrast between the macho Norris and his onscreen son, a bookish nerd who held zero interest in conventionally masculine activities. However, Norris was unable to commit to "That '70s Show" due to his pre-existing commitment to "Walker, Texas Ranger." As a result, and perhaps for the best, the role went to Smith.
Ashton Kutcher was a model before Kelso came along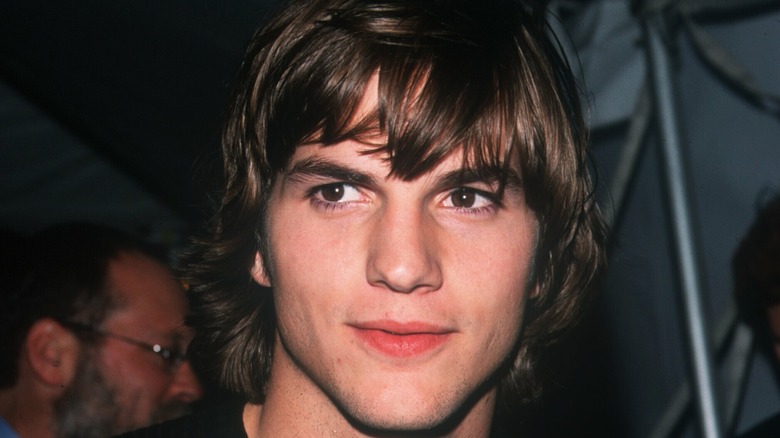 Evan Agostini/Getty Images
Like a few of his colleagues on the main cast of "That '70s Show," Ashton Kutcher had little acting experience prior to the series. Before turning towards a career in acting, he started off as a professional model.
Kutcher's time as a model began while he was enrolled at the University of Iowa. A wandering talent scout discovered him at a local bar called the Airliner in Iowa City and encouraged him to enter the "Fresh Faces of Iowa" modeling competition. After Kutcher placed first in the competition according to an unofficial Kutcher fan site, he moved to New York City, and MSN notes he signed on as a model at Next, appearing in ads for Calvin Klein. Ultimately, Kutcher decided to shift towards professional acting after a few years in the industry, and his first big role was the empty-headed teen heartthrob Kelso on "That '70s Show."
While the character launched Kutcher's career as an actor, he remembers the first season of the show not quite as fondly as his other castmates. On "Fox's 25th Anniversary Special" in 2012, he admitted that he assumed his lack of acting experience would almost certainly get him fired during the first season, causing him to be a nervous wreck in the early days of the show. "I was so nervous when I was [hired for] 'That '70s Show.' I was doing everything I could to look awesome," said Kutcher. "I thought I was going to get fired for the first three, four episodes. I was convinced I was going to get fired. It was 'faking it till you make it' full blown for the entire first season."
Leo was absent from the series after Tommy Chong was arrested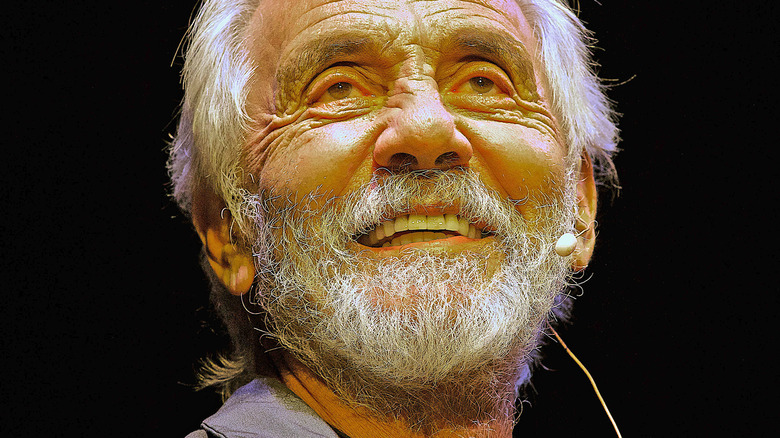 mark reinstein/Shutterstock
From the moment he first appears in Season 2, the character of Leo proved to be one of the most popular characters among fans of "That '70s Show." Originally introduced as Hyde's absentminded hippie employer, the show bumped Leo up to main cast member status by Season 4. However, Leo later abruptly disappears from "That '70s Show" during the fifth and sixth seasons, though his absence is addressed by Eric and his friends in Season 5's "The Battle of Evermore." Apparently, Leo remembered he had a wife and child, and had to get back to them.
In reality, Leo's temporary departure from the series was due to actor Tommy Chong's real-life arrest and court battles in the early 2000s. As reported in LA Weekly, Chong was caught up in a 2003 police investigation trying to halt the sale of drug paraphernalia. As the financier behind his son's company, Chong was charged with distributing around 7,500 water pipes and bongs for marijuana use. Chong consented to a plea bargain that spared his wife and son from prosecution. As part of his plea, Chong was sentenced to serve nine months in prison, sharing his cell with Jordan Belfort of "The Wolf of Wall Street" fame (via New York Magazine).
After Chong served his time, the producers of "That '70s Show" invited him to return to the show, and Leo re-emerged in Point Place in Season 7's "Down the Road Apiece." Chong was then added back as a main cast member for the eighth and final season, as Leo takes on a job working for Hyde at his record store.
That '70s Show was originally named after a song by The Who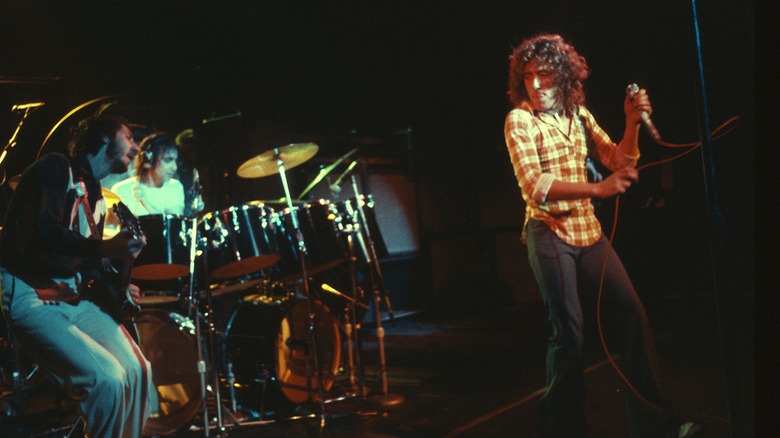 Anwar Hussein/Getty Images
Fans old enough to remember the actual 1970s are sure to spot the large number of pop cultural references "That '70s Show" pays to its historical setting. More eagle-eyed fans may also notice that certain episodes of "That '70s Show" take their names from well-known rock songs of the era. For example, every episode in Season 5 is named after a Led Zeppelin song; every episode in Season 6 is named for a song by The Who; the same can be said for Season 7 and the Rolling Stones; Season 8 gets all its episode titles from Queen.
What fans might not know is that the allusions to '70s rock songs were originally planned to go even further. In the early days of the show's production, the showrunners were going to call the series, "Teenage Wasteland," a reference to the lyrics of The Who's "Baba O'Riley" (via The Hollywood Reporter).
Other names in the running included "The Kids Are Alright," another song by The Who and "Reeling in the Years," a track by Steely Dan. The showrunners came close to using the title of Traffic's "Feelin' Alright" as the name of the show, but Fox felt it wasn't strong enough. Per executive producer Tom Werner's interview in The Hollywood Reporter, the show's co-creator Bonnie Turner said, "'You know, why don't we just call it 'That '70s Show?' Because that's what everyone is going to end up calling it anyway. No matter what we come up with, they'll say, 'Did you see that '70s show?' We all looked at her and said, 'You're right.'"
Wilmer Valderrama bought the Vista Cruiser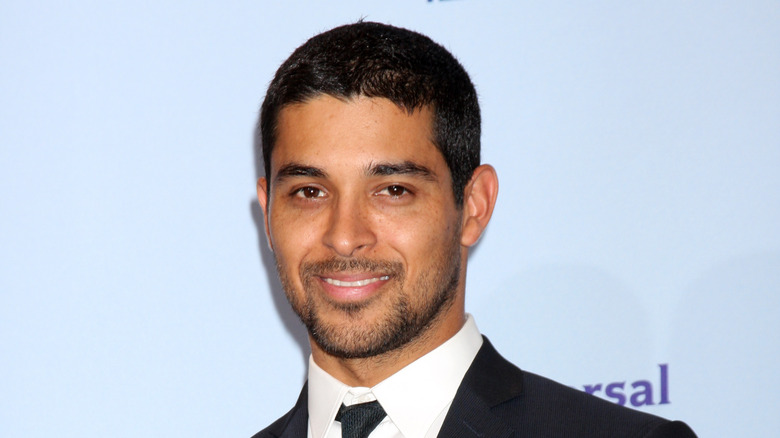 Kathy Hutchins/Shutterstock
Few cars are as iconic in the realm of 2000s sitcoms as Eric's Oldsmobile Vista Cruiser, the station wagon gifted to him by Red that serves as the main means of transportation for Eric and his friends throughout "That '70s Show." The cast spent a ton of time in it, so inevitably certain actors grew more than a little attached to the car. In fact, Wilmer Valderrama became so fond of the car, he promptly purchased it after the series wrapped in 2006.
According to an interview with Valderrama on The Kelly Clarkson Show, Valderrama went to the props department and asked them to sell the car to him, pleading with them by saying, "I need the Vista Cruiser." The props specialist soon agreed, allowing Valderrama to purchase the car for $500. In the interview, Valderrama called the Vista Cruiser, "The best thing I've ever acquired from my whole career."
"When I look at the car, it reminds me of [being], you know, 17, 18 years old, booking 'That '70s Show' and doing that opening sequence when we're just driving in the street," said Valderrama. "Honestly, it's going to be in my family forever. And I truly believe, I'm going to put it in my will and make sure that my kids have the burden of keeping that car in the garage, you know?"
Fez's real name is a behind the scenes joke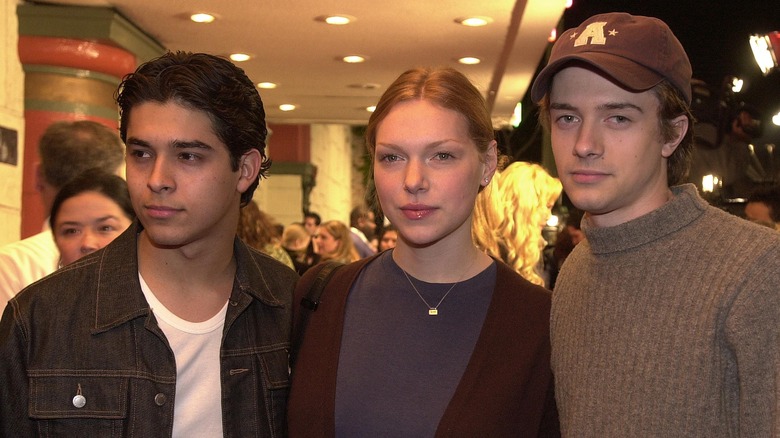 Vince Bucci/Getty Images
One of the main mysteries that continues to surround "That '70s Show" is Fez's nation of origin. Time and time again throughout the show, Fez offers only vague hints about where he's from and never outright reveals his official nationality. Not only that, but even Fez's actual name remains unknown by the series' conclusion in 2006. This has never been elaborated on by the showrunners or Wilmer Valderrama.
The closest "That '70s Show" ever comes to stating the true name of Fez is the Season 4 episode, "Class Picture." In that episode, the friend group remember their first encounter with Fez when they help him out of a storage closet after he's locked inside by a group of bullies. When Hyde, Kelso, and Eric introduce themselves to Fez, he recites a lengthy name as the school bell rings behind him, preventing viewers from hearing his actual name. When Hyde appears perplexed at Fez's long name, the gang gives him the nickname "Fez" — a casual version of the acronym F.E.S. (Foreign Exchange Student).
While Fez's difficult name is played up for laughs, there was some secret meaning behind the scene. Apparently when Valderrama says the name that gets obscured by the ringing bell, he's actually saying the first names of every main cast member on the show (via ABC News). The reveal behind Fez's name was meant as a subtle inside joke the showrunners thought up for the series' very special Season 4, Episode 20 ... Do you see what they did there? Pretty clever, eh?  
Charlie was supposed to replace Eric after Topher Grace left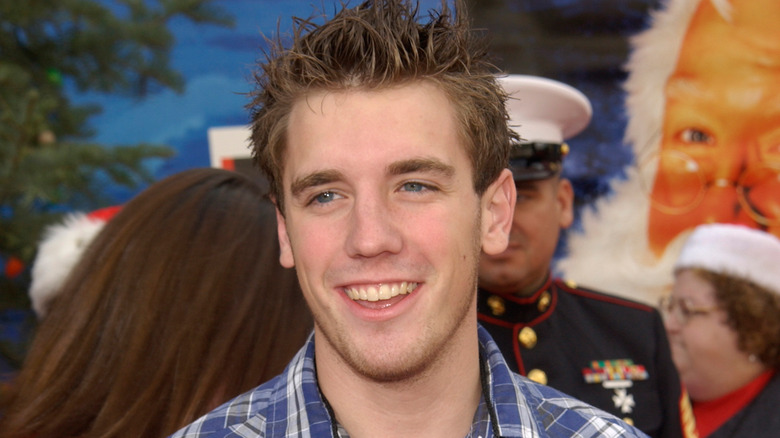 Featureflash Photo Agency/Shutterstock
When lead actor Topher Grace announced he was leaving "That '70s Show" at the end of the series' seventh season, producers wondered how they were going to continue the show in the wake of Grace's departure. As they scrambled to try and find a way to carry the show onwards, they introduced a new character, Charlie Schmidt, near the end of Season 7.
In the context of the series, Charlie was the son of one of Red's old war buddies. Charlie, played by Brett Harrison, was established as one of the new members of the teenaged friend group with the eventual goal of phasing Eric out and replacing him with Charlie, as actor Brett Harrison told PopEntertainment.com in a 2006 interview.
However, Harrison earned a starring role on the Fox series "The Loop" right around the same time. Having little room in his schedule to commit to "That '70s Show," the producers decided to write Charlie out of the show in the beginning of the eighth season, unceremoniously killing him off after his character falls off the water tower. "Basically, if 'The Loop' wasn't going to get picked up as a full series, then I would have been on 'That 70s Show' for the whole year. Because 'The Loop' got picked up, they threw me off the water tower," Harrison told PopEntertainment.
Josh Meyers almost played Eric Forman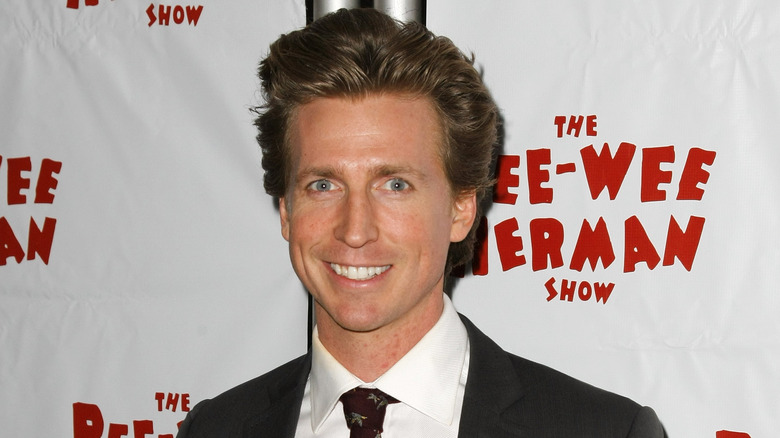 Neilson Barnard/Getty Images
For obvious reasons, the producers of "That '70s Show" struggled at first to figure out a way to replace Eric following Topher Grace's departure. After Brett Harrison ceased to be available, the producers brought in Josh Meyers as a new addition to the main cast, portraying the role of Randy Pearson. In an odd twist, however, Meyers wasn't actually hired to play Randy right off the bat. Originally, the showrunners hired him to literally take over the role of Eric Forman in Season 8, as discussed in the director's commentary for Season 8's "Bohemian Rhapsody," available on the DVD box set of "That '70s Show: The Complete Series."
In this original outline for Season 8, Eric would've returned from Africa a "changed man" to explain his physical transformation into the significantly taller, long-haired Meyers. Fearing audiences' reaction to Eric's recasting, the showrunners chose not to go this route, opting to create a new character specifically meant for Meyers on the show. This character — who would eventually become Randy — combined some of the main characteristics of Eric and Kelso, with Meyers acting as a successor to both roles after Kutcher left the show near the start of Season 8, while also serving as a prospective love interest for Donna.
Unfortunately, fans' reception to Randy's character was mixed at best, and Meyers was gradually given less prominent screen time as the season progressed. This would continue until the very final episode of the series, with Randy only appearing in one brief scene in the finale of "That '70s Show."
That '70s Show contains a TV milestone for LGBT representation (seriously!)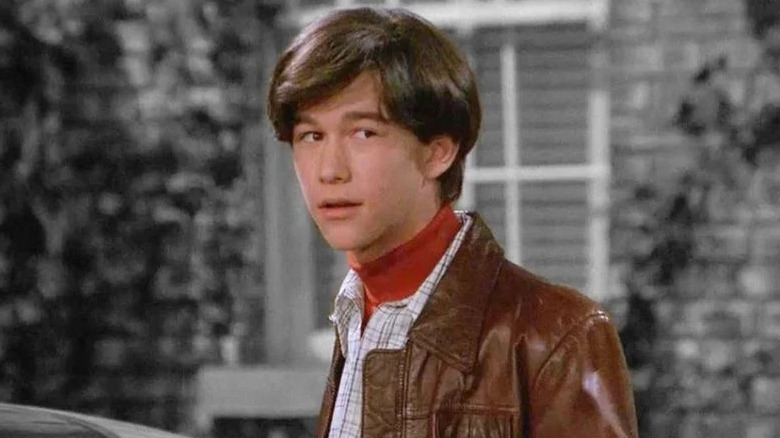 Fox
"That '70s Show" has a fair number of celebrities in minor roles throughout the series. Jenna Fischer, Amy Adams, and the Sprouse twins all appeared as guest stars. One of the more instantly recognizable names viewers can likely remember seeing would be Joseph Gordon-Levitt, who played Eric's newfound best friend Buddy in the Season 1 episode "Eric's Buddy."
In the show, Buddy appears as a high school acquaintance of Eric's. The two of them quickly begin to spend more and more time together, eclipsing the time Eric usually spends with the rest of his friend group. When Eric confides his inner troubles to Buddy one night, Buddy leans over and kisses Eric, revealing that he's had a romantic interest in Eric since the beginning of their friendship.
The kiss between Eric and Buddy marks the first gay kiss on North American primetime television, as cited by Pride Source. During a Reddit AMA, Gordon-Levitt shared the funny backstory behind the famous onscreen moment, saying, "I remember the director asking me and Topher to kiss longer, and then on the next take, kissing for what felt like several minutes. But when you watch it, our lips touched for probably less than a second." However, Gordon-Levitt also acknowledges the influence the kiss had on breaking certain barriers for the LGBTQ+ community at the time, telling Pride Source, "I certainly am proud to have made that small contribution of whatever kind to that progress."
The theme song was written by Big Star and performed by Cheap Trick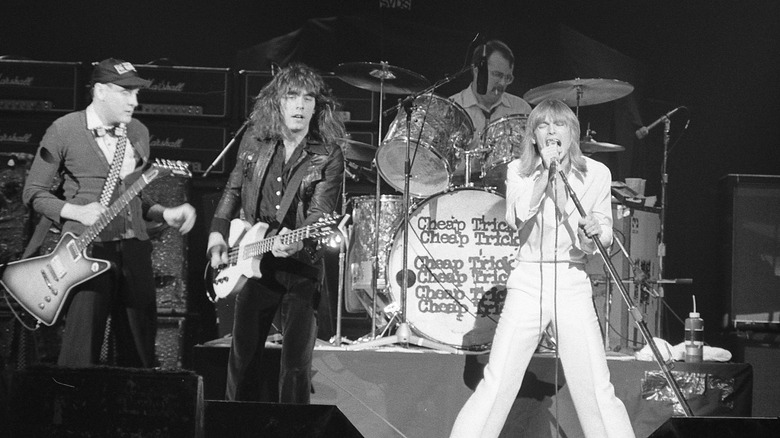 Linda D. Robbins/Getty Images
"That '70s Show" has one of the better intro sequences of its era of television. In it, the main characters sing along and dance to classic '70s rock and roll music while driving through Point Place in the show's signature Vista Cruiser. It's an intro that perfectly captures an image of the carefree days of the 1970s, as well as the fun-loving period of your late teenage years. Considering how much the showrunners strived for authenticity when it came to their 1970s settings, it's no surprise that the theme song played over the show's intro similarly originated from the '70s.
The song "In the Street," was originally written and performed by the band Big Star and released on their cult classic 1972 album "#1 Record." The first season of the show features a modified cover version of the song performed by Todd Griffin, lead singer of the 1990s band Graveyard Train, with additional lyrics contributed by composer Ben Vaughn. From the second season onwards, the showrunners went with another version of the song performed by Cheap Trick.
As with any song a studio uses on TV or on film, Alex Chilton, the songwriter behind "In the Street," received a regular royalty check every time his song was used for the show. Humorously, the specific amount of money Chilton received through his royalties was a hilariously coincidental amount. According to a 2000 interview Chilton gave to Rolling Stone, he received $70 whenever the song was used on the series. "It's actually ironic that the amount is $70," Chilton said. "To me it's 'That $70 Show.'"
The smoke seen in the famous circle smelled like strawberries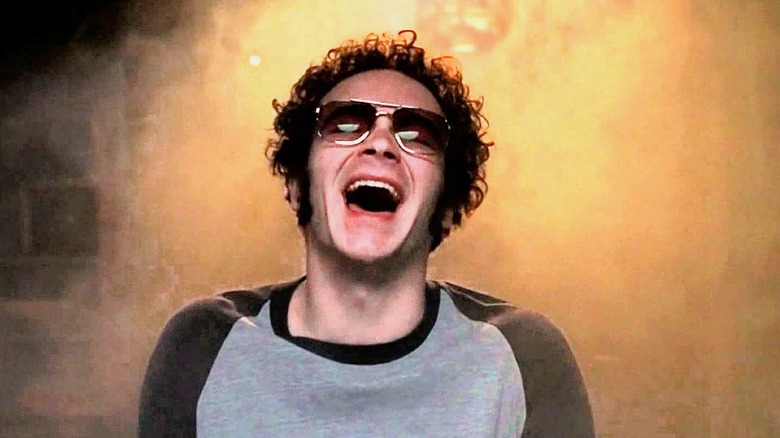 Fox
One of the most innovative ways "That '70s Show" got around establishing the characters' routine use of marijuana without actually showing it was the rotating camera from the series' signature "circle" scenes. Amid a heavy haze of smoke, the camera would individually focus on one of the main characters in a closeup, then quickly turn to another one, and repeat this process, suggesting the passing of a joint as everyone suddenly seems a lot giddier than usual.
It was a clever way to appease the censors, and soon became one of the most memorable running gags on "That '70s Show." In order to sell these scenes, the production team whipped together dense smoke drifting in the background to suggest the characters' marijuana use. In a chat with Smashing Interviews Magazine, Danny Masterson revealed that the smoke was actually a combination of flavor-scented artificial smoke from the props department and smoke from his, Ashton Kutcher, and Laura Prepon's cigarettes, held off-screen.
"They just pumped smoke. Most of us ... Laura, Ashton and I smoked cigarettes at the time," said Masterson. "We'd be smoking cigarettes and holding them low, and then they would just pump in this movie smoke that smelled like strawberries. It was like some incense in the background."
That failed '80s show spinoff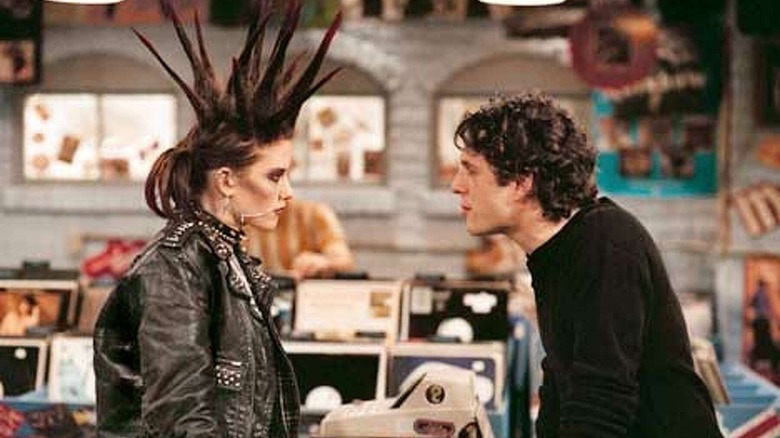 Fox
"That '70s Show" was among the most successful TV sitcoms of its day, raking in consistently strong ratings and doing critically well overall throughout its run, despite some shaky reception to the show's last season. With how successful "That '70s Show" proved to be, Fox searched for ways to cash in on the series' success at the peak of its popularity, creating a loosely connected spinoff series that explored the 1980s fittingly titled "That '80s Show."
Set in 1984, the series focuses on a group of friends in their twenties living and working in San Diego. The focal point of the show was Corey Howard — played by Glenn Howerton of "It's Always Sunny in Philadelphia" fame — an aspiring musician employed at a local record store who begins a romance with a fellow co-worker, the spiky-haired punk rocker June. The series relied on many of the same writers and production teams as "That '70s Show," using a similar style of humor and paying numerous references to its historical setting, including a number of cameos from '80s celebrities like Ed McMahon, Pat Benatar, and Neil Giraldo.
Released in January 2002, "That '80s Show" gained mostly negative reviews, garnering significantly lower viewership numbers than Fox had probably hoped to capture with the series' debut season. "['That '80s Show'] attempts to play off the decade's superficialities — the teased hair, unstructured men's jackets, cocaine, sexual freedom's waning hours, Reagan's voodoo economics — and the result is as conceptually thin as a new waver's tie," wrote Variety's Phil Gallo. Owing to the show's abysmally poor ratings, "That '80s Show" was cancelled after one season on Fox. Here's hoping "That '90s Show" does better than its short-lived '80s counterpart, although they certainly can't do much worse.
That little known British remake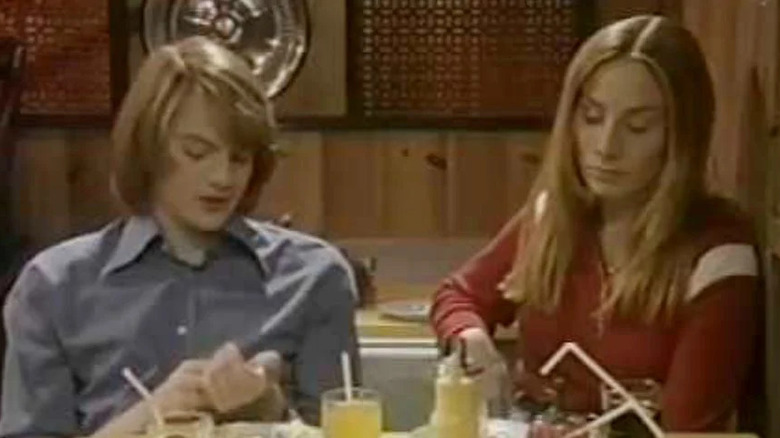 ITV
"That '80s Show" wasn't the only series that tried to horn in on the unique concept and success of "That '70s Show." Before "That '80s Show," there was another, more obscure spinoff attempt that producers tried in the form of "Days Like These," an almost direct British remake of "That '70s Show" released around the same time as the first season of "That '70s Show."
Like "That '70s Show," "Days Like These" takes place in the 1970s, follows a group of teenaged friends in the town of Luton in southeastern England. Though there are some slight differences between "Days Like These" and "That '70s Show" — with certain characters' names being changed in the British version — the show retains many of the same storylines found in the earlier Fox series. In most cases, many of the scripts used in "That '70s Show" were recycled in its British counterpart.
Nowadays, it's become pretty commonplace to see American TV series remaking an earlier British show — "The Office" being the clearest example to come to mind. Decidedly less common is seeing a British television reboot of an American series, with something getting lost in translation when the show crosses the Atlantic. "Days Like These" is one such show, failing to gain any serious traction among English audiences. After six episodes, the show was promptly canceled with just 10 of its 13 episodes ever being aired on television.