What Danny Masterson Has Been Doing Since That '70s Show Ended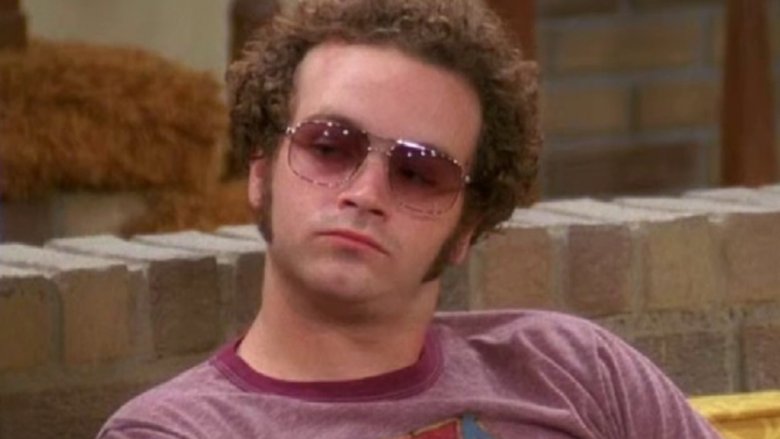 You know him as Steven Hyde, the rebellious, perpetually baked iconoclast who lived to burn Kelso on the beloved, long-running sitcom That '70s Show. But what has Danny Masterson been up to since the series officially came to a close in 2006 after eight seasons? Quite a bit, actually — some pretty awesome and surprising things, and some other things that are just as surprising, but decidedly less awesome. 
Masterson portrayed Hyde in every single episode of That 70's Show, and while some of his co-stars — particularly Mila Kunis (Jackie Burkhart) and Ashton Kutcher (Michael Kelso) — went on to enjoy slightly more high-profile careers after the series ended, Masterson has never been hard up for work. He's popped up in guest appearances in such TV series as Raising Hope, White Collar, and Royal Pains, and in 2012 was cast in the lead role in the TBS sitcom Men at Work, which ran for three seasons.
He's also made regular appearances in feature films, notably the 2008 Jim Carrey comedy Yes Man (which was helmed by future Ant-Man and Ant-Man and the Wasp director Peyton Reed) and the 2009 indie crime thriller The Bridge to Nowhere (which marked the directorial debut of veteran character actor Blair Underwood). But perhaps his steadiest gig in the years since That '70s Show went off the air: DJ. The actor began spinning in the '90s as a hobby, one that evolved into a reliable side job over the years. He told Rolling Stone that he was taught to mix records by DJ AM, and his first big break came when he was assigned a spot among the 2008 Lollapalooza lineup. The preferred ingredients to his mix: everything from Hip-Hop to indie rock to EDM, so long as it tickles his fancy — and it may not surprise you to know, considering his smirking sense of humor, that he goes by the handle "DJ Mom Jeans."
Masterson is also quite the poker player, occasionally hosting tournaments at which you could find a selection of That '70s Show alumni, movie stars like Mekhi Phifer and Shannon Elizabeth, and his turntable mentor AM, as well as his brother Chris Masterson (perhaps best known as older brother Francis on the Fox sitcom Malcolm in the Middle).  But one can only dabble in super-cool hobbies for so long, and in 2016, Masterson made what was for awhile a triumphant return to episodic television.
This came when Netflix debuted its well-received comedy/drama The Ranch, which focuses on the struggles of a Colorado family to keep its cattle ranch afloat, and which reunited Masterson with his That '70s Show co-star Kutcher. Masterson portrayed "Rooster" Bennett, the acerbic older brother to Kutcher's carefree, goofy ex-quarterback Colt Bennett, and their familiar dynamic helped to make the show a hit. Unfortunately, just as the series was picking up serious steam with viewers, Masterson's tenure came to an abrupt and controversial end.
In March 2017, shortly before the debut of The Ranch's second season, it was widely reported that the Los Angeles Police Department was investigating allegations of sexual assault that had been leveled at Masterson by no fewer than four women, one of which was the star's longtime girlfriend. Masterson vehemently denied any wrongdoing, but the damage to his public image was immediate. While season 2 of The Ranch had already been completed — and dropped on Netflix as scheduled — the public outcry over his continued employment was nothing short of deafening. In December of that year, Netflix announced that the character of Rooster would be written out of The Ranch during the third season; when that season debuted in June 2018, Masterson's role was severely diminished, and Rooster was presumed killed in a mysterious motorcycle accident midway through the season.
While Masterson has never been charged in connection to his alleged misconduct (and has steadfastly maintained his innocence), it's safe to say that casting agents haven't exactly been kicking down his door in the last couple years. In fact, since his booting from The Ranch, his IMDb page lists only two credits: the upcoming comedy feature Killing Winston Jones (which also stars Richard Dreyfus, Danny Glover, and Storm Reid) and the thriller In Limbo, which — as of this writing — has yet to begin production. 
For his part, Masterson has made only one public comment about the allegations. Shortly after his firing by Netflix in December 2017, the star told TMZ, "I am obviously very disappointed in Netflix's decision to write my character off of The Ranch. From day one, I have denied the outrageous allegations against me. Law enforcement investigated these claims more than 15 years ago and determined them to be without merit. I have never been charged with a crime, let alone convicted of one. In this country you are presumed innocent until proven guilty. However, in the current climate, it seems as if you are presumed guilty the moment you are accused."
For the moment, it seems as if the title of Masterson's in-development project offers up an apt description of his career, which is decidedly... in limbo. The investigation into the accusations against him remains open, but no matter how it all shakes out, it seems safe to say that fans of That '70s Show will never be able to look at their favorite snarky, frizzy-haired stoner in quite the same way again.