Where You've Seen The Cast Of Violent Night Before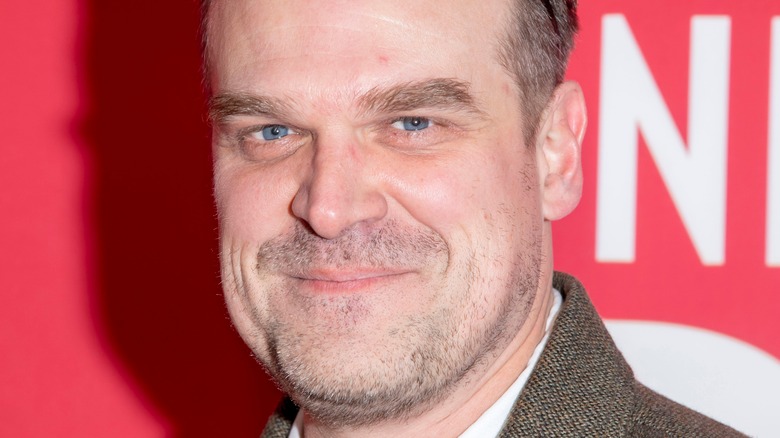 Ron Adar/Shutterstock
Just because it's the most wonderful time of year, that doesn't mean bad things can't happen. In the case of the wealthy Lightstone family, however, that means more than a bad snowstorm or a canceled flight: in the new Christmas movie "Violent Night," a group of highly trained mercenaries invade their home looking for their stash of $3 million, a small fortune amassed by slimy matriarch Gertrude. Visiting for the holidays, granddaughter Trudy is taken hostage by the criminals and finds herself in need of a savior.
Thankfully for little Trudy, her house is the next stop for none other than jolly ol' Saint Nick, who isn't about to stand around while a little girl on his nice list is taken prisoner by some vicious thugs. With a sack of presents, a giant hammer, and a little bit of magic, it's up to Santa Claus himself to fight back and rescue Trudy and her family — while filling up his naughty list with plenty of new names.
With an all-star cast, "Violent Night" is the Christmas action movie that's taken the yuletide by storm this holiday season. You probably recognize quite a few famous faces among the Lightstone family and the group of deadly crooks. But there's even more you might not realize you've seen before. So stick around and find out where you've seen the cast of "Violent Night."
Beverly D'Angelo as Gertrude Lightstone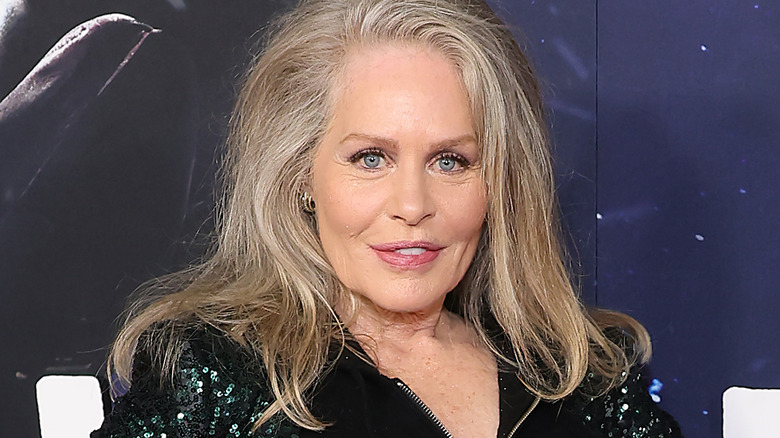 Emma Mcintyre/Getty Images
Gertrude Lightstone sits at the center of "Violent Night" as the vile, cold-blooded, vulgar family matriarch Gertrude, whose money the mercs are after. They hold her hostage for the cash in her safe, but Getrude will be damned if she's going to give in. The horrific Gertrude Lightstone is played by the legendary Beverly D'Angelo, an actress who younger audiences may not recognize, but is nevertheless a Hollywood icon with a career stretching back decades.
Her big screen debut was in 1977's Woody Allen classic "Annie Hall," though she had only a tiny role. Bigger parts in movies like "Every Which Way But Loose" with Clint Eastwood and the musical "Hair" quickly led to leading roles throughout the '80s, in films like "Coal Miner's Daughter" and a TV movie version of "A Streetcar Named Desire." But that decade also gave her what is undoubtedly her most famous role, as Chevy Chase's wife Ellen Griswold in "National Lampoon's Vacation" and three of its sequels. She even voiced the character in a 2007 episode of "Family Guy," before returning to the role for the 2015 reboot, "Vacation," with Ed Helms. 
Through the 1990s and 2000s she made memorable appearances in the Paul Hogan comedy "Lightning Jack," the critically acclaimed "American History X," and the slapstick threequel "Harold and Kumar Escape from Guantanamo Bay." More recent roles include a recurring part as Barbara Miller on "Entourage" and as Stella Buckley in "Insatiable."
John Leguizamo as Scrooge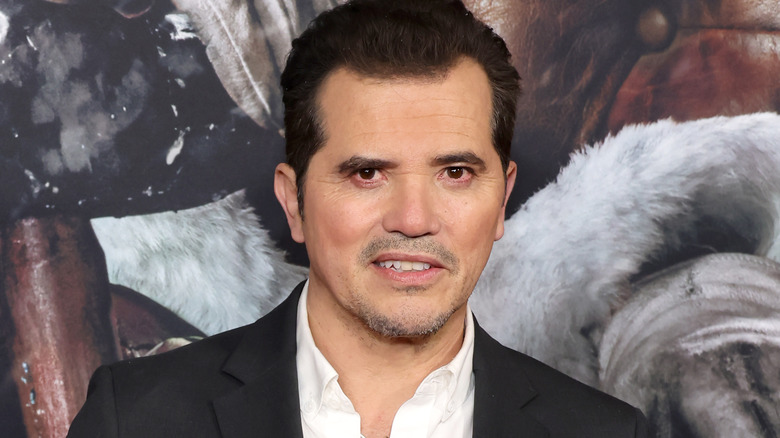 Emma Mcintyre/Getty Images
If the fabled Christmas hero Santa Claus had a polar opposite in holiday lore it would probably be Ebenezer Scrooge, the cantankerous old man from Charles Dickens' "A Christmas Carol." So it makes sense then that the leader of the elite team of armed mercenaries in "Violent Night" is known as Mr. Scrooge: a sinister, remorseless thief and highly trained killer, he's played by John Leguizamo, one of Hollywood's best unsung heroes — and villains. 
Early in his career he appeared in the 1989 Brian De Palma Vietnam War epic "Casualties of War," before landing a small part in "Die Hard 2" and a supporting role in the 1991 comedy "Hangin' with the Homeboys." He might be most infamous for his role as Luigi in the ill-conceived live-action adaptation of "Super Mario Bros.," but thankfully the notorious flop didn't harm his career. In fact, it really took off shortly thereafter, thanks to playing Benny Blanco in "Carlito's Way" and a starring role in "To Wong Foo, Thanks for Everything! Julie Newmar" alongside Wesley Snipes and Patrick Swayze.
After snagging the villainous role of The Clown in 1997's comic book adaptation "Spawn," Leguizamo never looked back, and has starred in too many big movies to count. Some highlights include 1999's "Summer of Sam," 2001's "Moulin Rouge!" and the "Ice Age" films where he voiced Sid the Sloth. In 2014, he starred as Keanu Reeves' ally Aurelio in "John Wick" and reprised the role in the sequel.
Cam Gigandet as Morgan Lightstone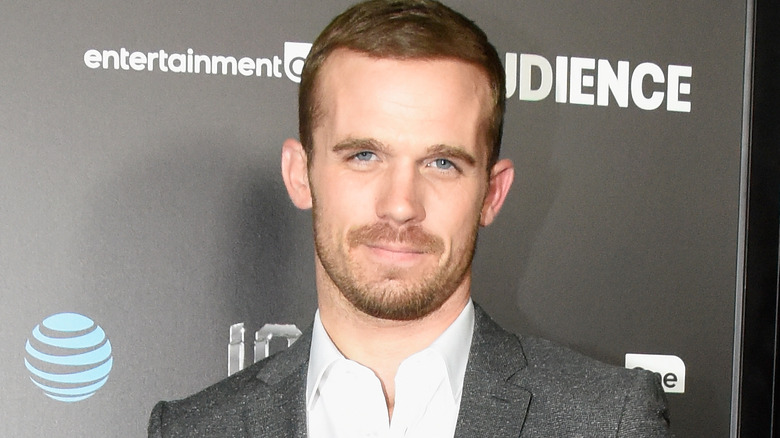 Desiree Stone/Getty Images
In "Violent Night" the action may focus on Santa vs. the mercs, and the little girl who believes in him, but the broader story is all about the complicated and dysfunctional Lightstone family. With the Lightstones swimming in wealth, they've devolved into petty, squabbling elitists always fighting over money. Morgan Lightstone — husband of the hard-drinking Ava and an aspiring actor — is one of them. He's played by Cam Gigandet, who probably drew on his own experiences in playing the role.
In the early 2000s, Gigandet mostly featured in soap operas or similar dramas. He played Daniel Romalotti in "The Young and the Restless" but was replaced in the role by Owen Beckman after just seven appearances. He then starred as Randy Bongard in "Jack and Bobby," a series about the youth of a future fictional US President. The series only lasted one season but also starred Bradley Cooper, John Slattery, and Logan Lerman. From there, Gigandet played Kevin Volchok on "The O.C.," before heading to the big screen, appearing in cult sci-fi favorite "Pandorum" and as a Bella-hunting vampire named James in the first "Twilight" film.
In the 2010s, Gigandet featured in "Reckless" as Roy Rayder, and had a small role in the 2016 Western remake "The Magnificent Seven," before appearing alongside Michael B. Jordan in 2021's "Without Remorse" for Prime Video.
Brendan Fletcher as Krampus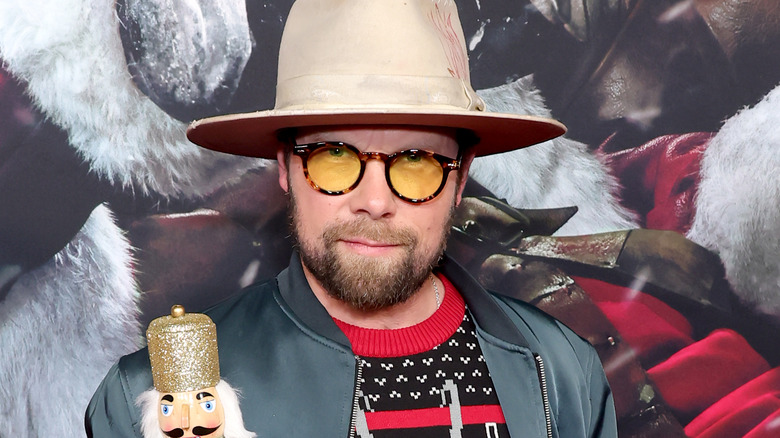 Emma Mcintyre/Getty Images
"Mr. Scrooge" isn't the only holiday-themed nickname given to the mercenaries in "Violent Night." In fact, each member of their entire team is given a codename relating to the yuletide season, and actor Brendan Fletcher plays a merc who calls himself Krampus. Named for the mythical creature once said to assist Saint Nick at the holiday season — terrorizing ill-behaving children — Fletcher's cold-blooded killer does the same. 
The actor might be best known to audiences these days for his recurring role as another villain, the Star City Slayer, on the CW superhero hit "Arrow." But before that, he was the Zombie Truther on "iZombie" and had a role as gunslinger Dultey in Season 4 of the hit AMC Western "Hell on Wheels." His role as Lars Pierson in the middling "Broadchurch" remake "Gracepoint" may have been a swing and a miss, but his appearances in bigger hits like "The Killing" (as Goldie) and the acclaimed HBO miniseries "The Pacific" (as PFC Leydon) helped add some high-profile projects to his resume. 
With a longer list of films in his career than you might expect, Fletcher has clearly been one of those working actors, appearing in three, four, and sometimes five or more movies a year. From "Freddy vs. Jason" to "Tideland" to "Leprechaun: Origins," Fletcher just loves to work, whether it's in a blockbuster hit, a revered indie drama, or cheesy B-movie.
Edi Patterson as Alva Lightstone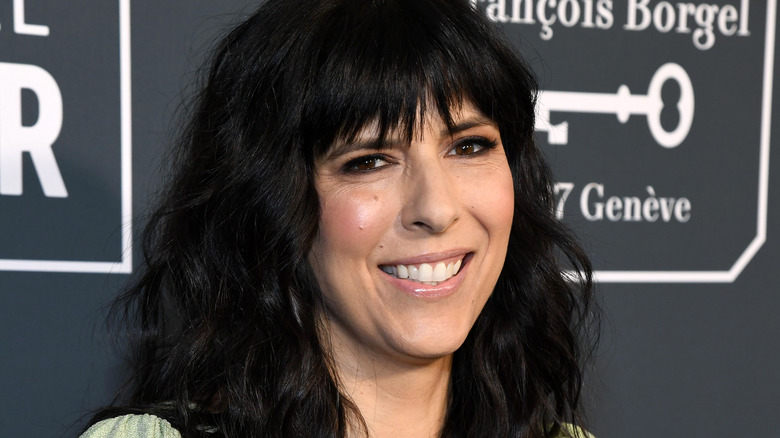 Kevin Mazur/Getty Images
While deadly mercenaries in "Violent Night" are using guns and explosives to get to Gertrude Lightstone's fortune, her kids have their own agendas. The worst is Alva Lightstone, wife of Morgan and the snooty, sniping sister of Trudy's dad Jason. A truly nasty woman who wants nothing more than her mother's money, she's played deliciously by actress Edi Patterson, whose career has been all over the map, but whose biggest and most recognizable roles have been on HBO. 
In 2019, Patterson starred as Judy alongside John Goodman and Danny McBride in HBO's "The Righteous Gemstones," and had a recurring role as Elizabeth across three seasons of the Tracy Morgan comedy "The Last O.G." She was also Ms. Abbott in "Vice Principals," an HBO comedy starring Danny McBride and "Justified" star Walton Goggins. In addition to one-off guest spots in "Californication," "Two Broke Girls," and "Nobodies," Patterson has also had parts in "Black-Ish" — where she played Dre's coworker Laura — and the short-lived crime comedy "Partners" with Kelsey Grammer and Martin Lawrence.
She's also done quite a bit of voice acting, starring in animated HBO hits like "Ten Year Old Tom" as Tom's mother and "The Fungies" as Mertha. She also voiced characters in the CN toon "We Bare Bears" and the Adult Swim series "Teenage Euthanasia."
Alex Hassell as Jason Lightstone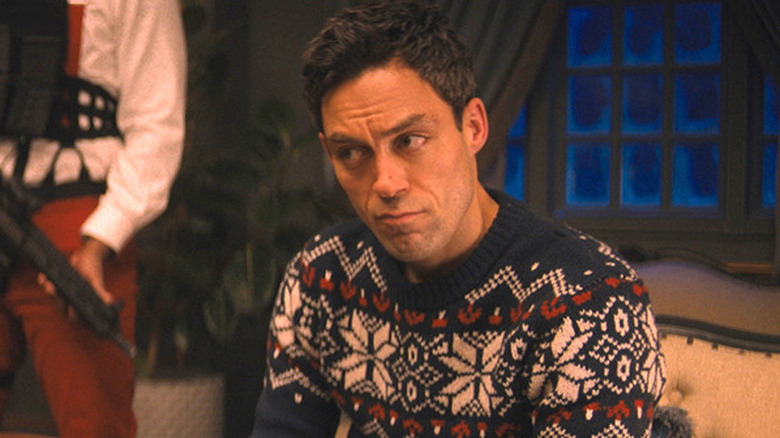 Universal Pictures
While Alva Lightstone and her husband Morgan vie for her mother's fortune, her brother Jason wants little to do with the family, uninterested in their selfishness and greed. But during the Christmas season, Jason and his family — including little Trudy — visit the home of his mother Gertrude, and get caught up in the criminal scheme to extort the family for their fortune. Jason is played by Alex Hassell, whose previous genre role was Vicious in the Netflix live-action adaptation of "Cowboy Bepop."
Though that series wasn't so well-received, "The Boys" was. In that Prime Video series' first season, Hassell played a major super-powered character, though you might not recognize him because he was invisible for most of it: he played Translucent, the transparent hero kidnapped and tortured by Billy Butcher. Hassell might also be recognized for his part as sugar merchant Johannes Brandt in the 2017 BBC miniseries "The Miniaturist," starring Anya Taylor-Joy, and as Felix Nash in the short-lived British sitcom "Bonkers" a decade before. 
But outside of those larger roles, Hassell has guested on plenty of big hits, with small one-episode roles in "Doctor Who" spinoff "Torchwood," the fantasy adventure "Legend of the Seeker" and long-running British cop show "The Bill." In cinemas, Hassell has had parts in plenty of movies too, including the Matt Damon flick "Suburbicon" and a starring role in the indie fantasy thriller "The Isle."
Mike Dopud as Thorp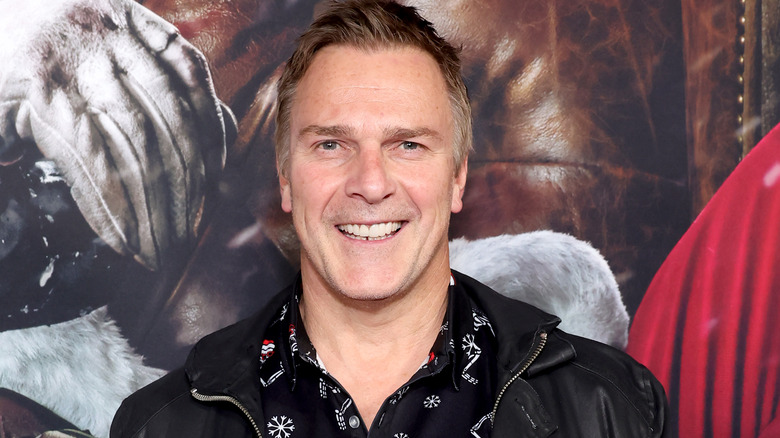 Emma Mcintyre/Getty Images
In the midst of all the hostage-taking and robbery at the Lightstone mansion, a commander named Thorp arrives with his own team of soldiers. He's played by veteran actor Mike Dopud, who's been around the dial and back again. He's the kind of actor who often blends into the background, but always makes the most of every part he appears in. That includes the recurring role of Russian mafia man Captain Viktor in "Arrow," who wanted Oliver Queen dead in the show's fifth season.
A few years later, Dopud had a leading role as Detective McDermott in "Day of the Dead," a SyFy series spun out of the classic George A. Romero zombie movie, along with a part in the Disney+ reboot of "Turner and Hooch" as Walton Hollis. A few years before, he'd played Jason Mici in the Starz series "Power," Michael Vinson in the CW sci-fi series "The 100," and AK Fortesan in "iZombie." He's also scored recurring roles in sci-fi shows like "Continuum" (as Stefan Jaworski) and "Dark Matter" (as Arax Nero), plus small parts in episodes of "The Strain," "Lethal Weapon" and "The X-Files."
Earlier in the decade he'd had a regular role as Roy Mcafee in "Cedar Grove," and as Red on "Strange Empire," while making a name for himself with bit parts in blockbusters like "X-Men: Days of Future Past," "Deadpool 2," "Man of Steel," and "Mission Impossible: Ghost Protocol."
Alexis Louder as Linda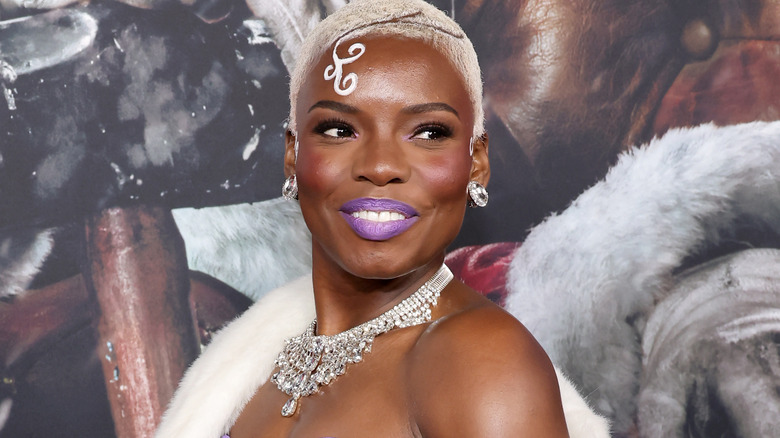 Emma Mcintyre/Getty Images
While the Lightstone family fights for money and eventually their lives, one outsider in-law is pulled into the struggle for survival: Jason's wife Linda. But their marriage is far from perfect, and in fact they're separated when the movie begins. They only decide to come back together for Christmas to make the holiday more meaningful for their daughter Trudy, who in holiday movie tradition wants nothing more than for her parents to reconcile. Linda is played by Alexis Louder, who comic book fans will recognize from her role as Ruth Williams in the flashback sequences on HBO's critically acclaimed "Watchmen."
On the streaming side, fans might also recognize Louder from a pair of recent Amazon originals starring Chris Pratt: She played Nicole Deptula in four episodes of "The Terminal List," and fellow soldier Diablo in the film "The Tomorrow War." Fans of the CW supernatural fantasy series "The Originals" might remember her as Lisina from Season 5, a non-evolved werewolf who served as protector to Henry Benoit. The rest of her career is filled out with mostly small or even background roles in movies like "Black Panther" and "Harriet," as well as TV shows like "Chicago P.D.," "NCIS: New Orleans," and "Charmed." Her next role will be a recurring part on the Apple TV+ horror series "The Changeling."
Mitra Suri as Candy Cane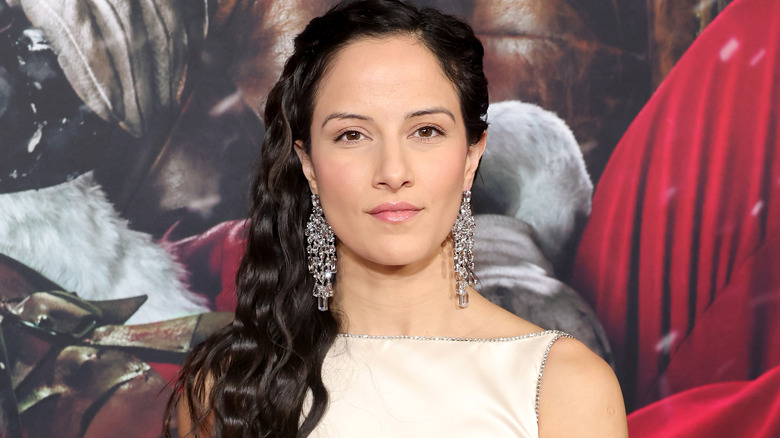 Emma Mcintyre/Getty Images
Another one of Scrooge's mercs is Candy Cane, a role filled by actress Mitra Suri. Though her filmography is relatively light in the acting department, one look at her resume shows why she may have been cast as a violent mercenary. She's mostly been a stunt double, performing on some of the biggest action shows on television, starting with her onscreen debut back in 2010 as the stunt double for international star Maggie Q in "Nikita."
From there, Suri performed extensive stunt work on everything from "Covert Affairs" and "Warehouse 13" to a bevy of superhero series. Those include CW shows "The Flash," "Legends of Tomorrow," "Arrow," "Batwoman," "Supergirl," and "Superman and Lois," in addition to Amazon's "The Boys" and HBO Max's "Peacemaker." Outside of the superheroes though, her recent stunt doubling work has been featured on "Day of the Dead," "Van Helsing," and "Yellowjackets," and is due to be seen (and unnoticed as the case may be) in the upcoming "Avatar: The Last Airbender" live-action series.
Suri has also acted on "The Flash," where she played the title role in the episode "Amelie." She also had a recurring part in the Netflix original series "Altered Carbon," as Simone in the show's second season. 
Alexander Elliot as Bert Lightstone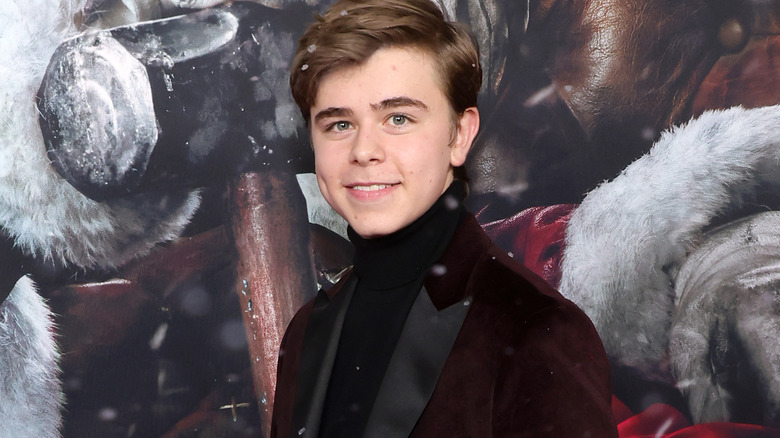 Emma Mcintyre/Getty Images
Little Trudy Lightstone isn't the only child in danger in "Violent Night," though she's definitely the only likable one. The teenaged son of the narcissistic and cruel Alva and Morgan Lightstone, Bert seems to only care about social media stardom. It's hard to blame him for looking for attention though, as his mother mostly ignores or outright hates him. He's played by young actor Alexander Elliot, who's recently broken out with his starring role in the Hulu original series "The Hardy Boys." In that live-action adaptation of the classic boys adventure book series, Elliot plays kid detective Joe Hardy alongside "Halloween Ends" star Rohan Campbell as his older brother Frank.
Before he came to fame on "The Hardy Boys" though, Elliot was already building a solid career as a young actor. Though he had yet to secure any recurring roles, he did make guest appearances on some notable shows, including an episode of the Canadian web series "Detention Adventure," playing Buster Keaton in "Murdoch Mysteries," and a background role in Hulu's "Locke and Key" horror series.
Leah Brady as Trudy Lightstone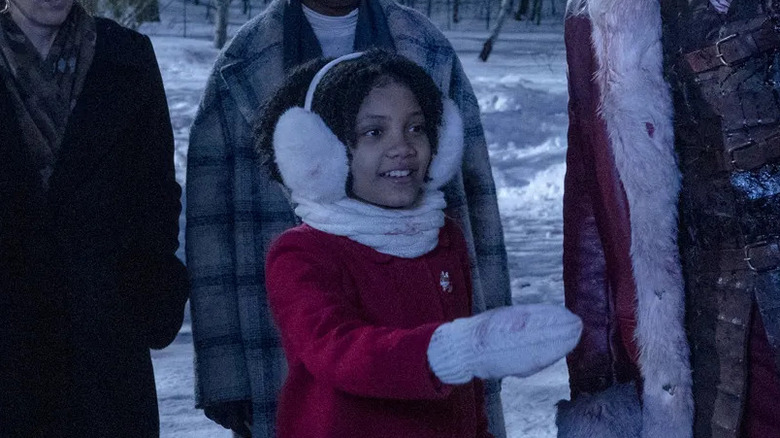 Universal Pictures
Despite being a blood-spilling action movie all about a killer Kringle, the heart of "Violent Night" is little Trudy Lightstone, a young girl trapped by deadly assassins on Christmas Eve. Santa Claus himself initially doesn't want to get involved in the battle between the Lightstones and the team of elite mercs who have decended on their home. But it's Trudy and her belief in Santa Claus that prompts him to step in. Trudy is played by newcomer Leah Brady, who despite having just a few roles to her name, looks set for stardom after "Violent Night."
After appearing in a short film titled "Hunting, a Documentary," Brady turned around and took a one-episode role in the superhero series "The Umbrella Academy." From there she moved into films, nabbing a small part in the 2022 teen comedy "Erin's Guide to Kissing Girls" before landing the role of Trudy, which is both her biggest and most high-profile role to date.
Though she has "The Love Club: Erin's Story" up next, we suspect Leah Brady's career is going to accelerate now that she's featured in one of this winter's hottest thrillers. 
David Harbour as Santa Claus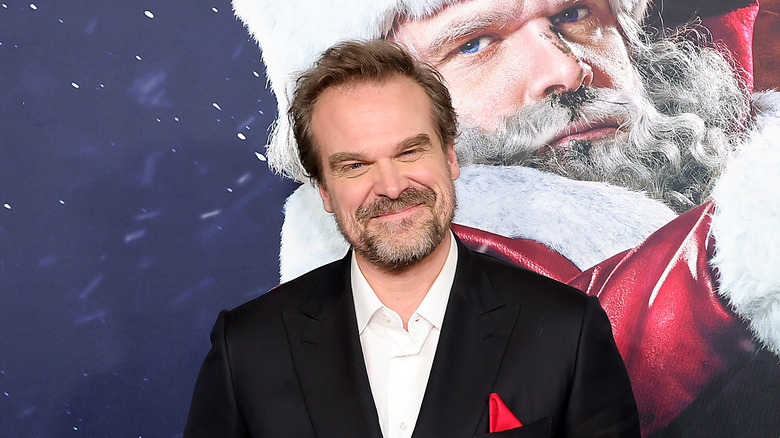 Emma Mcintyre/Getty Images
The star of "Violent Night" is Santa Claus himself. The bearded gift-giver becomes a reluctant and deadly protector of the Lightstone family after arriving at their home on Christmas Eve and discovering a group of dangerous mercenaries holding the family hostage. Playing the big-bellied brute is none other than David Harbour, best known to audiences today from the sci-fi/horror series "Stranger Things," where he plays sheriff Jim Hopper.
While his career has only grown since starring in the '80s-set throwback series, he was doing very well even before "Stranger Things." Like many actors, he got his start on a soap opera, with a stint as Officer Shanks on "As the World Turns" leading to a series of small roles in TV shows like "Law and Order: SVU." He also appeared in movies like "War of the Worlds," "Brokeback Mountain," and "Quantum of Solace," and had a six-episode stint as MI6 agent Roger Anderson in the ill-fated "Pan Am" series for ABC, another show with a period setting.
From there, Harbour took supporting roles in the Greg Kinnear comedy "Rake" and the little-seen 1940s period drama "Manhattan," about the Manhattan Project, where he played scientist Reed Akley. Additional stints as news anchor Elliot Hirsch in Aaron Sorkin's acclaimed "Newsroom" and White House Chief of Staff David Patrick on "State of Affairs" led right to his career-altering role as Hopper in "Stranger Things." Though he whiffed in the title role of the "Hellboy" reboot, he's rebounded as a different bright-red hero in the winning "Violent Night."