Where You've Seen The Cast Of The People We Hate At The Wedding Before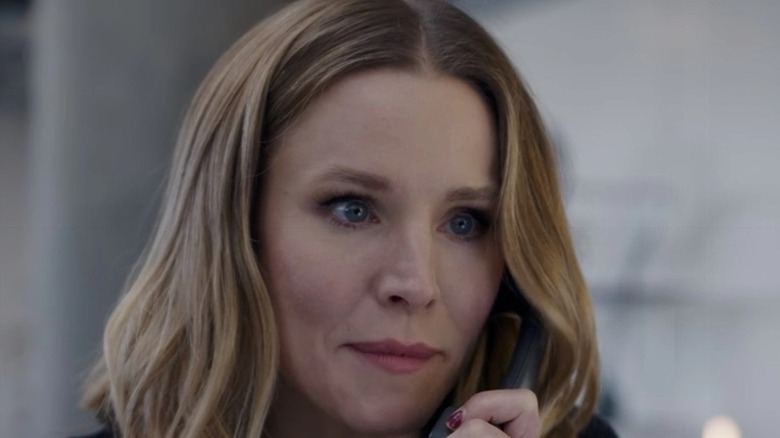 Amazon Prime
In the cinematic adaptation of Grant Ginder's novel "The People We Hate At the Wedding" from the writing duo of the Molyneux sisters — best known for "Bob's Burgers"— and directed by Claire Scanlon in her follow-up to "Set It Up," things are pretty dire for Donna (Allison Janney) and her two youngest children, Alice (Kristen Bell) and Paul (Ben Platt). After the death of Bill (Andy Day), Alice and Paul's dad and Donna's second husband, things have been contentious between mother and son. Complicating matters is the arrival of a wedding invitation from Eloise (Cynthia Addai-Robinson), Donna's only child from her first message to the philandering Henrique (Isaach De Bankolé). 
Though they were once close to Eloise, Alice and Paul have come to see her as haughty and stuck up. Eloise's refusal to fly from her native England to the states to support her younger half-sister after Alice suffered a miscarriage and the end of her long-term relationship drove a further wedge between the older British half-sister and her American family. Things only get worse in England as the story expands to include an increasing number of important characters, each with their own baggage. There are so many, in fact, one needs this piece to keep track of who they are — and where you've seen these actors before.
Kristen Bell
As Alice, Kristen Bell arguably has to do the bulk of the heavy lifting in "The People We Hate At the Wedding." Still struggling with losing a pregnancy—and a romantic relationship in the fallout—Bell's Alice is in a self-loathing spiral. She's sleeping with her married boss Jonathan (Jorma Taccone), which is bad enough for her self-esteem, but he makes it worse by repeatedly insisting Alice can't understand why he can't leave his wife Marissa (Lizzy Caplan), since she just had a baby. Ultimately, Alice has to shake the self-hatred, or she risks destroying her relationship with sister Eloise and losing a healthier chance at love with Dennis (Dustin Milligan).
Bell's breakthrough iconic role came on television as Veronica Mars, the teen detective. While it was never a high ratings earner on The CW, "Veronica Mars" developed an intensely loyal following, propelling the show to a film and a rebooted fourth season on Hulu 13 years after the initial series cancellation. Bell struck gold once again on "The Good Place" as Eleanor Shellstrop, the Arizona dirtbag who finds herself an unlikely center of a metaphysical debate about humanity's inherent worth and what determines if someone is truly good or bad. Despite the heaviness of those themes, the sitcom proved to be one of the funniest and most emotionally satisfying series in recent memory. Bell may also sound familiar to many via her voicework as the narrator on "Gossip Girl" and the hit "Frozen" films.
Allison Janney
Allison Janney's Donna is living through a period of upheaval in her life. Unbeknownst to neither of her youngest children, her husband Bill had an ugly reaction to their son Paul coming out, a fact that Donna forced Bill to keep to himself even as it effectively ended their marriage in every way except formally. When Bill died, it freed Donna from the burden of concealing Bill's homophobia, but her relief read to Paul as despicable, driving a wedge between them. With Eloise's wedding forcing her to interact with her first husband, Henrique, once again, she finds herself dangerously close to repeating past mistakes.
Like Bell, Janney's most prominent roles come courtesy of one television drama and one television sitcom. First, she gained attention and Emmys as Press Secretary C.J. Cregg on "The West Wing." Then, seven years later, she again helped command a massive audience as the older matriarch Bonnie on all eight seasons of the CBS sitcom "Mom." She would snag two more Primetime Emmys for her efforts as well.
Cinematically, Janney gained plenty of roles, popping up everywhere and anywhere. After years of memorable roles in films like "Juno," as Juno's stepmother, Prudy Pingleton in "Hairspray," and Loretta in "Drop Dead Gorgeous," Janney finally snagged an Oscar in 2017 for her supporting turn as Tonya Harding's foulmouthed and cruel mother, LaVona Golden, in "I, Tonya."
Ben Platt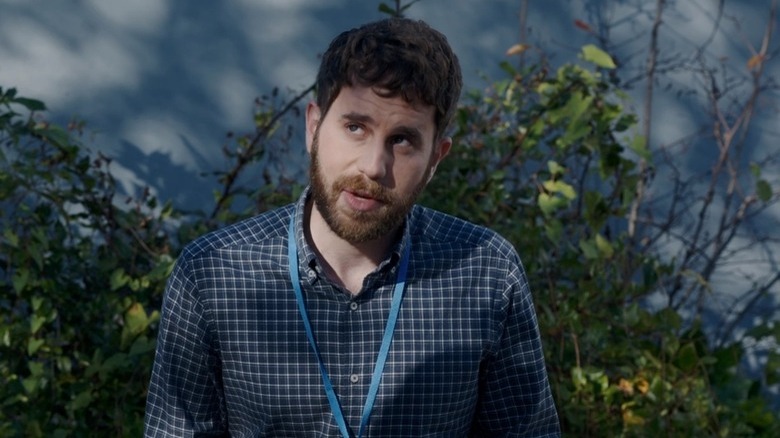 Amazon Prime
An empathetic clinician — so empathetic it gets him suspended — in a program treating phobias with intense exposure therapy, Paul (Ben Platt) struggles to assert himself in his own life. Ultimately, he's so conflict-avoidant he would rather not talk to his mom than explain how her reaction to his father's death really hurt him.
Unfortunately, many will likely recognize Platt for less than laudatory reasons. After gaining plenty of critical praise, awards, and audiences for playing Evan in "Dear Evan Hansen," Platt's attempt to reprise the role was met with considerable critical backlash, turning him briefly into quite the meme. Thankfully, the actor has found success outside "Dear Evan Hansen." On stage, Platt gained critical acclaim for his work in the Chicago cast of "The Book of Mormon" as Elder Cunningham. He did well enough to snag the role during the show's second national tour, eventually leading to a year-long term on Broadway.
For those less plugged into theatre, Platt is likely best known as Benji Applebaum, the best friend to the male romantic lead Jesse (Skylar Astin) and amateur magician with gold pipes, in the first two "Pitch Perfect" films. He also gained attention and praise for his turn as the titular figure in Ryan Murphy's "The Politician."
Cynthia Addai-Robinson
Cynthia Addai-Robinson's Eloise is Donna's eldest daughter and the only child from Donna's marriage to Henrique. While mom returned to the state, Eloise stayed in England living with her father, although she still visited her mom, stepdad Bill, and half-siblings, Paul and Alice, every year, seemingly for Christmas and during the summer. Unfortunately, as everyone grew up, Eloise found herself increasingly on the outside, judged by Alice and Paul as their wealthier, more intelligent, prettier sister who thought less of them. She had hoped her wedding might be a chance for them to reconnect.
While Addai-Robinson has acted on stage and television since 2002, it took until 2013 for her first attention-getting role when she was cast as the ruthless Amanda Waller on TV's "Arrow." As a character played on the big screen by such luminaries as Angela Bassett and Voila Davis, Waller remained an amoral member of the superhero community here, using ARGUS as an organization dedicated less to supporting heroes and more to controlling them.
Addai-Robinson's biggest other role in 2022, however, is "The Lord of the Rings: Rings of Power," which proved to be a hit with fans and critics. Addai-Robinson got to share in that glory as the rightful heir to the throne of Númenor, Tar-Míriel. Struggling with multiple setbacks, Tar-Míriel nonetheless refuses to wilt under the circumstances of her life, giving Addai-Robinson a rich character to render on screen.
Karan Soni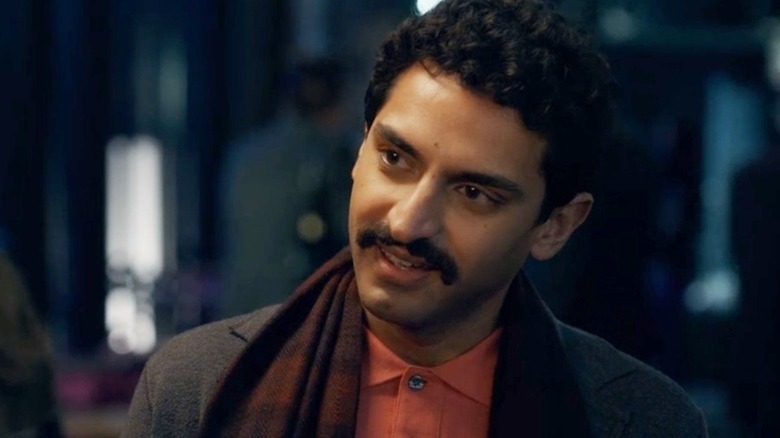 Amazon Prime
At first glance, Dominic, Paul's boyfriend, seems like a great guy. As played by Karan Soni, he appears understanding and tolerant of his partner's idiosyncrasies and emotional struggles. Lster, Soni sheds Dominic's "nice guy" skin to reveal a man tired of his bland monogamous relationship using this trip to England as an excuse to coax Paul into a threesome with Dominic's handsome mentor and friend Alcott (Julian Ovenden).
As an actor, Soni nearly broke through multiple times before it took. In 2013, he snagged the lead in an early Amazon streamer called "betas," a sitcom about programmers that beat "Silicon Valley" to the punch by a year. Unfortunately, it didn't catch on like "Valley" and was canceled after one season. Two years later in 2015, Soni earned another lead role, this time in the Paul Feig ("Bridesmaids") science fiction comedy "Other Space." Once again, however, the show ended after just one season — this time because its network, Yahoo Screen, folded.
Thankfully for Soni, "Deadpool" hit theaters later that year and proved a massive success. Playing the part of Dopinder, Deadpool's hapless cabbie and sidekick, the actor proved popular enough that he returned in an even larger role in "Deadpool 2." In 2019, Soni signed onto "Miracle Workers," the cult favorite anthology series, where he stars alongside Steve Buscemi, Geraldine Viswanathan, and Daniel Radcliffe as one of the members of the main cast that appears in every season.
Jorma Taccone
Billionaire Jonathan should be an immediately despicable character in "The People We Hate At the Wedding." After all, he's cheating on his wife, who just had a baby, with our vulnerable protagonist Alice. As played by Jorma Taccone, though, Jonathan comes across as witty and charismatic even as he lets everyone important to him down. He's... definitely not a great guy, though, despite Taccone's charm.
 As part of Lonely Island alongside Andy Samberg and Akiva Schaffer, Taccone has been featured in several music videos and Saturday Night Live taped segments, including "I Just Had Sex," "Great Day," and "Jack Sparrow." He also played a prominent supporting role in "Hot Rod" and "Popstar: Never Stop Never Stopping," the latter of which he wrote, co-directed (with Schaffer), and produced. Taccone has also popped up in guest roles on shows like "Girls," "Parks and Recreation," and "The League."
Writing and directing are where he has had the most success. In addition to all the work he did on SNL with Lonely Island, he also wrote and directed "MacGruber," a cult film based that has only grown in reputation from its somewhat disappointing initial release, spawning a TV spinoff for which Taccone writes and produces. Alongside Schaffer and Samberg, he has also served as executive producer of shows like "PEN15" and "I Think You Should Leave With Tim Robinson," 
Dustin Milligan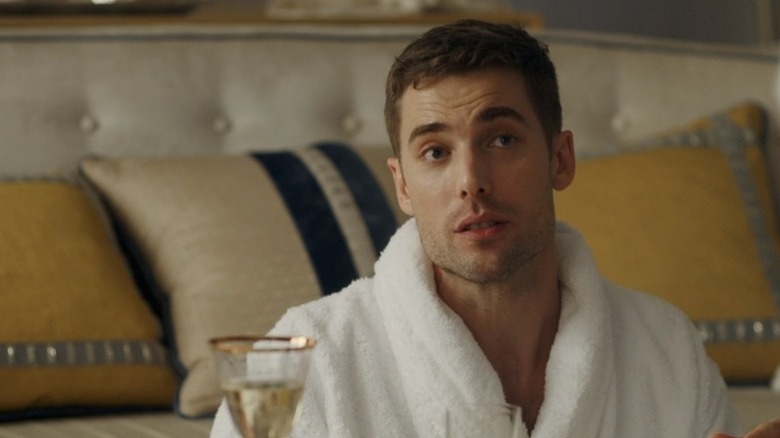 Amazon Prime
When Dennis boards a plane for England as the film begins, he doesn't expect anything wild to happen. Then he met Alice, which turned out to be both a great and lousy thing. Dustin Milligan instills Dennis with such goodness that even when Alice plays him for a sucker, the middle manager never comes across as pitiable or clueless. Instead, he's just a decent guy who likes someone he's smart enough to see doesn't like herself.
Most fans will likely recognize Milligan from his similarly sweet role on "Schitt's Creek." Portraying Veterinarian Ted Mullens, Milligan proved a surprising counterweight to Alexis Rose (Annie Murphy). Ultimately, their relationship grows into a wonderfully thoughtful take on two people who are wonderful for each other... but still can't be together.
For Milligan, "Schitt's Creek" was the payoff for a sure thing that went awry in the "Beverly Hills 90210" reboot called, fittingly enough, "90210." The new series proved not as popular as its predecessor, and Milligan departed after just one season. After that, he joined the main cast on the well-regarded sitcom "Rutherford Falls," playing journalist Josh Carter, which flips the "Schitt's Creek" dynamic for him. Now he's an outsider trying to understand a small, quirky town, which gives Milligan several different notes to play.
John Macmillan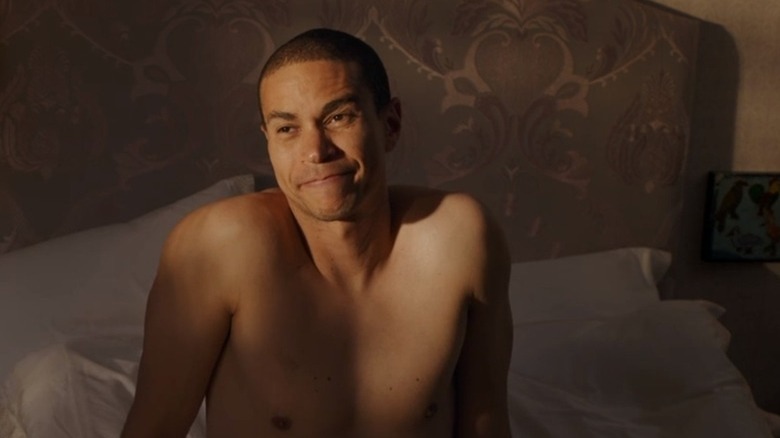 Amazon Prime
As Eloise's fiancé Ollie, John Macmillan plays perhaps the most understanding prospective groom of a woman with a wacky family in the history of film comedy. He endures painfully uncomfortable meals, watches his parents be "treated" to an extensive retelling of his future brother-in-law's near threesome, and his bride disappears to Taco Bell mere hours before the wedding after she has a candle-related breakdown. Moreover, he does it with nary a cross word or a frustrated sigh. Macmillan is so talented in this role that he makes Ollie feel like a real person, rather than an unrealistically patient spouse.
For British fans (or fans of British TV), Macmillan is likely familiar from at lease one of four big shows. Most recently, he played Julian on the odd couple sitcom "Back." Running roughly around the same time, he played several characters in the sketch show "Famalam." Going back several years before that, he was recurring character, Ronald, on the series that launched Micaela Cole into the collective consciousness, "Chewing Gum." Finally, way back in 2011, he appeared in every episode of the lawyer drama series "Silk" as John Bright. Stateside, Macmillan scored his first high-profile gig in 2022, and he couldn't have landed a buzzier project: the "Game of Thrones" prequel "House of the Dragon."
Isaach De Bankolé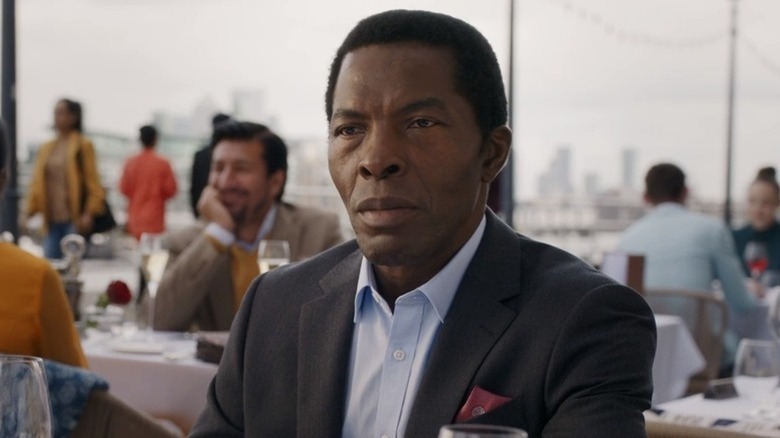 Amazon Prime
Isaach De Bankolé makes being a cad look good in "The People We Hate At the Wedding" as the first love and ex-husband to Donna and father to Eloise. Handsome, stylish, and charming, viewers immediately understand why Donna fell in love with him, as well as how he keeps his dance card filled with younger women even though he's now into his 60s. Yet, despite his womanizing ways, Henrique never feels like a lousy person. He's not a great guy to commit to long-term, certainly. But as a father, Henrique appears present and dedicated. Additionally, he clearly is aware that he messed up his best chance at happiness with Donna back then, even as he repeats old behavior patterns in the present.
De Bankolé has an extensive film careeri in French cinema dating back to the early 1980s. He arrived in American films in 1991 in director Jim Jarmusch's "Night on Earth," playing the male lead in the film's Paris-based vignette. Jarmusch fans will likely recognize De Bankolé as the director has consistently given the actor his most prominent American film roles in movies like "Ghost Dog: The Way of the Samurai" and "Coffee and Cigarettes." He even anchored Jarmusch's 2009 effort "The Limits of Control" as the hitman The Lone Man. De Bankolé has also appeared in a rising number of blockbusters, including both "Black Panther" films, Daniel Craig's first Bond film "Casino Royale," and the Michael Mann-directed cult favorite "Miami Vice."
Andy Daly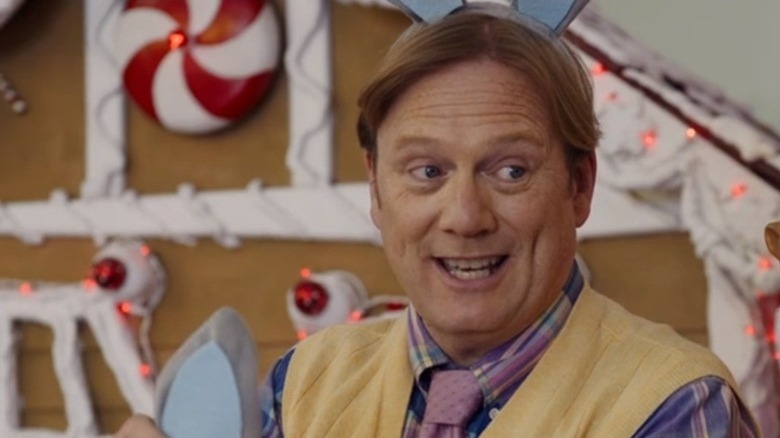 Amazon Prime
Andy Daly's Bill, Donna's second husband and dad to Alice and Paul, turns out to be the biggest villain in "The People We Hate At the Wedding." What makes the reveal that Bill was a homophobe so bruising is how wholesome and reliable Daly makes Bill seem in a short amount of screen time. Surely, that goofy, sweet, and patient man couldn't be the kind of person who would be repulsed when his son came out? Thus, when the news of it sends Paul reeling, viewers experience the shock too.
True comedy enthusiasts are most likely to know Daly. For years, he helped Conan O'Brien bring his wild sketches to life on "Late Night with Conan O'Brien" and "Conan." He also created several wonderfully weird characters for the talk-show parody series "Comedy Bang-Bang." Finally, he played the lead Forrest MacNeil in the Comedy Central series "Review," a hilarious show beloved by a small but dedicated cadre of fans.
Julian Ovenden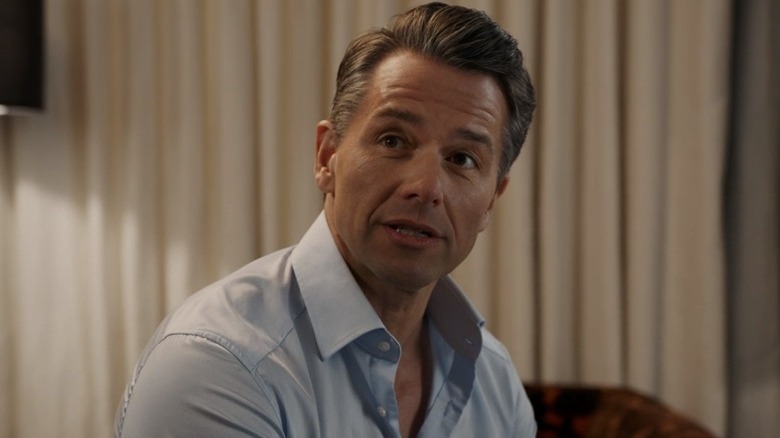 Amazon Prime
Dominic's behavior makes Julian Ovenden's Alcott seem like somewhat of an antagonist, but by all appearances, he seems a fairly decent chap. Not the best, perhaps, reading the room and realizing he's part of a more sexually adventurous experience than Paul is ready for. He also definitely could be better about his timing when it comes to serving snacks to his guests. But overall, Alcott is a fun-loving guy who finds Paul attractive. It's not his fault Dominic is a jerk more interested in pursuing his fantasies than respecting his boyfriend's boundaries.
While Ovenden has made several television and film appearances, he got his start on the stage and seems to achieve his biggest successes there as well. Still, a few key television roles will likely make him recognizable to larger audiences. He authored Charles Blake for nine episodes of "Downton Abbey," for instance. Shortly after that, he made several appearances on "Person of Interest" as Jeremy Lambert, right-hand man to multi-season big villain John Greer. Then it was back for British set series playing Bobby Kennedy on "The Crown" and Henry Granville on "Bridgerton."
Tony Goldwyn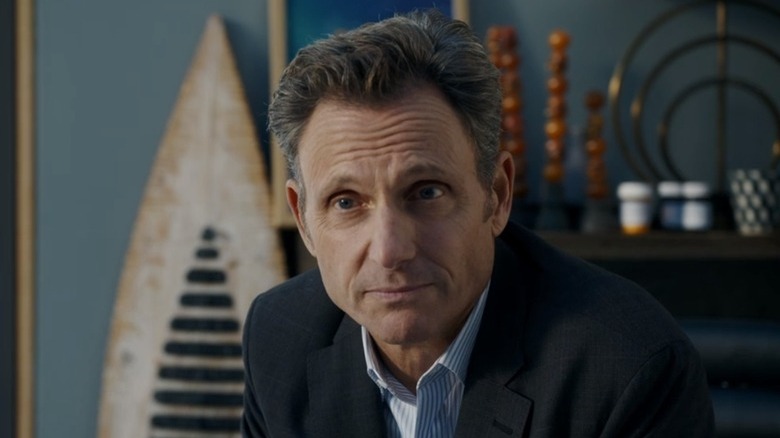 Amazon Prime
As unpleasant as Tony Goldwyn seems in his brief appearance as Paul's rigid boss Dr. Goulding, at least he could take comfort in the fact that he had at least two other roles far more unctuous in his filmography.
The first of these unpleasant characters was Goldwyn's breakthrough role in "Ghost." Goldwyn plays Carl, the seeming partner and good friend of the soon-to-be-titular ghost Sam Wheat. Unfortunately, Carl is no angel and wasn't a particularly good friend. When Sam catches some bank accounts that seemed strangely inflated, Carl arranged for his friend to be killed during a supposedly random mugging to hide his own secret money laundering. Besides giving Goldwyn a chance to play charm curdled into too slick evil, "Ghost" also provided him with one of the most shocking and memorable death scenes of the 1990s.
Over two decades later, Goldwyn outdid himself as President Fitzgerald Grant III in the hit TV series "Scandal." As an adulterous, murderous President of the United States, Goldwyn somehow made one of television's wickedest characters one of its most charismatic as he carries on an affair with Kerry Washington's Olivia Pope, a D.C. fixer, and commits a number of other atrocities.
Randall Park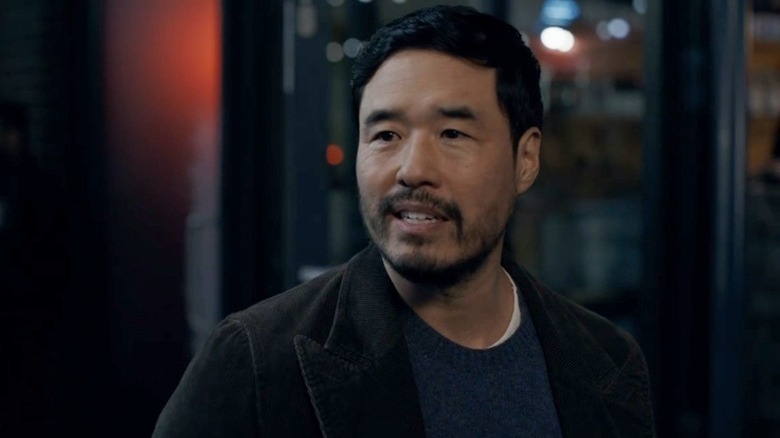 Amazon Prime
Randall Park's Russell plays the token straight friend to Dominic in a brief appearance that gives viewers the first hint that Paul's boyfriend is perhaps not as nice a guy as we may believe. Park brings a similar likable, if befuddled, energy to Jimmy Woo, everyone's favorite federal agent in the MCU. Debuting in "Ant-Man and the Wasp," Park's Woo manages the impressive feat of matching Paul Rudd's considerable charisma, and he went on to add new layers to the character in "WandaVision."
Shortly after "Ant-Man and the Wasp," Park wrote, produced, and starred in the romantic comedy "Always Be My Maybe," playing a slacker, a decidedly different gear for the actor. While a bit shown up by Keanu Reeves' meta-role as the worst version of himself, Park nonetheless makes an impact in the streaming hit. Likely none of these eye-catching roles would've been possible, however, without his work as the sensible but fun dad Louis on "Fresh Off the Boat." The show, which ran for six seasons, was embraced by critics and audiences and became the first Asian-led sitcom on television in over 20 years.
D'Arcy Carden
Amazon Prime
"The People We Hate At the Wedding" provides an opportunity for a happy reunion between D'Arcy Carden and Kristen Bell. Carden, playing Jonathan's plant wrangler, walks in on Alice, planning a certain sexy surprise for her boss and lover. Carden plays the moment completely deadpan, fully believing Alice's excuse and helping her fix the "problem."
For fans of "The Good Place," this was a delightful reunion between these two performers. Carden snagged her most significant role to date as "not a woman, not a robot" Janet, who is available to answer any questions for Good Place residents like Bell's Eleanor.  Carden has also played the supporting crucial role of Natalie Greer in "Barry" since 2018 appearing in 19 of 24 episodes. In 2022, she played Greta Gill in the rebooted "A League of Their Own," a hit that proved that fans of the original movie would happily return for an original series focusing on a plucky women's professional baseball team. On the big screen, you've probably seen Carden pop up in movies like "Bombshell" and "Ride the Eagle."
Lizzy Caplan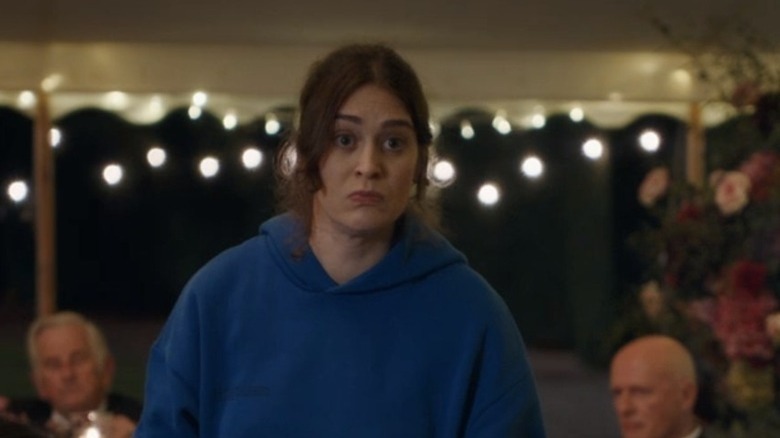 Amazon Prime
Jonathan's wife, Marissa, is spoken about often by Alice and Jonathan, but for most of the movie, she's neither seen nor heard from except from a distance or over the phone. Then, played by Lizzy Caplan, she stumbles into Eloise's rehearsal dinner when Alice expects Jonathan to arrive. The situation is immediately apparent: Marissa found out about the affair and has been texting Alice as Jonathan as she flew to England to confront the other woman.
Caplan began her acting career on the well-loved but doomed series "Freaks and Geeks" alongside fellow future stars like Seth Rogen, Jason Segel, and Linda Cardellini. Following that, she returned to high school in the 2004 megahit "Mean Girls" as the acerbic, offbeat Janis Ian, and in 2008, she also caught people's attention as the most recognizable face in "Cloverfield." Caplan then went on to show off both her dramatic skills in 2010's "127 Hours" and her comedy chops in raunchy flicks like 2012's "Bachelorette."
In 2010, "Party Down" hit the small screen gaining a small but dedicated fanbase. Caplan proved a fan favorite as sarcastic cater waiter Casey Klein. Three years later, she'd book a huge role as homemaker turned sex researcher Virginia E. Johnson in "Masters of Sex," and in 2019, she appeared in a leading role in "Castle Rock." In 2022, she snagged a vital role as Libby, the narrator and a major character, in the Hulu series "Fleischman is In Trouble."