Ben Platt Had A Difficult Time Digesting The Backlash Towards Dear Evan Hansen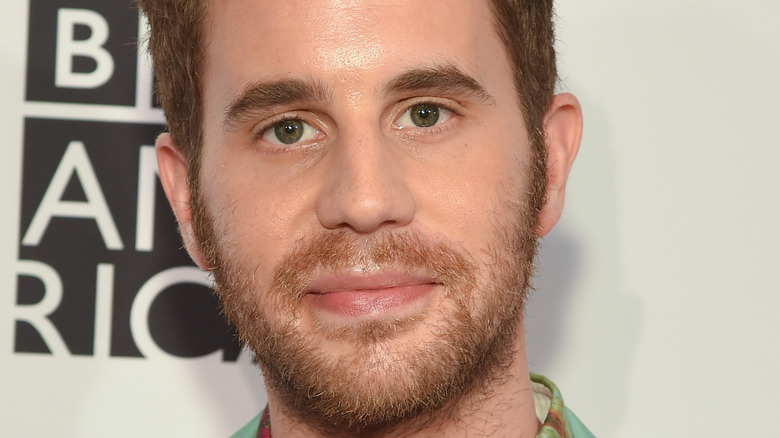 DFree/Shutterstock
In December 2016, a new Broadway show began resonating with the masses. It wasn't your typical flashy musical or an intense drama. Rather, it was something in-between that provided a sense of belonging to anyone who's ever felt alone. Of course, we're talking about "Dear Evan Hansen."
After opening on Broadway at the Music Box Theatre with "Pitch Perfect" star Ben Platt in the lead role of Evan Hansen — a socially awkward teen whose lie about a deceased classmate earns him popularity and trouble — the show was nominated for an impressive nine Tony Awards (via Playbill). In fact, Platt won the award for best actor.
Following such success, and since he was associated with popular tracks from the cast recording like "You Will Be Found" and "Waving Through a Window," it made sense that Platt should reprise his onstage persona for Universal Pictures' 2021 film adaptation ... right? Except, when Platt opened the show at the Music Box Theatre in 2016, he was 23 playing a 17-year-old, which is certainly not unheard of in the entertainment industry. But by the time the movie was filmed, Platt was 28 (via Rolling Stone) — a decade removed from high school.
Upon the film's release, social media was flooded with criticism noting how Platt looked much too old to play Evan. The actor was aware of the negative remarks made about him and had a hard time coming to terms with the backlash.
Ben Platt called the response 'horrific'
When the film version of "Dear Evan Hansen" was released, Ben Platt saw so much hate about his age and performance that he deleted his Twitter account. One year later, he's still feeling the sting of those comments.
In an interview with The New York Times, Platt said, "It was definitely a disappointing experience and difficult, and it definitely opened my eyes to the internet and how horrific it can be. You'd think, after doing 'Dear Evan Hansen' onstage for four years, I would have already known that."
Through all of the negativity, Platt shared that he tries his best to focus on positive feedback from the many viewers who were touched by the story. On Rotten Tomatoes, user Alex S gave the movie five stars and said, "A movie that stuck with me for weeks. On their face, songs like 'Waving Through a Window' and 'For Forever' are touching, with solid pop hooks paired with Ben Platt's emotional vocals."
Platt's on-screen, curly-haired portrayal of Evan may not be for everyone. But his successful work onstage, where he originated a character that's helping people realize they're not alone in this dark, crazy world, can't be denied.