Where You've Seen The Cast Of Netflix's The Wonder Before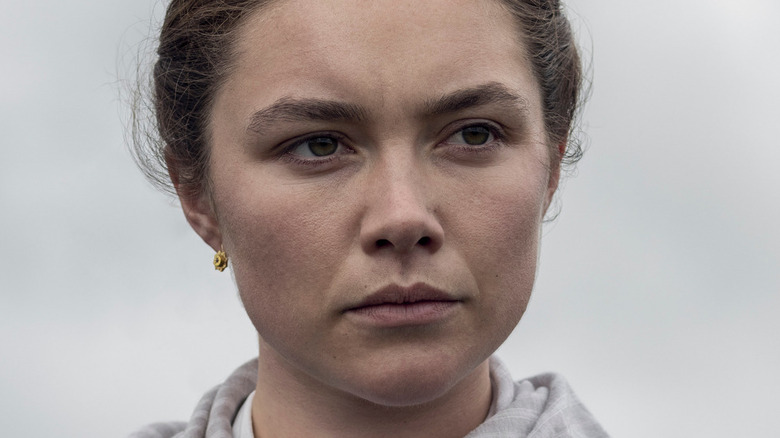 Netflix
Netflix's 2022 film "The Wonder" might seem like your typical period piece, but as you start to dig into it, it's much stranger than you might expect. The most obvious oddity in the film is the instances in which the fourth wall is broken, striking reminders to the audience that what you are watching is nothing more than a fabrication. But, even as you are made aware of the constructed nature of the film, you can't help but be enraptured by the bizarre, mystifying story. It's also the impressive performances by the actors in the film that ultimately make it worthwhile.
The film stars Florence Pugh as Elizabeth "Lib" Wright, an English nurse who travels to the Irish Midlands in order to watch over a girl who claims to have not eaten for four months. Along with a local nun, it's Elizabeth's job to observe the girl and see if she is indeed going entirely without food. The film takes place in the decade following the Great Famine, and the town is still traumatized by the loss and desperation that accompanied that period. The town is also quite religious, and many residents believe the girl is some sort of saint.
"The Wonder" boasts a number of veteran actors on its cast list, as well as some new faces. If you were struck by the haunting performances in the film and want to know more, then you're in the right place. Keep reading to discover where you've seen the cast of "The Wonder" before.
Kíla Lord Cassidy as Anna O'Donnell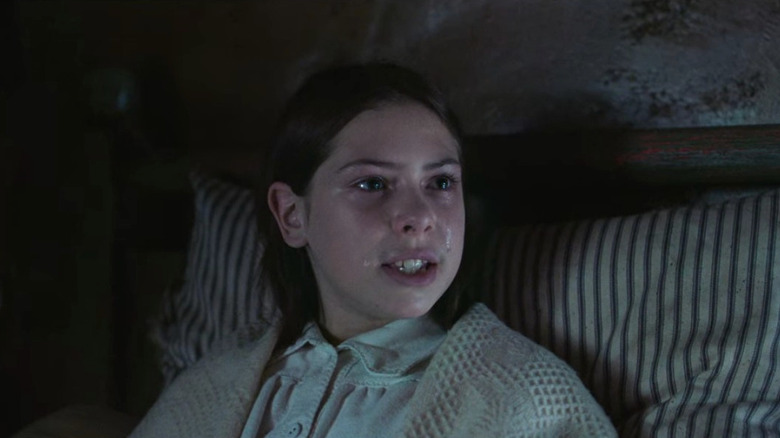 Netflix
Kíla Lord Cassidy plays Anna O'Donnell, the young girl at the center of the film. Anna is a seemingly pious, saintly girl who has attracted onlookers from across the country. But what Elizabeth discovers is that Anna has been dealt a terrible hand in life, one that she believes she can overcome with some heavenly assistance.
Kíla Lord Cassidy is an immensely talented 13-year-old who was just 11 when she was cast in the film. Fairly new to the acting world, Cassidy previously appeared in the 2020 film "The Doorman" and the ITV miniseries "Viewpoint."
At only 13 years old, Cassidy isn't actually allowed to go see the film since it was rated for ages 15 and older in the U.K., as she told The Guardian. As for her audition, she only sent in a single audition tape that she filmed at home before hearing the news that she got the part. "I started bawling on the phone. It was a bit embarrassing," Cassidy revealed about the moment director Sebastián Lelio phoned her with the news. "I was speechless," Lelio said of her audition. "She was 11 when she recorded that. Her understanding of the role, of Anna, was extraordinary."
Elaine Cassidy as Rosaleen O'Donnell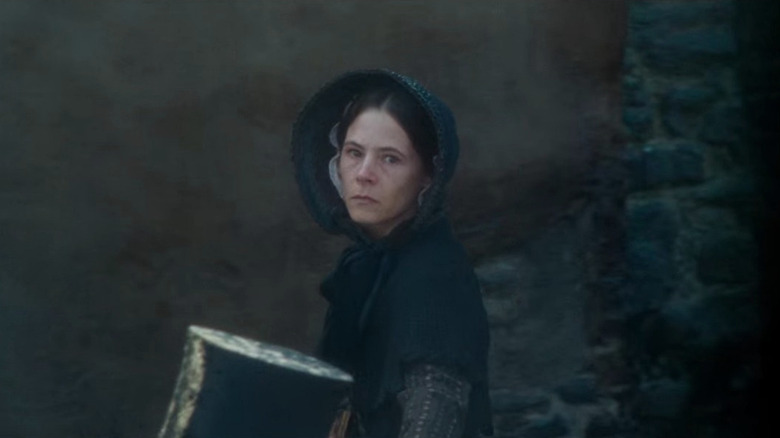 Netflix
Rosaleen O'Donnell, Anna's mother, is played by Elaine Cassidy. She has a much smaller role than her daughter, but the part she plays in the film is no less significant. Casting for the role of Rosaleen, the producers decided to stay close to home: Elaine Cassidy is actually the mother of Kíla Lord Cassidy, the young actress who plays her daughter in the film. "It was a privilege to film a real mum and daughter, " director Sebastián Lelio told The Guardian about the casting choice. "The camera knows they are mother and daughter. It knows."
The Irish actress is a veteran performer, having appeared in dozens of different projects since the 1990s. She first rose to prominence after starring in the 1999 film "Felicia's Journey," followed by her role in the 2001 film "Disco Pigs." She also acted alongside Nicole Kidman in "The Others" and co-starred with Sally Hawkins in the mini-series "Fingersmith." She is perhaps best known for her starring role in the British police procedural "No Offence," which ran from 2015 to 2018. She also starred in the American horror series "Harper's Island" and the British fantasy series "A Discovery of Witches."
Florence Pugh as Elizabeth Wright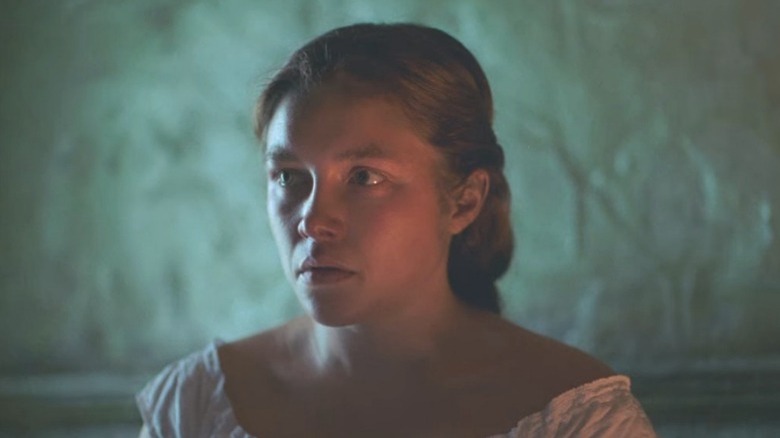 Netflix
The English nurse who is the heroine of the film, Elizabeth Wright is played by Florence Pugh. Elizabeth previously served as a nurse in the Crimean War and has accepted the job in Ireland following the devastating loss of her baby and husband. While she is initially skeptical of the girl's situation, she soon discovers that something more sinister is at play and does everything she can to protect her.
Florence Pugh is probably the most recognizable face in "The Wonder," and there's a good chance you've seen her before. She is perhaps most well-known for her celebrated performance in Ari Aster's folk horror film "Midsommar," in which she finds herself trapped in a commune amidst increasingly violent rituals. She also starred in Greta Gerwig's adaptation of "Little Women" as Amy March, the second-oldest of the March sisters.
Born in 1996 in Oxford, England, Pugh made her acting debut in a 2014 film called "The Falling," where she starred alongside "Game of Thrones" star Maisie Williams. She received good reviews for her performance, but it wasn't until she starred in the 2016 film "Lady Macbeth" that she really started gaining recognition. She then starred in a TV adaptation of "King Lear," the miniseries "Little Drummer Girl," and the biographical drama "Fighting with My Family." More recently, you may have seen her playing Scarlett Johansson's foster sister, Yelena Belova, in "Black Widow" and "Hawkeye," while also starring alongside Harry Styles in the Olivia Wilde-directed thriller "Don't Worry Darling."
Tom Burke as William Byrne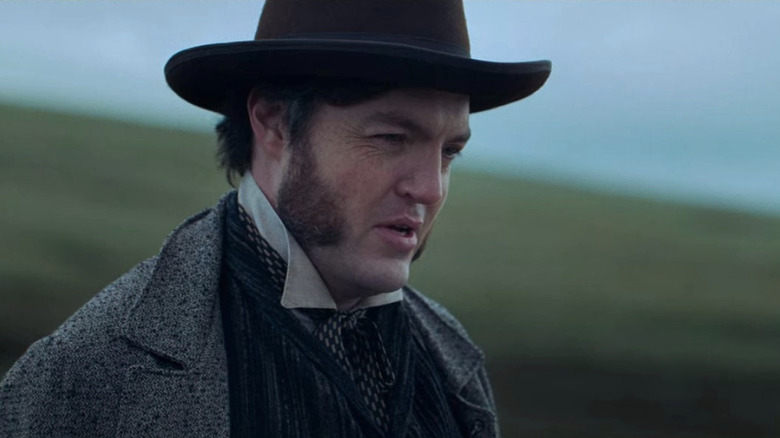 Netflix
Tom Burke plays William Byrne, a character who becomes one of Elizabeth's only allies in the film. When they first meet, Elizabeth learns that William is a journalist, there to do a story on the miraculous Anna, and is skeptical of his motives. But as she learns more about him — and his ties to the town — she begins to believe that she can trust him after all.
Tom Burke is a British actor who grew up in Kent. Both his parents — David Burke and Anna Calder-Marshall — are actors, and his father played Dr. Watson in the "Adventures of Sherlock Holmes" series. His godfather was actor Alan Rickman, perhaps best known for playing Snape in the "Harry Potter" series.
Burke has had an impressive career in film and television, beginning in the early 2000s. He is probably most well-known for playing the title character in the BBC series "Strike" from 2017 to 2022. He also played a role in the BBC series "The Musketeers" and was featured in the BBC adaptation of "War and Peace." You may also know him from his role as Orson Welles in the 2020 David Fincher film "Mank."
Niamh Algar as Kitty O'Donnell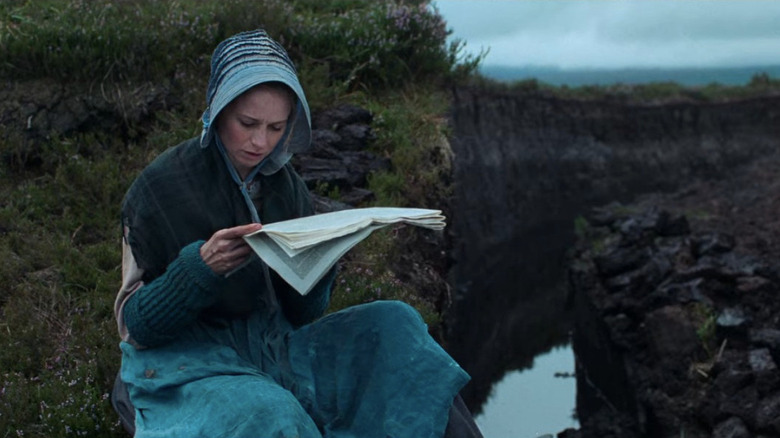 Netflix
At first, Kitty O'Donnell seems like a minor character in "The Wonder." She is Anna's older sister, and she often behaves rather rudely toward Elizabeth. What we learn about halfway through the film is that Kitty is also the narrator, which adds an extra layer of importance to her character. Though Kitty is often seen struggling to read through the film, as the narrator she is all-knowing and has total control over how the story is told.
Kitty is played by Irish actress Niamh Algar. She is perhaps best known for her role in the British drama series "The Virtues," for which she won an IFTA Film and Drama Award. She has also starred in several other television series, including "MotherFatherSon," "Raised By Wolves," and "Pure." Her other movies include the 2019 Irish film "Calm With Horses," as well as "Wrath of Man" and "Censor."
Algar told Radio Times how she thought about her mysterious character, who narrates the film in voiceover and even looks directly into the camera at one point. "It was sort of sitting down with Sebastián [Lelio] and figuring out what it was he wanted from that character, someone who is sort of introducing the story but is also in it," she explained.
Caolán Byrne as Malachy O' Donnell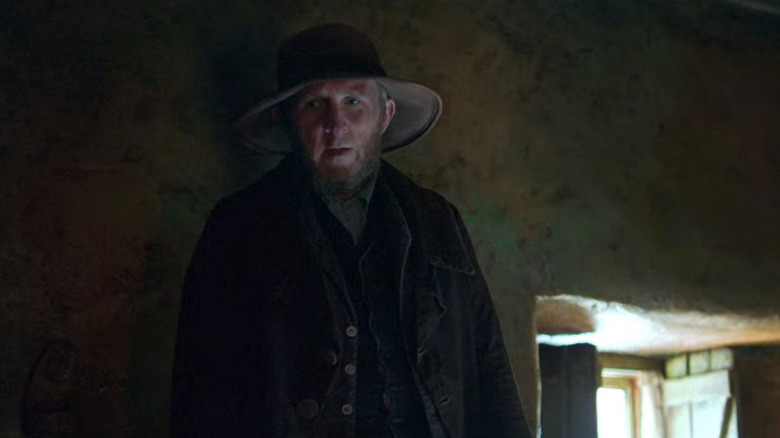 Netflix
Caolán Byrne plays Malachy O'Donnell, Anna's father. Not much is known about Malachy, as he remains a mostly silent figure in the film. Elizabeth alleges that Anna's parents don't love Anna because love requires action, but William argues that she just doesn't understand them. It's not entirely clear what Malachy's stake in Anna's supposed saintliness is, but it's obvious he's suffering along with the rest of the family.
Caolán Byrne is an Irish actor who trained at the Royal Academy of Dramatic Art. Byrne has spent a lot of time working in theater, having starred in numerous productions of Shakespeare as well as Sam Shepard's "A Particle of Dread." Byrne has also worked frequently in television, playing roles in series such as "Das Boot," "Bloodlands," "Brittania" and the critically-acclaimed HBO series "Chernobyl." He was also featured in the 2017 Jackie Chan film "The Foreigner," as well as the 2017 mini-series "The Miniaturist," which starred Anya Taylor-Joy in the lead role.
Toby Jones as Dr. McBrearty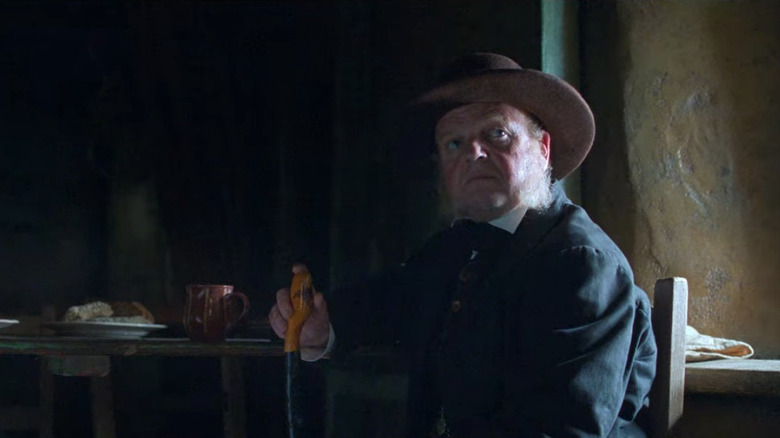 Netflix
Toby Jones plays Dr. McBrearty, the local physician and Anna's doctor. Elizabeth assumes she might have an ally in Dr. McBrearty, being that he's more scientifically-minded like herself, but he's just as convinced as the other committee members that something incredible is going on with Anna. While the religiously-minded men believe it's something spiritual, Dr. McBrearty hopes that she will lead him to discover some sort of scientific breakthrough.
Toby Jones is a British actor who got his start in theater and has since enjoyed a long and versatile career, even if you might not recall where you saw him first. He appeared in the "Harry Potter" franchise as Dobby the house elf, along with many other films including "Tinker Tailor Soldier Spy," "Victoria and Albert," and "Frost/Nixon." His first starring role was in the 2006 film "Infamous," in which he played the author Truman Capote.
Marvel fans might recognize Jones from his role as Hydra scientist Armin Zola in the first two "Captain America" films, and he's also appeared in blockbusters like "The Hunger Games" and "Jurassic World: Fallen Kingdom." He's also dabbled in television, having worked on episodes of "Sherlock" and "Doctor Who," in addition to a longer stint on the British series "Detectorists," in which he played one of the lead roles.
Ciarán Hinds as Father Thaddeus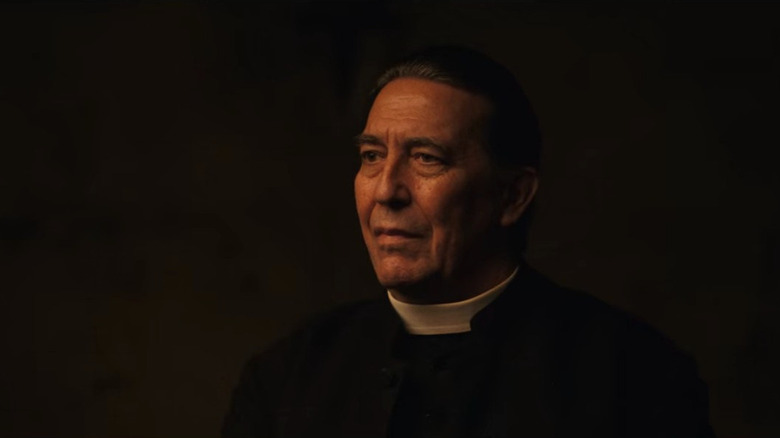 Netflix
Ciarán Hinds plays Father Thaddeus, the local priest and one of the men who sits on the committee that hired Elizabeth as a nurse. Like many other members of the committee, Father Thaddeus wants to believe that Ana's prolonged fasting is a miracle, and would rather not hear any information that proves otherwise. Though he comes off as more level-headed than some of his fellow citizens, it's clear that the whole town is in some sense complicit with the tragic events that follow.
Hailing from Belfast, Ciarán Hinds has played a wide variety of characters over the years. Like "The Wonder" co-star Toby Jones, Hinds also appeared in the "Harry Potter" series, playing Aberforth Dumbledore in "Harry Potter and The Deathly Hallows: Part 2." Hinds also turned up alongside Jones in "Tinker Tailor Soldier Spy." He has starred in dozens of other films and series since the 1980s, including the 1995 adaptation of "Persuasion," "There Will Be Blood," "Silence," and "First Man." More recently, he starred in director Kenneth Branagh's "Belfast," which garnered him his first Oscar nomination, for Best Supporting Actor.
Fans of animated movies might recognize Hinds as the voice of troll king Grand Pabbie in "Frozen," a role which he reprised in the sequel. He also played the villainous Steppenwolf in "Justice League" and Mance Rayder, also known as "the King-Beyond-the-Wall," in "Game of Thrones."
Dermot Crowley as Sir Otway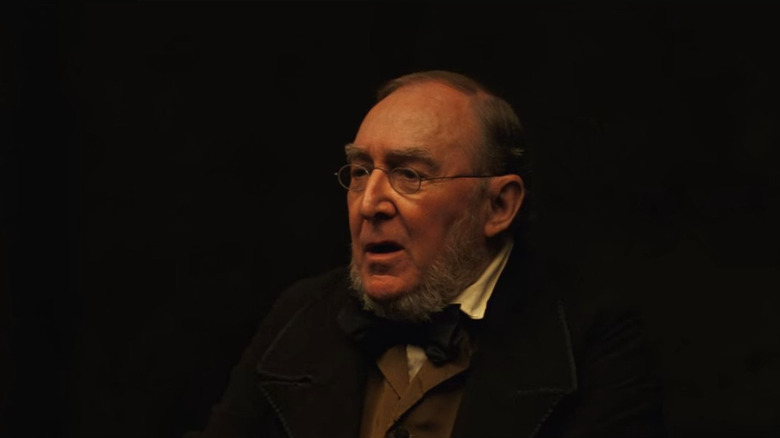 Netflix
Sir Otway is the town elder and the person who seems to have the most control on the committee. Out of all of his fellow committee members, Sir Otway appears to be the most committed to the story that Anna is some sort of saint. As played by Dermot Crowley, he is extremely hard on Elizabeth and does not believe her when she reports her findings about Anna or warns them that she is in grave danger.
Starting his career in the theater, Crowley's stage roles have included Conor McPherson's play "The Weir" as well as the 2011 production of "The Cripple of Inishmaan." You might recognize this native of Cork, Ireland from his role as General Madine in "Star Wars: Episode VI — Return of the Jedi," or Lieutenant Kamp in the James Bond thriller "Octopussy." He also appeared in "The Foreigner" alongside "The Wonder" co-star Caolán Byrne, and played Lazar Kaganovich in the 2017 political satire "The Death of Stalin." Idris Elba fans might know Crowley from his role as DSU Martin Schneck in the acclaimed BBC drama "Luther."
Brían F. O'Byrne as John Flynn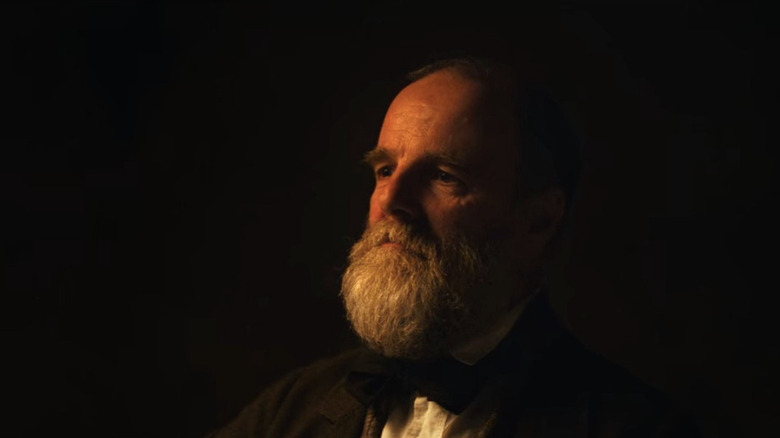 Netflix
John Flynn is a local landlord who, like the rest of the town, becomes involved in the mysterious case of Anna's fasting. Though the actor who plays him, Brían F. O'Byrne, doesn't have a huge role in the film, he still brings his considerable skills to the table. As novelist Emma Donaghue, who wrote the book on which the film is based, told Radio Times, "I think what's extraordinary is that we have such a consistently strong team. People like David Wilmot and Dermot Crowley, Brían F O'Byrne — it's just ended up as a showcase of the best of Irish acting talent."
O'Byrne is best known for films like "Million Dollar Baby," "Before the Devil Knows You're Dead," and "Bug." In 2011 he starred alongside Kate Winslet in "Mildred Pierce," playing the title character's first husband. He also starred in the 2017 mini-series "Little Boy Blue," for which he won a BAFTA. In addition, he starred in the sci-fi drama "FlashForward," the 2009 film "The International," and several episodes of "The Magicians."
David Wilmot as Seán Ryan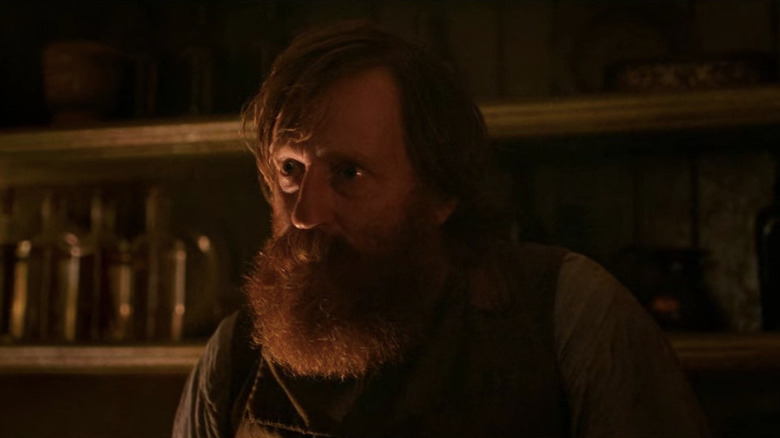 Netflix
David Wilmot plays Seán Ryan, the barman at the inn where Elizabeth is staying. Unlike most of the men on the committee, Seán actually acts as a friendly face to Elizabeth, who faces constant scrutiny from everyone she encounters. He also defends Elizabeth from the men in the pub who yell lewd things at her. When the committee gathers, Seán tends to stand up for Elizabeth and urge his fellow committee members to think rationally about things, but as we all know, he's largely unsuccessful in this regard.
David Wilmot is an Irish actor who's appeared in numerous roles on both stage and screen. His stage roles include "As You Like It" and "The Lieutenant of Inishmore," the latter of which garnered him a Tony nomination. You may know him from films such as "Anna Karenina," in which he played Nikolai, "Intermission," and "Cavalry." On television, he's appeared in series like "The Tudors," "Ripper Street," "The Alienist," and "Black Sails." More recently, he had a starring role in the critically-acclaimed HBO series "Station Eleven."
Ruth Bradley as Maggie Ryan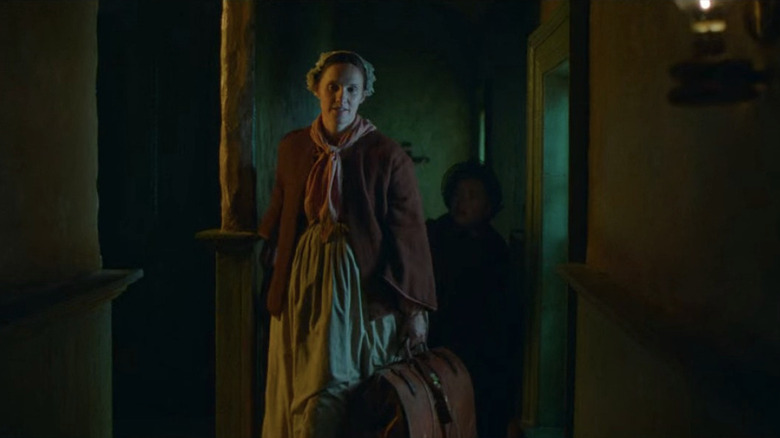 Netflix
Maggie Ryan, played by Ruth Bradley, runs the inn alongside her husband Seán and provides Elizabeth with all her meals. She has half a dozen stepdaughters as the result of her husband's previous marriage(s), and doesn't seem especially happy about her lot in life. She begrudgingly does her job and isn't afraid to make her true feelings known.
First beginning her career in film and television in the early 2000s, Irish actress Ruth Bradley has appeared in films such as "Grabbers," "Flyboys, "Pursuit," and "The Informer." She played DI Karen Voss in the AMC series "Humans," and also lent her voice to the audio series "Doctor Who: Dark Eyes." She was also featured in several episodes of the Apple TV+ series "Ted Lasso," playing Ms. Bowen, the teacher of Roy Kent's niece. Bradley posted a throwback photo from "The Wonder" on Instagram, revealing that she was actually quite pregnant while shooting the movie.
Josie Walker as Sister Michael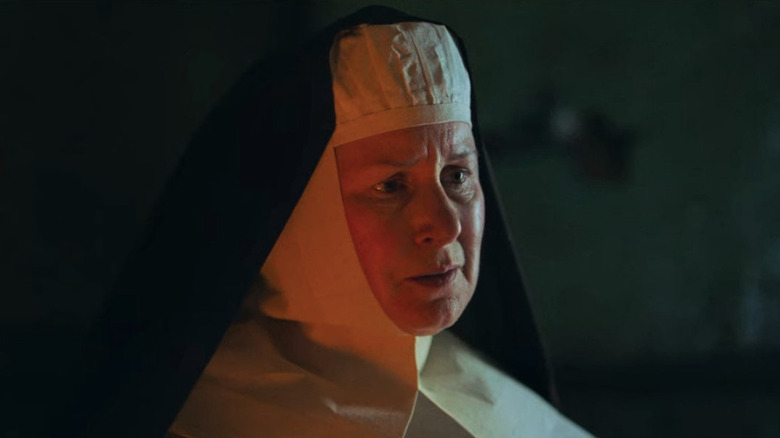 Netflix
Josie Walker plays Sister Michael, the nun who is assigned to watch over Anna along with Elizabeth. Sister Michael is a very subdued, taciturn character, and it is not often clear what she thinks about the situation at hand. She follows the orders of the committee to a T and is not willing to stand up for Elizabeth when she reports her controversial findings. However, her conversation with Elizabeth near the end of the film — when she asks about what really happened to Anna — reveals that she does care for the girl and thus will not spill Elizabeth's secret.
Originally from Belfast like her castmate Ciarán Hinds, Josie Walker has had a long career in the theater and has acted in numerous productions including "Cats," "The Phantom of the Opera," and "Matilda the Musical." She played Auntie Violet in "Belfast" alongside Hinds, and was featured in the 2014 film "War Horse." She has also dabbled in television, appearing in several episodes of the series "This Is Going To Hurt," which stars Ben Whishaw, as well as "Call The Midwife," "EastEnders" and "Holby City."