12 Best Movies That Soccer Fans Need To See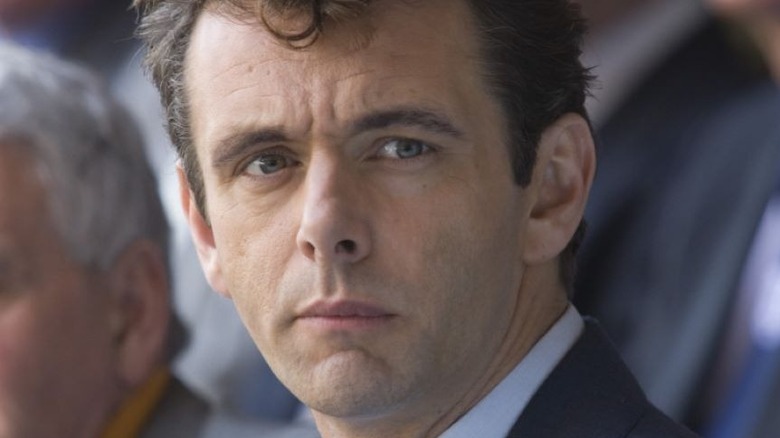 Sony Pictures
Whether you're a sports fan or not, it's hard to deny the sentimental appeal of a gripping sports movie. There's nothing quite like witnessing people striving to achieve their dreams, and watching interpersonal or even political dramas play out on the field. But while there are plenty of famous baseball, basketball, and football movies out there, there seems to be one sport that often gets left out of the conversation: soccer. Much of this is probably due to the fact that soccer has only started to grow in popularity in America over the last couple of decades (via World Soccer Talk), which means it hasn't had time to sink into our national imagination the way these other sports have.
Of course, America is not actually the center of the world, and plenty of other countries have been deeply invested in soccer for much longer than we have. You only have to hop across the pond to find a hefty supply of soccer — or as the rest of the world calls it, football – movies, which is great news for the avid soccer fans among us. As with all sports movies, the genre these films fall under runs the gamut. There's straightforward dramas, historical epics, documentaries, and even romantic comedies. Suffice it to say, there's something for everyone.
If you're a soccer fan yourself — or you're just really into "Ted Lasso" – then you've come to the right place. Keep reading to discover all the best movies you need to add to the list and satiate your sporty appetite.
Bend It Like Beckham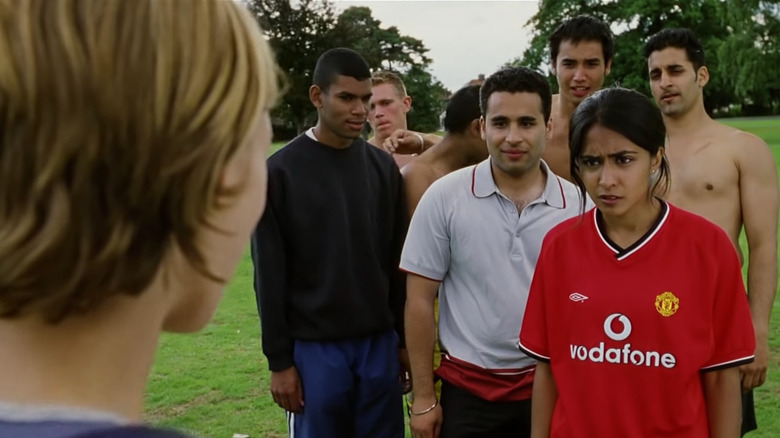 Searchlight Pictures/YouTube
Gurinder Chadha's 2003 film "Bend It Like Beckham" might just be the most charming soccer movie ever made. A teen comedy and coming-of-age story that centers on young girls in London, it's a delightful story about family, culture, and staying true to one's self. Jess (Parminder Nagra) is the 18-year-old daughter of traditional Indian parents who refuse to let her play soccer. While playing in the park one day, she is noticed by Jules (Keira Knightley), who recruits Jess to join the semi-pro team that she plays for. Jess agrees, but it means she must lie to her family about this new opportunity as she struggles to balance her two separate lives.
Director Gurinder Chadha is the master of cross-cultural conflict and multicultural mashups — think "Blinded By The Light" and "Bride and Prejudice" — and "Bend It Like Beckham" masterfully illustrates her talents in this arena. The film could easily veer into cheesy, overly sentimental territory, but clever writing and heartfelt performances make it a joy to watch. It's so easy to root for Jess as she strives to define her own destiny, and the excitement of finally getting to see her "bend it like Beckham" when the stakes are at their highest is a thrill like no other. It may not have reinvented the wheel when it comes to coming-of-age sports dramas, but it's a darn good take on a well-worn premise.
Fever Pitch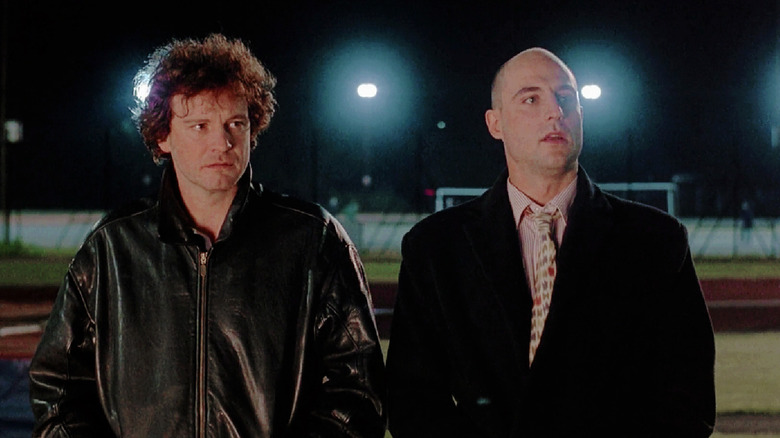 FilmFour
Before you get confused, no, we are not recommending you watch the 2005 movie "Fever Pitch" starring Jimmy Fallon and Drew Barrymore, as that film is in fact about baseball, not soccer. What we are suggesting is that you watch the 1997 film "Fever Pitch," the movie on which the 2005 film is based. (In actuality, both films are based on the book "Fever Pitch: A Fan's Life" by British author Nick Hornsby.)
The film follows a man named Paul (Colin Firth), a teacher who is obsessed with Arsenal, a team that hasn't had a winning season in 18 years. Paul becomes involved with a new teacher at his school, Sarah (Ruth Gemmell), but things become difficult when he tries to balance his love for Arsenal with his feelings for Sarah. As it says in the film's trailer, "Things get complicated when you love one woman and worship 11 men."
Sarah, of course, doesn't understand football and thinks it's silly to spend all your time thinking about a game. Meanwhile, Paul tries to explain to her that he's loved Arsenal for 20 years now and he won't give up on his dream of them finally winning a league cup. A classic '90s romantic comedy with soccer as the central theme and central conflict, this one might be up your alley if you can relate to the obsessive experience of being a soccer fan.
Gregory's Girl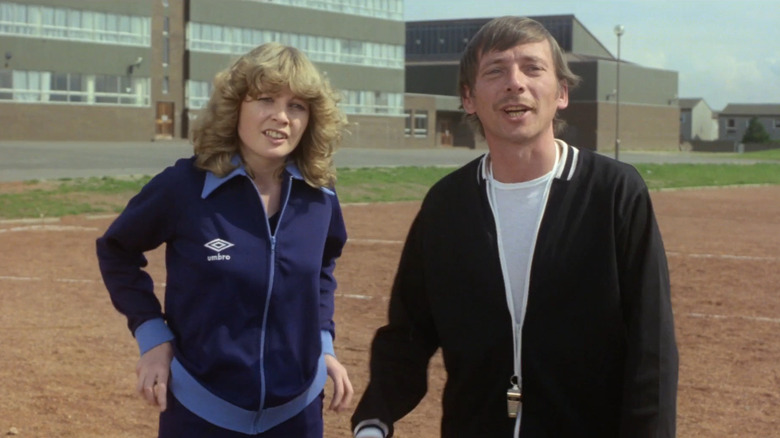 ITC Entertainment/YouTube
"Gregory's Girl" may take place on the soccer field, but it's really a story about unrequited love and the perils of growing up. The film follows Gregory (John Gordon Sinclair), a gangly teenager who plays on a struggling soccer team. Looking for new players, his coach begrudgingly allows Dorothy (Dee Hepburn) to join the team. She takes Gregory's place on the field, which he isn't too upset about because he's become totally enamored with her. Dorothy accepts Gregory's proposal to go on a date, but she sends several of her friends in her place, much to Gregory's confusion.
The film — which takes place in the suburbs of Glasgow — was directed by Scottish filmmaker Bill Forsyth, who is probably best known for his indie hit "Local Hero." It's a sweet, awkward coming-of-age drama made all the more endearing by the fact that the teens in the film are all played by non-professional actors (via The Guardian). A low-budget film that succeeds primarily because of the open earnestness of the script, "Gregory's Girl" is a wistful reminder of how painful and confusing adolescence can be. The soccer is just the cherry on top.
Looking For Eric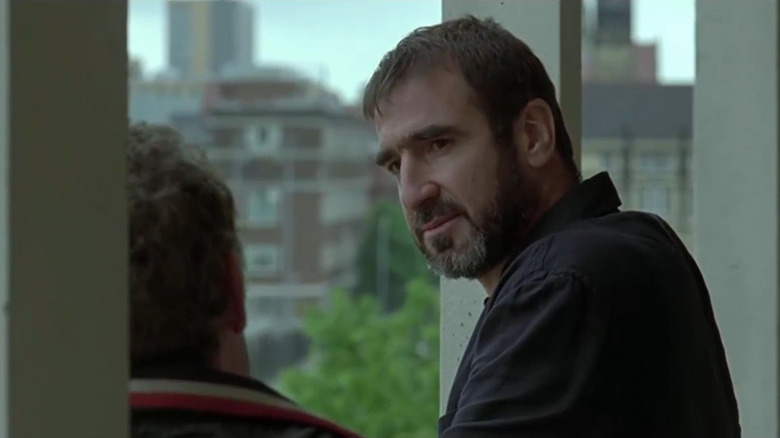 Icon Productions
The 2010 film "Looking For Eric" has a fantastical premise that works due to the charm of its lead actors. The film follows Eric Bishop (Steve Evets), a man whose life isn't going so well. He's separated from his wife (Stephanie Bishop) and neither of his sons (Gerard Kearns, Stefan Gumbs) seem to respect him all that much. His job at the post office isn't getting any more exciting and, to top it all off, he gets in a car accident and winds up in the hospital. After smoking weed one night, he hallucinates his hero: Manchester United player Eric Cantona. Eric's life sees a remarkable improvement with the help of the famed footballer, who is played by Cantona himself.
Though it may seem rather fanciful on paper, "Looking For Eric" sees its characters facing the harsh problems of the world with realistic grit and occasional despair. But, despite the depressed state of Eric's life, it's also a heartwarming comedy filled with good-hearted laughs. Eric Cantona is surprisingly great in the film, and he has winning chemistry with Steve Evets. It may not be precisely about the sport of soccer, per se, but it is about how our heroes can come through for us in unexpected ways.
Shaolin Soccer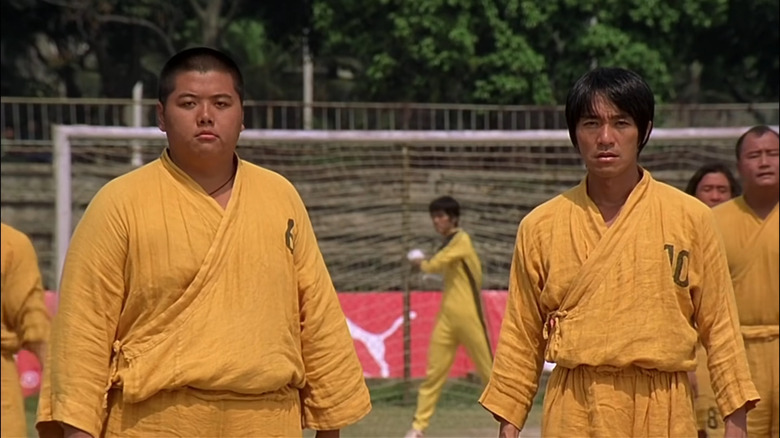 Universe Films
"Shaolin Soccer" is probably the most unique soccer film out there because it actually combines two sports: soccer and kung fu. The Hong Kong sports movie follows Sing (Stephen Chow, who also directed the film), a young man who has spent his life studying kung fu. Sing meets Fung (Ng Man-tat), a former soccer legend who convinces Sing to create a team of kung fu masters to revitalize the sport. No one on the team has ever played soccer before, but with Fung's coaching, they are able to become a nearly unbeatable squad. They're also joined by Mui (Zhao Wei), a baker who uses tai chi to make beautiful steamed buns.
If you're a fan of Hong Kong action films, then you might have a sense of what this film's like. But, if you're not familiar with the genre, you're in for a surprising treat. "Shaolin Soccer" is filled with out-of-this-world special effects and what is probably the most outlandish soccer playing ever captured on screen. Players go flying through the air, balls are kicked at superhuman speed — one ball is even kicked so hard it creates a tornado that strips the clothes off the goalkeeper — and even fire comes into play. It's a live-action underdog sports movie that's shot as if it were an anime action film, and it probably wouldn't be an exaggeration to say that there's no other movie like it. If that doesn't tempt you, we don't know what will.
The Damned United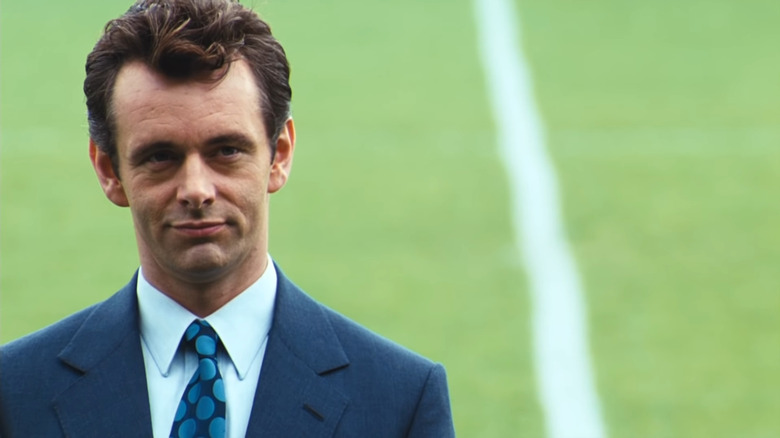 Sony Pictures
"The Damned United" is a soccer movie that focuses on neither the players nor the fans. Instead, it focuses on an equally celebrated and maligned figure in sports: the manager. Michael Sheen plays Brian Clough, who was the manager of Leeds United Football Club for a whopping 44 days in 1974. When Leeds manager Don Revie (Colm Meaney) becomes the manager of England's national team, he is replaced by Clough, the former manager of Derby County, Leeds' biggest rival. Clough despises Leeds' rough playing style — and many of the players themselves — and tries (unsuccessfully) to bend the team to his will.
The movie is based on David Pierce's book of the same name, which is a largely fictionalized account of Clough's tenure at Leeds United. No one really knows what precisely went wrong during those fateful days, and the film doesn't exactly make it any clearer. Did the players actually lose games to sabotage Clough, as some rumors have suggested? The film doesn't answer these questions, but it does offer the compelling tale of an underdog's journey where the hero doesn't actually come out on top. Michael Sheen's performance is riveting and he all but disappears in the role, giving even non-soccer fans something to chew on. American audiences might not understand the intricacies of British football — or the accents — but it's entertaining enough to overcome any mild confusion we might have.
Escape To Victory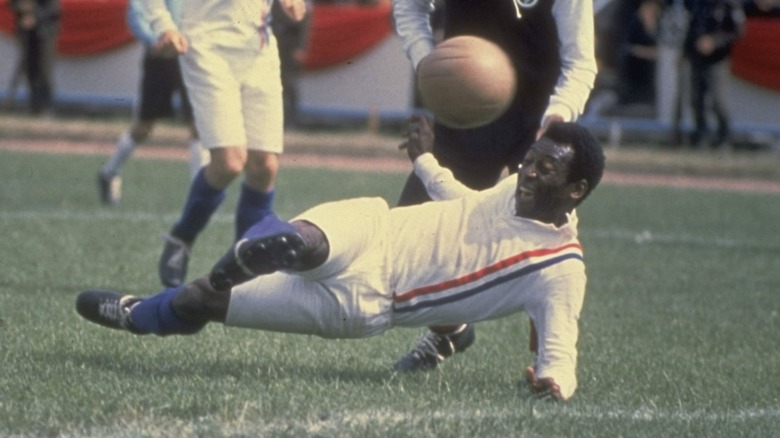 Paramount Pictures
1981's "Escape to Victory" is a sports film that does double duty as a war epic. Directed by legendary American filmmaker John Huston, the movie is based on the 1962 Hungarian film "Two Half Times in Hell," which itself is based on the dubious "true" story of a soccer match during World War II.
The story goes like this: Karl von Steiner (Max von Sydow) is a former soccer star and the head of a German POW camp. He convinces one of his inmates, John Colby (Michael Caine), to lead a team of Allied prisoners in an exhibition game against the Nazis. Colby agrees, unaware that it's a propaganda stunt on the part of the Germans. Meanwhile, another POW, Robert Hatch (Sylvester Stallone), is planning an escape from the prison and wants the team to be involved.
The premise of the film is somewhat preposterous — it's "The Great Escape" but with soccer, basically — but it features enough moments of brilliance and Hollywood magic to make it worth watching. Sylvester Stallone being in a WWII soccer movie is surprising enough, but it also includes many actual soccer players in the cast, including Bobby Moore, Osvaldo Ardiles, and even the great Pelé himself. This makes it a pretty unique film in the sports movie genre, as the game is actually being played by many of the players themselves. It's not the best John Huston film nor the best WWII film out there, but it's certainly worth watching for the spectacle of it all alone.
Offside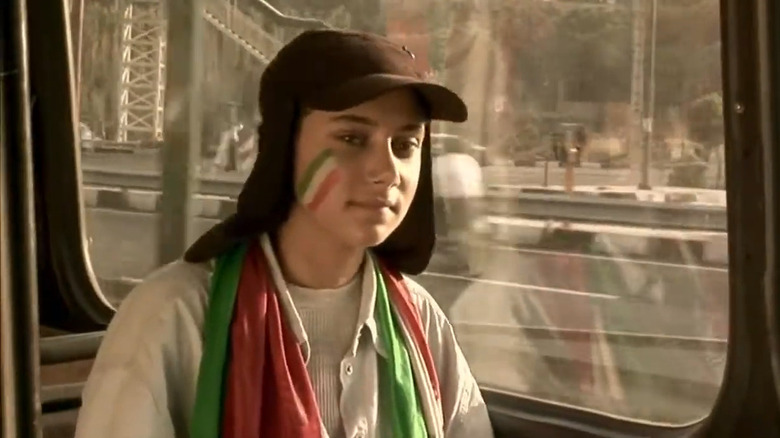 Sony Pictures Classics
The 2006 film "Offside" was directed by legendary Iranian filmmaker Jafar Panahi, a director who has been arrested and imprisoned several times (via the New York Times) for his influential and often incisive work. The film follows several Iranian women who attempt to attend a World Cup qualifying match in disguise, but are arrested and imprisoned before they can enter the stadium. They spend the entirety of the match in a holding cell, while one sympathetic soldier relays the events of the game to them.
The film was inspired by Panahi's own daughter, who decided to sneak into a game despite the fact that women are not allowed inside soccer stadiums in Iran. The film was partially shot at an actual World Cup qualifying match, which gives it a very documentary-like feel. The topic at hand was so controversial that Panahi gave the Ministry of Guidance a fake script in order to get a license for the film — which they withheld until he edited his previous films, which he refused to do. It was then banned in Iran, as was the case with his earlier work.
"Offside" is clearly a socially and politically important film, but it's also an artistically interesting one. Panahi hired non-actors to be in the film, and because parts of it had to be improvised due to the guerilla-style nature of filming, it has a very naturalistic feel to it. For those interested in the larger social problems connected to sports, "Offside" is a must-see.
Goal!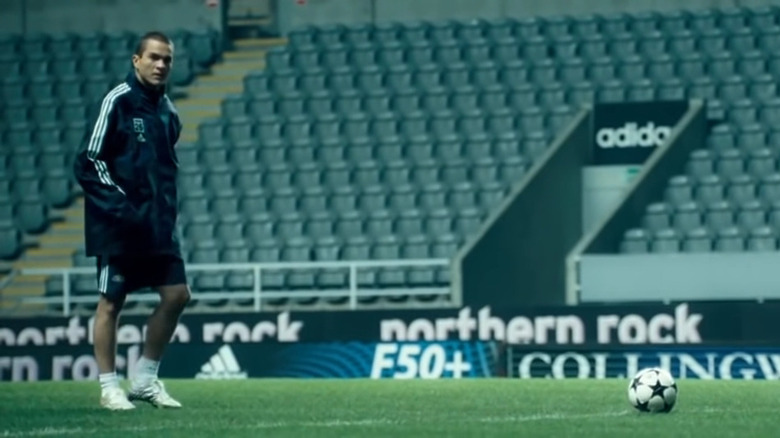 Disney
The 2005 film "Goal!" is the first film in a trilogy, so if you dive into this one you might be signing up for a pretty big commitment. The film centers on Santiago Muñez (Kuno Becker), an undocumented Mexican immigrant living in Los Angeles. Santiago dreams of becoming a professional soccer player, and when a scout from England spots him, he gets the chance of a lifetime. His father is dismissive of his dream, but his grandmother gives him the money he needs to cross the pond. He begins playing for Newcastle United, and, with the help of teammate Gavin Harris (Alessandro Nivola), he works his way up on the team.
"Goal!" wasn't especially well-received by critics upon its release, but it has since become something of a cult classic. The real Newcastle United actually became more popular after the film was released, and several players have even admitted to joining the team in part because of the movie, reports the BBC. The film was produced in partnership with FIFA (Fédération Internationale de Football Association) and Adidas, and the FIFA connection allowed the filmmakers to reference real teams and players, giving it a real-world feel.
The film is buoyed by an excellent performance from Kuno Becker and some impressive soccer sequences that are sure to delight fans of the sport. It certainly plays on many sports movie cliches, but soccer fans around the world have embraced the film, indicating that there's something there worth celebrating.
Zidane: A 21st Century Portrait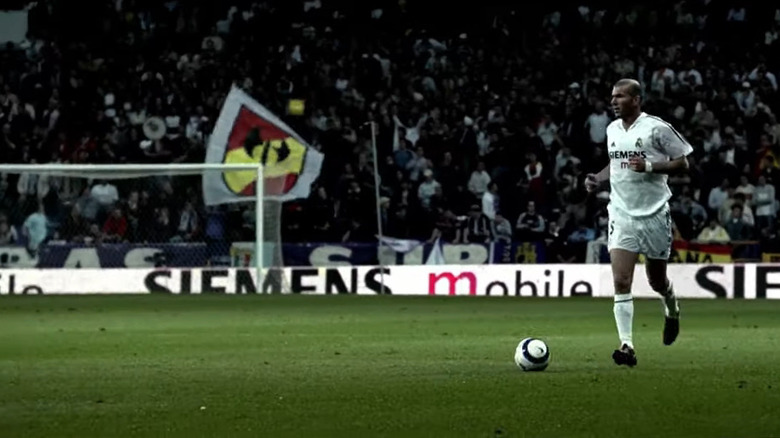 Universal Pictures
There are plenty of interesting sports documentaries out there, but few are quite like "Zidane: A 21st Century Portrait." The 2006 documentary focuses entirely on French player Zidane Zidane over the course of a match between Real Madrid and Villareal in 2005. The documentary was filmed in real-time at a stadium in Madrid, using 17 different cameras to capture Zidane's movements throughout the game. Zidane was actually booted from the field after getting into a fight during the dramatic match's last few minutes.
The film is similar to the 1970 documentary "Football As Never Before," which follows Manchester United player George Best. "Zidane: A 21st Century Portrait" was also cited as an inspiration for Spike Lee's film "Kobe Doin' Work." Unless you've seen these other two films, you've probably never seen anything like "Zidane" before. It may not be the best film for those who have no interest in the specifics of the sport itself, but for soccer fanatics, it's a fascinating portrait of a seemingly polarizing player. The soundtrack by Scottish experimental band Mogwai adds another layer of dark intrigue to the portrait. 
You've certainly never watched a soccer game like this, and it might even get you to think about the sport differently. Watching Zidane's intense concentration is impressive, as is the skill with which the camera operators have captured his agile movements. It's somewhat avant-garde, sure, but it might just be able to capture your attention in a new way.
The Two Escobars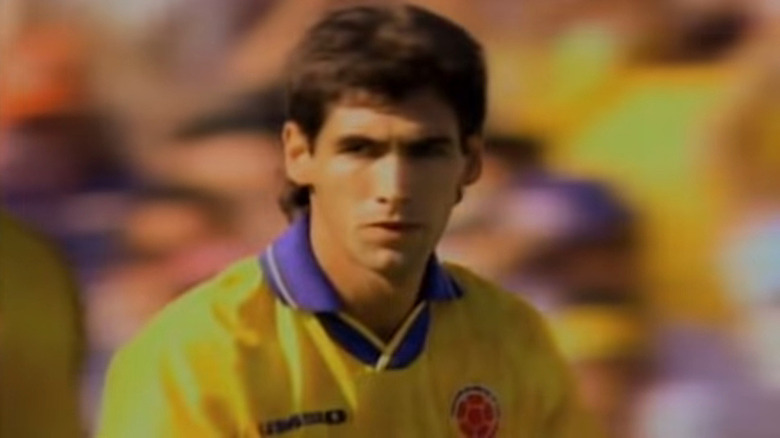 ESPN/YouTube
2010's "The Two Escobars" is a fascinating documentary about two very different men. In the 1990s, the Colombian soccer team had risen to international fame and prominence due to the drug money of Pablo Escobar (via Sports History Weekly), who at the time was the most powerful drug lord in the world. The star player of the Colombian national team during this period was Andres Escobar — who was not related to his unsavory benefactor — the man who was promised to lead the team to victory. In a 1994 World Cup game against the U.S., Andres committed what would turn out to be a deadly sin — scoring an "own" goal and costing Colombia a chance at victory.
"The Two Escobars" is a fascinating story of sports, crime, and national pride. Despite the story's chilling conclusion, it remains optimistic that the game — and indeed, the country — could still become what its citizens have always wished it could be. Even if you're already well-versed in the stories of these two men, it's an absolutely thrilling exploration of how money, politics, sports, and national pride are all connected to one another. It's an utterly fascinating narrative that almost seems too shocking to be true. If you consider yourself a soccer fan, this is one story that you definitely need to hear.
Diego Maradona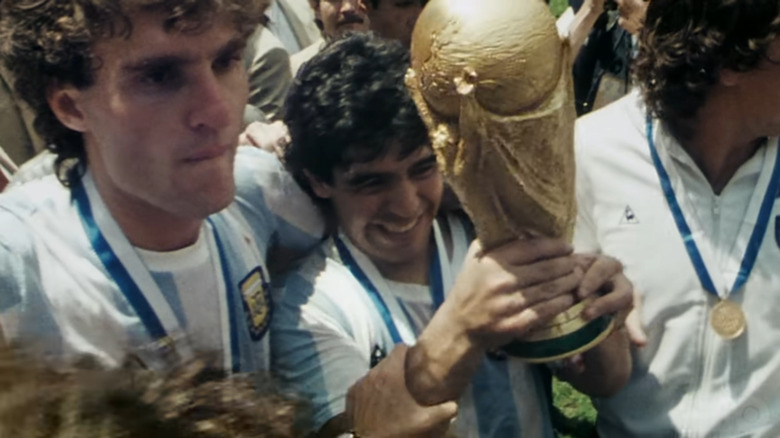 HBO
It can be hard to distill what makes a legend so memorable, but the 2019 documentary "Diego Maradona" attempts to do just that. Directed by British filmmaker Asif Kapadia, who also directed the 2015 film "Amy," the film uses never-before-seen archival footage to showcase Maradona's life and career following his transfer to S.S.C. Napoli in 1984. Maradona was one of the most beloved but also one of the most controversial players ever, and the film uses footage from the height of his fame to illustrate what the world around him was like at the time.
What's unique about "Diego Maradona" is that unlike other documentaries of this kind, it doesn't cut to talking heads in order to explain the events that transpire. Instead, it lets the footage speak for itself, letting the viewer consider for themselves whether Maradona's treatment by the soccer world was just or not. While it may tell a story that feels familiar to sports documentary fans, it does so with considerable energy and intrigue. As John Doyle wrote in The Globe and Mail, "It teems with life and is unlike most biopics about a sports legend. That is, it actually delivers a pungent sense of the atmosphere surrounding him."
You might already know the story — and if you don't you're in for even more of a thrill — but "Diego Maradona" will give you a new perspective on the events that rocked the sports world. It would be a shame if a film about Maradona was not as interesting and complicated as the man himself, but, luckily, that's not the case.