The Best Sports Comedy Movies You Haven't Seen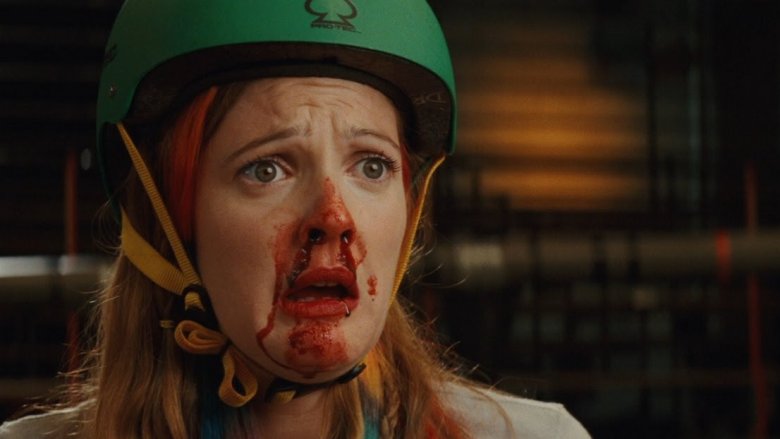 Sports comedy movies combine big laughs with big action, and the fact that they usually end in some sort of come-from-behind victory means that they're often heartwarming as well. While any fan of sports comedies has probably already memorized Happy Gilmore and The Mighty Ducks, there are lots of underrated movies that have fallen by the wayside over the years. Here are some of the best sports comedies that you probably haven't seen.
The Bronze
If you're only familiar with Melissa Rauch from her sweet take on Bernadette from The Big Bang Theory, you'll be pretty shocked by her turn as former gymnast Hope Ann Gregory in the 2015 sports comedy The Bronze – you haven't seen her like this for sure. The movie features Rauch's Hope, a former Olympic bronze medalist, trying to coach a new young gymnast to victory in order to claim a $500,000 inheritance. 
Hope isn't exactly the best coach, and her position as a role model is definitely put in question by her begrudging and often vulgar persona. Seeing Rauch play such an unpleasant character can feel a bit strange at first, but the actress definitely sells the part, and her back-up, including Haley Lu Richardson, Sebastian Stan, Gary Cole, and Thomas Middleditch, helps keep the film humming along. Rauch and her husband, Winston Rauch, co-wrote the film, which was directed by Bryan Buckley, who earned an Academy Award nomination for his short film Asad.
The Cutting Edge
A hockey player and a figure skater fall in love in this sweet sports comedy movie The Cutting Edge. The film stars Moira Kelly as Kate Moseley, a spoiled pairs figure skater forced to team up with D.B. Sweeney's former hockey player Doug Dorsey after her attitude causes her to lose her partner ahead of the 1992 Winter Olympics.
The Cutting Edge has some impressive pedigree behind it, with a script from future Academy Award nominee Tony Gilroy, who earned nominations for Best Director and Best Original Screenplay for Michael Clayton in 2007. (Gilroy also co-wrote Rogue One: A Star Wars Story.) The film, which has spawned a few just okay straight-to-ABC Family sequels, is an instant classic, offering lots of on-ice fun as well as a sweet (and often funny) romance. 
Fast Break
The 1979 comedy Fast Break stars Gabe Kaplan (TV's Welcome Back, Kotter, one of the biggest shows of the time) as a deli worker who manages to land himself a job as the head basketball coach at the small Nevada college Cadwallader University. The job pays hardly anything, but Kaplan's David Greene stands to win big if he can manage to get the struggling team to beat the impressive Nevada State.
Fast Break is an older entry into this sports comedy movie listing, and it has some questionable plot points, but overall the flick still holds up as a fun basketball romp, filled with quite a few odd characters. The movie also features a blink-and-you'll-miss-it appearance from future Oscar nominee Laurence Fishburne, who played a street kid in just his fourth credited onscreen acting appearance, the same year as his breakout role in Apocalypse Now. 
The Fish That Saved Pittsburgh
Another underrated sports comedy movie from 1979, The Fish That Saved Pittsburgh stars Stockard Channing as an astrologist brought on to help out the struggling Pittsburgh Pythons basketball team, which is on a losing streak and faced with conflicts from within thanks to its needy star player Moses (Julius Erving).
Channing's Mona Mondieu has a simple strategy to try to bring the team back to its former glory — remake the team so that it is made up entirely of players who are Pisces, like Moses. The team, now renamed the Pittsburgh Pisces, winds up going on a long and hilarious journey back to the championships, running into many real-life NBA players along the way. The Fish That Saved Pittsburgh may be a little ridiculous as far as sports comedy movies go, but it's a hilarious ride from start to finish.
The Hammer
You've probably seen radio and The Man Show personality wisecrack his way through any number of interviews, but if you haven't seen him as a down on his luck underachiever in The Hammer, you're missing out. Adam Carolla co-writes and stars in the movie, playing former boxer Jerry Ferro, who winds up trying to reclaim his former glory when approached with a chance to train for the Olympics. However, what Jerry doesn't realize is that his coach (Tom Quinn) really just wants him there to provide a free sparring partner for his top contender, Robert Brown (Harold House Moore).
Carolla is very funny in the leading role, and the script for the film, which he penned alongside Last Man Standing executive producer Kevin Hench, keeps the action moving along quickly. The movie's rocking soundtrack also helps to keep things upbeat while a fun performance from Heather Juergensen, as Jerry's love interest, gives this sports comedy movie its sweet side.
Here Comes The Boom
Kevin James plays a high school teacher turned MMA fighter in the 2012 sports comedy Here Comes the Boom. James stars as Scott Voss, a former Division I wrestler who now lives out his days as a boring high school biology teacher. When the school is hit with budget cuts that threaten to eliminate its arts programs, Voss steps up to try to raise money to keep them afloat.
Voss soon learns that MMA fighters receive $10,000 just for losing a bout, and he comes up with the idea to try to make money by being a punching bag. He has to step up his efforts even further when he finds out that one of the school administrators has been embezzling all the money he's raised, forcing him to try to enter a big fight in Las Vegas to make enough cash. Although Here Comes the Boom definitely stretches the realm of believability at points, the movie's intriguing plot and sweet center make it worth a watch.
Hot Rod
Andy Samberg plays an incompetent stuntman (And, yes, we're counting this in the sports comedy movie category!) who decides to try his biggest stunt yet in the 2007 comedy Hot Rod. The movie features the Saturday Night Live star as Rob Kimble, an aspiring action hero who hatches a plan to jump his Moped over 15 school buses in an effort to pay for his stepfather's (Ian McShane) heart transplant. 
Hot Rod definitely doesn't take this serious medical issues too seriously, though. In fact, the real reason that Rob wants to save his stepfather is so that he can live long enough to beat him in a sparring match, officially proving his worth. Bill Hader, Danny McBride, Isla Fisher, Will Arnett, Chris Parnell, and Sissy Spacek also star in the film, which utilizes its stellar cast for some high-octane fun.
The Luck of the Irish
The Luck of the Irish may be a Disney Channel Original Movie, but that doesn't mean it's just for kids. This 2001 sports comedy stars Ryan Merriman as Kyle Johnson, a high school basketball player who is shocked to learn he's actually a leprechaun. Things start to get worse when he begins to transform into the magical creature, derailing his normal life.
Kyle eventually discovers that the reason this transformation is happening is because his magical coin has been stolen by an evil leprechaun (Psych's Timothy Omundson) who wants its power for himself. Family comedies comes first here, with sports — basketball specifically — as more of a subplot with Kyle using other sports competitions as a means to get back his magical coin. 
Men With Brooms
Curling may be the butt of a lot of jokes, but the sport is taken at least somewhat seriously in the 2002 rom-com Men With Brooms. When a sports comedy movie turns to curling, you might start to think filmmakers are getting desperate, but this one will surprise you. The film tells the story of a small-town curling team that has to try to come together to win a championship to try to honor its late coach (James B. Douglas). Leading the film is writer-director Paul Gross, who also stars as Chris Cutter, the curling team's lead player who left the town (and his would-be bride) behind ten years earlier.
As most great team sports movies do, Men With Brooms balances the team's life on the ice with the lives of the players, showing how difficult it is to come together when long-standing personal conflicts have already driven them apart. If you haven't seen it, seek it out — it brings together a fun romance and some interesting team dynamics while also exploring a sport that many people don't know much about.
Ping Pong Playa
Ping Pong Playa stars Jimmy Tsai as Christopher "C-Dub" Wang, a suburbanite underachiever, with dreams of playing in the NBA, who has to step up and represent his family in a local ping pong tournament after his overachieving older brother is injured in a car accident.
Jessica Yu, who won an Academy Award for Best Documentary Short for her 1997 film Breathing Lessons: The Life and Work of Mark O'Brien, co-writes and directs this sports comedy, and, with her at the helm, it becomes more than just your typical slacker-turned-star story. It's likely you haven't seen ping pong played out as an intense sport, but Ping Pong Playa definitely succeeds at keeping things interesting.
Seven Days in Hell
HBO's mockumentary sports comedy Seven Days in Hell is a quick watch — the TV movie only runs for 45 minutes. However, that 45 minutes will be filled to the brim with laughs thanks to the hilarious antics of Andy Samberg and Kit Harington, who play two tennis players engaged in a brutal, seven-day-long Wimbledon match. 
Harrington plays delightfully against type as the idiotic Charles Poole, while Samberg is fittingly conceited as the cocky Aaron Williams. The movie is full of big names beyond just its two stars, though, with appearances from Mary Steenburgen, Karen Gillan, Fred Armisen, June Squibb, Michael Sheen, Lena Dunham, Will Forte, Howie Mandel, Jon Hamm, David Copperfield, John McEnroe, Serena Williams, and more. You have definitely never seen a tennis match like this.
Stick It
Gymnastics gets a rebellious side in the 2006 film Stick It. The movie stars Missy Peregrym as Haley Graham, a former competitive gymnast who is forced to return to the sport after getting arrested for breaking and entering. Haley has to attend a strict gymnastics camp run by Jeff Bridges' Burt Vickerman, where she must try to reconcile her relationships with her former teammates. 
Peregrym is electric in the lead role, and her interactions with Bridges make for many fun, snappy scenes. The movie, written and directed by Bring It On's Jessica Bendinger, adds a new dimension to sports comedy movies by having the gymnastics team rebel against the judging system which rules the sport, thus elevating the film from just a typical sports flick into something with a bit more depth. 
Tour de Pharmacy
Another 45-minute HBO mockumentary, Tour de Pharmacy takes on the doping scandal in professional cycling, telling the story of the 1982 Tour de France. Leading the charge once again is Andy Samberg, this time as American-born cyclist Marty Hass, who represents Nigeria (much to the country's dismay) in the competition.
If you thought Seven Days in Hell was star-studded, you haven't seen anything yet because Tour de Pharmacy will absolutely blow you away. The movie's many, many famous faces include Orlando Bloom, Freddie Highmore, Jeff Goldblum, Daveed Diggs, Danny Glover, John Cena, James Marsden, Will Forte, Maya Rudolph, Dolph Lundgren, Kevin Bacon, Nathan Fielder, J.J. Abrams, Edgar Wright, Adewale Akinnuoye-Agbaje, Mike Tyson, Phylicia Rashad, and, yes, Lance Armstrong. Tour de Pharmacy is worth watching for the cameos alone, but a hilarious script and some fun twists make it more than just a star-studded diversion.
Whip It
Drew Barrymore's impressive directorial debut Whip It is a coming-of-age romance wrapped up in the brutal world of roller derby. The movie stars Ellen Page as a teenager who decides to escape the boredom of her small Texas town by joining the local roller derby team. 
The team is full of some crazy characters, and although the violent sport definitely leads to a lot of dust-ups within, the movie is really about how the women of the Hurl Scouts (yep!) come together to help make all of their lives better. Barrymore has a stylish directing approach that gives a truly unique vibe to a truly unique choice in sports comedies, but, truth be told, it's Page's performance that really sells the film.