Amy Jo Johnson's Heartfelt Tribute To Jason David Frank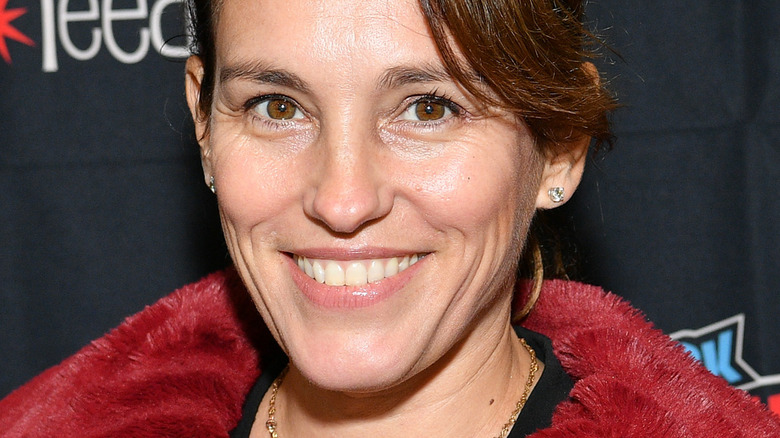 Dia Dipasupil/Getty Images
Many were stunned at the announcement that Jason David Frank died Saturday at the age of 49. Millions upon millions around the world grew up watching the actor in the 1990s kids' series "The Mighty Morphin Power Rangers." The actor portrayed Tommy Oliver, perhaps better known as the Green (and later White) Ranger. Frank was survived by four children, per People.
Frank appeared in "Mighty Morphin Power Rangers" from 1993 to 1996 and appeared in numerous "Power Rangers"-related projects in the years following. The actor also appeared in projects like 2007's "The Junior Defenders" and an episode of MTV's "Undressed," via IMDb. Numerous co-stars of Frank's have come forward to publicly mourn the star's death. Walter Emanuel Jones, who played the Black Ranger, posted he was saddened to lose another member of the "Power Rangers" family, per Instagram; in 2001, "Mighty Morphin Power Rangers" star Thuy Trang, who played the Yellow Ranger, died in a car accident at the age of 27, via Entertainment Weekly. Austin St. John, the Red Ranger, simply posted, "once a ranger, always a ranger" on Instagram. 
Co-star Amy Jo Johnson, who portrayed the Pink Ranger, also remembered Frank, her message potentially hitting harder for fans as the Pink and Green Rangers were love interests. 
Amy Jo Johnson remembered Jason David Frank with a pic of the two with fans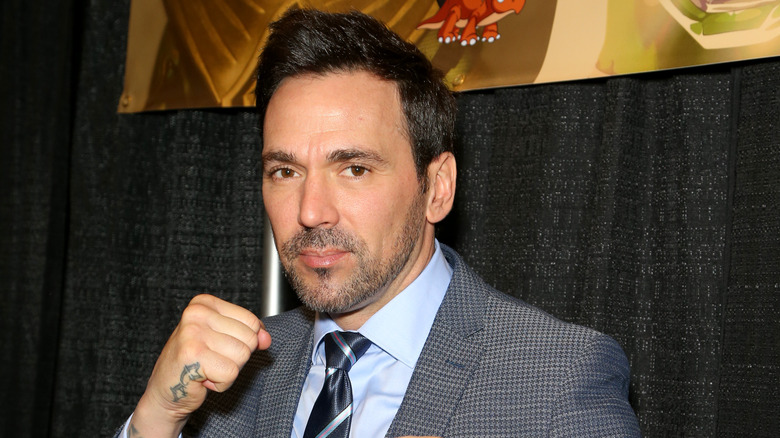 Gabe Ginsburg/Getty Images for Amazing Comic Conventions
Amy Jo Johnson remembered her "Mighty Morphin Power Rangers" co-star Jason David Frank by sharing a picture of the two of them posing with fans at a convention. She wrote a slightly longer message than some of her co-stars remembering Frank.
"Jase, you were beautiful and truly unique. My life just won't be the same without your frenetic, hilarious, caring, driven and creative ball of energy. I will always love you, dear friend. Please Rest now In Peace," Johnson wrote, via Instagram. 
In a video posted later to her Instagram account, Johnson was openly sobbing as she mourned her co-star and friend and told fans how much they meant to Frank. "Just a little moment to spend with you all, thinking about our buddy. JDF," she captioned the video. She also performed a song in memory of her co-star, singing and playing the piano for fans who appeared to love the openness. 
"Forever green and pink," user lorenamiki posted. "Sending love and hugs. Your words and beautiful song are so comforting," katywallin wrote. "We love you Amy. Jason will always live in our hearts, thanks for the memories u guys made for us," a third Instagram user, powerrangersbrasil commented. 
Jason David Frank was only supposed to be in a handful of Power Rangers episodes
Jason David Frank is a legend to "Power Rangers" fans today, but many may be surprised to know that he was only supposed to appear in 10 episodes. Due to his popularity with "Mighty Morphin Power Rangers" fans, though, Frank was brought back with a slight change, this time known as the White Ranger, per The New York Times. The actor ended up appearing in more than 200 episodes across the "Power Rangers" universe, which is the record for a Power Rangers actor.
Frank was an accomplished mixed martial artist on top of being a performer, making him a perfect fit for the "Power Rangers" universe. According to the actor, he got the "Power Rangers" role quickly and it was exactly the kind of part he was looking for as a young actor, considering his athletic background.
"I was an actor in Hollywood, and I got an audition script and just kind of read for it and got the role. You know, it was karate, it was right up my alley, so it was exactly what I was looking for," he said at the 2014 Nashville Wizard World Comic Con, via Comic Book.