Enola Holmes 2's Harry Bradbeer On The Strange Props Helena Bonham Carter Brought Into The Film - Exclusive
Leon Bennett/Getty Images
Helena Bonham Carter puts her own quirky stamp on every role she takes, and they're all the better for it. Whether she's playing the maniacal Bellatrix Lestrange in the "Harry Potter" films, Mrs. Lovett in "Sweeney Todd," or Madame Thénardier in "Les Misérables," Bonham Carter gives a captivating performance that fans just can't look away from.
Yet it's not just her performance that Bonham Carter brings to her films. She's known for bringing her own props to the set too, which was the case for her role as Eudoria Holmes in "Enola Holmes 2." Bonham Carter plays Millie Bobby Brown's onscreen mom, and fans get a glimpse of her character's maternal chaos as she assists her daughter — mostly from afar. 
Looper spoke to "Enola Holmes 2" director Harry Bradbeer in an exclusive interview, where he discussed what it was like working with Bonham Carter and the aspects of the film that were her own doing. 
Bonham Carter's many props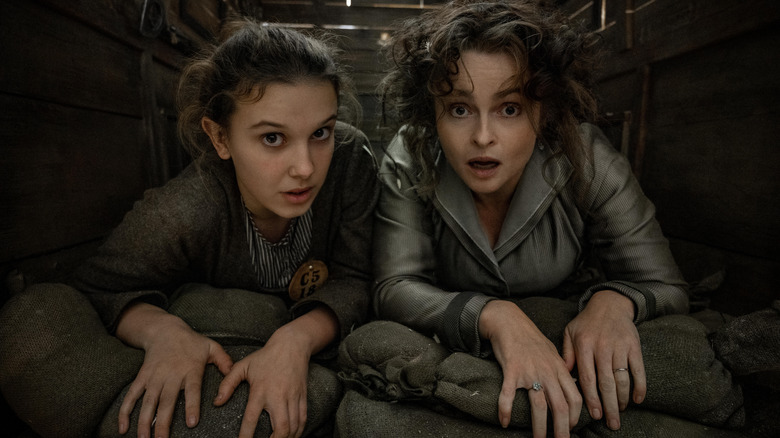 Netflix
On working with former "Harry Potter" actor Helena Bonham Carter, Bradbeer said, "Helena, yes, she was a 'Harry Potter' actor, and there's some of her eccentricity in there that she brings." Yet though fans know Bonham Carter's darker onscreen side with roles like Bellatrix and the Red Queen, she certainly has a softer side — both with her characters and in real life. 
Bradbeer told Looper, "I was surprised at the power of her maternity, the kindness that she brings in that film, as well as her spirit," Bradbeer added. "Helena's always bringing strange things and surprising props to the set: soup cans, the sandwich boards that she takes bombs out of. A lot of those little details come from Helena's own imagination. I'll take an idea from anybody, and particularly from her." 
No one can deny that Bonham Carter makes every role her own — and it's fun to think about how many elements of her films wouldn't exist without her brilliant ideas. 
"Enola Holmes 2" is now streaming on Netflix.