The One Harry Potter Scene That Left Helena Bonham Carter Scared And Surprised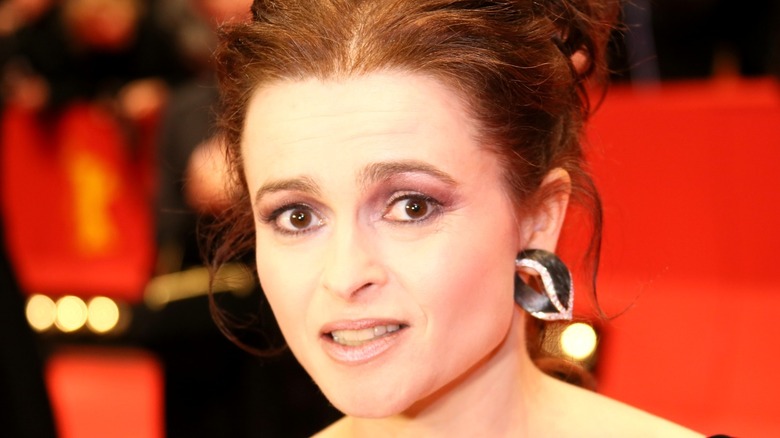 Denis Makarenko/Shutterstock
"Harry Potter 20th Anniversary: Return to Hogwarts" has Potterheads all over the globe reminiscing about the eight films, which are some of the most beloved movies in history. The reunion special brought together many franchise stars, who reflected on behind-the-scenes moments and how the films shaped their lives and careers. Daniel Radcliffe, Emma Watson, and Rupert Grint sat down with one another and also broke off with other supporting characters for different conversations.
Both Radcliffe, Tom Felton, and Gary Oldman did one-on-ones with Helena Bonham Carter, all of which were, naturally, filled with laughs. She made her co-stars chuckle throughout their chats and even pulled out her old Bellatrix Lestrange teeth and wore them through her talk with Radcliffe.
In her particular conversation with Felton, Bonham Carter described a moment on set during "Harry Potter and the Half-Blood Prince," which left her scared and surprised. It was all thanks to a little flick of her wrist.
Helena Bonham Carter was shocked when her wand appeared to work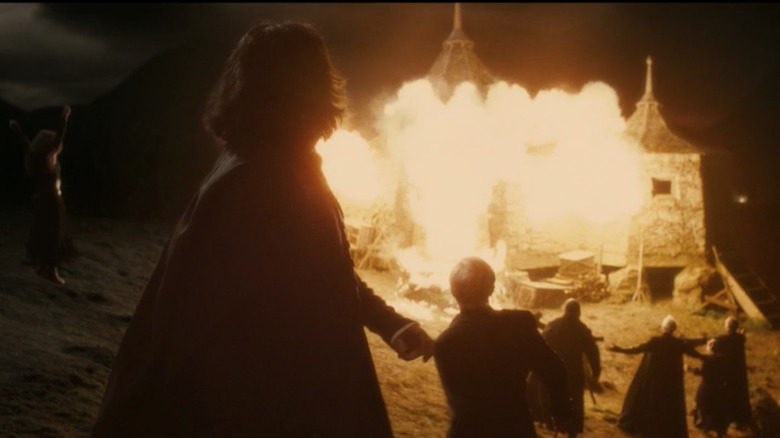 Warner Bros.
Tom Felton and Helena Bonham Carter began discussing their wands after the former admitted he tried to steal his from the set. "You know they don't work, Tom," Helena joked, to which Felton replied, saying, "Well, I've been assured that in time, with enough practice," before he trailed off laughing. He then said it's funny to look back at making all those elaborate moves with their wands and then having nothing happen.
Bonham Carter playfully corrected Felton, telling a story of her own experience with her wand. "Except one time it did happen with me," she remembered. "And they said, 'Okay, this time we are gonna blow up Hogwarts.' And they said, 'So we will take your cue. When you do your spell, it will blow up.'"
"And I was actually really surprised and scared by my own reaction because I thought, 'Wow," Bonham Carter said of the moment. The reunion special then shows some behind-the-scenes footage of the actor waving her wand and then the prompt explosion of Hagrid's Hut.
You can check out more of Felton and Bonham Carter's conversation on "Return to Hogwarts," which is streaming now on HBO Max.