Mike Flanagan's 11 Most Memorable Projects Ranked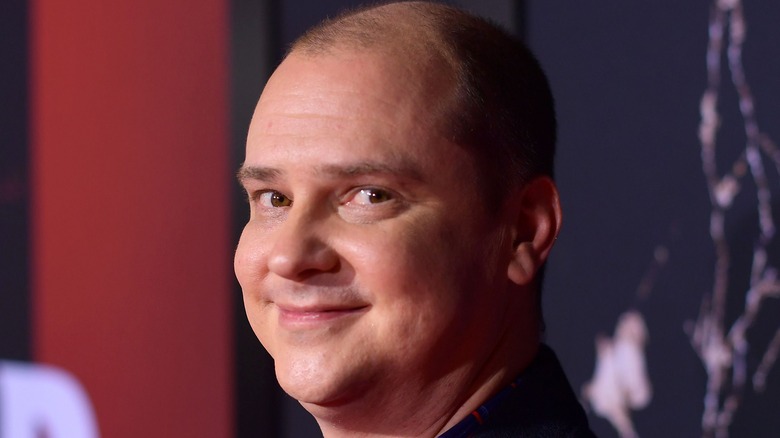 Matt Winkelmeyer/Getty Images
Few directors are able to revamp the horror genre, bringing original and engaging ideas to the table in a genre that has been around for so long. However, one director found a way to not only create new ideas in the genre, but also give it heart, important themes, and emotionally gripping storylines that have you engaged until the very last second. That director is Mike Flanagan.
An award-winning director, Flanagan got his start filming shorts until he got the financing to do a feature film, "Absentia," in 2011. From there, Flanagan became known for his work in the horror genre and has been praised by famous storytellers like horror staple Stephen King for his lack of reliance on jump scares and fresh take on the genre. Flanagan is not just a director, though. In addition to his talent in the director's chair, Flanagan also creates and writes almost every single one of his projects, save for a few adaptations he's taken on over the years.
Flanagan has 11 completed projects, with a 12th on the way for 2023. It's important to preface by saying there is not a single project of Flanagan's that is lacking a good story, stellar quality, or phenomenal acting. But, when there are 11 incredible projects in your arsenal, there are obviously going to be some that are better than others. For all of Flanagan's horror-with-heart fans, read on to see a ranking of all of his full-length projects from worst to best.
11. Ouija: Origin of Evil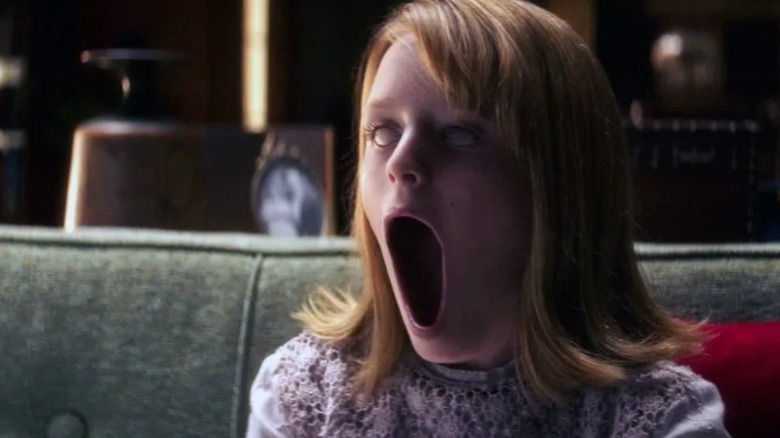 Universal Pictures
First on the list is "Ouija: Origin of Evil." Released in 2016 but set in the 1960s, the film follows a widow named Alice (Elizabeth Reaser), who is also a spiritual medium that works from home. She and her two daughters — a teenager named Paulina (Annalise Basso) and a young child named Doris (Lulu Wilson) — are working through their grief after the recent death of Alice's husband and the children's father, Roger. While Alice is doing her readings, she decides to try out a Ouija board and makes contact with a spirit named Marcus, who then uses his entry into the world through the board to possess Doris. However, the family thinks they're contacting Roger, and the more they reach out through the board, the more Doris slips into Marcus' possession. Chaos and death ensue, and the family is ravaged.
"Ouija: Origin of Evil" is still a really well-done film, even though it's last on the list. The only issue with this movie comes from its lack of originality. There are still great elements to it, but possession and Ouija boards are such overused tropes in horror that there isn't much room to put unique takes on them. However, it is visually striking, riddled with disturbing special effects and brilliant editing. The story, with all of its twists and turns, is also somehow still able to flow quite nicely.
10. Gerald's Game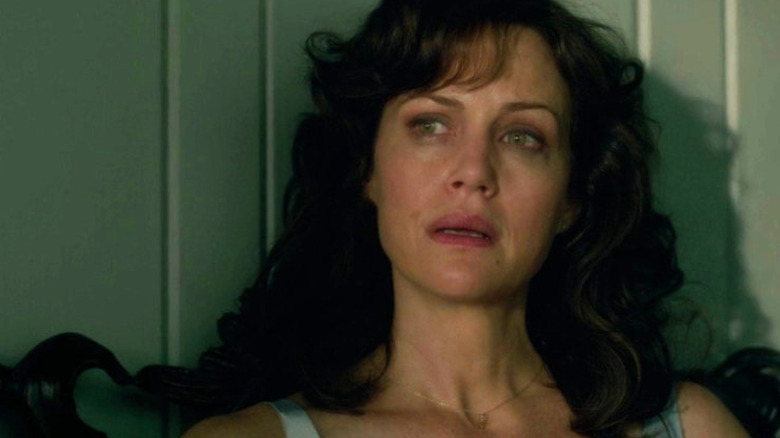 Netflix
Next on the list is Mike Flanagan's 2017 film, "Gerald's Game." The movie follows a married couple, Jessie (Carla Gugino) and Gerald (Bruce Greenwood), who are looking for a way to make their sex lives more interesting. They decide to take a trip to an isolated lake house for a weekend, and Gerald immediately whips out the handcuffs. He cuffs each of her hands to the bedposts, and they start to have sex. However, Jessie gets extremely uncomfortable and asks Gerald to stop and uncuff her. They get into a heated argument, and before Gerald can unhook her, he dies of a heart attack. Jessie is left trapped and has to fight for survival as no one is coming for her. The rest of the film shows Jessie's hallucinations, attempts to break free, and the shocking twists that await her in what was supposed to be a fun weekend.
"Gerald's Game" is an incredibly original story by author Stephen King that was adapted by Flanagan. The horror preys entirely on real scenarios, crazy as they may be, and keeps the audience guessing what will happen until the last second. It's engaging and there's nothing inherently wrong with it other than the intended claustrophobia the audience gets watching Jessie try to free herself. Mainly, though, it's just not as exciting as Flanagan's other projects. More than anything, "Gerald's Game" is an acting masterclass from Gugino, who single-handedly makes the film what it is.
9. Oculus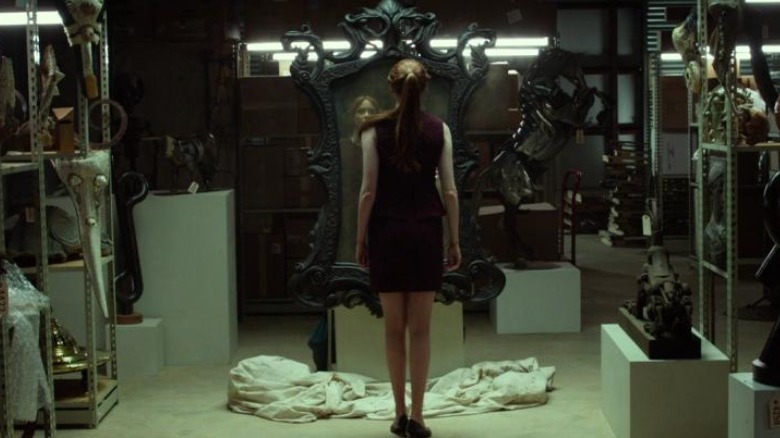 Relativity Media
In 2013, Mike Flanagan finally made the film "Oculus," which he had started to release in the form of a series of short films until the plan shifted to a feature film instead. Flanagan's second full-length project follows two stories: one in the past, and one 11 years later in the present. In the past, an antique mirror causes a family to be haunted by hallucinations. The parents are mentally disturbed by the effects of the mirror and become so possessed by its illusions that they end up killing one another, and because their son, young Tim (Garrett Ryan) is forced to pull the trigger, he is sent to jail. In the present, Tim's (Brenton Thwaites) sister Kaylie (Karen Gillan) works to prove his innocence by documenting what the mirror does.
"Oculus" is a project Flanagan always wanted to make, and it's clear he poured his heart into this idea. It's really well executed, lacks pretension, and, once again, keeps the audience guessing what's real and what's hallucinated by the characters until the very end. Plus, as usual in Flanagan's works, the acting is stellar. Gillan leads the present storyline with an incredible sense of grief, hope, and fear combined, and the young actors in the past storyline are emotionally captivating. The film is a great example of Flanagan's brilliant mind.
8. Absentia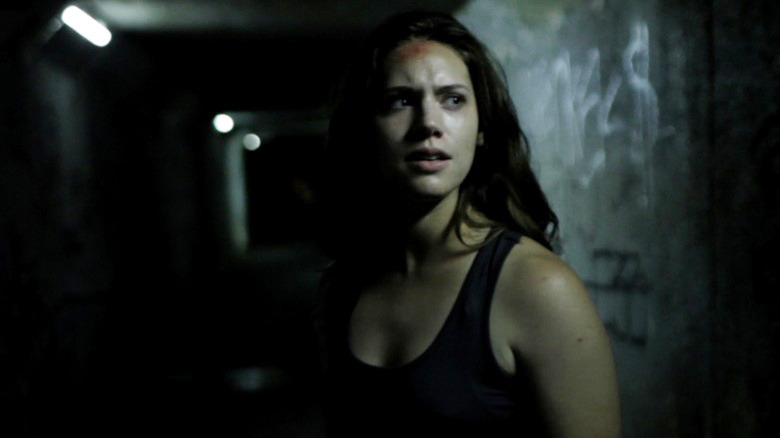 Phase 4 Films
Mike Flanagan's first feature-length project is "Absentia," a film that was released in 2011. The movie follows Tricia (Courtney Bell), a pregnant woman whose husband has been missing for so long that she finally is ready to declare him dead. Callie (Katie Parker), her younger sister, goes to stay with her and help her get through the grief. While there, Callie finds a tunnel with a man in it who is surprised that Callie can see him and communicate with him. Just when things can't get any weirder, after seven years of being missing, Callie's husband reappears in severely poor health. From there, the sisters must confront the reality that there might be supernatural entities at play, and that there's a sinister force beneath them.
There's no doubt that Flanagan doesn't follow any sort of formula for this production. It's sinister and showcases the horror of sacrifice in the name of love. It's an understated jewel in Flanagan's repertoire that is armed with a unique script, powerful performances — particularly from Parker — and visual disturbances, as per Flanagan's signature. For a first full-length project, Flanagan knocks it out of the park.
7. Before I Wake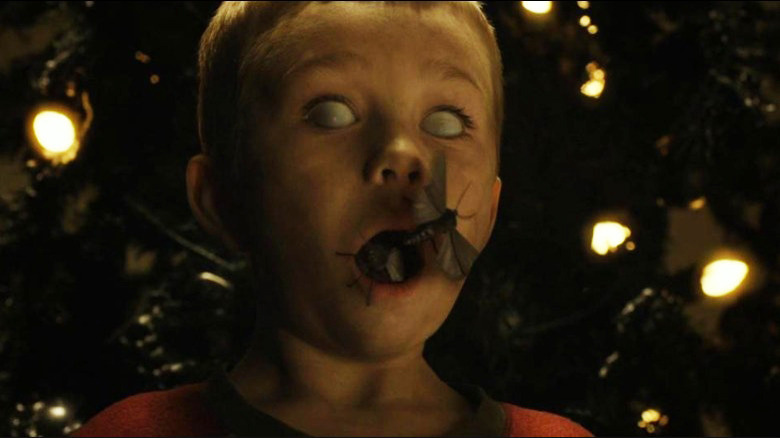 Netflix
Mike Flanagan is famous for his horror bait and emotional switch stories that reel audiences in for their elements of horror and keep them engaged with their deep emotion and heart. No such project of Flanagan's will sneak up on you like his 2016 film, "Before I Wake." The movie follows a married couple who take in a foster child after their son accidentally drowned. The couple finds out that their foster child, Cody (Jacob Tremblay), lost his mother to cancer and hasn't been able to find foster parents since. When Cody's dreams start manifesting themselves into real, tangible figures, though, the couple begins to wonder what that means for their relationship with their children, both foster and deceased.
Flanagan's team-up with the brilliant child actor Tremblay is a match made in heaven. Tremblay's performance is chilling and heart-wrenching, and the entire cast matches his level of dedication to the story. Flanagan keeps the film terrifying and anxiety-inducing until the very end when he somehow reaches right into your chest and grabs hold of your heart. The film is masterfully executed, and is definitely one of the best films in his repertoire.
6. The Midnight Club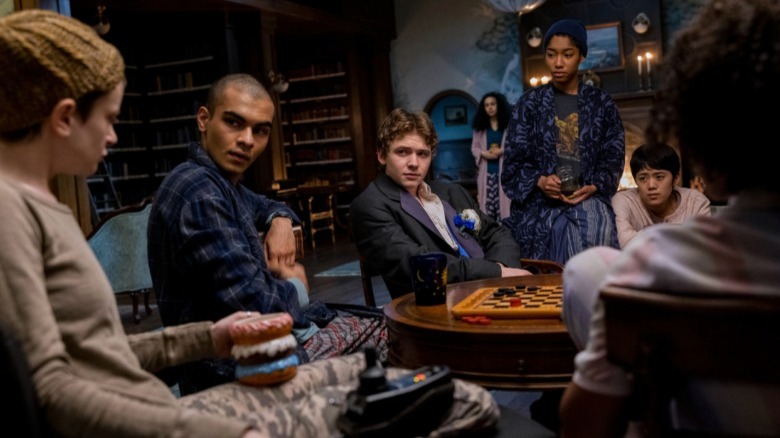 Netflix
Mike Flanagan doesn't just create incredible films, though. He also creates series that gives him more room to explore different themes and further create memorable stories. His most recent series, "The Midnight Club," is a 10-episode series that follows a group of young adults who are all living in hospice because of their various terminal illnesses. Throughout the season, there's an overarching story of these characters, supplemented with each episode featuring a different scary story that a member of the Midnight Club tells. There are other characters, such as the adults working at the hospice or people living near the hospice, but the main stories and characters come from the young Midnight Club itself.
Flanagan somehow finds a way to combine an anthology series with a continuous, overarching story. Though "The Midnight Club" is adapted from the Christopher Pike novel, it's clear Flanagan leaves his creative marks all over the series. The show is armed with a stellar group of young actors to take on the main roles, and Flanagan reached into his collection of actors to create strong recurring characters and single-episode cameos. This series is a great way for younger people to dip their toes in the world of horror — particularly Flanagan's heartfelt horror — by watching stories that are more spooky than terrifying and being able to see themselves in the young characters who lead the show.
5. The Haunting of Bly Manor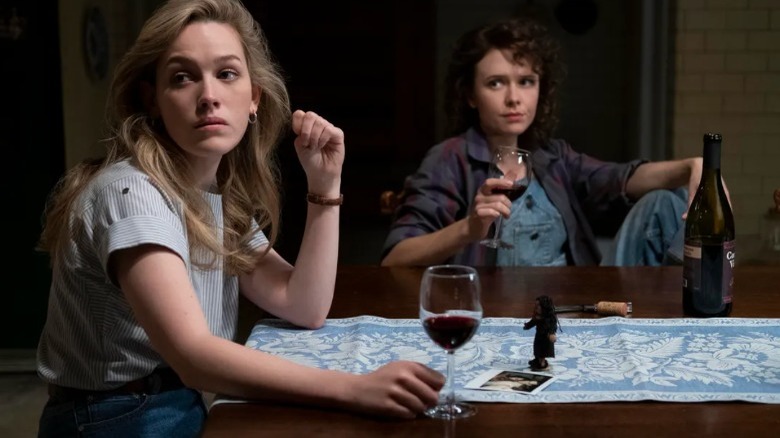 Netflix
Mike Flanagan's top five projects start with "The Haunting of Bly Manor" at spot number five. The nine-episode second installment in Flanagan's "Haunting" series follows the lives of those who live and work at Bly Manor in the English countryside. Mainly, the show starts with the hiring of Dani (Victoria Pedretti), the new au pair for the two siblings of the manor, and the relationships she makes with the people who also work there. At the same time, Dani comes to realize there are some demons, both literal and emotional, that exist within the manor that she must battle to protect the children she's sworn to look after.
"The Haunting of Bly Manor" has no faults. Pedretti leads the cast of brilliant performances that electrify an already excellent script. Henry Thomas' character in this season is also a huge standout, as he gets the chance to really dive deep into two different sides of himself. Flanagan executes the story with ease, frightening you all the way until the heartbreaking twist. Not to mention the fact that there's an incredible sense of representation for both women and queer people. Flanagan weaves the central story and secondary plot together effortlessly.
4. Doctor Sleep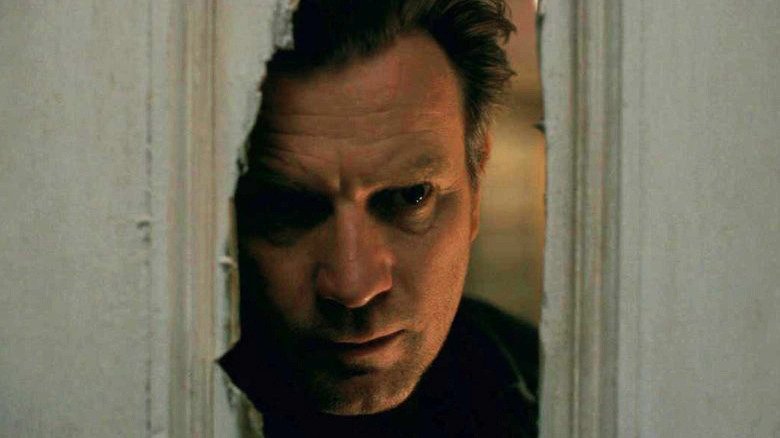 Warner Bros. Pictures
Coming in at number four is "Doctor Sleep," an adaptation that Mike Flanagan took on even though it was a nearly impossible job. The film is a sequel to "The Shining," set several decades later, following Danny Torrance (Ewan McGregor), who is now grown up and struggling with alcoholism and the demons from the Overlook Hotel who continue to haunt him. Danny befriends a young girl named Abra (Kyliegh Curran) who has the same abilities that he does, and the two must figure out a way to keep from being targeted by the sinister cult called The Knot, led by Rose the Hat (Rebecca Ferguson), who make it their mission to feed off the souls of "special" children.
Flanagan made the impossible possible with his production of "Doctor Sleep." He somehow needed to stay true to the Stephen King novel of the same name, while honoring the sequel film's predecessor, "The Shining." To no fan's surprise, Flanagan created something memorable, emotional, and authentic with this film. His reconciliation of all the source material while still creating a meaningful narrative that never lacked explanations or gripping scenes is an absolute masterclass in writing and directing. All of this and he had the cherry on top with mind-blowing performances from Ferguson, Curran, and particularly McGregor, who delivers the most genuine performance possible.
If you or anyone you know needs help with addiction issues, help is available. Visit the Substance Abuse and Mental Health Services Administration website or contact SAMHSA's National Helpline at 1-800-662-HELP (4357).
3. Hush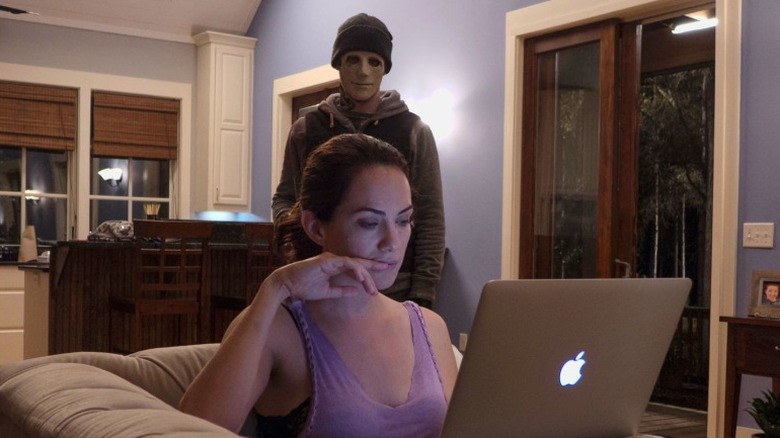 Netflix
The third place slot goes to Mike Flanagan's film masterpiece, "Hush." The film follows Maddie (Kate Siegel), a horror author who lost her ability to hear and speak when she was 13 due to bacterial meningitis. After she writes a hit novel (which fans will recognize to be another project of Flanagan's, "Midnight Mass"), Maddie decides to isolate herself in the woods to better get in touch with her creativity. Now living alone in a house that's hearing impaired accessible, Maddie becomes the target of a masked killer who terrorizes her by sneaking into her house, stealing her phone, and spending the whole night trying to kill her. Now, Maddie must do what she can to survive.
The horror power couple of Flanagan's writing and directing and Siegel's writing and acting is present in this genius film. Flanagan and Siegel are a lovely married couple in their personal lives and the perfect working duo for their professional ones. Out of the eight Flanagan projects Siegel has been featured in, this is by far her crowning gem. Her performance is gut-wrenchingly tense, perfectly executed, and the reason this film is as amazing as it is. Flanagan and Siegel's script, though, is a shining star in Flanagan's horror arsenal, and the movie is just about as perfect as it can get. "Hush" is original, sharp, witty, and, without exaggeration, a masterpiece and example of what other filmmakers should strive to create.
2. Midnight Mass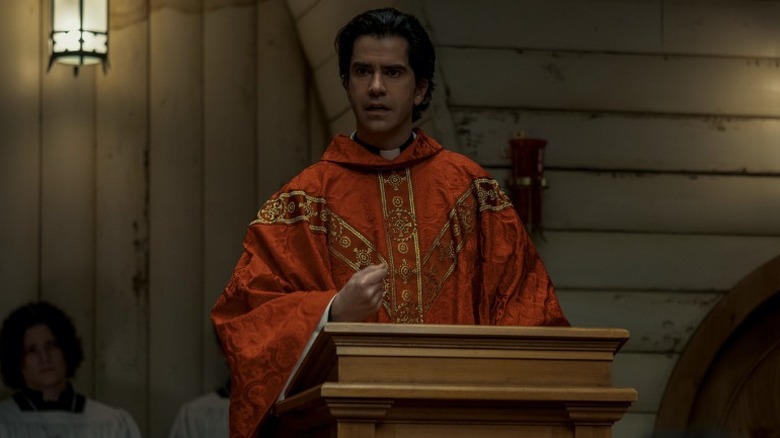 Netflix
In second place for Mike Flanagan's projects is his series, "Midnight Mass." The series follows Riley, a man who is sent to prison after a drunk driving accident. Years later, upon being released, he moves back to his hometown of Crockett Island to live with his parents. He attends AA meetings, helps his dad on the boat, and goes to church with his family, where he meets the new Monsignor, Father Paul. As he grapples with the ghosts of his past and tries to create a new life for himself, unexpected and supernatural events occur that sends the town into a frenzy and makes them question their faith.
This project is deeply personal to Flanagan. As he said in an interview with Entertainment Weekly: "I always thought of this as the best project I would never make." It's something he's been thinking about since he himself was an altar boy at the age of 10. The show preys on the themes of faith and religion, as well as the heavy topic of addiction and how both aspects of life can ruin a person. It's deeply unsettling and makes the audience question their own relationships with these themes. The characters are all compelling and suspicious in their own right. One thing's for certain, though: because it's a Flanagan project, by the end of this series, you won't know what hit you.
If you or anyone you know needs help with addiction issues, help is available. Visit the Substance Abuse and Mental Health Services Administration website or contact SAMHSA's National Helpline at 1-800-662-HELP (4357).
1. The Haunting of Hill House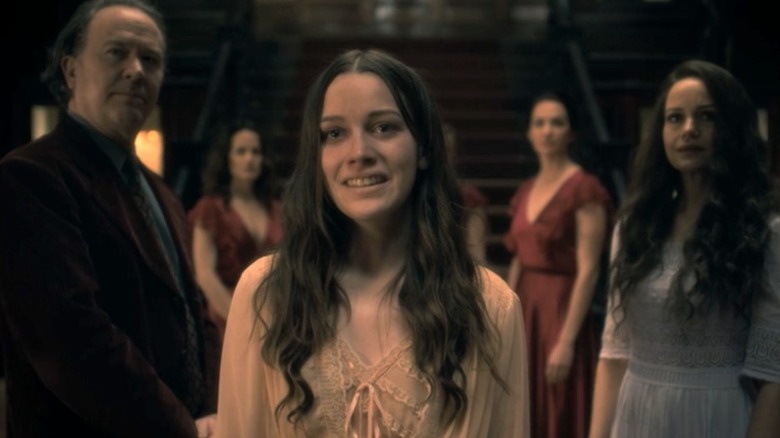 Netflix
By far the best project of Mike Flanagan's is his adaptation of Shirley Jackson's "The Haunting of Hill House." The 10-episode series follows the Crain family in two timelines: one in the past when the kids are young, and one in the present when the kids are adults. In the past, the family lived in the Hill House and experienced sinister events that continue to haunt them into their adult years. The story is woven together so the audience works its way up to figuring out why the family fled the house in the past, and how even decades later they can't escape the horrors that house brought to them.
It's impossible to encapsulate all that makes "The Haunting of Hill House" amazing into words. Flanagan truly outdoes himself, which is hard to do with the level of genius in his film and television career. The performances are top tier and the characters are perfectly cast; the story is equal parts haunting and emotional; and the themes explored throughout run deeper than any of his projects, as Flanagan examines grief, love, family relationships, and the hardships that come with adulthood. It's painfully authentic, gripping, and important for anyone to watch — horror fan or not. "The Haunting of Hill House" is not just Flanagan's best piece of work, but one of the greatest series that's been created to date.