12 Movies To Watch If You Loved Look Both Ways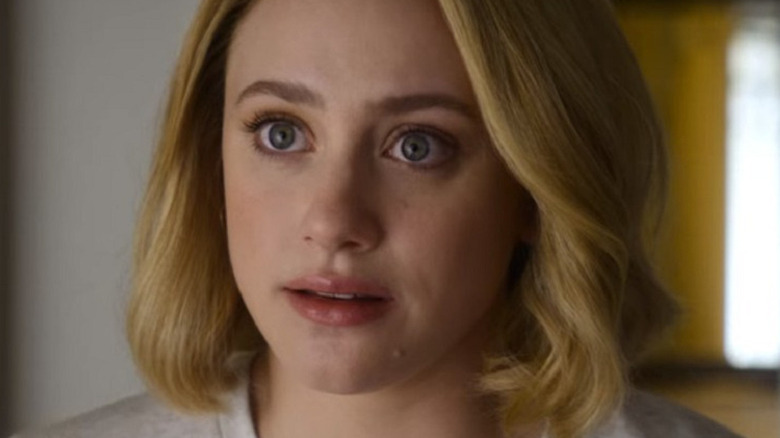 Netflix
There is no shortage of romantic comedies on Netflix. The streaming giant has purposely invested in romance films over the years, targeting a large audience prepared to consume this type of content en masse (via The Hollywood Reporter). This has included the likes of "To All the Boys I've Loved Before" and its sequels, with the latest example being the Wanuri Kahiu-directed "Look Both Ways."
Starring Lili Reinhart in the leading role and featuring Luke Wilson, Aisha Dee, and Danny Ramirez in supporting roles, the Netflix release sees student Natalie experience two very different timelines as her life splits when she faces a pregnancy scare. In one reality, she becomes a mother and stays in her hometown, while in the other there is no pregnancy and she goes off to Hollywood to pursue the career she has always dreamed of.
It's a neat gimmick that gives viewers a unique perspective on how lives can change depending on one or two big decisions. While it's an idea that seems more at home in a sci-fi film, it isn't the only romantic film that has employed a similar plot device. If you loved "Look Both Ways," we've got 12 more movies like it to add to your watchlist.
1. Hello, Goodbye, and Everything in Between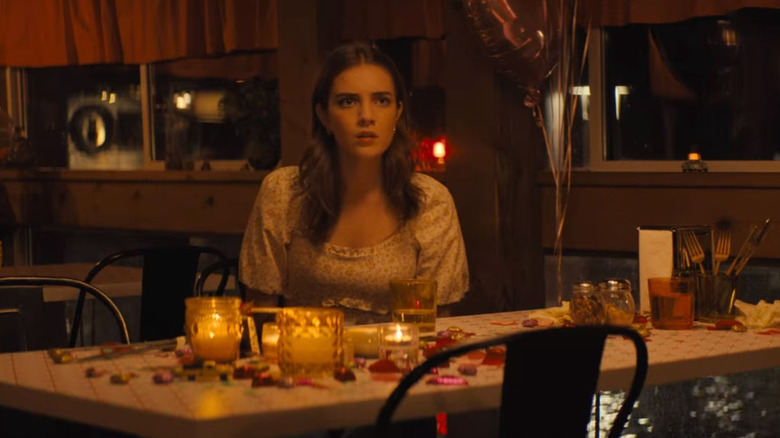 Netflix
"Hello, Goodbye, and Everything in Between" seems like a natural jumping-off point for anyone who finds themselves wanting more of what "Look Both Ways" offers. After all, it's another modern romantic comedy that's also available exclusively on Netflix. This film marks the feature film debut of director Michael Lewen, a man better known for his long association with Judd Apatow as a producer on projects such as "Trainwreck," "Love," and "The King of Staten Island." 
The story follows Clare (Talia Ryder) and Aidan (Jordan Fisher) — a young high school couple who decide to date for a year and then break up before they both head off to college. This is largely due to Clare's doubts about romance due to her parents divorcing after they were sweethearts in school. Along the way, the two fall in love and find it difficult to stick to their agreement as they grow up and recognize their feelings for each other.
Those who enjoyed "Look Both Ways" for its look into the world of young love should find plenty to like in "Hello, Goodbye, and Everything in Between." Although the two are very different stories at heart, they each delve into the difficulties associated with teenage romances and explore the consequences of couples staying together longer than they perhaps should.
2. Sliding Doors
Perhaps the most obvious choice of movie to watch if you liked "Look Both Ways" is 1998's "Sliding Doors." The 2022 Netflix release is essentially a modern version of this film (via Glamour), which stars Gwyneth Paltrow and John Hannah. Both films feature two parallel stories taking place at the same time, with Paltrow's character Helen Quilley seeing her life diverge into two paths depending on whether she missed a train or not, after being fired from her job.
Perhaps the biggest draw of "Look Both Ways" is the way it poses the "what if" question — something that "Sliding Doors" does beautifully. In fact, this film set the standard for the romantic comedy genre with gimmicks — giving filmmakers license to use unique plot devices and tricks to tell a more interesting story. Viewers get the chance to see how seemingly innocuous events can shape the future and have dramatic repercussions for everyone involved in the two films — although "Sliding Doors" is a slightly darker and more cynical experience than "Look Both Ways."
Led by actor and director Peter Howitt, the film was a huge financial success against its tiny budget of $6 million, making almost 10 times that at the box office (via The Numbers). It wasn't quite as successful critically, but "Sliding Doors" has had an indelible mark on popular culture, inspiring countless films and television episodes (via The Ringer).
3. Eternal Sunshine of the Spotless Mind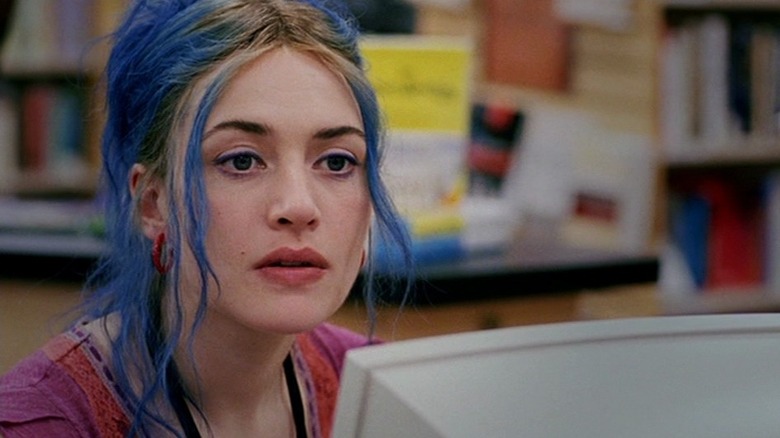 Focus Features
This 2004 film sees Jim Carrey and Kate Winslet as a couple that breaks up and has their respective memories of each other erased in an experimental procedure. The non-linear story sees the characters reliving their past memories as they are slowly erased while they sleep — from the unpleasant recent ones to the older but happy memories when their relationship was still fresh.
"Eternal Sunshine of the Spotless Mind" takes a deep dive into exactly what a romantic relationship is and how love can change with time. What the characters learn by the conclusion is that every memory — even the bad ones — is important and plays a part in shaping individuals. Rather than forgetting or ignoring them, these memories should be used to make choices for the future. The idiosyncratic storytelling method adds an extra layer to the movie, so if you are a fan of science fiction as well as romantic comedies, then "Eternal Sunshine of the Spotless Mind" might well scratch the same itch as "Look Both Ways."
Along with the two leads, "Eternal Sunshine of the Spotless Mind" has an ensemble cast made up of Elijah Wood, Kirsten Dunst, Mark Ruffalo, and David Cross. Critically acclaimed, it holds a 92% approval rating on Rotten Tomatoes and has developed a lasting legacy, with The Hollywood Reporter confirming a television series based on the film is in the works.
4. About Time
The king of the romantic comedy, Richard Curtis, is the man responsible for both writing and directing this 2013 film that stars Domhnall Gleeson, Rachel McAdams, and Bill Nighy. His name comes with a certain stamp of quality, given that the filmmaker has previously created the likes of "Notting Hill," "Bridget Jones's Diary," "Love Actually," and "Four Weddings and a Funeral." Earning widespread praise from critics for its charm and time travel mechanics — although some found there were too many plot holes to make things cohesive (via Film School Rejects) — "About Time" is another win for Richard Curtis. 
It is a movie that boils down to choices, with the protagonist making a plethora of them throughout, and then forced to make a heart-wrenching decision at the conclusion. The time travel plot device allows Tim (Gleeson) to go into his past to try and improve his relationship with Mary (McAdams) and ensure they live happily together. Ultimately though, he realizes that he has to concentrate on living in the moment and enjoying his life as it happens rather than wishing that he could change everything. It's a message that is similar to "Look Both Ways," which puts the emphasis on the journey rather than the destination.
5. The Lake House
Like many of the films in this list, "The Lake House" is not an ordinary rom-com that follows an idyllic and mostly gleeful plot. Based on a South Korean film that was released in 2000, it reunites Keanu Reeves and Sandra Bullock — who first appeared together in 1994's "Speed" — in an oftentimes somber and emotional film. The two are separated by exactly two years and can communicate only by leaving letters for each other in the mailbox of a lake house that they live in during their respective time periods. As the story progresses, the relationship develops but is also strained by the difficulties they encounter from the time difference between them.
"The Lake House" ends up being a mysterious but compelling watch, one that twists and turns in unexpected ways. In that sense, it is tonally distinct from many other romantic movies, yet still retains a sense of optimism that is shared in "Look Both Ways." A box office success, grossing more than $114 million according to Box Office Mojo, it didn't fare as well with reviewers. With mainly mixed reviews, most critics felt that the plot was a little too complicated at times. However, if you can persist despite that, you'll be rewarded with one of the more unique quirky romantic dramas of recent times.
6. 17 Again
Hitting cinema screens in 2009, "17 Again" is a time travel body-swapping comedy film that features Matthew Perry and Zac Efron playing the same character as older and younger versions. As you may have guessed from the name, the film sees Mike transformed into his 17-year-old self, giving him one last chance to get the life he always wanted. It's not quite as distinctive an approach as "Look Both Ways," but the quirky narrative technique helps it stand out from films with more traditional plots.
If you are a fan of novel storytelling then this might well work for you, especially as it features some similar elements to "Look Both Ways," such as teenage pregnancy and understanding how relationships can help transform who we are as individuals. It also gives the main character the opportunity to get a glimpse at what their life could be like if things had gone differently — a theme that is important in the 2022 film.
Some reviews — such as from Marie Claire — were positive, finding the film funny and sweet. That praise was not universal, though, as others were more critical of the perceived derivative story. That shouldn't put people off as mixed reviews are par for the course with most romantic comedies, and Zac Efron's effortless charm makes this worth a watch.
7. Knocked Up
Any fan of "Look Both Ways" is sure to find something to like in "Knocked Up." Judd Apatow's romantic comedy follows an almost identical story at the beginning, with a one-night stand leading to a pregnancy that neither person was expecting or even hoping for. With a baby on the way, the couple has to learn about each other and decide how they are going to work best for the good of their child.
Of course, with the likes of Seth Rogen, Katherine Heigl, and Paul Rudd in the main cast, this is a film that leans heavily on the comedy aspects of the situation and is a more lighthearted affair. For some, that will make the film easier to watch and be a better choice for those who value the laughs just as much as the story.
Despite all the acclaim, "Knocked Up" has faced some controversy over accusations that it panders to sexist stereotypes about women being uptight and failed to give them any funny moments (via Decider). While that is a valid point, it's also true that the movie has plenty of great comedy moments and was nominated for several awards while also appearing in many publications' top 10 lists for 2007 (via Metacritic).
8. Waitress
A lot of romantic comedies deal with couples becoming unexpectedly pregnant and the ramifications of this life-altering moment. "Waitress" is another example of that, with Jenna Hunterson (Keri Russell) constantly confronted by the two paths that her life can take from that point. Unlike "Look Both Ways," these two different possibilities are not shown in their entirety but the young waitress can see the likely consequences of her decision — stay in a loveless marriage or continue an affair with the handsome and charming new doctor. The 2007 film focuses more on the characters taking charge of their own destiny, with Jenna setting her own path in a satisfying moment of self-empowerment.
Filmmaker Adrienne Shelly — who was previously known best for her roles in independent films like "Trust" and "The Unbelievable Truth" — took on directing duties with Nathan Fillion, Cheryl Hines, and Shelly herself making up the main cast. It received a warm reception when it was shown at the 2007 Sundance Film Festival and was a hit with critics, who were particularly impressed with the emotional heft of the narrative. The success of the film has led to a musical produced by singer-songwriter Sara Bareilles. It has received Tony Award nominations and quickly recouped its initial investment (via Playbill).
9. The Map of Tiny Perfect Things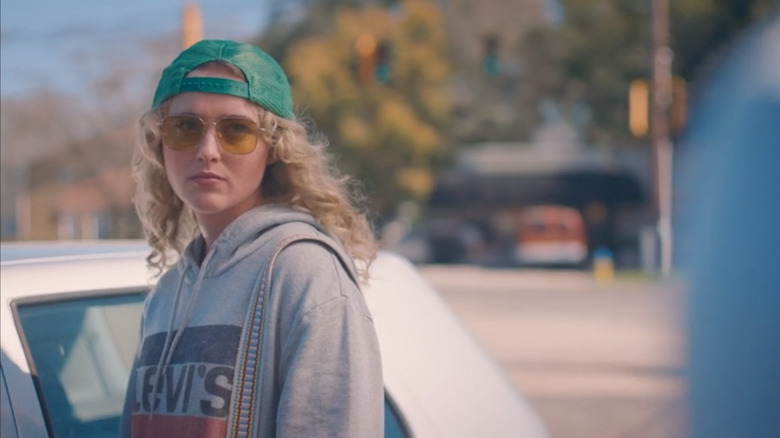 Amazon Studios
There's been a recent trend of streaming services producing teen-based romantic comedies and one of Amazon Prime's best examples of this is "The Map of Tiny Perfect Things." Based on a novel by Lev Grossman — who also wrote the screenplay for the movie — it stars "Big Little Lies" actor Kathryn Newton as Margaret and "American Horror Story: Apocalypse" star Kyle Allen as Mark. Nominated for a Critics' Choice Award, it tells the story of a teenager stuck in a time loop as he repeats the same day and attempts to win the affection of a girl. As the pair begin to develop a relationship, Margaret must make a truly upsetting decision if she is to continue to see Mark and escape from the reality they are trapped in.
It isn't unusual for romantic comedy films to feature interesting and unique plot devices to help propel the narrative forward, and "Look Both Ways" utilizes alternate realities as a means of delving into how decisions might affect a person's future. "The Map of Tiny Perfect Things" does something similar but instead uses time travel as the frame for the story, with the protagonists stuck in a loop that sees them experience the same events every day. Both techniques allow the characters to explore how they feel and see the consequences of their actions in a way that wouldn't usually be possible, and make for a compelling experience.
10. Brooklyn
"Brooklyn" is a nice change of pace for a romance film as it's also a period drama set in the '50s, with gorgeously authentic costumes and locations. The main character Eilis Lacey finds herself caught between two worlds after traveling to the U.S. from Ireland in search of work. Ultimately, she must decide which life she wants — her quiet existence in her hometown, or the more exciting and independent journey she can have in New York. There are some similar themes in both movies, especially when it comes to self-empowerment and seeking a more valued role in society, but "Brooklyn" is perhaps a more thoughtful and charming tale than "Look Both Ways."
Saoirse Ronan —probably best known for her roles in "Little Women" and "Lady Bird" — stars as Eilis, with Emory Cohen, Domhnall Gleeson, Jim Broadbent, and Julie Walters also part of the cast. Based on a novel by Colm Tóibín, the 2015 release was nominated for a number of awards such as BATFAs, Academy Awards, and Screen Actors Guild Awards. Receiving critical acclaim upon its release, "Brooklyn" won praise for the performances of Ronan and for being faithful to the source material — making it a must-watch romance film for any fan of the genre.
11. Everything Everywhere All at Once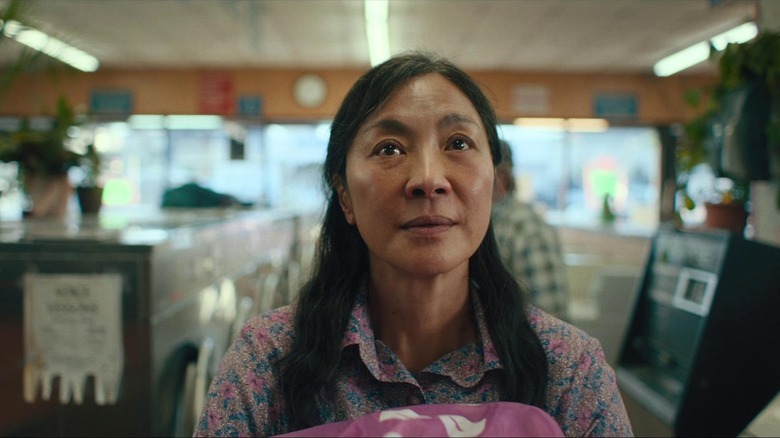 A24
"Look Both Ways" is undoubtedly a romantic comedy and many people who liked it will have done so because of the lighthearted slice-of-life elements focused on the young couples' lives. But those who came away from the film enjoying the way it used multiple realities to explore different possibilities will probably get a kick out of "Everything Everywhere All at Once." This movie is definitely not a rom-com and so doesn't have any of the romantic drama or lovey-dovey moments you'd typically associate with the genre. Yet, it gives viewers the chance to explore alternate realities in a more sophisticated and action-oriented way.
Starring Michelle Yeoh as a Chinese American laundromat owner called Evelyn Quan Wang, the story follows her adventures through the multiverse as she battles against an alternate version of her daughter known as Jobu Tupaki, who threatens the very existence of the universe. Former "Indiana Jones and the Temple of Doom" actor Ke Huy Quan returned to acting to play the part of Evelyn's husband, along with Stephanie Hsu of "The Marvelous Mrs. Maisel" fame as Evelyn's daughter-turned-nemesis. Receiving widespread praise, "Everything Everywhere All at Once" won acclaim for its special effects, the performances of the cast, and the imaginative story.
12. Juno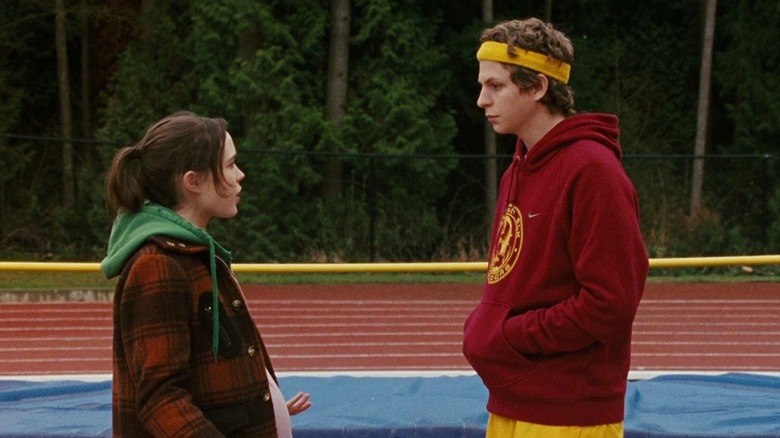 Fox Searchlight Pictures
"Juno" is a 2007 coming-of-age film that stars Elliot Page and Michael Cera as two teenagers who have sex and fall pregnant. The plot charts the aftermath of this, exploring the troubled relationship between Juno and Paulie as well as how the youngsters deal with the pressures of deciding what to do next while also figuring out how they feel about each other.
In some ways, "Juno" might look very similar to "Look Both Ways." Each of them features a character who becomes pregnant and is unsure of what to do and how they should proceed with the father. Both films also thrust adult decisions and issues onto very young people, exposing them to a world that isn't particularly suitable for them. Where "Juno" differs is that it portrays the lead character as an intelligent person who is able to make her own informed choices, instead of letting fate take them on a journey — as seen in "Look Both Ways."
"Juno" was released in 2007 — the same year that two other similar movies were released in the form of "Knocked Up" and "Waitress." All three included a narrative about an unplanned pregnancy, yet each offers a unique perspective, with main characters at very different stages of their lives. "Juno" may well have been the best of the lot, with Roger Ebert naming it as his favorite movie of the year, praising it as "intelligent, quick, charming, moving and yes, very, very funny."