The Best Romantic Comedies Of All Time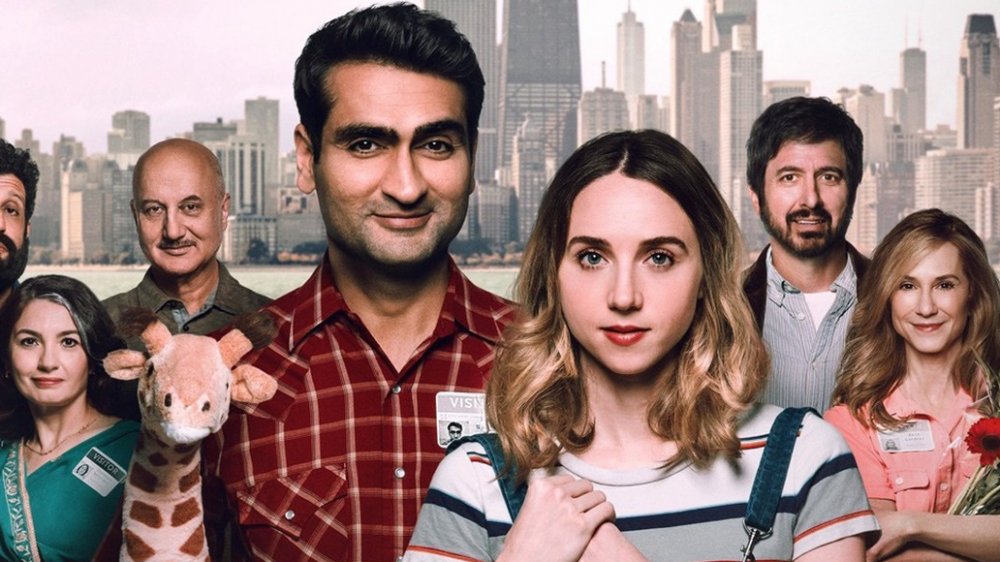 The term "romantic comedy" is sometimes uttered as a slur. Movies that explore love with lightheartedness instead of Oscar aspirations have long been dismissed as silly, air-headed, and unworthy by those who don't know how to appreciate them.
However, if you're going to pick a topic to address in a respectable 90-minute to two-hour window, what better than romance? None of us are superheroes, but we can all fall in love. And fun as it is to watch credits through streaming tears, tackling the complexities of love through humor is, occasionally, preferable to pure tragedy. Sometimes, we just want to put on something soft and familiar, like a favorite sweater in movie form.
That said, aficionados know that some romantic comedies (like some sweaters) are better than others. The characters feel more realistic, the chemistry is better, the designs are more aesthetically pleasing, and the plots seem at least slightly more believable. Here are the best romantic comedies of all time, ready to be enjoyed and given their proper respect.
(Be warned — spoilers below.)
When Harry Met Sally proves friendship is a strong foundation for love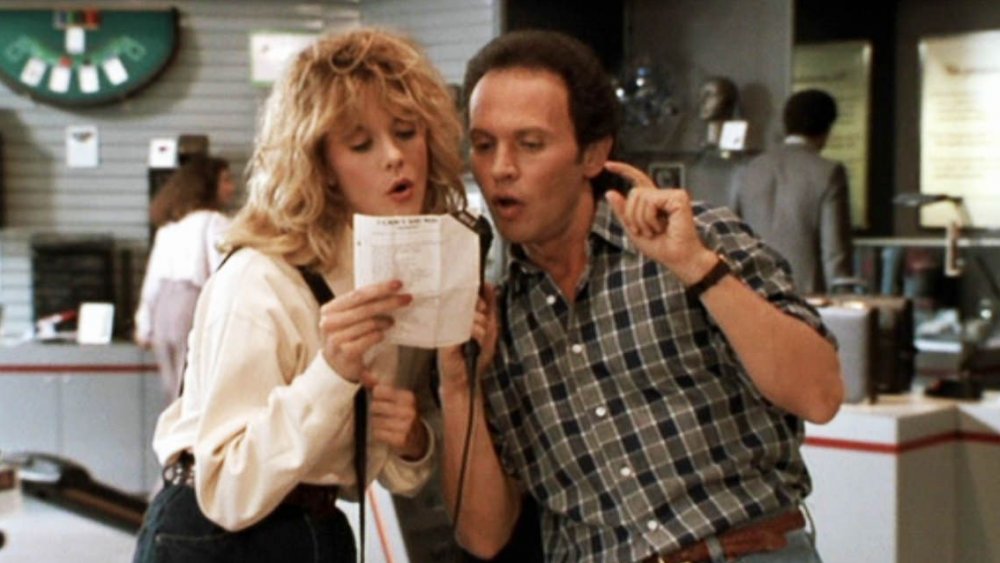 In 1989, When Harry Met Sally tackled the question of whether heterosexual men and women can really be friends. In rom-com world, the answer is a resounding "of course not," especially when they have as much chemistry as Billy Crystal's Harry and Meg Ryan's Sally.
Ryan cemented her reputation as queen of the WASPy, '90s rom-com in two later (inferior) films opposite Tom Hanks. But although Sally's relationship with Harry is based on a similar "opposites attract" theme, it's not as exaggerated as the pairing in You've Got Mail. And unlike Sleepless in Seattle, they have a real friendship before romance comes into it. It helps that the couple's witty repartee comes from screenwriter Nora Ephron, given even more sparkle by Crystal's improvs and Ryan playing the endearing straight man (except in that diner scene).
However, it wasn't always a foregone conclusion that Harry and Sally would get together. In original drafts, they were supposed to never speak again after he immaturely rejected her. But then real life intervened. Long-single Reiner met his future wife, Michele Singer, during filming, and fell in love with love again. He realized he had to give the characters — and audiences — what he was having, in the form of a happy ending.
Bridget Jones' Diary introduced a rom-com heroine we truly love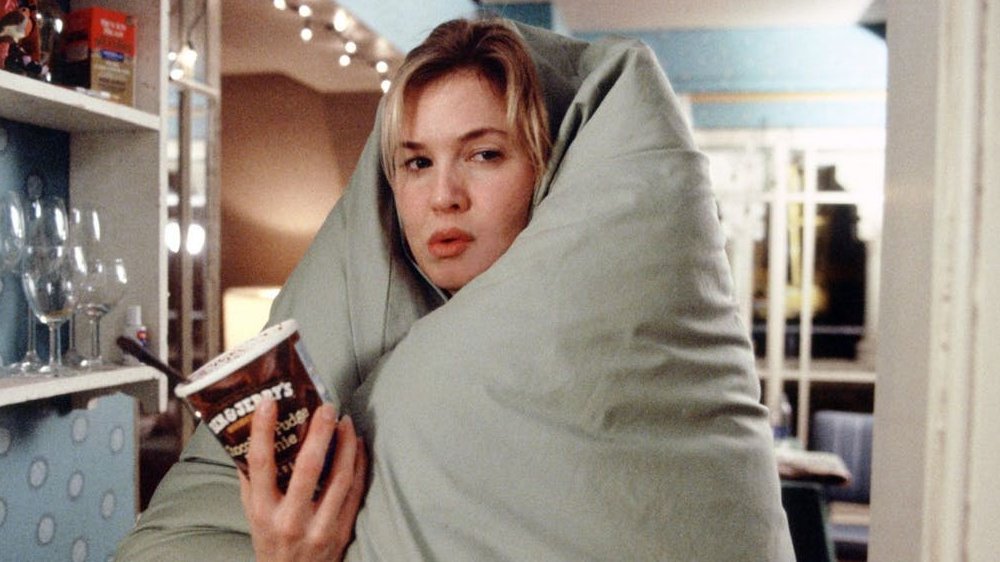 In many glaring ways, Bridget Jones' Diary is very of its time, which was 2001. Everyone smokes indoors, Bridget's (Renée Zellweger) obsession with her very normal weight wouldn't hold in the body positivity era, and Daniel Cleaver (Hugh Grant) would've been hauled before the court of public opinion post-MeToo. Also, being single at 32 is no longer considered a tragedy.
However, there's still lots to love about this Sex and the City-era restyling of Pride and Prejudice, which shows just how endearing it is. That's mainly thanks to Zellweger, who scandalized the admittedly easily scandalized British public when she was cast as Londoner Bridget. But not only did the Texan actress nail the accent, her comic timing and innate sweetness turned Bridget's poor life choices, well-meaning efforts, and innocent mistakes into moments that made us love her more. The bunny costume, fireman's pole, and awkward toast are just three highlights.
Meanwhile, only Colin Firth could pull off the uptight but secretly charming Mark Darcy. It helps that he's played a version of Darcy before, in the BBC's adaptation of Pride and Prejudice. He and Grant are mostly very handsome accessories, but they do contribute a gloriously cringey street fight, opportunities for Bridget to stand up for herself, and a kiss in the snow.
Four Weddings and a Funeral is a romantic comedy with an incredible cast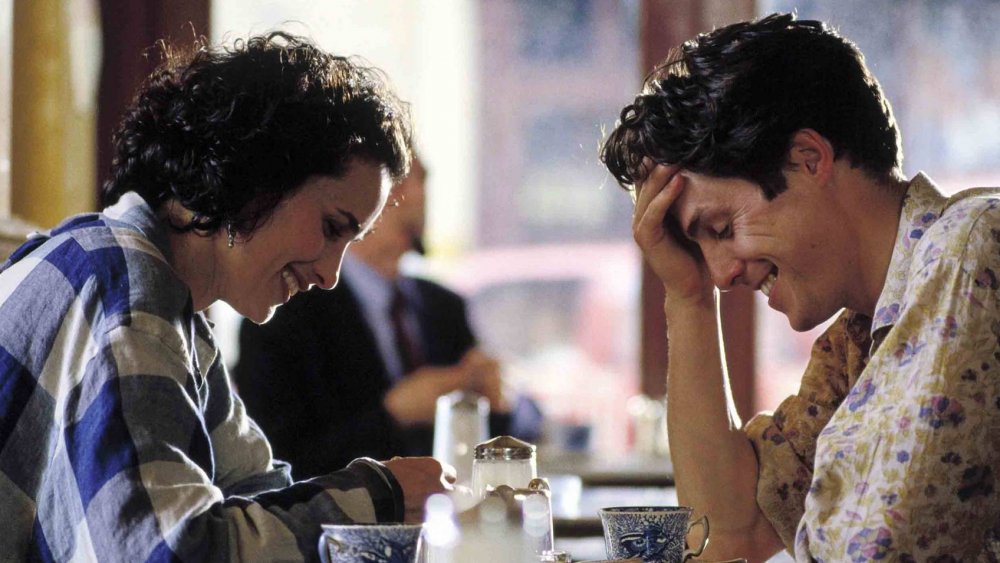 Four Weddings and a Funeral delivers exactly what it says in the title, yet it's still endearingly offbeat. Hugh Grant and his floppy hair star as hopeless romantic Charles, who falls for Carrie (Andie MacDowell and her fantastic curly hair) when they hook up at a wedding. Carrie is American and therefore glamorous, but she's also unattainable. More weddings and a funeral ensue, and in the end, Charles leaves his would-be bride for Carrie, and they agree to be not-married to each other — a refreshing approach in a marriage-obsessed genre.
Unusual among classic rom-coms, the couple at the center of Four Weddings isn't all that compelling. Carrie and Charles barely spend any time together, and when they do, she doesn't seem all that into him. Also, they both commit to marry other people. Carrie even asks Charles to help her choose her wedding dress.
What makes Four Weddings shine is Charles' group of friends, all of whom are played by stellar British actors. Most famous are Simon Callow, Kristin Scott Thomas, and John Hannah, who delivers the emotional climax of the film with a rendition of "Funeral Blues" by W. H. Auden. The real appeal of Four Weddings isn't its central couple. It's the film's portrayal of the messy, hilarious, and touching truth about love, marriage, and death.
10 Things I Hate About You is a meeting of equals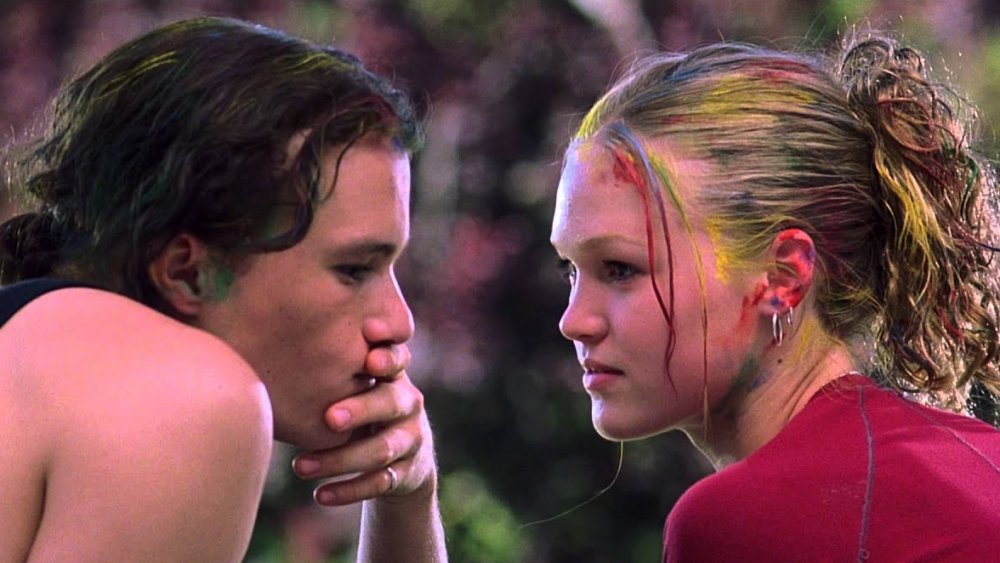 High school comedy meets rom-com in 10 Things I Hate About You, a very loose adaptation of Shakespeare's The Taming of the Shrew. The shrew, in this case, is Kat (Julia Stiles). Her shrewy tendencies include being a feminist, listening to riot grrrl, and wearing tank tops instead of floral dresses like her younger sister Bianca (Larisa Oleynik). Obviously, Kat is actually the heroine.
As for the plot, Bianca teams up with newbie student Cameron (Joseph Gordon-Levitt) to find Kat a date, since their father has ruled that Bianca can only date when Kat does. They recruit "bad boy" Patrick (Heath Ledger), the only one who can handle Kat's sharp tongue and general anti-guy attitude.
Stiles spits acid when she delivers Kat's angsty insults, but she feels just as genuine when showing her vulnerable side. The actress cried real tears when she delivered the titular poem, putting it down to the cast's close bond on set in an interview with Cosmopolitan. And Ledger matches her emotionally — unusual for a male lead in a rom-com. His rendition of "Can't Take My Eyes Off of You" is both a parody of rom-com romantic gestures and a classic example of one that still resonates today.
Romance and sports is an irresistible match in Love and Basketball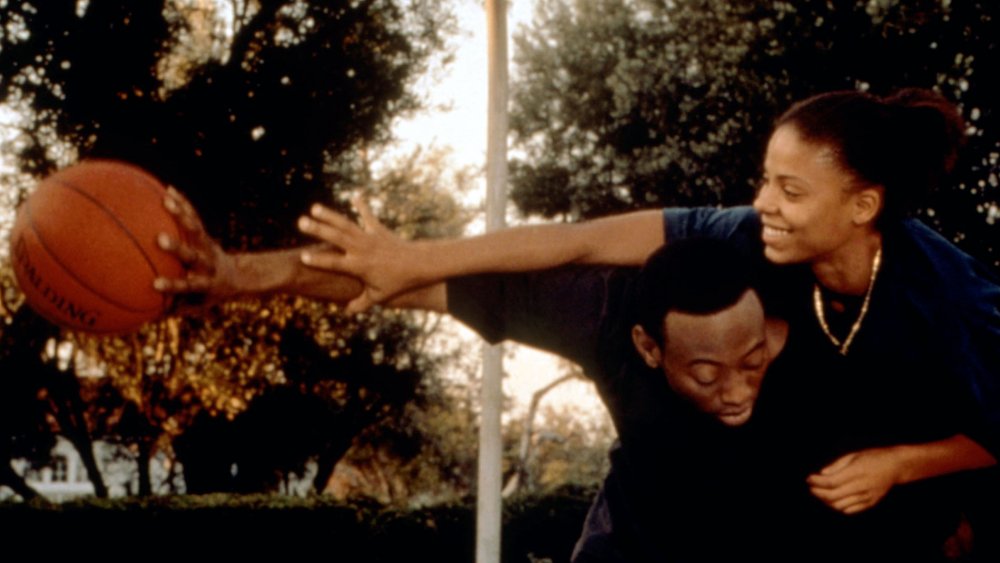 Love and Basketball proves that sports movies and rom-coms are the unlikely couple that actually belong together.
Neighbors Monica (Sanaa Lathan) and Quincy (Omar Epps) are talented basketball players who fall in love as teens, go on to play at USC, and break up when Quincy accuses Monica of choosing basketball over him. The night before Quincy's wedding, Monica challenges him to a one-on-one game. If she wins, he'll choose her over his fiancee. Quincy wins, but he still chooses Monica, who goes on to play in the WNBA.
Rom-coms and sports movies are driven by victory — getting the trophy or the partner — so of course we know that Monica and Quincy are meant to be together. It's the back and forth between their break up and reunion that puts you on the edge of your seat.
Monica is a breath of fresh air among rom-com heroines, who don't usually compete in male-dominated spheres. The very first thing the character does is beat Quincy at basketball, and she never lets him forget it. She's not just a tomboy. She's an athlete who's passionate about her sport and extremely good at it. But she also needs and deserves love — hence the title.
The Holiday is a warm fire on a cold winter day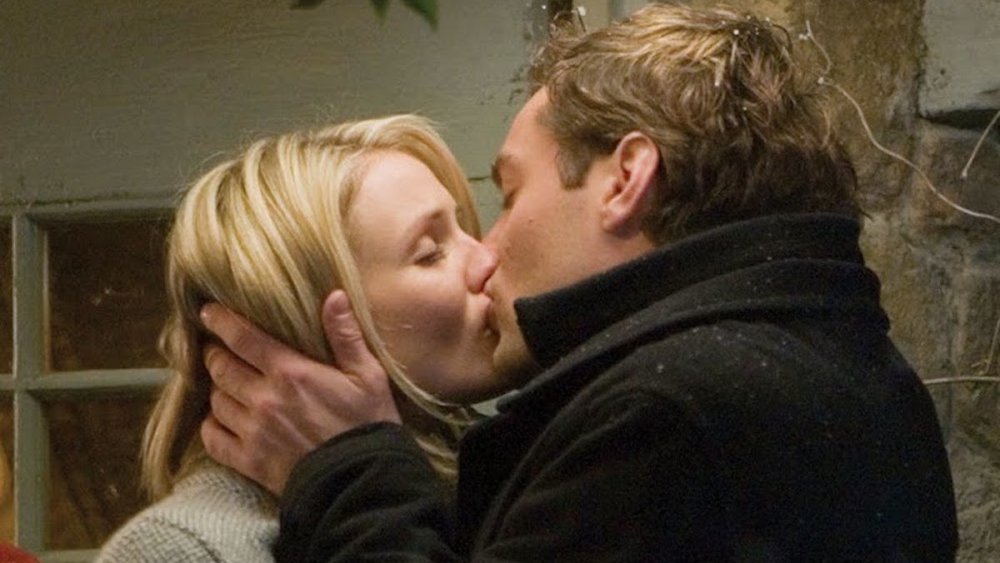 Despite Hallmark's best efforts, The Holiday remains the best holiday rom-com. Just before Christmas, in Surrey, England, Iris (Kate Winslet) learns that her breadcrumbing ex-boyfriend Jasper (Rufus Sewell) is newly engaged. Meanwhile in LA, Amanda (Cameron Diaz) dumps her cheating boyfriend, Ethan (Edward Burns).
The two women swap houses for Christmas, and Amanda starts a fling with Iris' brother, Graham (Jude Law) while Iris befriends Ethan's colleague Miles (Jack Black). Despite various obstacles (like children and the Atlantic Ocean), the movie ends with the respective couples deciding to give love a chance.
The Holiday is the movie equivalent of putting on stretchy pants in a festive print and settling into an armchair after a big holiday dinner, preferably with a roaring fire. Amanda and Graham are the hot-for-each-other couple, while Miles and Iris have more of a companionship vibe. Even the sets are visual serotonin. Amanda's house is LA chic, and Iris' English cottage is so English cottagey that it comes up when you google "English cottage door." Iris learns to stand up for herself, Amanda learns to love again, and we all go to sleep full of good cheer.
13 Going on 30 doesn't apologize for its girly aesthetic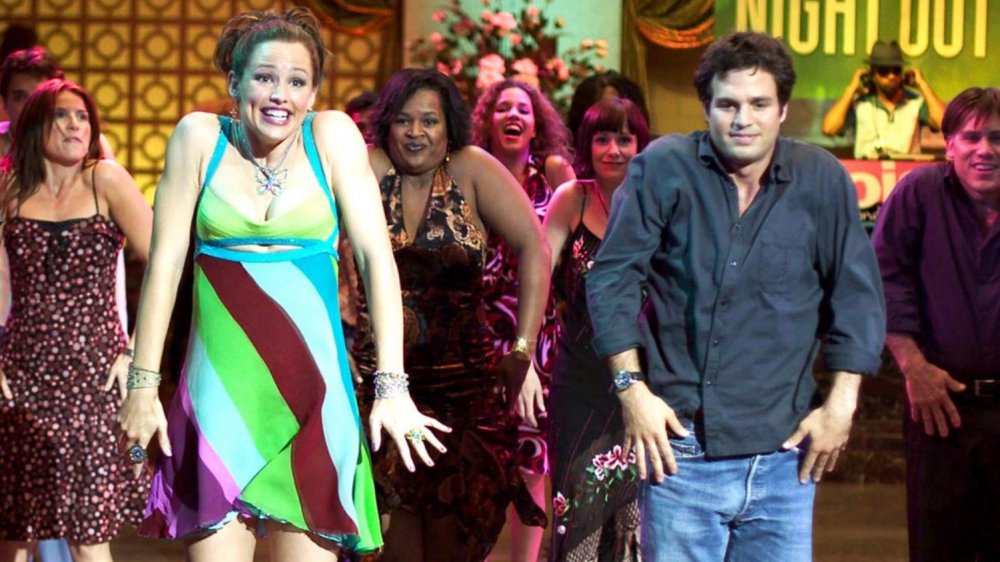 13 Going on 30 is rom-com meets body swap comedy. In 1987, magic dust transports 13-year-old uncool high schooler Jenna (Christa B. Allen) 17 years into the future and into her 30-year-old body, who lives in New York and works for fashion magazine Poise.
Understandably confused, Jenna (Jennifer Garner) tracks down her best friend, Matty (Mark Ruffalo), who informs her that she dumped him for more popular friends when they were kids. Still, they reconnect, and Jenna falls for him, even though he's engaged to someone else. Having realized that adulthood, frankly, sucks, Jenna wishes herself back to childhood, ditches the mean girls, and later marries Matty.
Garner is the bubbly ball of light that makes this delightfully ludicrous premise work. She plays kid-in-adult's-body without making it creepy or overly saccharine. It also helps that the script plays unapologetically to an audience looking to relish in all things hypergirly. There's a group dance to "Thriller," a sleepover singalong, a makeover montage, and costumes that are '00s trends as styled by a teen with an adult budget and body.
Matty and Jenna are sweet together, thanks to the leads' chemistry and certain set pieces. But as with most classic rom-coms, Jenna's journey is the real heart of the story.
What If refreshes a classic rom-com plot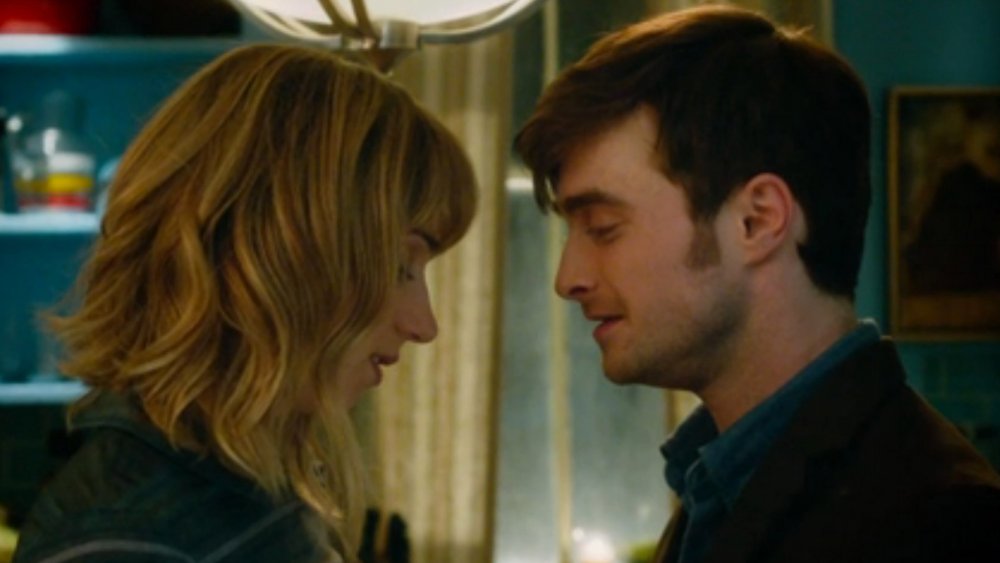 You already know the rom-com answer to the genre's favorite question, can heterosexual men and women just be friends? But in What If, that answer (no) is delivered in a charmingly quirky, hipsterized package, complete with Lizzie McGuire-style animation, a Princess Bride screening, fridge poetry, and Fool's Gold.
Wallace (Daniel Radcliffe) and Chantry (Zoe Kazan) meet at a party thrown by his best friend/her cousin, Allan (Adam Driver). Chantry has a boyfriend, Ben (Rafe Spall), but she and Wallace agree to be friends. When Ben goes away for six months, Wallace and Chantry grow closer. Romantic gestures ensue and fail, but right before Chantry leaves for Taiwan — having broken up with Ben — she and Wallace reunite and officially become a couple.
The premise is formulaic, but that's the point of even excellent rom-coms. What matters more is that Wallace and Chantry's banter feels natural — the stars improvised some of it — and their relationship is realistic. For better or worse, they'll probably remind you of a cutesy couple you know. 
The movie's charm is helped by a cast of fascinating supporting characters. This was before Adam Driver transformed into Kylo Ren, and he makes comedy look effortless, opposite Mackenzie Davis, who matches his famous intensity levels as Allan's girlfriend, Nicole. It's a tale as old as time, but this retelling feels fresh.
My Big Fat Greek Wedding is a family affair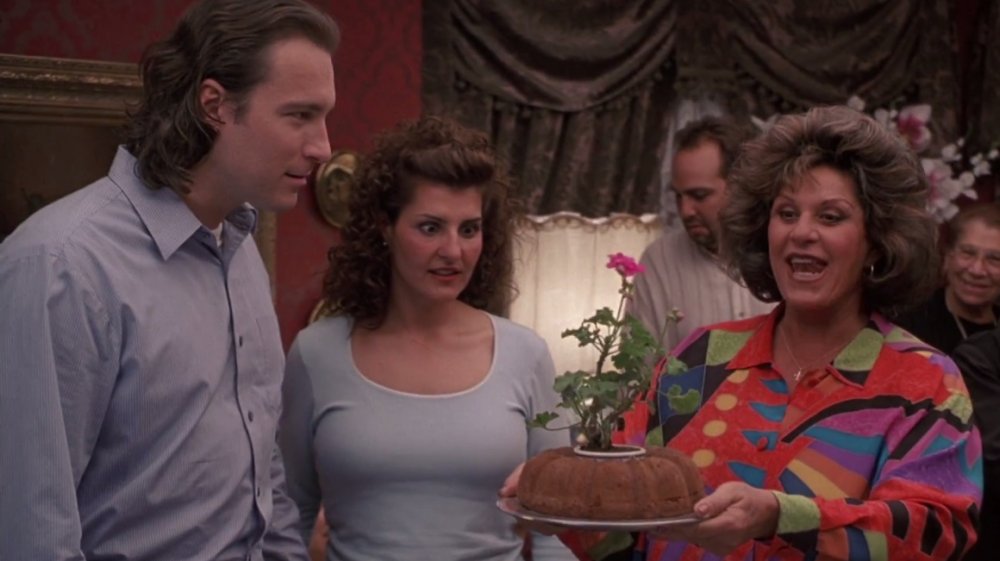 Weddings are a rom-com staple and not just because marriage is promoted by society as the ideal relationship status. Weddings necessarily combine romance and comedy, especially when you have a large, unapologetically loud family. Which is exactly the case in My Big Fat Greek Wedding.
Greek-American Toula (Nia Vardalos) is the shy spinster of her big Greek family, until she gets contacts, a new hairdo, and computer qualifications. Newly confident, Toula starts dating non-Greek American Ian (John Corbett), and they get engaged. Her family muscles in on her wedding plans, bringing many layers of cultural expectations, traditions, and tulle, but ultimately, despite their initial reservations towards Ian, it all works out.
It's obvious why this is a classic. There's a makeover scene, forbidden love overcoming all obstacles, family drama, and a giant wedding dress. And audiences agreed. Greek Wedding was the highest-grossing indie movie of all time when it came out in 2002. But what really gave the movie its big, fat heart was the meet-cute behind it, based on writer and star Vardalos' relationship with her husband. Sadly for them, happily ever after didn't make it off the screen, as they filed for divorce in 2018. But don't hold it against the movie.
Crazy Rich Asians is a romantic comedy that broke records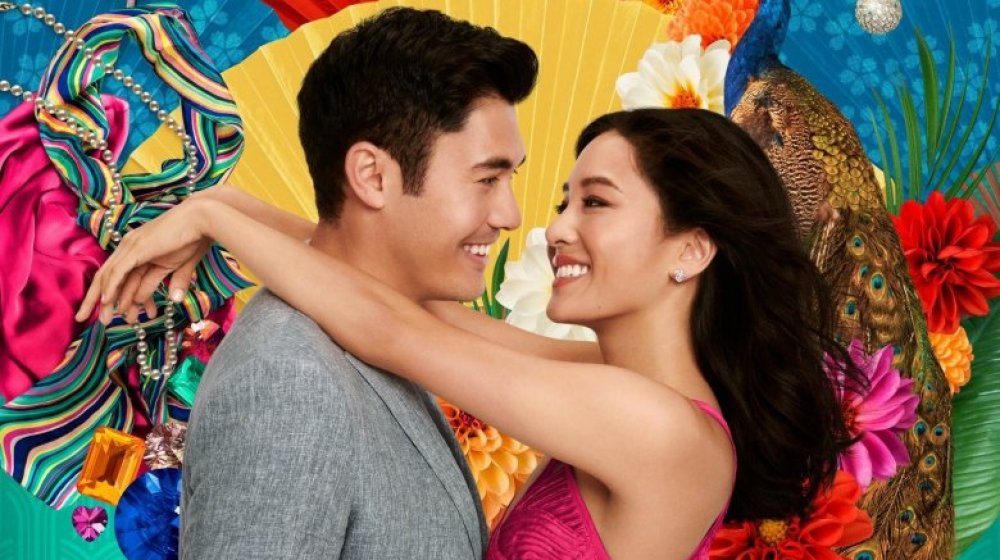 There's a reason Crazy Rich Asians became the highest-grossing rom-com in over a decade when it was released in August 2018.
When Rachel (Constance Wu) and her boyfriend, Nick (Henry Golding), travel to Singapore for his friend's wedding, she discovers that his family is super-duper rich and famous. His mother, Eleanor (Michelle Yeoh), dislikes Rachel, partly because she's Chinese-American (not Chinese) and partly because she was raised by a single mother. Nick's family conspires to tear the couple apart, but Rachel finally earns Eleanor's respect, and Nick and Rachel get engaged.
Does it matter that this is one of the first blockbuster American movies with an all-Asian and Asian-American cast? Yes, it does. The plot revolves around Singaporean and Chinese cultures, and the movie's box office success proved to Hollywood execs that audiences will pay for movies about and by people of color. But Crazy Rich Asians also contains every ingredient rom-com fans love. There are beautiful people in love, a funny best friend, family drama, a makeover, gorgeous costumes, the most romantic proposal scene of all time, and extremely rich people doing glamorous things. It delivers everything you need from rom-coms, while proving the genre benefits from more perspectives.
Definitely, Maybe doesn't rely on happily ever after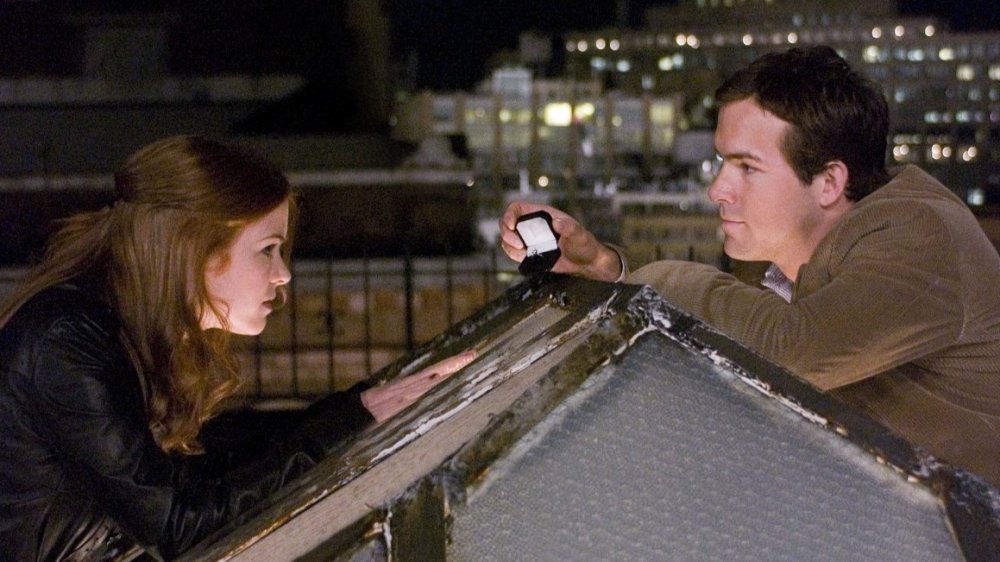 One frustrating feature of rom-coms is their tendency to focus on one love story — usually one that ends with the couple getting together or marrying. In 2008, Definitely, Maybe shook up that narrative by presenting three love stories, none of which ended with happily ever after.
Divorced dad Will (Ryan Reynolds) tells his daughter Maya (Abigail Breslin) about his former love interests, challenging her to guess which is her mom. He recalls getting dumped by his college sweetheart, Emily (Elizabeth Banks), meeting free-spirited April (Isla Fisher), and being betrayed by journalist Summer (Rachel Weisz). Finally, Maya realizes Emily is her mother — she and Will reunited but later divorced — and that April is the real love of his life. They find April, and she hints that she's ready to try dating.
If the real appeal of rom-coms is to vicariously enjoy the highs, lows, and complications in other people's love stories, Definitely, Maybe is value for screen time. You get not one but three, all gloriously messy in their own way, and all important to Will, even though none of them worked out. Definitely, Maybe is a celebration of how love manifests in different ways over a lifetime, which might make it the most romantic movie of all.
Love, Simon does exactly what a teen rom-com should do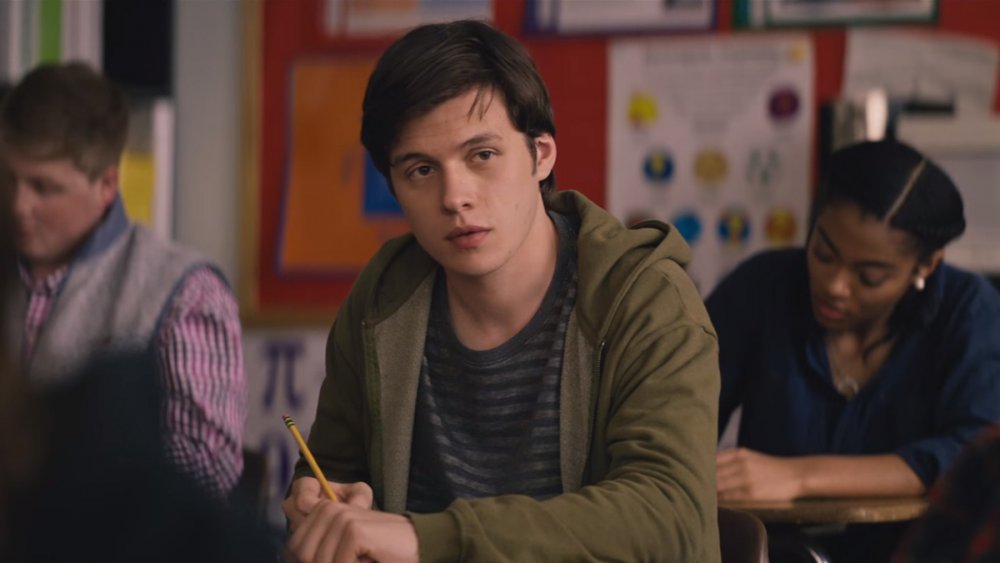 Love, Simon is a rom-com — You've Got Mail for Gen Z — but it's also a high school movie, a romantic mystery, and coming-out story. High schooler Simon (Nick Robinson) hasn't told anyone that he's gay. When a student with the pseudonym Blue comes out on the school's message board, Simon emails him, and they begin a correspondence. Gradually, Simon falls in love, and he tries to figure out Blue's identity.
Meanwhile, another student discovers the email exchange and outs Simon. After worrying about backlash but mostly finding support, Simon posts a message asking Blue to meet him on a Ferris wheel. Blue turns out to be someone in Simon's social circle, and they share an MTV Movie Award-winning kiss as onlookers cheer.
Love, Simon is your standard, well-done, teen rom-com. The clothes and tech are improbably expensive, there's friendship drama, a Halloween party, a failed romantic gesture, and a grand finale. And that's exactly its charm. Future rom-coms about LGBTQ+ protagonists might completely innovate the genre and deliver extra nuance. But sometimes, you just want something sweet and easy. Love, Simon gives gay teens the opportunity to see one LGBTQ+ experience in a mainstream teen movie that's not about struggle and rejection as much as it's finding love.
The Big Sick sounds like it shouldn't be funny, but it's a hilarious romantic comedy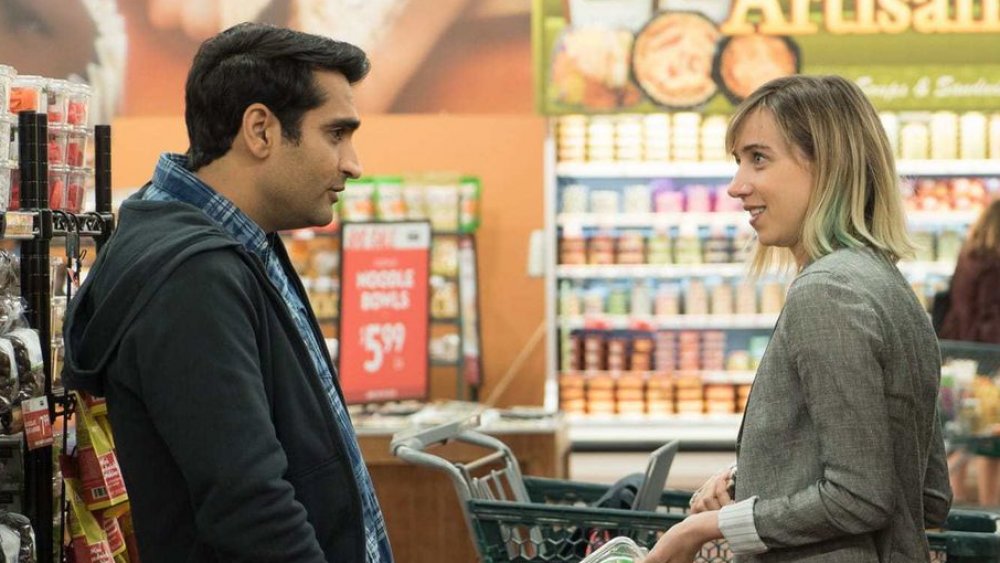 On its surface, the plot of The Big Sick sounds neither funny nor romantic. Kumail (Kumail Nanjiani) is a Pakistani-American who falls in love with white American Emily (Zoe Kazan), but she dumps him when she learns his parents are trying to arrange his marriage. When Emily falls ill and is put into a medically induced coma, Kumail meets her parents at the hospital. He realizes he doesn't want to lose her and tells his family about their relationship, leading them to disown him. But when Emily comes round, she only remembers breaking up with Kumail and tells him to leave. However, after Kumail moves to New York to pursue comedy, Emily visits, and they restart their relationship.
The Big Sick isn't lighthearted, yet it's one of the few rom-coms that delivers real, laugh-out-loud jokes. Most of the comedy comes from Kumail's relationship with his future in-laws, played by Ray Romano and Holly Hunter. But the love story also feels genuinely complicated in the way only real love stories are, maybe because it's based on the real experience of Nanjiani and his wife, Emily V. Gordon, who also wrote the script together. Expect to veer between tears and laughter, the ultimate realistic emotional roller coaster.