The Transformation Of Zac Efron From High School Musical To Now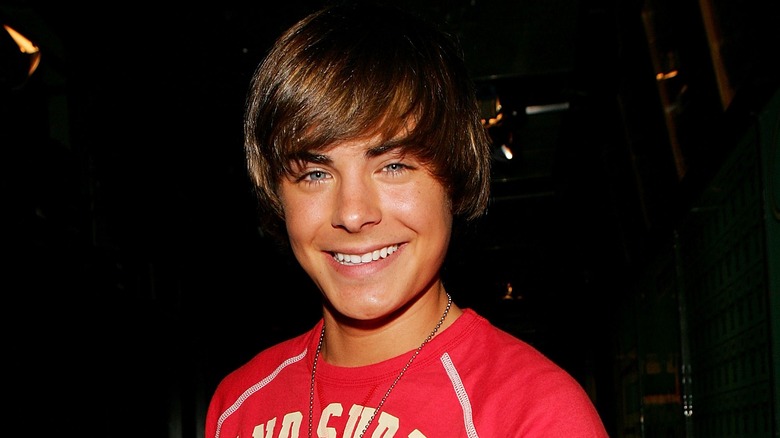 Evan Agostini/Getty Images
When Zac Efron broke out in 2006's "High School Musical" on the Disney Channel as basketball player and good guy Troy Bolton, he became an international celebrity and a teen heartthrob almost overnight. Though most of his song vocals were dubbed in the first film (by Drew Seeley), he had the "it" factor that casting directors need to make such a risky project — a television musical, not based on a Broadway show, with a $4.2 million dollar budget — a roaring success. The franchise then became a bonafide pop-cultural phenomenon that generated more than $100 million in sales for Disney, as reported by the New York Times.
"When we first met Zac, we felt he had the quality of what we'd call a matinee idol. He was stunning, but he wasn't cocky, which isn't something you'd find in young people," casting director Natalie Hart told Variety. "He had an accessibility. We knew he had the capability of being a leading man."
In some circles, the actor is still best known for the "High School Musical" trilogy, which, more than any projects, gained him a cadre of fervent fans that follow him to this day. However, his journey during the last 17 years has shown that he's a versatile talent who can play anything from wholesome dancing heroes to serial killers. And if you still think of him the way he appeared from his Disney days, you're missing out on a lot. Let's look at his career from then to now.
He went the teen idol route — for a few more films, anyway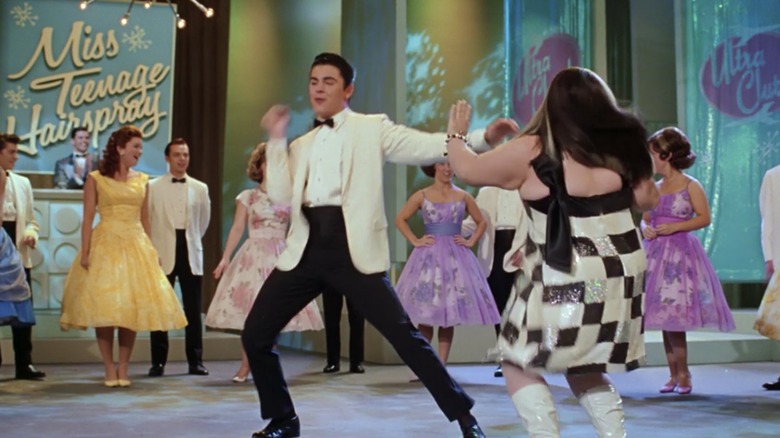 New Line Cinema
Although some of his "High School Musical"  co-stars fully embraced the Disney star life as the franchise grew more popular, doing interviews and fan events and touring with "High School Musical: The Concert," Zac Efron's career trajectory changed instantly. Sure, he did an episode of "The Suite Life of Zack & Cody" in which his character ends up being attracted to Maddie ("HSM" co-star Ashley Tisdale). But he quickly shifted to other projects (aside from "HSM 2" and "HSM 3").
One of his most publicized films was 2007's "Hairspray," another musical — this time based on John Waters' 1988 cult film that was turned into a Broadway show. He played Link Larkin to Nikki Blonsky's Tracy Turnblatt. He also starred in 2009's fantasy-comedy "17 Again," in which an accident turns Matthew Perry's character into his 17-year-old self, allowing him to fix mistakes he made as a teenager. 
Efron, showing career savvy even at a young age, realized that staying in such roles might get him typecast. In 2007, he was attached to the remake of the 1980s film "Footloose" but it ultimately got released in 2011 without him. He told People, "I'm sure 'Footloose' would have been a huge challenge, but the actors that I love and the actors that work really hard in this industry are always shaking things up, trying new genres, acquiring new skill sets. That's what's always going to appeal to me: the unknown."
Zac Efron cut off a maturing career to address addiction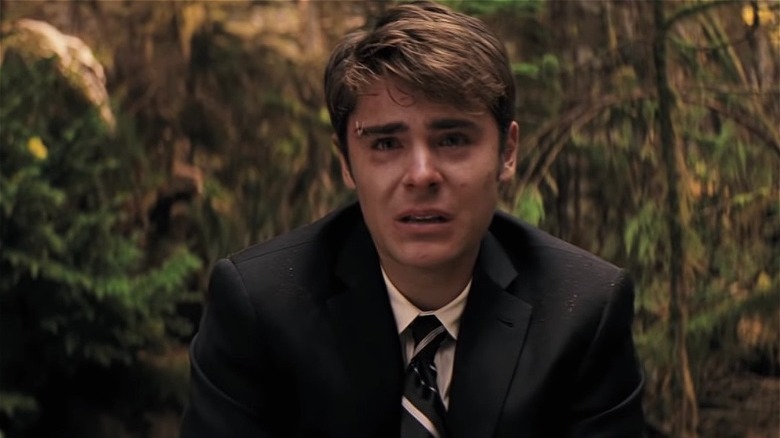 Universal Pictures
Instead of staying in those types of roles, Zac Efron moved on to more mature (but less popular) movies like "Charlie St. Cloud," portraying a small-town sailing hero who survives a tragic accident but can now see the spirit of his dead younger brother (Charlie Tahan). He also starred in 2012's "The Paperboy," which cast him as Matthew McConaughey's younger brother. The film flopped both critically and commercially. That same year, he also voiced Ted in "The Lorax" animated film, which did much better. 
Efron isn't the first actor to have trouble navigating the pitfalls of stardom at a young age. In 2013, though, he took a career break to address some personal issues. He did a stint in rehab for drug and alcohol addiction, and then in 2014, made headlines for getting in a fight with a homeless man. "I was drinking a lot, way too much," he told The Hollywood Reporter, admitting to the presence of drugs as well. "It's never one specific thing. I mean, you're in your 20s, single, going through life in Hollywood, you know? Everything is thrown at you. I wouldn't take anything back; I needed to learn everything I did. But it was an interesting journey, to say the least."
At the time of the interview, he was in Alcoholics Anonymous and seeing a therapist. He also acknowledged his role as a role model and said, "I'm a human being, and I've made a lot of mistakes. I've learned from each one."
He went through a 'dude-bro' stage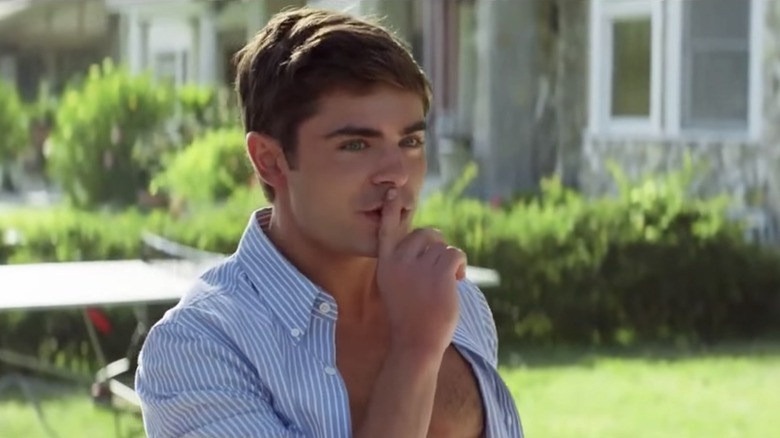 Universal Pictures
Despite that hiccup, he was soon back on-screen, often playing young adult roles in comedies with varying amounts of success. 
For example, Efron took on the roles of an happily unmarried bachelor in "That Awkward Moment" and fraternity president Teddy Sanders in "Neighbors" in 2014. There are some rather famous shirtless scenes in "Neighbors," but it's uncertain what role Efron's bare upper bod played in the success of the movie, which Rolling Stone described as "the highest-grossing live-action film of Seth Rogen's career." The story involves a fraternity led by Teddy, which moves in next door to Rogen's character, Mac, and his wife (Rose Byrne), who have a new baby. A call to the cops during a party leads to all-out war between the neighbors. 
Efron followed that up with roles in several comedies in which he played similar hard-partying characters, such as two "Neighbors" sequels and "Mike and Dave Need Wedding Dates." His role in "We Are Your Friends" from 2015 is a bit more serious, allowing him to become a DJ in a coming-of-age drama, but it's a similar general idea. All this was part of Efron's growth process, though, as he eventually reached A-list mainstream status a few years later.
He returned to his musical roots in The Greatest Showman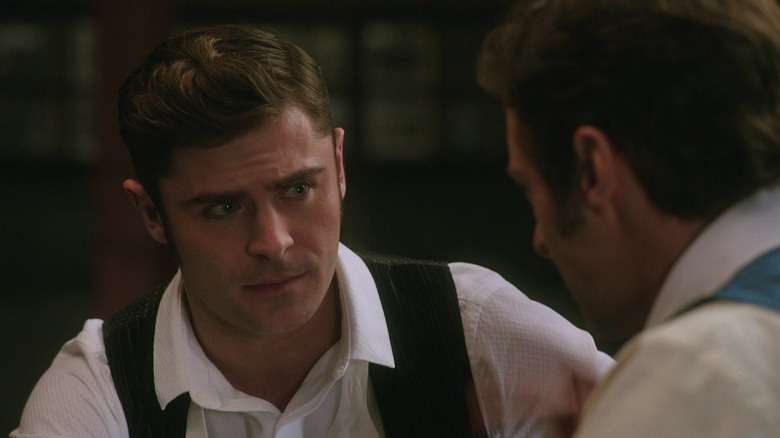 20th Century Studios
After breaking into the mainstream with his roles in the musicals "High School Musical" and "Hairspray," Zac Efron returned to his musical roots a decade later in the biographical musical "The Greatest Showman." In the film, he portrays Phillip Carlyle, an unfulfilled playwright who finds purpose in partnering with showman P.T. Barnum (Hugh Jackman) and his circus. He appears in three out of the 11 musical numbers on the film's soundtrack: "Rewrite the Stars" with Zendaya, "The Other Side" with Jackman, and the ensemble effort, "The Greatest Show."
Although his musical numbers in his past films did moderately well, with songs like "Gotta Go My Own Way" from "High School Musical 2" garnering more than 167 million streams on Spotify and "You Can't Stop the Beat" from "Hairspray" sitting at more than 76 million streams, Efron's songs from "The Greatest Showman" were the first in his discography to go platinum. "The Other Side" went platinum once, "The Greatest Show" twice, and "Rewrite the Stars" an impressive three times. The soundtrack even went on to win a Grammy for best compilation soundtrack for visual media and a Billboard Music Award for top soundtrack, among other awards. It's evident Efron has been refining his singing abilities, heightening expectations for a possible "The Greatest Showman 2" that would showcase his musical talents once again.
He ventured into YouTube content creation
In response to the changing landscape where new-age internet content captivates the attention of the youth over mainstream entertainment, Zac Efron adapted by launching his YouTube channel in 2019. On his channel, he curated various series, such as "Off the Grid," a travel adventure series, "Gym Time," a workout and interview show, and "Recovery Time," documenting his journey to healing an ACL injury. Despite consistently garnering millions of views, Efron faced criticism for YouTube's perceived favoritism toward mainstream celebrities, a sentiment shared by both creators and viewers who felt it overshadowed smaller content creators.
Nevertheless, Efron's YouTube venture was relatively short-lived, with his latest upload dated November 26, 2019, just eight months after the channel's debut. The channel still sits at just over one million subscribers. Whether Efron will one day return to the endeavor remains as much a mystery as the reasons for his departure.
He developed insomnia and depression in preparation for his Bay Watch role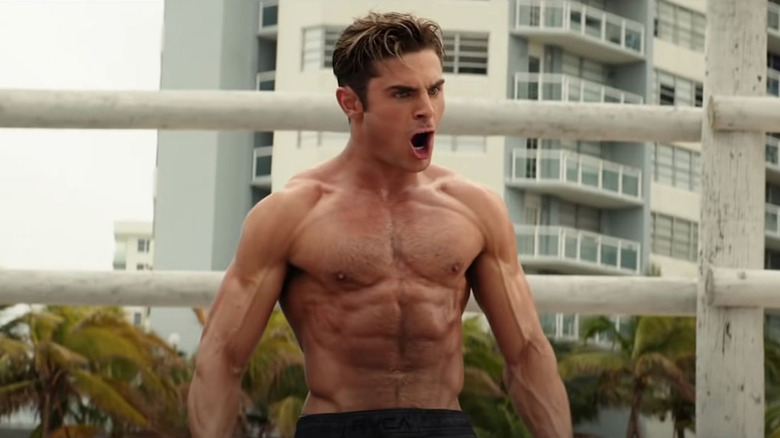 Paramount Pictures
In recent years, Zac Efron has been open about his experiences with mental health, particularly how it deteriorated due to his unhealthy preparations for his role in the 2017 film "Baywatch." Many looked to Efron's extremely toned and muscular physique in the movie as desirable, and while it may be the epitome of male beauty standards, Efron emphasized in his interview with Men's Health that achieving such a body was absolutely unattainable long-term. "That required Lasix, powerful diuretics, to achieve. So I don't need to do that. I much prefer to have an extra, you know, 2 to 3 percent body fat," he admitted. The excessive use of diuretics led to insomnia, compounded by overtraining and undereating, eventually triggering depression.
From one extreme to the next, Efron decided to let himself go during the COVID-19 pandemic lockdown. This shift made him feel just as bad but for different reasons. Over time, he managed to find a balance that worked for him, emphasizing the importance of a healthier approach to both physical and mental well-being.
If you or someone you know needs help with mental health, please contact the Crisis Text Line by texting HOME to 741741, call the National Alliance on Mental Illness helpline at 1-800-950-NAMI (6264), or visit the National Institute of Mental Health website.
He shattered his jaw and had to get surgery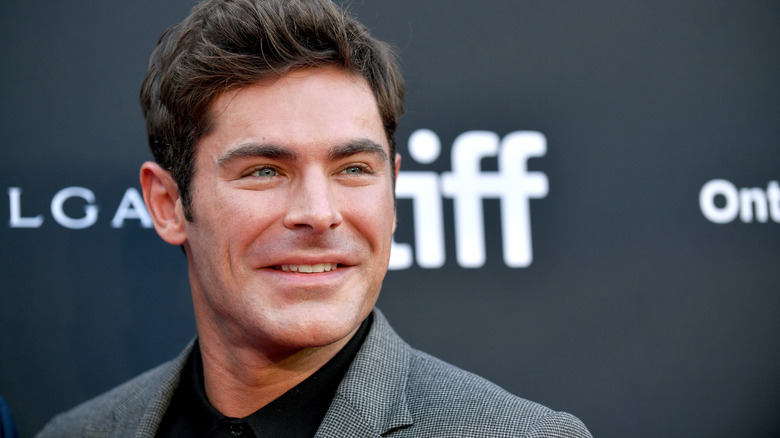 Rodin Eckenroth/Getty Images
After appearing in Bill Nye's "Earth Day Musical" special on Facebook Watch in 2021, the internet went into a frenzy over Zac Efron's "new look." His visibly larger and seemingly swollen jaw sparked speculation about possible plastic surgery. The rumors persisted to the extent that even Efron's mother checked in to question their validity. Efron addressed the speculation in the same Men's Health interview, attributing his altered jaw to a decade-old injury that had required years of physical therapy.
The injury occurred when he slipped in his house, colliding with the granite corner of a fountain so forcefully that he lost consciousness. Although he had recovered, the change in his jaw became noticeable when he temporarily paused physical therapy during the filming of his docuseries "Down to Earth with Zac Efron." "The masseters just grew," he told Men's Health. "They just got really, really big." Despite becoming the internet's punching bag for that brief period, Efron never let the comments get to him.
He turned to meditation to cope with his Ted Bundy role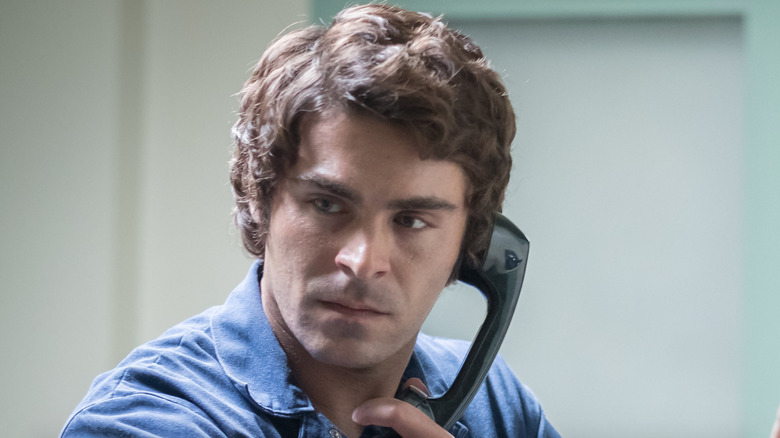 Netflix
From teen heartthrob to serial killer, Zac Efron made a dramatic leap in his career when he starred as Ted Bundy in Netflix's "Extremely Wicked, Shockingly Evil and Vile." Delving into the psyche of a serial killer can have profound effects, as evidenced by Evan Peters' experience with his role in "Dahmer – Monster: The Jeffrey Dahmer Story." Unfortunately, Efron encountered similar challenges as the Bundy role took its toll on him. At the London premiere of the movie (via The Daily Mail), the actor revealed that he found it hard to separate himself from the character. "I've never played a role in which I really have to separate myself from when I go home at night and it was almost impossible," he revealed. "I'd like to say that I did it successfully but I couldn't."
To help cope, Efron turned to a meditation technique known as transcendental meditation, where one sits silently and breathes through a repeated inner dialogue referred to as a mantra. "On the way home I just do some TM and try to phase out of it. Really, you can't ever really let go of all of it. There's always a little bit of you that knows tomorrow you're Ted," he told Entertainment Weekly.
He faced a near-death experience while filming his Quibi series Killing Zac Efron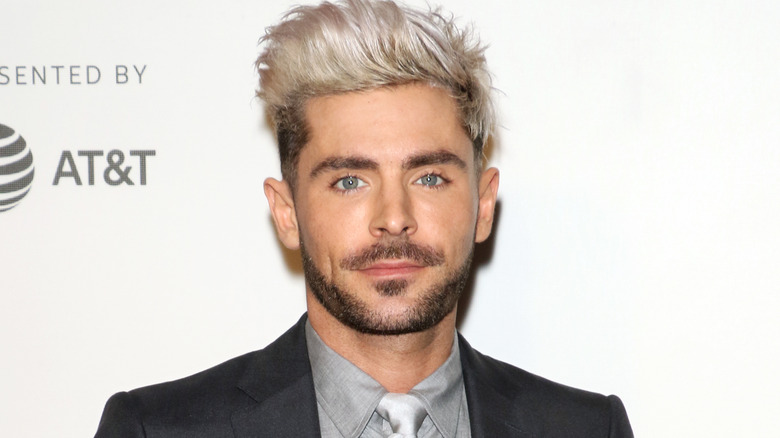 Jim Spellman/Getty Images
Zac Efron can't catch a break when it comes to physical ailments. Although the broken jaw was by far his most extensive injury, Efron also experienced an ACL tear, a dislocated shoulder, a broken wrist, and a back injury — all within a brief year and a half, as revealed in his Men's Health interview. With an active lifestyle like Efron's, such injuries are bound to happen. However, they paled in comparison to the life-or-death situation he faced in Papua New Guinea while filming his Quibi travel and survival series "Killing Zac Efron." The only thing more ironic than the series' name is how the sole casualty turned out to be the short-lived streaming platform itself.
In December 2019, Efron was flown from Papua New Guinea to Brisbane, Australia, to receive treatment for a bacterial infection, according to an exclusive by The Daily Telegraph (via The Daily Mail). Fortunately, he made a full recovery and flew home in time for the holidays. He posted on Instagram a few days later, writing, "Very thankful to everyone who has reached out. I did get sick in Papua New Guinea but I bounced back quick and finished an amazing 3 weeks in P.N.G. I'm home for the holidays with my friends and family. Thanks for all the love and concern, see you in 2020!" Little did he realize the global surprise that awaited us all in the new year.
He moved to Australia
Despite the initial unfortunate circumstances, Zac Efron must've felt welcome during his short stay in Australia in 2019 because the actor began spending much more time there the following year. Likely, it had less to do with his hospital stay and more to do with his then-girlfriend, Australian model Vanessa Valladares. Nevertheless, he bit the bullet and listed his 5,455-square-foot Los Angeles home for sale in December 2020 for $5.9 million. The property eventually sold in 2021 at just under the asking price, securing $5.3 million, which Efron then used to purchase his $2 million new home in Byron Bay.
His love for the expansive Australian continent served as inspiration for the second season of his travel series "Down to Earth with Zac Efron," as shared by showrunner Michael Simkin. "[Zac] moved out there towards the beginning of the pandemic [and] genuinely fell in love with it," he told Tudum by Netflix. "He'd been there a lot for press and tours and traveled there personally, and he now has a group of friends and a community out there." The decision to focus the entire season on one country, diverging from the global formula of the first season, was also influenced significantly by the prevailing COVID-19 travel restrictions at the time. As of now, when Efron's not constantly traveling for work or pleasure, Byron Bay remains his anchor and home base.
Zac Efron and Netflix were sued for his show Down to Earth with Zac Efron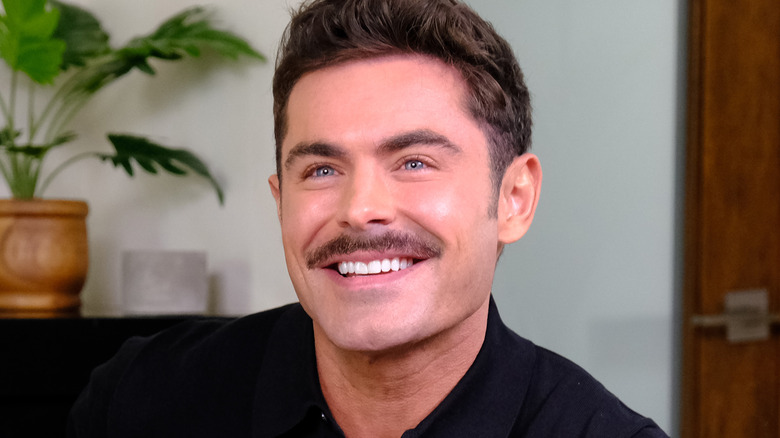 Joe Scarnici/Getty Images
Pandemic-related travel restrictions haven't been the only challenges Zac Efron's travel show "Down to Earth with Zac Efron" has encountered since its inception. Just months before the Season 2 premiere in November 2022, Efron and Netflix found themselves embroiled in a legal dispute. A health and wellness company holding the trademark for Down to Earth filed a lawsuit alleging trademark infringement.
You might be wondering about the identity of the Down to Earth company. In that case, just know that they offer a variety of products, encompassing everything from snack bars to herb-infused drinks to wearable merchandise. The plaintiff's claims touch upon the show's problematic health and wellness practices. They argue that these criticized practices contribute to consumer confusion and have the potential to diminish the brand's reputation. As of the time of writing this, neither Efron nor Netflix has issued a public statement regarding the lawsuit, and there have been no further developments since the initial announcement of the legal action.
He had a big transformation for his Iron Claw role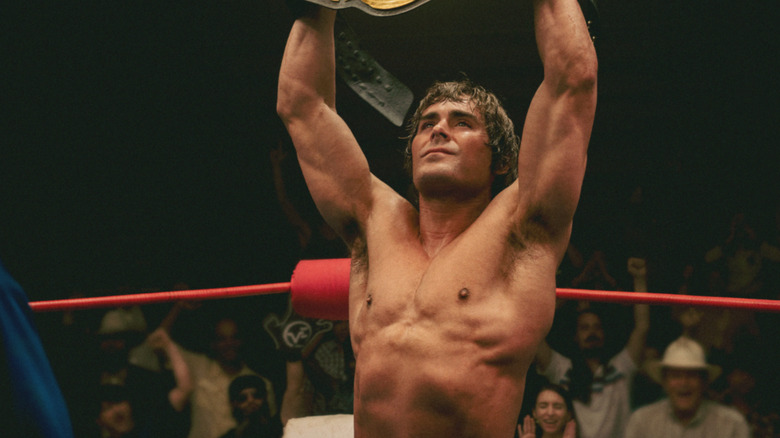 A24
The 2023 film "The Iron Claw" features Zac Efron portraying the real-life professional wrestler Kevin Von Erich. To fully embody the role, Efron underwent his biggest transformation since "Baywatch." Based on his Men's Health interview, the actor learned valuable lessons from his previous training and dieting regimens. This time, he wasn't going to make the same mistakes.
In his interview, he discussed trading veganism for intermittent fasting on a well-rounded, protein-heavy diet. In addition to bulking, Efron and the cast were instructed by director Sean Durkin to train however they saw fit. "I enjoy pushing myself and really laying it all out, to the point where I kind of have to do it. Otherwise I don't feel like myself," Efron told Men's Health. Co-star Jeremy Allen White, in an interview with Esquire, dubbed Efron "a maniac" for his intense focus and knowledge on training and diet. White added, "In terms of a physical transformation, I think he kind of blew us all out of the water." As for the movie's wrestling aspect, Efron and the others trained with WWE alum Chavo Guerrero Jr. The results left an impression even on Von Erich himself.
In the grand scheme of things, Efron's influence has been far-reaching, spanning from a wide range of movie roles to his little corner on the internet. A lot has changed since his days as a teenage musical idol, and we're looking forward to what he does next.