Small Details You Missed In Wednesday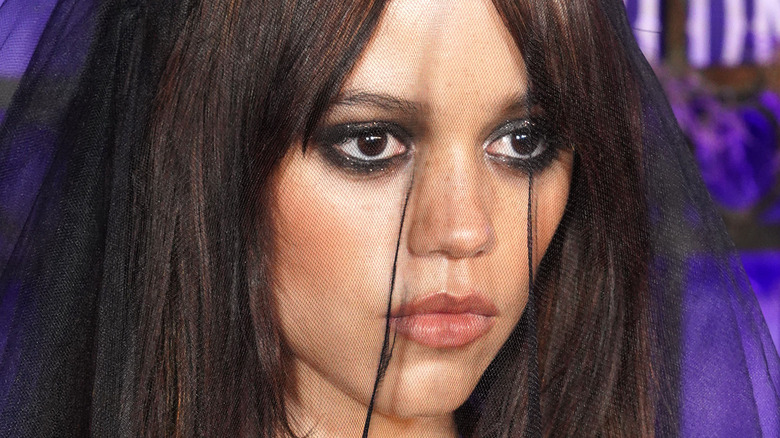 Presley Ann/Getty Images/Netflix
Tim Burton's "Wednesday" is a deliciously dark and wicked horror show. In the spirit of the two '90s films, "The Addams Family" and "Addams Family Values," the new Netflix series marries macabre humor with a lighthearted flair and balances between the two with ease. Jenna Ortega makes a superstar turn as the titular character, and her cast mates, including Gwendoline Christie as Principal Weems and Emma Myers as classmate Enid, more than hold their own. Wednesday's family unit — Morticia (Catherine Zeta-Jones), Gomez (Luis Guzmán), Pugsley (Isaac Ordonez), and Lurch (George Burcea) — only appear in a few episodes, but their presence devours the screen.
Known for such films as "Edward Scissorhands," "Corpse Bride," and "Beetlejuice" among many others, Burton brings a wonderfully twisted richness and detail to the series. That's also owed to co-creators, showrunners, and writers Miles Millar and Alfred Gough who display a clear love for the IP and honor what came before while carving out their own space within the "Addams Family" universe. Whether it's the opening credits or cultural nods to popular horror literature, there are countless references and Easter eggs that make the world even more brilliantly vivid and captivating. Below, Looper has compiled all these small details and dissected how they fit into the overall picture. There are major spoilers afoot, so tread lightly ... if you dare.
The Addams Family theme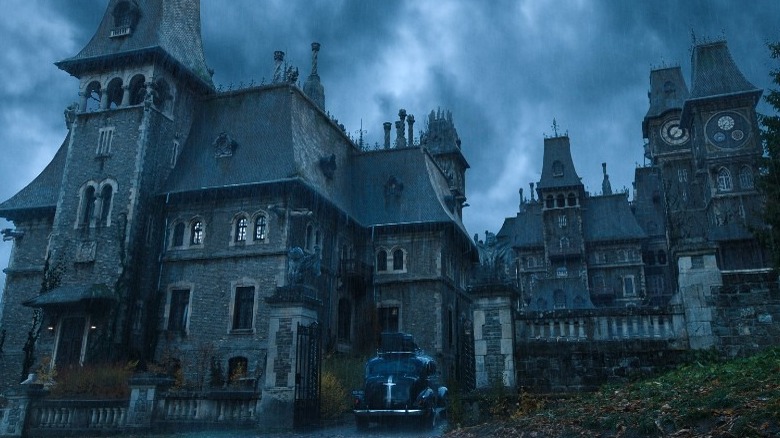 Netflix
When fans watch the series, they'll surely first notice the "Wednesday" opening credit theme to be drastically different. Instead of the iconic theme from the 1960s TV series, the music has been swapped out with a Wednesday-centric theme that still carries a spooky style. Helmed by Chris Bacon and long-standing Tim Burton collaborator Danny Elfman, the music pairs nicely with the opening imagery.
But don't fret if you're missing the theme. The series makes two references to the song. Upon arriving at Nevermore Academy, Wednesday sets her sights on leaving and asks new love interest Tyler Galpin (Hunter Doohan) to give her a ride to the train station in Burlington. With the annual Harvest Festival as a distraction, Wednesday slips away from Principal Weems. In a conversation, Tyler expresses how he perceives Wednesday's disposition. "You're not scary. You're just kind of kooky," he says, to which Wednesday replies, "I prefer spooky." Even if you're only a casual Addams fan, you'll pick this up as a nod to the theme song's lyrics: "They're creepy and they're kooky, mysterious and spooky."
Later, when Wednesday follows a series of clues to the entrance of an underground Nightshades lair, she solves a series of Edgar Allan Poe riddles. The first letter of each answer spells out: Snap Twice. Wednesday snaps twice and the passageway opens. In the theme, two snaps break up the dun-dun-dun-dun. What a genius reference.
The opening credits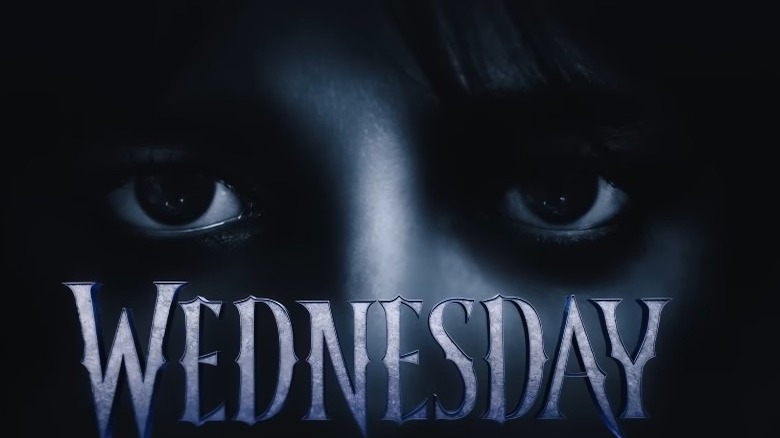 YouTube/Netflix
The spooky opening credits tease much of what fans can expect. The first object is shows us is a typewriter — an important facet to this show's version of Wednesday. She sets aside daily writing time and is busy writing a new book about Viper de la Muerta and her relationship with her mother Dominica. It's possible that there are some autobiographical elements to Wednesday's Viper de la Muerta stories.
The next object, a Nightshade Society volume, hints at her discovery of a secret club below the academy. Then there's her signature cello and a butcher's knife — items to suggest her musical abilities and plenty of murder on the way in this show. Thing also makes an appearance, crawling up a spiral staircase emblazoned with roman numerals. A black widow then creeps down a spider's web in a glass window — the widow references Xavier Thorpe's (Percy Hynes White) talent for drawing art that comes alive, while the glass window indicates Wednesday's room in the academy. Other images like a teddy bear in a guillotine, a bee nestled in a Venus flytrap, a crystal ball, and a moon give broader clues for what's ahead.
The most important image comes in the form of a barren tree engulfed in flames. Classmate Rowan (Calum Ross) discovers a doomsday prophecy in which Wednesday and Jericho's founding pilgrim Joseph Crackstone (William Houston) are consumed by flames beneath the tree. In the show's climactic finale, the prophecy comes true, but not in a way you may think. The school is not burning because of Wednesday — she's trying to save it.
Yoko Ono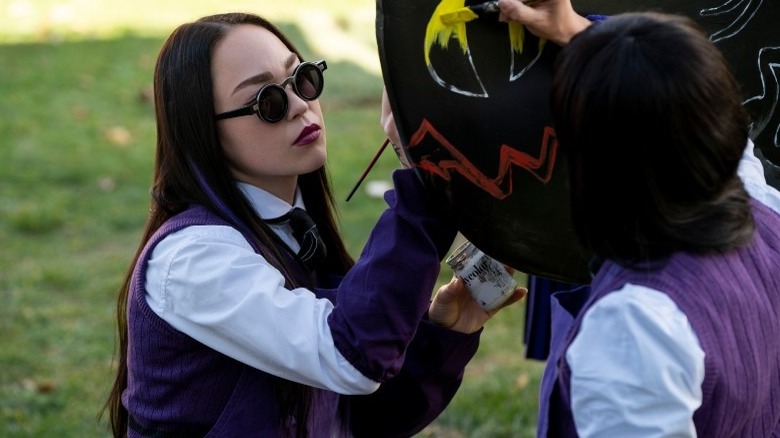 Netflix
In Episode 2, titled "Woe is the Loneliest Number," Nevermore students prepare for the upcoming Edgar Allan Poe Cup and are tasked with painting their own canoes. Enid's team are painting black cats on their canoe. Nearby, Enid and Wednesday discuss Rowan and his supposed death 一 he returned the next day, or rather his likeness did. "I witnessed his murder, Enid," claims Wednesday. Enid replies, "It's just ... we all saw him this morning, very much not dead."
Enid glances over her shoulder and calls to another student. "Yoko, come on, flare those whiskers. The Poe Cup droops for no one," she commands. Yoko Tanaka (Naomi J. Ogawa) is seen with long, slick black hair and wearing a pair of Windsor glasses. Yoko Ono has often worn a similar pair throughout her career; it's pretty much her signature look. Considering Ono is one of the most influential multimedia artists of all time, it's not a surprising nod from Netflix's "Wednesday."
Yoko is described as a "a vampire with Harajuku-inspired goth flair and one of the cool kids at Nevermore Academy." Harajuku fashion fuses more traditional styles with a modern spin. For Yoko, that involves a fashion sense somewhere between "vintage" and "the wild visual-kei goth style."
The arrow and the apple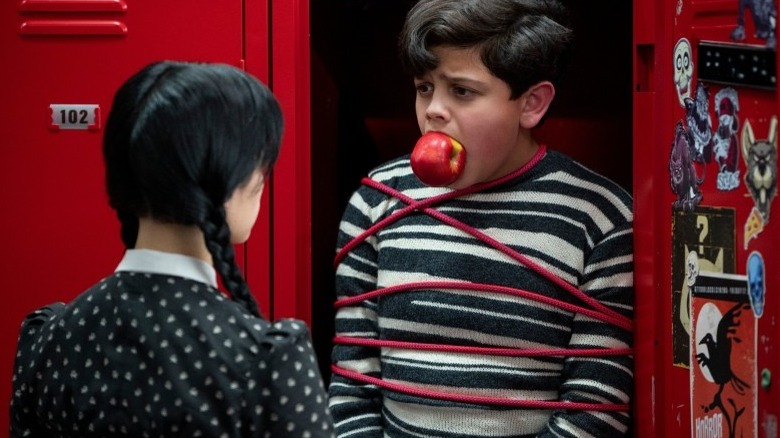 Netflix
One of several Easter eggs centers around an iconic arrow and apple gag. In 1991's "The Addams Family," Wednesday ties up her brother Pugsley and puts an apple in his mouth. Wednesday whips out a crossbow and pulls the trigger. Even though the camera cuts away, it's implied that she hit the bullseye without batting an eye.
"Wednesday" first references this moment in the opening 20 minutes of Episode 1. Attending Nancy Reagan High School, Pugsley falls victim to several classmates who tie him up and stuff him in a locker with an apple in his mouth. When Wednesday discovers him, she exacts her revenge and drops bloodthirsty piranhas in the swimming pool, nearly killing one of the bullies.
At Nevermore Academy, one of the extracurricular activities happens to be archery. Wednesday scours the grounds to get familiar with the layout and comes across Xavier shooting a few arrows at a target. "Ever shot a bow and arrow before?" he asks. "Only on live targets," she says. She tosses an apple into the air, pulls back the rosin, shoots, and nails it dead-on. Moments like these make for the perfect Easter egg hunt.
Millar & Gough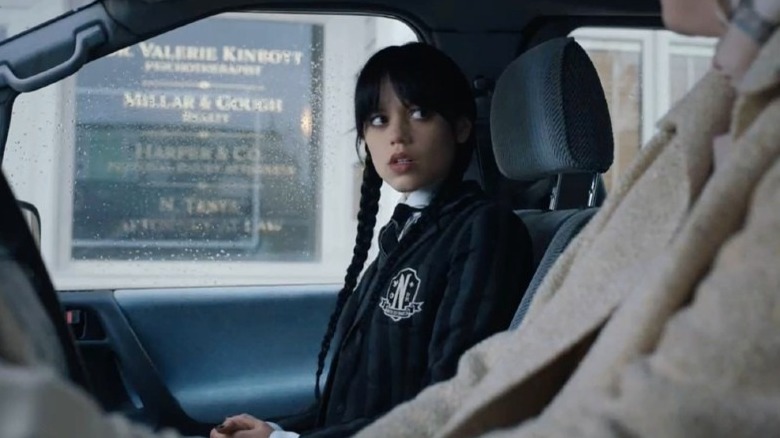 YouTube/Netflix
As part of her punishment for nearly killing a student, Wednesday must attend therapy sessions with Dr. Valerie Kinbott (Riki Lindhome) twice a week. Principal Larissa Weems drives Wednesday to the initial session to make sure she attends. Wednesday sneaks out midway through, of course, but that's not the small detail you likely missed.
On the building outside, there's a sign that reads Millar & Gough Reality. It would appear showrunners Miles Millar and Alfred Gough slipped in this reference to themselves, and it requires an eagle eye to catch it.
In an interview with Daily Dead, Millar and Gough discussed what aspect of their addition to "The Addams Family" media legacy they hope resonates with audiences. In their mind, it seems the most important thing about "Wednesday" is Wednesday. "She's very much a truth-teller, and I think that's something that's important to put out there today," said Gough. Millar agreed, noting how she's "unapologetically smart and fearless."
Joel Glicker's ghost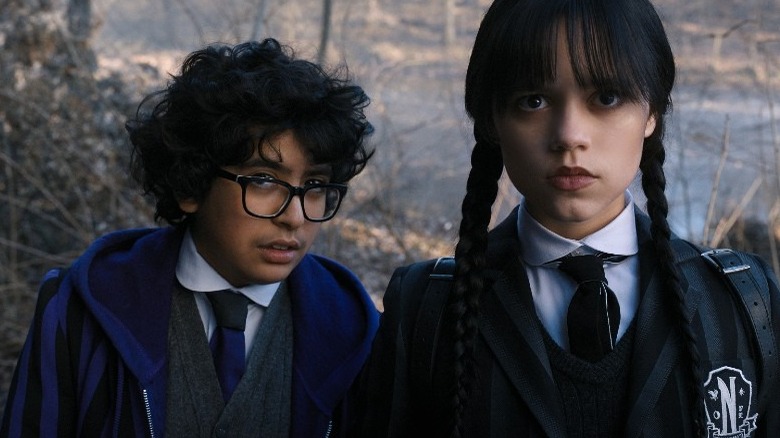 Netflix
When sent to summer camp in "Addams Family Values," Wednesday befriends the nerdy, book-smart outcast Joel Glicker (David Krumholtz). He uses an inhaler, wears glasses, and takes an immediate liking to Wednesday. The two bond over their shared disdain for all things colorful and bright, with their time in the Harmony Hut pulling them closer together. Joel would do anything to help Wednesday; he may even die for her. The two part ways toward the end of the movie and share a furtive kiss.
In the series, Wednesday becomes friends with Eugene Otinger (Moosa Mostafa), a fellow outcast who starts a bee club that no one else joins. Like Joel, Eugene wears glasses and sports a similar hairstyle, but doesn't need an inhaler. Classmate Rowan, however, does use an inhaler, wears glasses, and has the same dark hair as Joel. As far as romance goes, Wednesday is infatuated with the normie (or normal person) Tyler, and they share a kiss near the end of the season.
It seems the creative team has split the character of Joel Glicker among these three teens. Joel might have played a relatively small part in the 1993 film, but his presence casts a long shadow over Nevermore Academy.
Edgar Allan Poe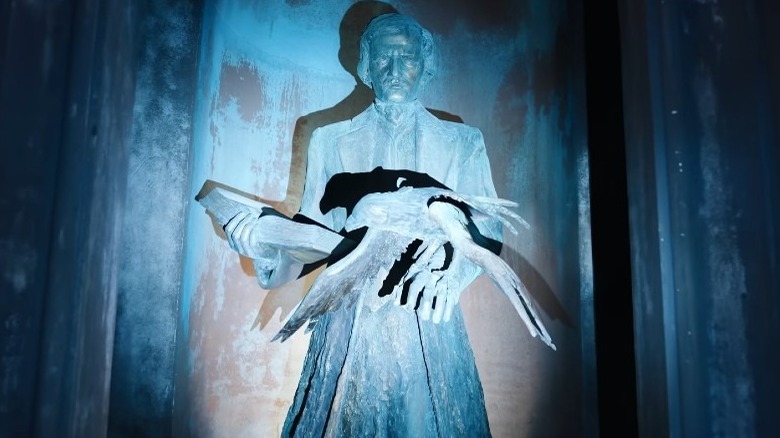 YouTube/Netflix
"Wednesday" greatly draws upon Edgar Allan Poe's "The Raven." There are the obvious references, such as Nevermore Academy referencing the iconic line: "Quoth the Raven 'Nevermore.'" And Morticia calls Wednesday a raven while complimenting her visions as "more potent, more powerful" in Episode 4. There's also a reference to "The Raven" with the upcoming dance being called a "Rave'n," and a Poe statue has been erected in one of the hallways.
In Episode 2, the students must paint their own canoes for the Poe Cup, and each must be based upon a classic Poe short story. Enid and Wednesday's team reference "The Black Cat," while Bianca's refers to "The Gold-Bug." The other two teams, one of which includes Xavier and Enid's crush Ajax (Georgie Farmer), are based upon "The Pit and the Pendulum" and "The Cask of Amontillado." The teams row across to Raven Island where they retrieve a flag and then race back to the mainland. 
Earlier in the episode, Rowan is thought dead, but reappears, to everyone's shock. In this moment, Wednesday recites a Poe quote via voiceover: "Believe nothing you hear and half of what you see." The quote is lifted from 1856's short story "The System of Dr. Tarr and Prof. Fether" and reads slightly differently: "Believe nothing you hear, and only one-half that you see." Without Poe's contributions, gothic storytelling would be totally different today, so it's nice to see Burton and team honor him in such a way.
Ophelia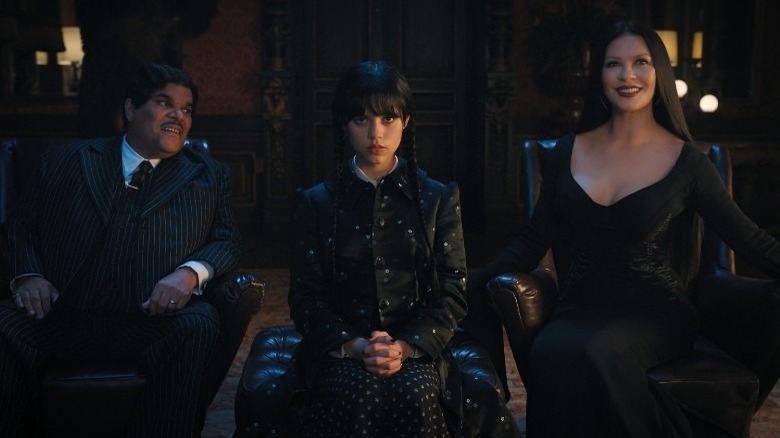 Netflix
Upon arriving at Nevermore Academy, Wednesday, Morticia, and Gomez have a sit-down chat with Principal Weems. In their conversation, Wednesday learns that she has been assigned to her mother's old dorm, Ophelia Hall. "Refresh my memory," Wednesday asks her mom. "Ophelia's the one who kills herself after being driven mad by her family, correct?"
Ophelia famously appears in Shakespeare's "Hamlet." She's a noblewoman of Denmark and a potential wife for Hamlet. The violent death of her father following multiple bad decisions on his part, Hamlet's indifference, and other factors combine to push her over the edge. Her death is first announced by Queen Gertrude, Hamlet's mother. Allegedly, Ophelia climbs up a tree and a limb breaks. Ophelia tumbles into the water where "her clothes spread wide, and mermaid-like a while they bore her up." Here, it's suggested that it was an accident. But a later speech from a priest strongly indicates it was an act of suicide. "Her death was doubtful, and, but that great command o'ersways the order. She should in ground unsanctified have lodged till the last trumpet."
Wednesday being placed in the Ophelia dorm carries thematic significance to the story. Much like Ophelia, she feels the weight of family's ambition squarely on her shoulders. Wednesday forever lives in her mother's shadow, as hard as she tries to break free. She very nearly is driven mad but comes to understand that it's quite alright to forge one's own path in the world. Ultimately, Wednesday is actually the antithesis of Ophelia — a strong, resilient young woman who defies society's archaic systems.
If you or anyone you know is having suicidal thoughts, please call the National Suicide Prevention Lifeline​ by dialing 988 or by calling 1-800-273-TALK (8255)​.
Grandmama & Itt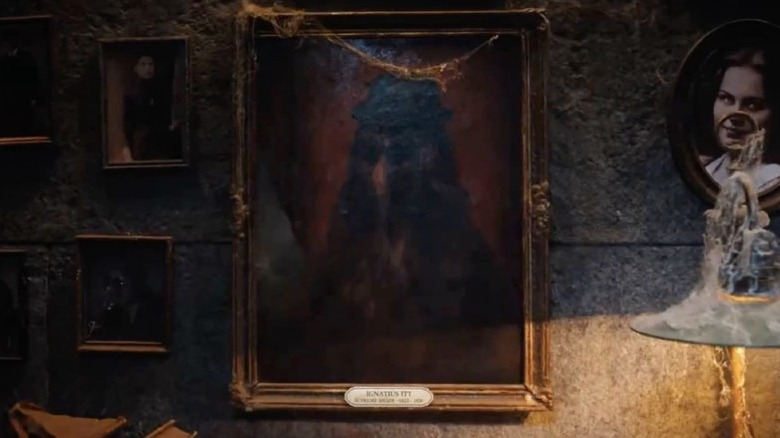 Netflix
Wednesday settles in nicely, or rather begrudgingly, in the first episode. She meets several classmates, including Xavier, who she has actually met before. Xavier shares a story about how they attended his godmother's funeral when they were just 10 years old. Even more, his godmother was good friends with Grandmama in their 20s and they traveled all over Europe together "swindling the rich and notorious."
Cousin Itt's ancestor also makes an appearance. When Uncle Fester (Fred Armisen) pops up in Episode 7, he helps Wednesday track down Nevermore founder Nathaniel Faulkner's diary, in which he documented "every outcast community" all over the world. It turns out Ignatius Itt was his right-hand man and trained generations of Nightshades. Fester suggests Thing crack the combination to the safe containing the diary. The painting hiding the safe in the Nightshades library is a portrait of Ignatius Itt with the inscription of Supreme Shade, in addition to the years of birth and death noted (1825 — 1850). Perhaps this is an indication that if the series gets another season, we may see Cousin Itt.
Queer text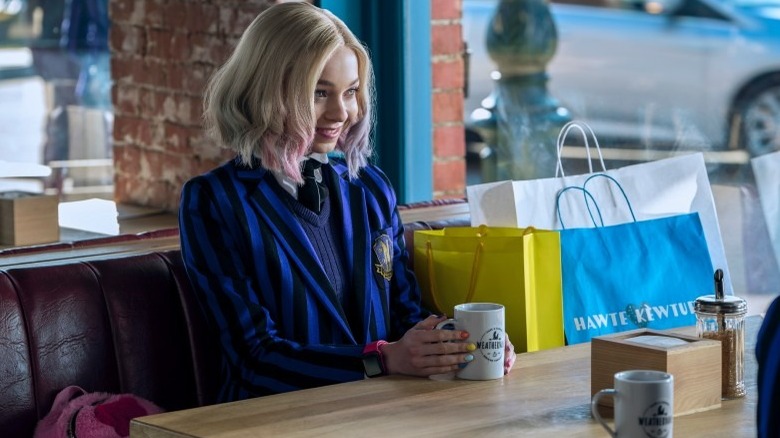 Netflix
Horror has always been queer. In recent years, queer stories have moved from subtextual to regular textual. With "Wednesday," Enid's character can be read as queer for a few reasons. For one, the pink and blue-purple streaks in her blonde hair happen to also be the colors of the transgender flag.
Also, in Episode 5, Enid is confronted by her mother Esther (Amanda Drew) about why she hasn't transformed into a werewolf yet. "Don't you want to wolf out and finally be normal, honey?" she pleads, handing her daughter a stack of conversion therapy pamphlets. Allegedly, the family's cousin Lucille once attended a camp in the Balkan countryside for seven weeks. "It worked wonders," says Esther. Enid's response is absolute gold. "If I'm meant to wolf out, I'm going to do it on my own timeline, not yours," she says. "I just hope one day you'll be able to accept me for what I am." Her father, it turns out, is far more accepting. He gives her a tender embrace and tells her how "proud" he is. "You do you," he says. Considering conversion therapy apparently costs the U.S. $9 billion annually, everyone from the LGBT community to heterosexual American taxpayers can applaud Enid's decision.
It should also be mentioned that Eugene has two moms who visit him while he's in the hospital. It's a few brief scenes, but they're handled with great care. Nary a fuss is made; his moms simply exist. "Wednesday" really said gay rights.
Carrie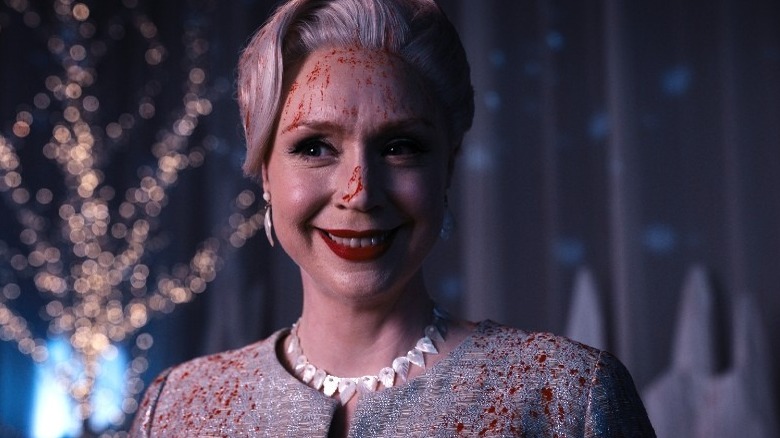 Netflix
In addition to all the Edgar Allen Poe references, the series nods to the 1976 film "Carrie." While the upcoming Rave'n is all the rage, Wednesday can't be bothered and instead plots to stake out the hyde's secret lair in the woods. But her plans are curtailed after Thing slips a note to Tyler about wanting to go to the dance. Wednesday can't possibly turn him down when he shows up to her room. So she dons a high-style new dress Thing stole and attends the dance.
The Rave'n goes off without a hitch — until there's a big hitch. A group of normies didn't take too kindly to their Crackstone fountain being blown up and vow to retaliate through a bit of horrifying trickery. As everyone is having the best of times inside, the group pulls up with a trucker tank full of red paint and hooks the hose into the sprinkler system. They let the rain pour, which is made even worse by the overall white aesthetic of the dance. "They couldn't even spring for real pig's blood," says Wednesday while covered in the watered-down paint. In "Carrie," bullies dump a bucket of pig's blood all over Carrie shortly after she's crowned prom queen.
The amount of blood also harkens back to 1991's "The Addams Family." In the movie, Pugsley and Wednesday perform in a play and simulate getting their arms chopped off. Blood spurts all over the audience in a way that's pretty similar to what we see in "Carrie" and Netflix's "Wednesday." These small clues make the series even more of a delight to watch.
Thornhill's Venus flytrap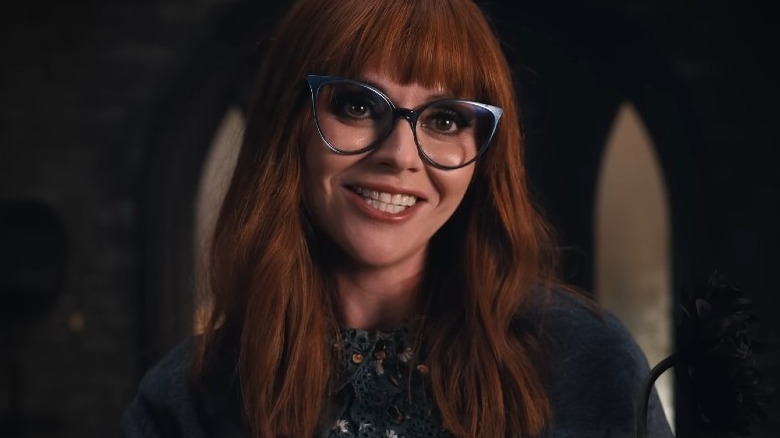 YouTube/Netflix
Professor Thornhill (Christina Ricci) teaches a course on carnivorous plants. She's also responsible for welcoming new girl students to Ophelia Hall and greets them with a carefully selected plant to match their style and personality. "I try to match the right flower to each of my girls," she says. She then hands Wednesday a potted Black Dahlia.
Throughout the season, Thornhill frequently tends to a Venus flytrap. Nothing could encompass her personality and role in the show better. Venus flytraps are known to eat flies and arachnids, and its persistence for catching prey is deadly. The same can be said for Thornhill, who is revealed to actually be Laurel Gates. In 1990, the Gates family were met with tragedy when their son Garett was accidentally killed by Morticia Addams. The parents died soon after, and Laurel, now an orphan, was sent overseas where she presumably drowned. But a body was never recovered. More than three decades later, Laurel is still on the hunt.
She uncovers Tyler's ability to morph into a hyde monster and makes him her slave. She demands he kill various Nevermore students, as well as townsfolk, to complete a ritual to resurrect the town's founder Joseph Crackstone. In every way, she is a Venus flytrap herself. She ensnares people with her charm and wit, tucked behind thick-rimmed glasses, and when she has someone in her clutches, she snaps her proverbial lobes shut.
Frankenstein's Monster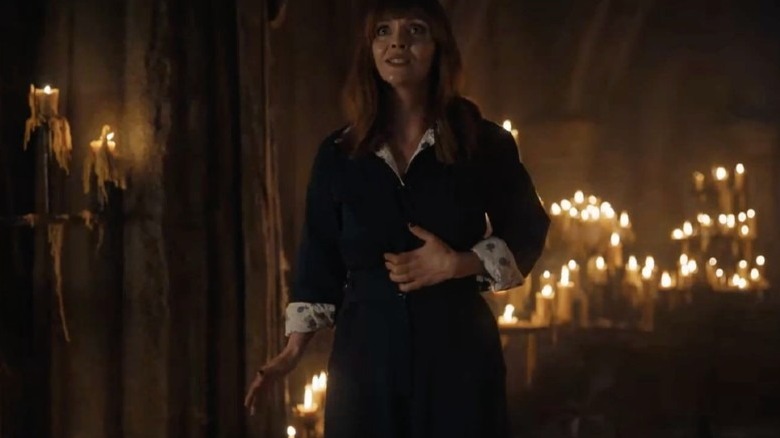 Netflix
In Episode 6, Wednesday is working on her novel when Thornhill stops by to drop off a copy of Mary Shelley's "Frankenstein." "She's both my literary hero and my nemesis," says Wednesday. Thornhill presenting the book is both an admission of guilt and an indication of what she's been up to.
"Frankenstein" tells the story of Victor Frankenstein and how he built his monster from body parts. Early in the show, the coroner notices that the killer is cutting off body parts with a saw of some sort. While scouting out the old Gates mansion, Wednesday discovers a basement full of body parts in jars, which Thornhill later uses in a sadistic ritual to resurrect Crackstone.
The ceremony requires not only the necessary body parts but a blood sacrifice to unlock the sarcophagus containing Crackstone. Wednesday's ancestor Goody Addams sealed it with a blood lock. Once Thornhill recites a passage from the Book of Shadows, electricity feeds into the jars and lights up the room. Overhead, lightning slashes across the night sky, and thunderous roars shake the room. You half-expect Thornhill to screech, "It's alive! It's alive!" If it wasn't clear, the momentous scene is a loose adaptation of the iconic scene from the 1931 film, "Frankenstein," directed by James Whale. Joseph Crackstone lumbers out of the darkness with nothing but ill intent to destroy Nevermore Academy. While Frankenstein's monster is arguably a victim, Crackstone is unequivocally the villain in this story.