Wednesday Star Jenna Ortega Thinks Her Dark Humor Would Make Things Awkward For Christina Ricci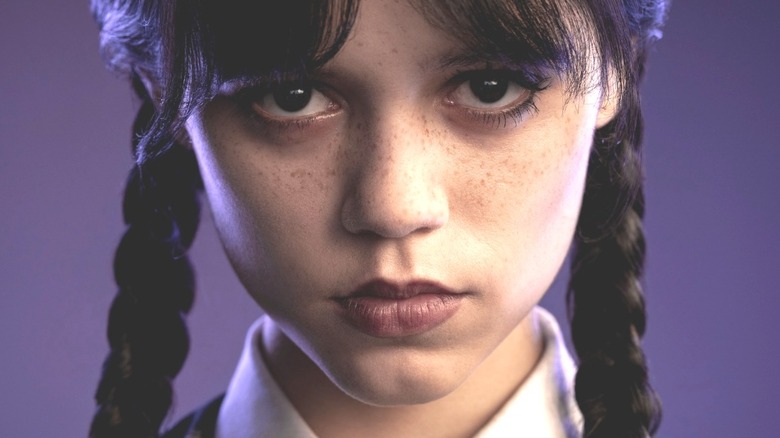 Matthias Clamer/Netflix
What's the only thing that could be better than one Wednesday Addams? Two Wednesday Addams, of course — at least, that's what the creators of Netflix's "Wednesday" had in mind when they not only cast Jenna Ortega as a new iteration of the classic "Addams Family" daughter, but also included her original actress Christina Ricci on the show's cast as well. While Ortega portrays a 15-year-old Wednesday in the series, Ricci plays a kooky member of the high school staff at the lead girl's school named Marilyn Thornhill.
There's no denying that it can be a bit of a strange feeling to see Ortega portraying Wednesday in the reboot, especially when the character's actress from the original show is appearing in scenes as a completely different person. As it turns out, the two actresses seemingly felt a bit of that awkwardness while filming, too. Ortega believes she put off her co-star during the early days of production thanks to her surprisingly dark wit.
Ortega's humor was dark for Ricci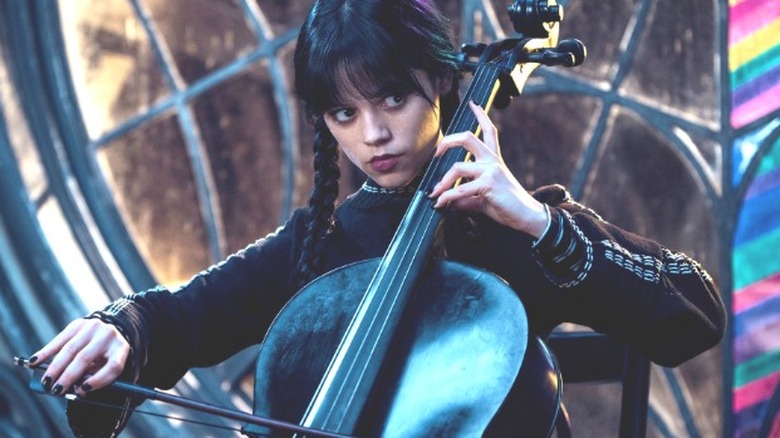 Vlad Cioplea/Netflix
In an appearance on "Jimmy Kimmel Live," Jenna Ortega said that she felt like she sparked an awkward dynamic between herself and Christina Ricci while initially filming "Wednesday." "I think, socially, I can be hard to communicate with at times," the actress said. "Sometimes, I would say something as a joke, and I think I have a very dark sense of humor, and she would go, 'Ooh, uh, that's dark.'"
Still, the "Scream" star was quick to speak kindly of Ricci and her skills as an acting professional. She credited the "Addams Family" alum with helping her to move past that initial period of awkwardness while working together on the show. "She's a sweetheart," Ortega continued. "If it hadn't been for her being so generous and professional and impressive as an individual— I was able to get over myself within the first couple days." The pair have since bonded over some of their shared experiences, including the difficulties of playing Wednesday as a teenager.
Whatever rocky beginnings the pair may have experienced hasn't stopped Ricci from lavishing praise on her successor as Wednesday either. In an interview on the Collider Ladies Night podcast (via Collider), the actress said she enjoyed working with Ortega. "I just had a really lovely experience on that with Jenna, who is amazing, and I think now people have a taste of her Wednesday, and it's gonna be fantastic," she said. "She is really incredible."