Namor Fans Think He Held Back His True Power In Wakanda Forever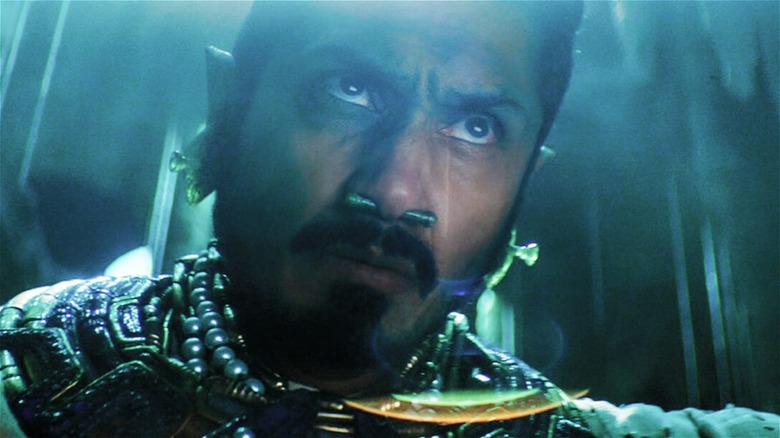 Marvel Studios/Disney
"Black Panther: Wakanda Forever" is here, breaking the box office like its predecessor. It recently surpassed the domestic weekend opening record in November, solidifying its revenue at about $180 million (via Variety). The reviews are also highly positive from audiences and critics alike (via Rotten Tomatoes). However, "Wakanda Forever" has not passed 2018's "Black Panther" as the highest-rated movie in the Marvel Cinematic Universe. Not to mention, having a sequel reach the same level of success as what was arguably a massive cultural movement only years prior is hard, especially after losing a lead like the late Chadwick Boseman. "Black Panther: Wakanda Forever" had a major task to complete, and it seems they've taken it on in stride.
Aside from the awe that returning to Wakanda brings, director Ryan Coogler and Marvel Studios President Kevin Feige's decision to bring in Namor the Sub-Mariner (Tenoch Huerta) as the film's antagonist, along with the people of Talokan, seems to be working very well. After some rumors this past summer at San Diego Comic-Con (via IGN on Twitter), it was officially revealed that Namor would be making his first live-action appearance in "Wakanda Forever." For fans of Marvel Comics, this was huge, as Namor has a complicated history with the Black Panther, and he was technically Marvel's first published mutant back in 1939 (via TIME).
In "Wakanda Forever," Namor proves to be a dangerous and vengeful adversary who has an intense desire to protect his people. However, many fans feel that Namor ultimately held his true power back throughout the film.
Fans think Namor achieved the ultimate deception in Wakanda Forever
Per a recent Reddit thread, some fans who watched "Black Panther: Wakanda Forever" believe that Namor held back his power during his conflict with Shuri (Letitia Wright) and the rest of Wakanda. U/bhchia initiated the conversation with a long explanation of why this could very well be true, and it all involves the goals that Namor explains near the beginning of the movie while Shuri is visiting Talokan. Namor has taken the surface world's search for vibranium as an indication that he must wage war on them to protect his people, and to do that effectively, he needs an alliance with Wakanda. The fan said that Namor likely had a Plan A and B, with the former convincing Shuri that it was the right thing to do, which didn't work over the disagreement in killing Riri Williams (Dominique Thorne). So, Namor went for the more aggressive approach — which first involved gifting Shuri his mother's bracelet.
Per u/bhchia, he then attacked Wakanda with nowhere near his or Talokan's relative might, specifically intending to kill Queen Ramonda (Angela Bassett) to force Shuri into recognizing the bracelet could be used to bring back the Black Panther so she could attempt to achieve her vengeance. "Honestly, if Namor really wanted, he could have finished off Wakanda in the first attack. Why didn't he? Bec he had it planned out from the start for Shuri to fight back and get the alliance he originally wanted," they said. Shuri does promise protection in the end.