Black Panther's Angela Bassett Opens Up About Her Passion For Playing Queen Ramonda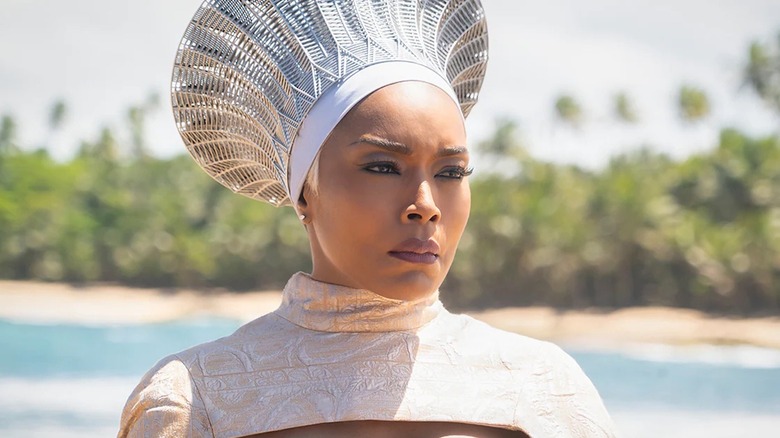 Marvel Studios/Disney
In 2018's "Black Panther" we are first introduced to Queen Ramonda (Angela Bassett) as the widow of the late King T'Chaka (John Kani) and mother of T'Challa (Chadwick Boseman) and Shuri (Letitia Wright). Throughout the film, she serves as a pillar of guidance and inspiration to T'Challa in the wake of his father's death during "Captain America: Civil War" — instructing him on the leadership of Wakanda and expressing her pride in her son's strength and leadership.
Unfortunately, "Black Panther: Wakanda Forever" finds Queen Ramonda grieving for yet another fallen King of Wakanda — her son, T'Challa, whom she helped guide through the earliest days of his reign. The official trailer for "Wakanda Forever" shows Ramonda leading her daughter Shuri through a parade thrown in T'Challa's honor: the grief palpable on her face as Shuri stands beside her, clutching the iconic Black Panther mask. And yet, despite these immense losses, her passion for the nation she leads does not waiver for an instant.
Indeed, the first teaser for the film shows the devastated Ramonda declaring her resolve in the face of adversity, saying: "I am Queen of the most powerful nation in the world, and my entire family is gone! Have I not given everything?" According to Angela Bassett herself, these intense and deeply emotional moments were extremely rewarding as an actor – and as such, she has a great deal of passion for the character of Queen Ramonda.
Basset found the experience of playing Queen Ramonda to be extremely gratifying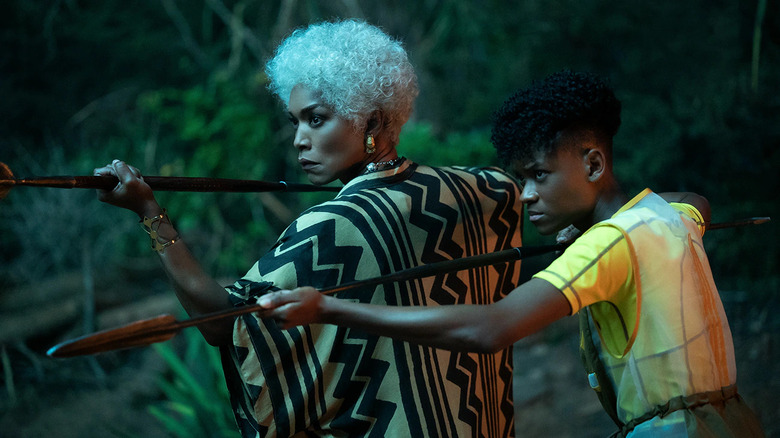 Marvel Studios/Disney
In a recent interview with Variety (in which the cast and crew of "Wakanda Forever" reflected on the film's production and the devastating loss of Chadwick Boseman), Angela Bassett asserted that she absolutely loved all of the work that went into playing Queen Ramonda. Bassett said Ramonda's raw emotion in the sequel was satisfying for her to express, and how she used her own grief from Boseman's passing to help her bring Ramonda's to life.
"Use it, make it good for something," Bassett said of her real-life experience. "You're experiencing it. Don't be ashamed of it. It's part of life. The tears you see are indicative of the love I have — or the justice I demand or want or seek or desire." On top of the immense emotional satisfaction Bassett achieved through her work in "Black Panther: Wakanda Forever," the prolific actor is also receiving critical acclaim for her role. Some are suggesting she could earn an Academy Award for her tour-de-force performance as the grieving Queen Mother of Wakanda (via Variety).
Regardless of whether or not Bassett does end up receiving a nomination for her role as Ramonda, her comments make it clear that the work she put into "Wakanda Forever" was already an immensely gratifying experience – and one for which she has a lot of passion.