Jason Momoa Fought To Keep Amber Heard In Aquaman 2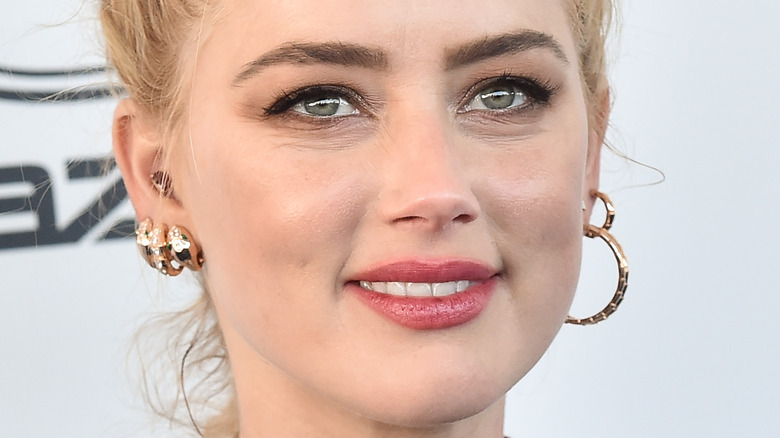 DFree/Shutterstock
The legal drama between Amber Heard and her ex-husband, Johnny Depp, has been well-documented in recent years. The former spouses have accused the other of abusive behavior and defamation, and it all came to a head back in June when a jury ruled in favor of Depp following a turbulent trial that dominated the headlines (via CNN).
Unsurprisingly, the legal battle had a negative effect on both performers' acting careers. For example, Depp lost the role of Gellert Grindelwald in the "Fantastic Beasts" franchise, and he was forced to part ways with Disney and its "Pirates of the Caribbean" saga.
Heard, meanwhile, revealed that Warner Bros. considered removing her from "Aquaman and the Lost Kingdom." Per CBS News, Heard testified that her role had been substantially reduced in the upcoming "Aquaman" sequel. "I fought really hard to stay in the movie. They didn't want to include me in the film," she recalled. "I was given a script. And then given new versions of the script that had taken away scenes that had action in it."
However, while Heard's comments suggest that some people within the DC camp wanted to limit her role in "Aquaman and the Lost Kingdom," the movie's lead star, Jason Momoa, supposedly fought hard to keep the Mera actress on board.
Jason Momoa and James Wan fought on behalf of Amber Heard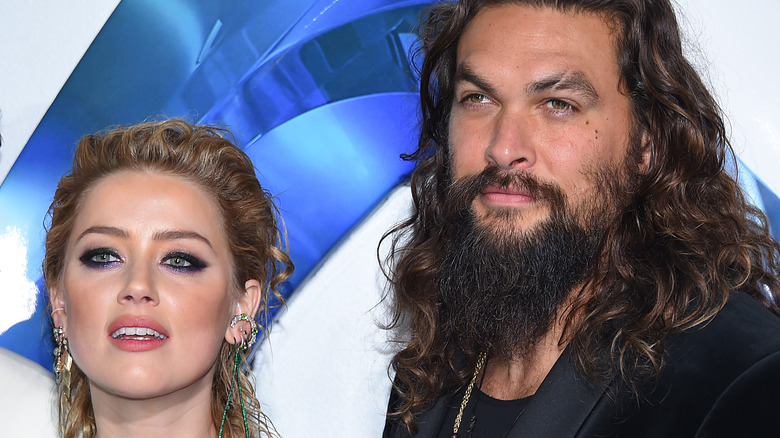 DFree/Shutterstock
As documented by The Wrap, Kathryn Arnold, an entertainment industry consultant, took to the stand during the Amber Heard-Johnny Depp trial and revealed that DC executives didn't want the actress to be involved in "Aquaman 2." Arnold was hired by Heard's legal team to examine the negative effects and reputational damage that the trial had on her career, and she discussed the events that led to Heard almost being let go.
According to the consultant, Heard reportedly wasn't invited to be part of the DC FanDome event, and she was also removed from other promotional events for the movie amid the legal drama. Arnold revealed that Heard's "option for employment was not going to be exercised," as any project she was associated with faced backlash from fans on social media.
However, some of Heard's colleagues fought for her to be included in "Aquaman and the Lost Kingdom," and their efforts were successful. "Her management team fought very hard and they ultimately ended up hiring her, but not only because of what her management did, but also because star Jason Momoa and director James Wan committed to her," Arnold added. That said, while Heard will be part of "Aquaman 2" in some capacity, the aforementioned entertainment industry consultant concluded by stating that the legal drama caused the actress to lose between "$45 and $50 million dollars" over a five-year period.
There were discussions about recasting Amber Heard in Aquaman 2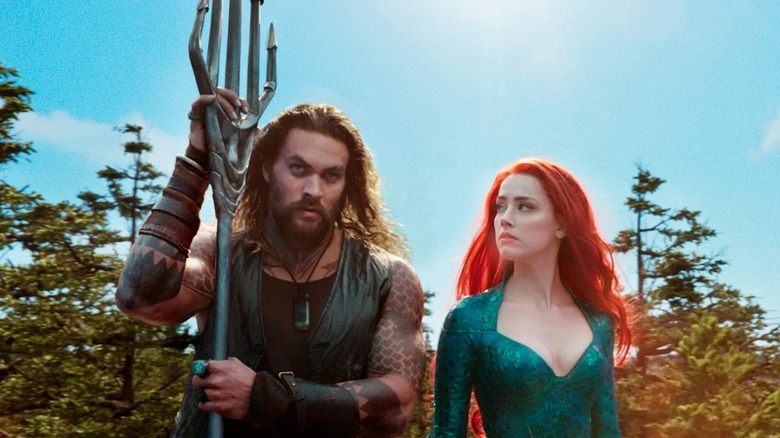 Warner Bros. Pictures
While Kathryn Arnold's testimony claimed that Amber Heard's legal troubles almost got her fired from "Aquaman and the Lost Kingdom," one former Warner Bros. executive claimed that she was almost recast for creative reasons.
As summarized by The Independent, Walter Hamada — who worked on Warner Bros. DC slate until earlier this year (per Deadline) — said that Heard's role was not going to be diminished as a result of the defamation trial. However, he admitted that there were discussions about recasting her due to what was perceived as a lack of onscreen compatibility with Jason Momoa. "They didn't really have a lot of chemistry together," Hamada said. "The reality is, it's not uncommon in movies for two leads to not have chemistry."
Meanwhile, "Aquaman" fans wanted Amber Heard to be replaced, with many calling for "Gossip Girl" star Blake Lively to be given the role of Mera instead.