Fans Have Strong Opinions About Who Should Replace Amber Heard In Aquaman 2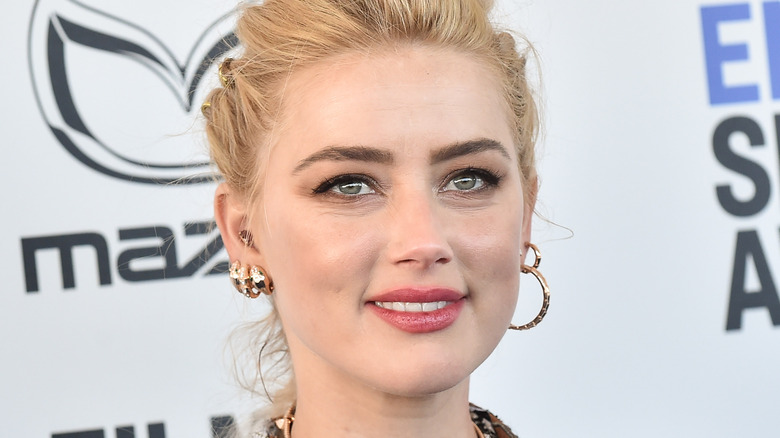 DFree/Shutterstock
The jury in Johnny Depp's civil defamation trial against Amber Heard entered deliberations Friday and will resume them Tuesday. The suit alleges that Heard defamed Depp in a 2018 op-ed piece that appeared in The Washington Post. Her column did not mention Depp by name, but his attorneys say it referenced testimony in the couple's 2016 divorce trial (via CBS News). Depp seeks $50 million in compensatory damages and Heard has countersued for $100 million. They both also seek the maximum allowable amount in punitive damages (via The Independent) and have accused the other of multiple physical and verbal assaults.
Public sentiment has been both plentiful and divided, with some advocating for Heard as a victim of domestic violence and others siding with Depp's assertion that Heard is fabricating her stories of abuse. The verdict will certainly impact the future careers of both actors, but some fans of the "Aquaman" franchise have already begun a campaign to replace Heard in the upcoming "Aquaman and the Lost Kingdom." Heard currently stars as Mera, Aquaman's (Jason Momoa) love interest,  but has already admitted that her role in the sequel, due for release March 17, 2023, has been reduced.
One petition calls for Heard to be replaced by Blake Lively
A separate petition posted by Tharwat Almasri calling for Heard to be replaced by Blake Lively has gathered more than 11,000 signatures as of this writing and states, "Abuse has NO Gender. I believe Johnny Depp. Amber Heard is the ABUSER" (via Change.org). 
Petition signer Tiffany Albert wrote that "[Heard] should not be privileged to portray a beloved female hero. Blake Lively ... is the kind of person who should portray a hero. She's someone young girls can look up to, and should aspire to be like." 
Lively previously did appear in "Green Lantern," and would be making a similar jump across the borders of DC's extended universe as Chris Evans did when he crossed Marvel boundaries by appearing in both "Fantastic Four" and "Captain America: The First Avenger."
The wish to see Lively step in for Heard spilled over to other corners of the internet as well. @Doritosx tweeted, "I'm down with Blake Lively replacing Amber Heard on Aquaman. It wasn't long ago that I thought they were the same person. I also used to [think] Mark Wahlberg and Matt Damon were the same person." While zero fans are suggesting Wahlberg or Damon as a replacement for Heard, she admitted during the trial that her role in the film been reduced, and there is now speculation that another DC hero could already be staged take a more prominent role in "Aquaman and the Lost Kingdom" — perhaps as a new love interest for the title character.
Mera may be replaced by another Aquaman love interest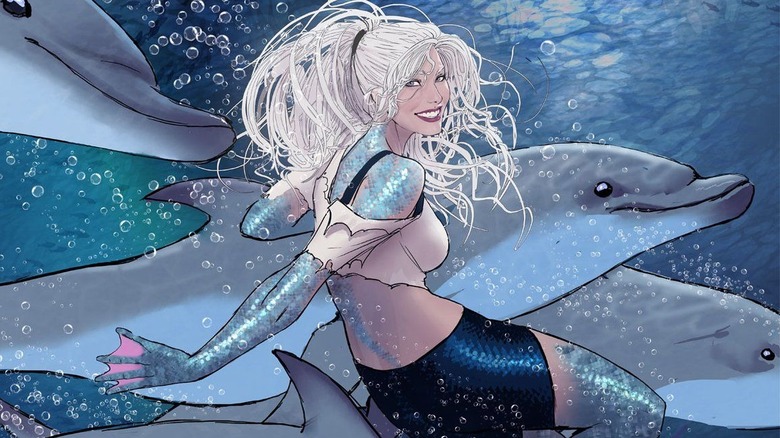 DC Comics
While there are people proposing for Blake Lively to take over as Mera, there is another possibility straight from the comics that some comic book readers have raised — that is, the movies could simply demote Mera, and Lively (or a different actress) could instead play Aquaman's other famous love interest, Dolphin.
According to Timothy Donohoo of Comic Book Resources, Dolphin, who was created in 1968 by Jay Scott Pike but expanded greatly upon by iconic Aquaman writer Peter David, has been rumored for the "Aquaman" sequel. Donohoo speculates that the film may opt to kill off Mera and thus allow Dolphin to become the primary love interest for Momoa's Aquaman (which itself is clearly inspired by David's take on the character).
Removing Heard from the film would certainly be a bold stroke for the "Aquaman" movies, but at least one fan feels it is necessary to save the franchise. @Alexiz1710 wrote, "Can we all please get on the train with @blakelively replacing Amber Heard in Aquaman 2 ... If not that movie will tank." However, producer Peter Safran told Deadline that Heard was most likely going to remain in the film. "One is not unaware of what is going on in the Twitter-verse, but that doesn't mean you have to react to it or take it as gospel or accede to their wishes," he said. "You have to do what's right for the film, and that's really where we landed on it." 
How much of a presence Heard has in "Aquaman and the Lost Kingdom" — or a possible third movie, for that matter — won't be fully revealed until next spring, but fans will certainly continue to make their feelings known in the months until the premiere.