Where You've Seen The Cast Of Netflix's Blackout Before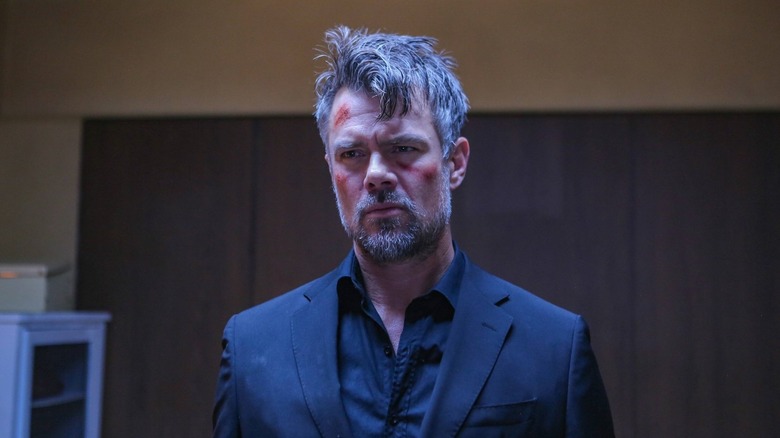 Netflix
Netflix has assembled a strong catalog of original movies in 2022, with entries like "Me Time," "Do Revenge," "Spiderhead," and "Senior Year" already making waves. In October 2022, the company added "Blackout," a thrilling, action-packed movie about a man, Cain (Josh Duhamel), who wakes up in a Mexican hospital with no memory of his past. As Cain is hunted by cartels who want something he stole, he must outlive their attacks in a locked-down hospital.
Along with featuring some familiar names in contemporary Hollywood, "Blackout" gives its spotlight to some of Spanish-language cinema's prominent recurring figures of the last 10 years, as well as some faces who are less recognizable. Here's a breakdown of the cast who will be entangled in a war over information about international criminals.
Josh Duhamel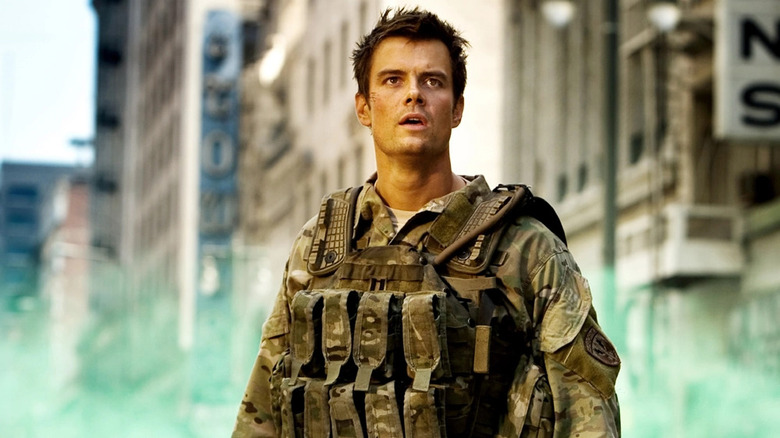 Paramount Pictures
Before assuming the lead role of Cain in "Blackout," Duhamel was a model who first garnered acclaim for his portrayal of the titular character in "Win a Date With Tad Hamilton!" Starring alongside Kate Bosworth and Topher Grace, Duhamel would go on to score two Teen Choice Award nominations (via IMDb). After a turn in the 2006 horror movie "Turistas," and another Teen Choice Award nomination, Duhamel found his permanent footing in Hollywood as the second leading man in Michael Bay's "Transformers" series. His performance as William Lennox remains the most popular credit in his file.
While playing Lennox in three "Transformers" films, Duhamel also found himself making a plunge into romantic comedies, like "New Year's Eve" and "Safe Haven." Though not many of his films found critical success, especially 2013's "Movie 43," which has a 4% Rotten Tomatoes score, Duhamel was quickly establishing himself as a credible leading man in the industry. He'd eventually play the dad in "Love, Simon" and Gilbert Galvan Jr. in the biopic "Bandit." "Blackout," however, is Duhamel's first bona fide commanding lead, as he carries the film. His filmography is not yet filled out like some of his peers, but he possesses a charm and panache that will keep him in top billings for years to come.
Abbie Cornish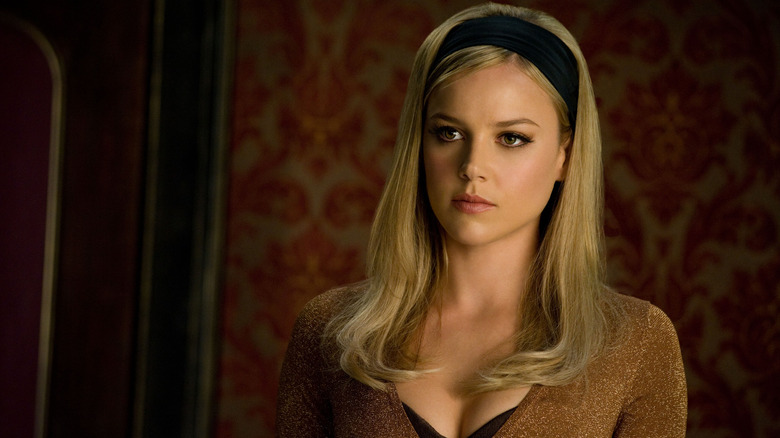 Warner Bros.
One of the most underrated leading women of the last 15 years in Australian and American cinema, Abbie Cornish has quietly amassed a stellar filmography. Her first breakout role came in 2004 when she played Heidi in "Somersault" and earned an Australian Film Institute Award and a Film Critics Circle of Australia Award for best actress (via IMDb). She'd back that performance up two years later in "Candy," when she starred alongside Heath Ledger and Geoffrey Rush.
Since the mid-2000s, Cornish has become a budding star outside of her home country, as well. In 2011, she played Sweet Pea in Zack Snyder's "Sucker Punch," alongside Emma Browning, Jena Malone, and Vanessa Hudgens, and, a year later, was the top-billed actress in Martin McDonagh's "Seven Psychopaths." Her work has pivoted toward less chaotic entries since 2012, as she had a role in "The Girl Who Invented Kissing" and played the wife of Woody Harrelson's main character in "Three Billboards Outside Ebbing, Missouri" in 2017. She also co-stars with John Krasinski in "Tom Clancy's Jack Ryan." Returning to the action genre, Cornish makes a memorable turn in "Blackout" as Anna.
Omar Chaparro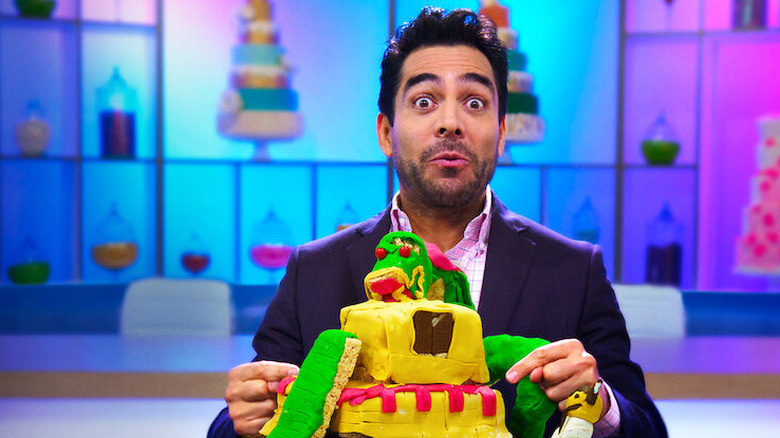 Netflix
Since the beginning of his career, Mexican actor Omar Chaparro provided the Spanish dub for familiar and infamous roles in animated films. He voiced Syndrome in "The Incredibles," Abuelita in "Hoodwinked!," Po in the "Kung Fu Panda" franchise, and Uncle Ugo in "Luca." His most famous voice role, however, has been in "Detective Pikachu," where he plays Sebastian, a Pokemon trainer accompanied by the legendary Charizard.
In 2018, he played Senor Gabriel in "Show Dogs," alongside Will Arnett, Ludacris, and Natasha Lyonne, as well as taking a supporting role in Rob Greenberg's remake of the 1987 romantic comedy, "Overboard." Most of Chaparro's work, however, has been done in Hispanic cinema, as he has been the lead in "Compadres," "No Manches Frida," and "Marcianos vs. Mexicanos." In 2019, he was the host of "¡Nailed It! México," a Mexican Netflix spin-off of the bake-off reality show "Nailed It!" "Blackout" is Chaparro's highest-billed American film performance to date.
Nick Nolte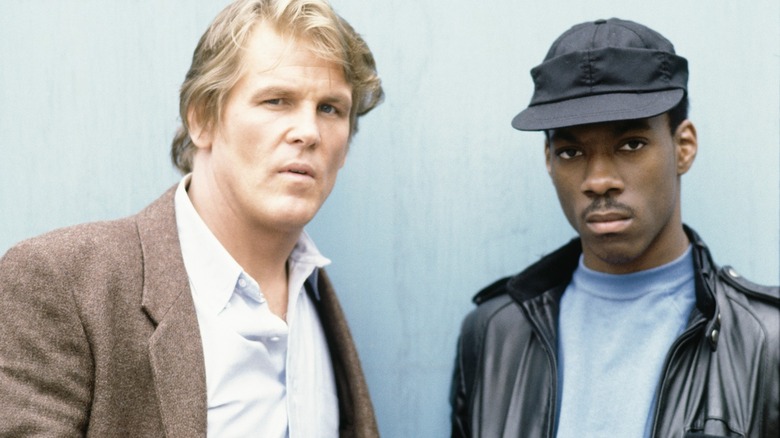 Paramount Pictures
The most-seasoned veteran in the "Blackout" cast, Nick Nolte has been acting in major films since 1975, when he played Bo Hollinger in "Return to Macon County." He'd make appearances in "North Dallas Forty" and "Cannery Row" before striking gold as Inspector Jack Cates in "48 Hrs.," alongside budding superstar Eddie Murphy. "48 Hrs.," which made Murphy a household name and vaulted Nolte into leading man status, remains one of the most-underrated buddy cop films of all time.
Nolte would achieve a mid-career renaissance in the 1990s after starring in "Another 48 Hrs." with Murphy, Martin Scorcese's "Cape Fear" remake with Robert De Niro, and Terrence Malick's "The Thin Red Line" and Paul Schrader's "Affliction" in 1998. The next 10 years for Nolte wouldn't achieve the same successes as the previous, but he did play memorable roles in Ang Lee's "Hulk," "Over the Hedge," and "Tropic Thunder." Since earning an Oscar nomination for his role in "Affliction" and "The Prince of Tides" in the '90s (via IMDb), Nolte has achieved very consistent acclaim in a wide variety of roles, which made him a perfect and undeniable casting choice in "Blackout."
Barbara de Regil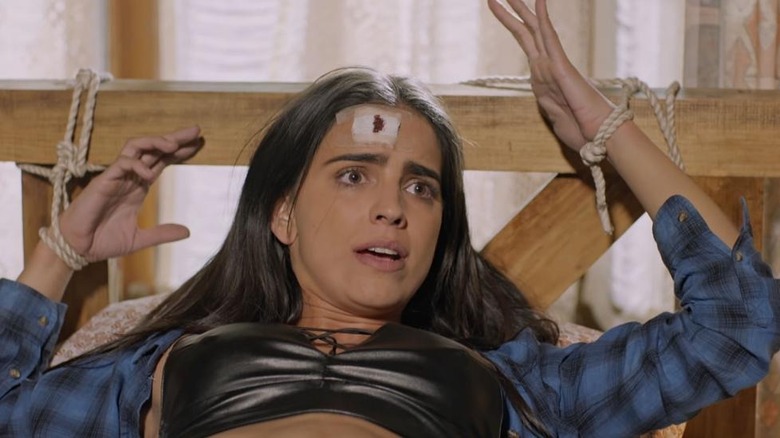 Sony Pictures Television
"Blackout" is Barbara de Regil's first foray into American cinema, as she's spent the last decade doing Spanish-language work both in film and television. Her first role came was a starring one in 2011, in the Mexican telenovela "Bajo el alma." Since then, she's done performances in films like "Happy Times," "Loca por el trabajo," and "Mutiny of the Worker Bees."
de Regil's most famous role is her turn as Rosario in "Rosario Tijeras," which she played from 2016 until 2019. Most recently, she was seen in the telenovela "Cabo" and the Mexican comedy series "40 y 20." After "Blackout," de Regil is set to star as the main lead in "Parientes a la fuerza," a Spanish-language romcom series on Telemundo.
Hernan Del Riego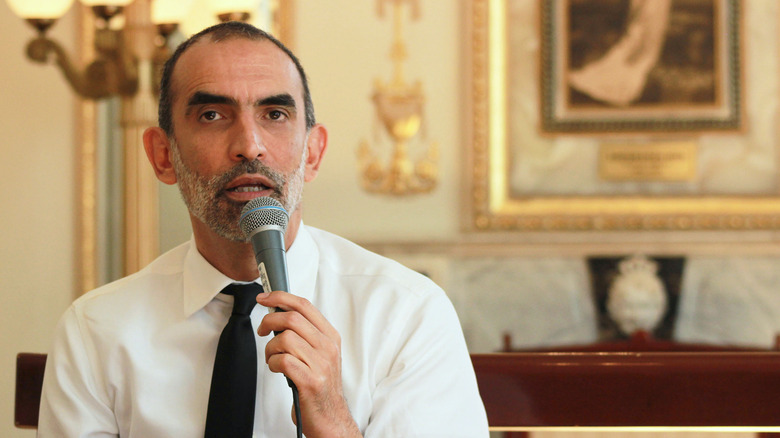 Secretaria de Cultura CDMX
Hernan Del Riego has been acting in credited films and television series since 1993, when he played Drogadicto in "Repartidores de muerte." During the mid-2000s, Del Riego played small roles in various TV series, like "Zapata: Amor en rebeldia" and "Gregoria la cucaracha." Most notably, he was in the Netflix series "Ingobernable," which featured Kate del Castillo in the leading role.
Del Riego has played supporting roles in the Amazon original "An Unknown Enemy," as well as Netflix's "Crime Diaries: The Candidate." After "Blackout," Del Riego is slated to make an appearance in Humberto Hinojosa Ozcariz's horror film "No Abras La Puerta."
Edison Ruiz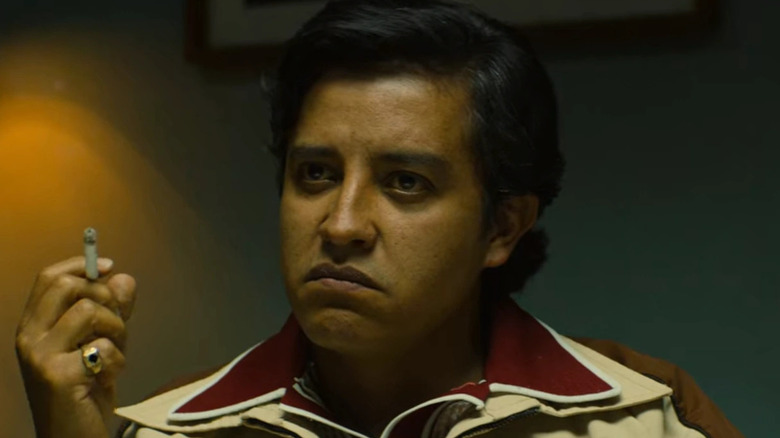 Netflix
Since 2003, Edison Ruiz has made a name for himself in Spanish-language television, playing small parts in shows like "Los simuladores," "Montecristo," "Quince anos," and "Drenaje Profundo." In 2014, he had a seven-episode, recurring role in the award-winning, Mexican telenovela "I Don't Trust Men Anymore."
Ruiz's most-famous performance, however, came in 2018, when he played Comandante Mendez in Netflix's "Narcos: Mexico." During his six-episode arc, Ruiz was an important piece of the "Narcos" spin-off, in which an American DEA agent targets Mexican narcos, including the Guadalajara Cartel. After "Blackout," Ruiz will be a part of the "Undocumented (Sin papeles)" cast.
Daniel Farag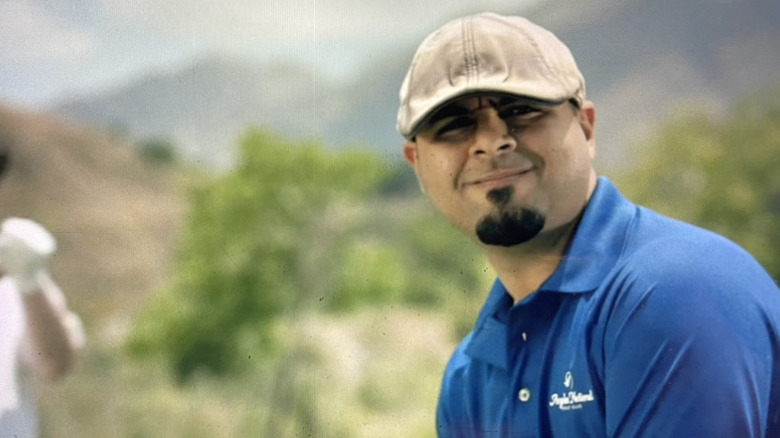 Dixon Golf/YouTube
Writer, producer, and actor Daniel Farag has a short filmography so far, but he's established himself as an important piece of each production's puzzle, both on-screen and off. In 2007, he produced a short titled "'Tis the Season," and in 2011, he wrote with and starred alongside Don Cheadle in the "Dixon Golf: Golf Gods vs. Dixon Golf" commercial short. Since then, he's taken acting turns in "Tied to a Chair" and "Spaceman," the latter of which starred his "Blackout" co-star Josh Duhamel.
Playing Benny G. in "Blackout," Farag has a small role, but he's also an executive producer on the film. As of now, no upcoming projects of his have been made public, but, with the successes of "Blackout," the next chapter in Farag's career is surely on the not-so-distant horizon.
Lou Ferrigno Jr.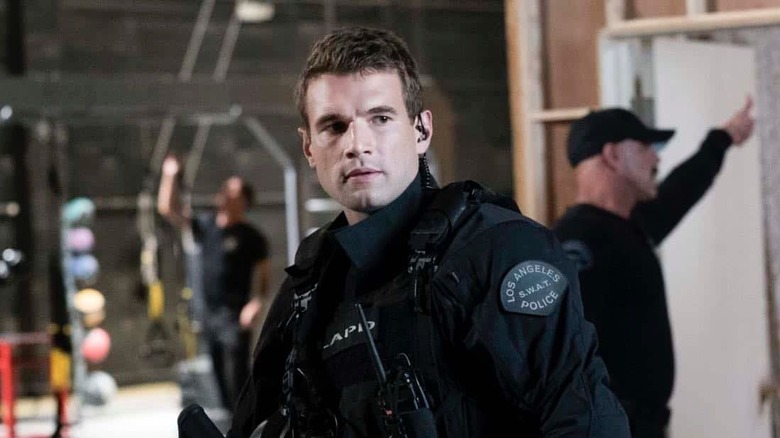 CBS
Though he is the son of bodybuilder Lou Ferrigno, who is best known as the star of the CBS television series "The Incredible Hulk" from 1977 to 1982, Lou Ferrigno Jr. has made a name for himself in Hollywood. Ferrigno made his on-screen debut in a recurring role on "Days of Our Lives" in 2013. Quickly, he became a television staple, providing supporting, recurring roles on shows like "How I Met Your Mother," "Teen Wolf," "The Young and the Restless," and "Nicky, Ricky, Dicky & Dawn."
Ferrigno's most famous role, however, is on the CBS reboot of "S.W.A.T.," which is based on the 1975 show of the same name. On "S.W.A.T.," Ferrigno played Donovan Rocker for 30 episodes. He's also given supporting performances in "Stargirl," and "9-1-1." Ferrigno has yet to dive fully into film yet, as "Blackout" is one of his first major roles. He will be returning to television in 2023, when he takes on the recurring role of Ryan in the hit Netflix series "Outer Banks."