Black Panther: Wakanda Forever's Ryan Coogler Learned To Swim Because Of His Hands-On Directing Style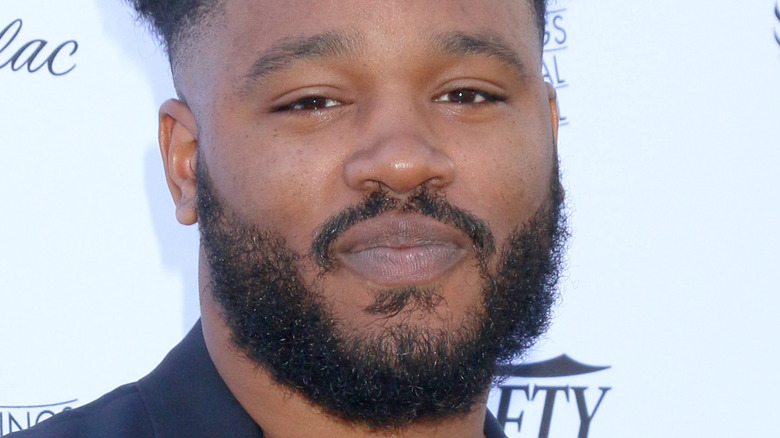 Kathy Hutchins/Shutterstock
Ryan Coogler has only directed three feature films, but he's earned a reputation already as a director who can pull touching, personal performances out of actors. He directed Sylvester Stallone to an Academy Award nomination with 2015's "Creed," made a star out of Chadwick Boseman with 2018's "Black Panther," and centered 2013's "Fruitvale Station" around one of Michael B. Jordan's most gripping performances.
Unfortunately, Coogler had to return for "Black Panther: Wakanda Forever" without Boseman after the actor's death in 2020. The sequel now stands as both a tribute to Boseman and his character, as well as a massive expansion of the world of Wakanda. One new introduction to the world is the underwater king Namor (Tenoch Huerta), giving the MCU their own big-screen Aquaman challenger; Namor, though, was introduced in 1939 in the comics, years before Aquaman debuted on DC. The Marvel character's presence guarantees there's going to be plenty of scenes involving water, but Coogler had a problem. He liked to be close to his actors, but he didn't know how to swim.
Coogler opened up about his swimming dilemma in an interview promoting "Black Panther: Wakanda Forever," as well as why it was so important for him to be thrown into the deep end right along with his actors. 
Ryan Coogler needs to be as close to his actors as he can
According to Ryan Coogler, wherever the camera is, that's where he's got to be. "If the camera's in the water, actors are in the water, I've got to be in there too. I had to figure out how to swim, so I could direct this movie," the filmmaker told Variety. Coogler said he didn't have much experience with swimming before the movie, and he wasn't the only one. Angela Bassett, who plays Queen Ramonda, revealed in the same Variety report that she could only partially swim before the movie rolled into production.
"You know, Black girls have this history with water and their hair. Some of us can't swim all that well, because it's going to mess up that press and curl. It's a whole thing," she said. Coogler learning how to swim also showed his ability to match his actors' energy. According to Bassett, the director stressed to her how vital Queen Ramonda is in the wake of T'Challa's passing.
"She had to be strong. She had to be a mother. She had to be a leader. He was just throwing all of this at me. And then on top of that: 'Can you swim? Can you put your head in water?" she said. 
As it turns out, Bassett and Coogler are in good company, as even the underwater king himself Namor couldn't swim. 
Namor actor Tenoch Huerta also had to learn to swim to play an underwater king
Namor actor Tenoch Huerta was in the same boat as his director before filming began for "Black Panther: Wakanda Forever." Considering how much his character was going to need to be wet, the actor had more reason to learn to doggy paddle than Ryan Coogler.
The actor recalled that Coogler asked him about his swimming skills before filming began and Huerta joked, "I've never drowned before," per Entertainment Weekly. Huerta — who previously appeared in significant work like "The Forever Purge" and "Narcos: Mexico" — had to take lessons to prepare for his role as Marvel's underwater king. He also took breath training along with the rest of the cast, according to EW. Huerta's Namor, known as the Sub-Mariner, serves as an adversary to Wakanda in "Black Panther: Wakanda Forever," but he has important similarities to Chadwick Boseman's T'Challa, one being that both characters are leaders who fight to protect their families and communities. 
"Maybe the most important twist in the character is that he's not a selfish person. He's taking care of a community. He's not an individualist. He's part of a tribe," Huerta said.