Jenna Ortega Promises Fans That Scream 6 Will Be A Splatterfest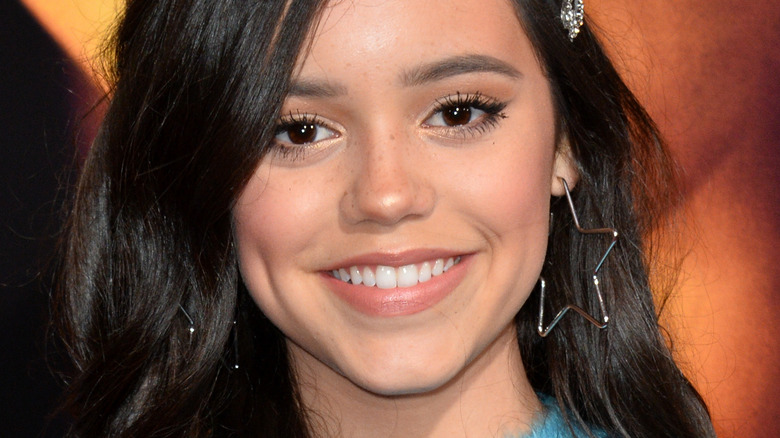 Featureflash Photo Agency/Shutterstock
The 2022 reboot (or is it a re-quel?) of "Scream" took audiences by storm with its arrival in January. Earning over $140 million worldwide at the box office and sitting on a "Certified Fresh" rating of 76% on Rotten Tomatoes, "Scream" proved there was still life in the series on its fifth entry. With 11 years in between installments in the series, the creative team had time to prepare a fresh perspective in the sequel.
The previous four entries were directed by master of horror Wes Craven, who tragically died in 2015 from a brain tumor (via The Hollywood Reporter). "Dawson's Creek" creator Kevin Williamson scripted three out of the four previous films. With the arrival of the fifth entry, the creative team was shaken up by adding two of the members of the collective Radio Silence, Matt Bettinelli-Olpin and Tyler Gillett, to direct the film. Guy Busick, who previously collaborated with Radio Silence co-writing their film "Ready or Not" in 2019, wrote the script for "Scream" 2022 alongside "Zodiac" writer James Vanderbilt.
Much like how Craven and Williamson jumped into "Scream 2" immediately after the success of the original, the creative team behind 2022's "Scream" are all confirmed to return to their duties for the currently unofficially titled "Scream 6." And just like "Scream 2," "Scream 6" will be released in theaters one year after the previous entry. Just like Randy Meeks, played by Jamie Kennedy, said in "Scream 2," the body count is always bigger in sequels. Series star Jenna Ortega seems to confirm that by promising fans that "Scream 6" will be a splatterfest.
Jenna Ortega promises that Scream 6's gore quotient will distract from Neve Campbell's absence from the series
Jenna Ortega, who first appeared in the "Scream" film series with the 2022 entry and is returning for "Scream 6," told Entertainment Tonight that the new film is going to be very gory. When asked how the film will address Neve Campbell's absence, Ortega talked about how some of the film's effects will distract from the former leading lady's disappearance. Neve Campbell declined to return for "Scream 6"  following a pay dispute with distributor Paramount Pictures. This will be the first film in the series that doesn't feature Campbell's Sidney Prescott in any form.
Ortega declined to comment on the situation with Campbell, but offered more hints at what viewers can expect. "I will say there's so much going on in this next one, that it's so action-heavy and so gore-heavy that I think you're gonna be distracted almost," she said. "But it's very clear, like, there's references to Sidney, of course. You know, it's nice because there's still a protectiveness in the script and that's something that the actors had naturally over her because obviously we respect her and we want the best for her. She's missed and thought of."
Besides having fun with the brutality, Jenna Ortega was excited to work with Hayden Panettiere on the sequel
Filming commenced on the sequel in August 2022, but Jenna Ortega previously addressed the brutality of "Scream 6" before the shooting even began. In June 2022, she told Entertainment Tonight of the sequel, "Ghostface gets a lot more intimidating. I just read part of the script, and it just gets more and more gory. I think that this is probably the most aggressive and violent version of Ghostface we've ever seen, which I think will really be fun to shoot."
"Scream 6" sees the four survivors of the previous film, of which Ortega plays one, as they leave Woodsboro for New York City. They learn that they can't escape their past as Ghostface is not far behind. Courteney Cox also returns as Gale Weathers, and Hayden Panettiere makes her triumphant return to the series as Kirby, a fan-favorite character from "Scream 4." Ortega said of working with Panettiere, "Hayden is a sweetheart and that team ... we all have so much love and respect for each other. They're like family to me, so when you're on a job like that, they're the most fun sets that I'm on. It's working with your friends. It's the best possible scenario."
"Scream 6" arrives in theaters on March 10, 2023, after a recent release date shakeup pushed the film's release up.