12 Family-Friendly Shows Like The Santa Clauses To Watch Next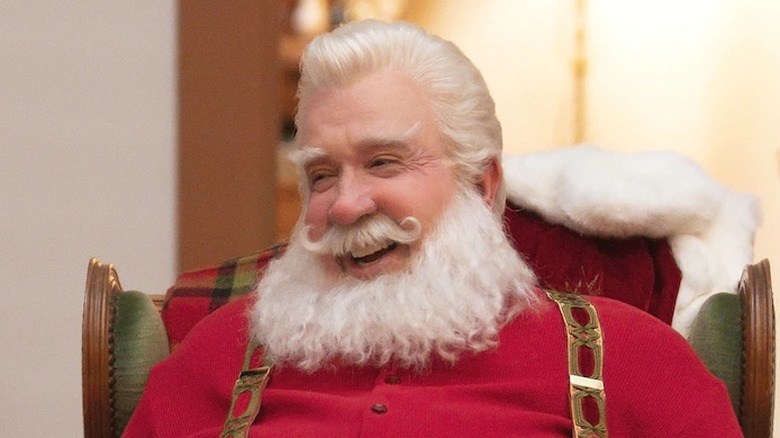 Disney/James Clark
The 1994 holiday film "The Santa Clause" was an instant Christmas classic. Tim Allen was surprisingly relatable as a hesitant new Santa and vaguely absent father, redeeming himself by getting into the Christmas spirit and reforging his relationship with his son. (Apparently, Chevy Chase was originally offered the role but turned it down due to scheduling conflicts.) Also, the idea of having children play elves — and making them immortal, forever young magical beings filled with Christmas spirit — is pretty incredible.
The popular film earned over $140 million, helped ignite Allen's career as a film star and launched two sequels and (drum roll please) a brand-new limited series on Disney+. With a great cast, including Tim Allen and Elizabeth Mitchell (Mrs. Claus), "The Santa Clauses" premiers on November 16th and follows an aging Santa (Allen, once again) looking for his replacement. Eric Lloyd, who played Charlie in the original films, will be returning as well. Elizabeth Allen-Dick, Tim Allen's real-life daughter, will also be joining the cast.
While Allen passing on the baton of Santa means that Disney will probably continue the franchise with new actors, for now, all the '90s kids can enjoy one last Christmas movie with a beloved nostalgic Santa.
As we wind inexorably toward the holiday season, many families will spend more time together (for better or worse). While food preparation might be at the top of some lists for obligatory family time, others might gravitate to the overwhelming amount of holiday films streaming during this time of year. We suggest an alternate format for your family time viewing — 12 excellent family series for when a feature film isn't long enough.
A holiday teenage rom-com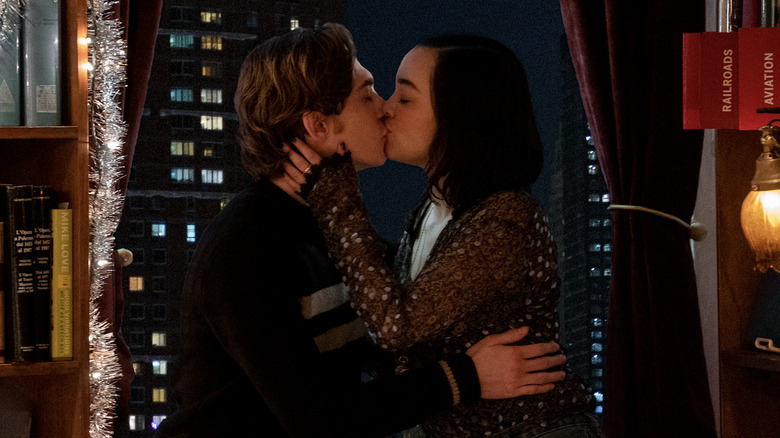 Alison Cohen Rosa/Netflix
For anyone who loves a Christmas rom-com, 2020's "Dash and Lily" might be just the thing. Based on the YA book series, "Dash & Lily's Book of Dares," written by Rachel Cohn and David Levithan, "Dash and Lily" is about two young adults looking for romance in Christmas-time New York City.
This holiday teen romance series, which can be found streaming on Netflix, follows Dash (Austin Abrams), an angsty teenager who's not the biggest fan of Christmas, and Lily (Midori Francis), a young woman who desperately wants to know what it feels like to fall in love. Lily leaves a dare in a random notebook in The Strand (a famous NYC bookstore), which Dash finds. The two teens trade notes and messages through notebooks, telling each other about their Christmas memories and eventually falling in love.
Naturally, some mishaps and misunderstandings along the way keep our two lovebirds from meeting, but don't worry — "Dash and Lily" not only has a happily ever after ending, but Dash gains a bit of holiday spirit. "Dash and Lily" is most suitable for teens and it might not hold the interest of a younger crowd, but it's still family friendly.
Dianne Wiest makes an excellent evil queen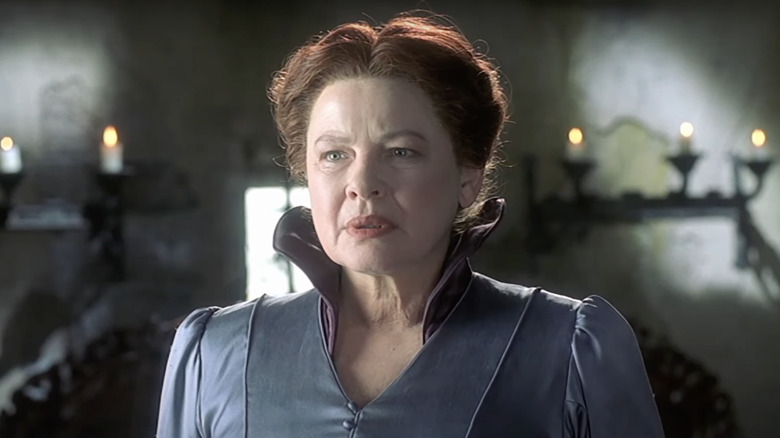 NBC/YouTube
"The 10th Kingdom" is a truly absurd yet delightful mini-series that originally premiered on NBC in 2000 with five two-hour episodes released over a week. This playful series is a fairytale redux, with an aging Cinderella (Ann-Margret), an evil queen (Dianne Wiest) and of course a spoiled, if innocent prince (Daniel Lapaine) who's unfortunately turned into a golden retriever.
Virginia (Kimberly Williams-Paisley) is a young waitress who lives in New York City with her bumbling father Tony (John Larroquette). After being turned into a dog, the prince escapes through the magic mirror to New York City, and finds Virginia, who quickly realizes he's more than he seems. Magical madness ensues as dance-happy trolls, and a dashing man named "Wolf" are sent to NYC to find the prince. Luckily for us all, Virginia and Tony are brought back through the mirror to the fairytale kingdoms where Snow White is a ghost, Bo Peep's descendants host odd sheep-inspired singing competitions, and Rumpelstiltskin has had a name change.
While the special effects in "The 10th Kingdom" might feel a little dated today, what it lacks in CGI development, it makes up for in hilarious fairytale mishaps. It's weird, wild, and perfect for long days spent in pajamas munching on leftover holiday cookies.
An icy remake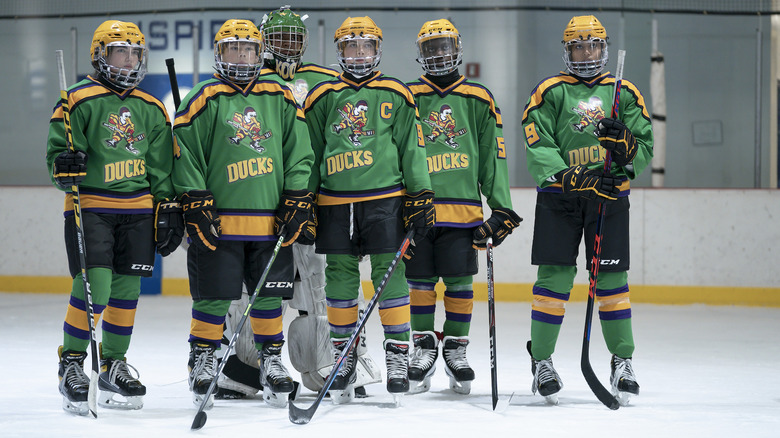 Disney+
Anyone suffering from the lack of modern hockey films can stop worrying, because Disney has delivered. In 2021, Disney+ released its continuation of the popular '90s film franchise "The Mighty Ducks," originally a story of an underdog hockey team coached by morally defunct lawyer and ex-high school hockey star Gordon Bombay (Emilio Estevez).
We all love a little nostalgia, which is why Estevez agreed to reprise his role as Coach Bombay for the first season of the TV series. However, the rave reviews indicate this surprise hit might have actually improved upon its original material. "The Mighty Ducks: Game Changers" centers on Evan Morrow (Brady Noon), who's encouraged by his mother (Lauren Graham) to start a hockey team with Bombay. Like the original film series, the TV show is lighthearted family entertainment with some surprising moments of tenderness and, of course, a few life lessons.
While Estevez didn't return for the second season due to a disagreement apparently related to Covid policies, the rest of the cast, including the excellent Graham and Brady, have returned as series regulars. Although there's still no word on whether "The Mighty Ducks: Game Changers" will return for a third season, let's hope there are more good times on the ice for fans.
Santa's reality TV show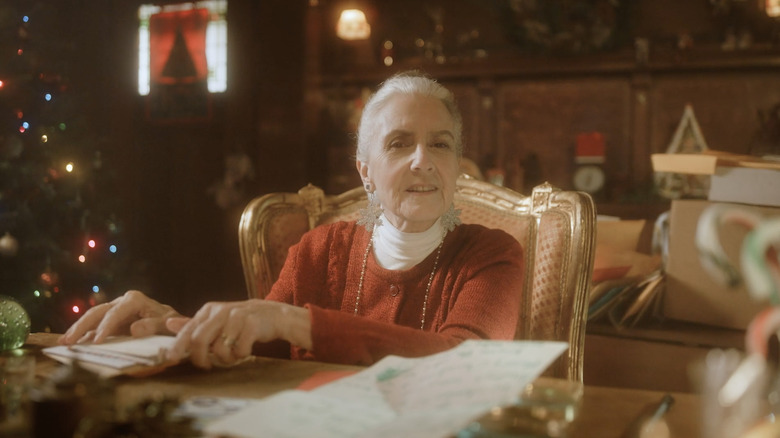 Telus Studios
Considering the global fascination with reality TV shows, it was only a matter of time before somebody made a North Pole mockumentary series. "Keeping Up with the Clauses" is a Canadian Christmas TV series that aired in 2020. In most cases, the focus is on Santa Claus, but thankfully "Keeping up with the Clauses" tells the story of the North Pole and its day-to-day Christmas operations from the perspective of Mrs. Claus (Irene Slater).
There's a lot that can go wrong around the holidays when there are reindeer to feed, presents to wrap, and elves to deal with, and it's all done in a day's work for Mrs. Claus. That is until a workshop fire threatens to stop Christmas entirely. It might take some hard work from Mrs. Claus and Nutmeg the elf (played by director Nick Schelle), but by working together (and discovering the origins of the workshop fire) Christmas can be saved. "Keeping up with the Clauses" is probably best for those with younger children, though any fan of Christmas is sure to love this warm-hearted mini-series.
A Mesoamerican warrior saves the day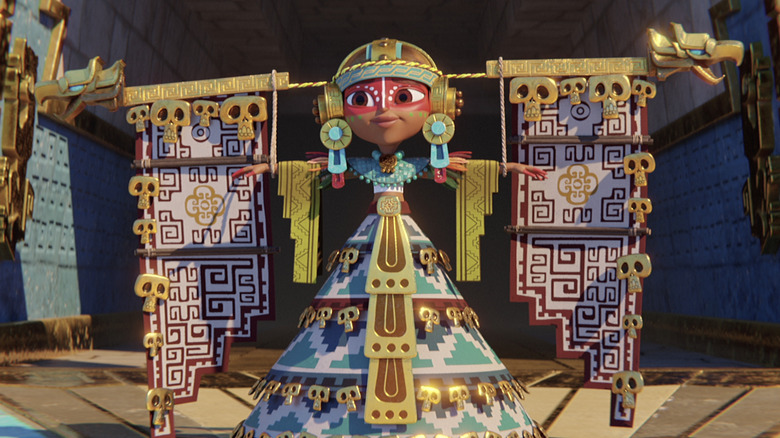 Netflix
When Jorge Gutiérrez pitched his animated nine-episode limited series to Netflix, he told Variety that he wanted to make "a Mexican 'Lord of the Rings,' but hilarious." Netflix agreed to produce his singular vision (who wouldn't?), premiering "Maya and the Three" in 2021 to excellent reviews.
"Maya and the Three" follows Maya (Zoe Saldana), a warrior princess living in Mesoamerica who, on the eve of her quinceañera, finds out she's in a bit of trouble with the underworld. Apparently, she's got to save the world and redeem her family — also, she's the daughter of the Goddess of Death (Kate del Castillo). Setting off on a dangerous quest, Maya has to find three magical warriors who can help her defeat the gods of the underworld.
Inspired by the amazing Mexican women in creator Gutiérrez's life, "Maya and the Three" brings a capable heroine to the screen. With stunning artwork inspired by Mesoamerican society and some fantastic voice actors (listen for Alfred Molina and Diego Luna), "Maya and the Three" is not to be missed.
A mysterious English village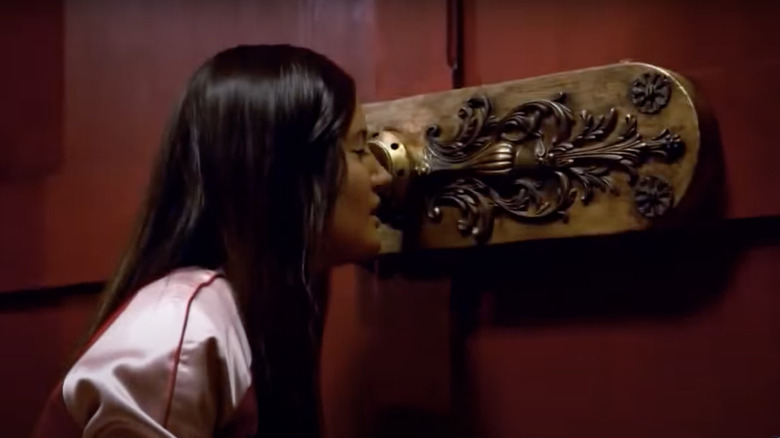 Disney/YouTube
Those who like a bit of supernatural mystery in their magical holiday shows could consider watching the 2014 Disney Channel series known as "Evermoor," sometimes referred to as "The Evermoor Chronicles." There are some significant differences between Season 1 and Season 2, but don't worry — there are still plenty of magical hijinks to go around.
Season 1 of "Evermoor" stars Tara (Naomi Sequeria), an American whose family has just moved to the mysterious English village of Evermoor. Tara discovers that the village hides a few supernatural secrets and, of course, holds the answers to her destiny as the Supreme Everine. Season 2 hangs onto a few cast members from the first season, but our main protagonist this time is Bella (Georgia Lock), who does everything she can to protect her friend Ludo (Alex Starke).
While some episodes can be a little spooky, this family series is generally a fun and playful show about growing up, friendship, and learning to get along with even the most annoying of siblings.
A unique Christmas sitcom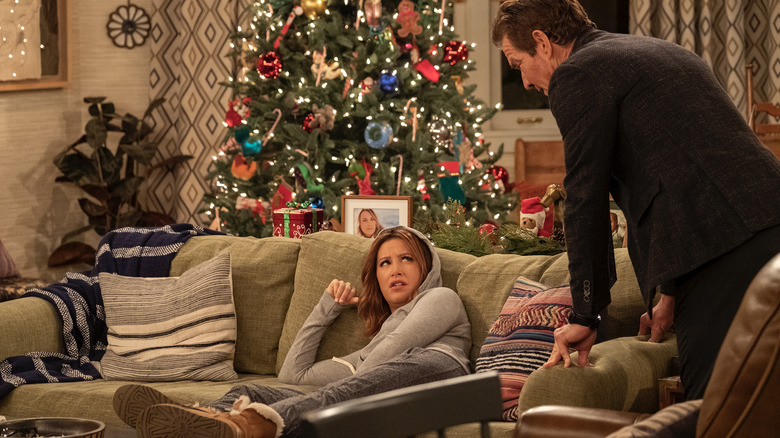 Adam Rose/Netflix
"Merry Happy Whatever," a modern Christmas sitcom, is a pretty unique entry to this list. While most sitcoms invest in a general format that allows for special holiday episodes, "Merry Happy Whatever" decided to blow through genre conventions and make an entire show dedicated to one family's Christmas. Released in 2019 on Netflix, "Merry Happy Whatever" only aired for one eight-episode season and received mixed reviews.
However, "Merry Happy Whatever" has a pretty impressive main star in the form of Dennis Quaid playing the lead. Don Quinn (Quaid) is a widower and generally disapproving parent with fairly strict ideas about how his four adult children should behave and who they should date. With everyone home for the holiday, Don must learn to adapt and accept his children for who they are. Since the series revolves around Christmas, there's lots of scenes of Christmas tree decorating, holiday light hanging, and family arguments (just like most families).
While "Merry Happy Whatever" won't be winning any awards for its comedy (laugh tracks are a tough sell these days), it fits the bill perfectly for a lighthearted holiday family series.
Two animated brothers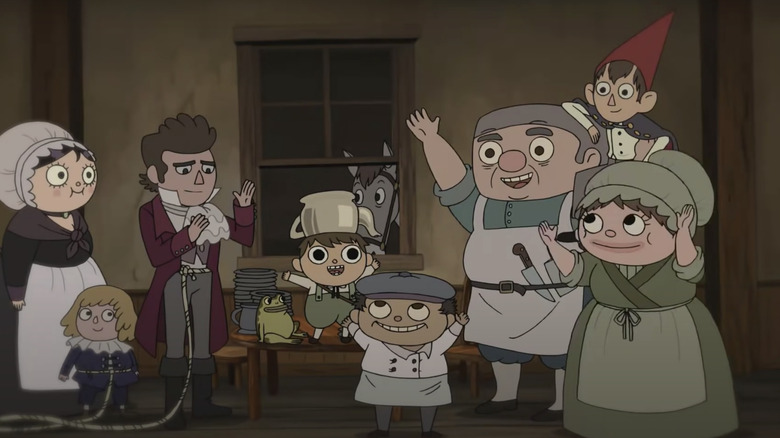 Cartoon Network/YouTube
Anyone who hasn't seen the excellent "Over the Garden Wall" should be adding it to their watch list. Cartoon Network's 2014 animated series, "Over the Garden Wall" is a surreal, off-beat mini-series with a shifting storyline and voiced by A-list actors.
Created by Patrick McHale ("Adventure Time"), "Over the Garden Wall" starts with two young brothers, Wirt (Elijah Wood) and Greg (Collin Dean), who are lost in a magical forest where incredible creatures live. It's difficult to describe the plot since much of the show relies on odd twists and a steady stream of new characters. But to give you the gist of it – during the series, Wirt and Greg meet the cursed Beatrice (Melanie Lynskey), who was turned into a bird by an evil witch, and the mysterious Woodsman (Christopher Lloyd). In the end, Wirt and Greg must learn to get along — this applies double to Wirt, who sometimes resents his younger brother. 
"Over the Garden Wall" was a critical darling, winning two Emmy awards and becoming a cult classic. "Over the Garden Wall" might be unnerving at times, but it's rarely scary, making it a fantastic series for any family that loves animation.
A spooky mystery series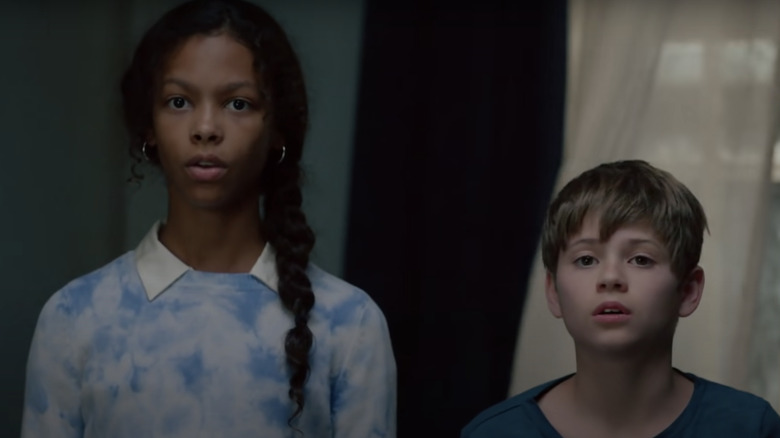 Disney Channel
Who doesn't love a haunted hotel? For fans of spooky bayous and mysterious disappearances, look no further than Disney's "Secrets of Sulphur Springs." Premiering in 2021, this season series is perfect for families who like a little bit of scare in their holiday offerings (though all the scary scenes are still appropriate for younger audiences).
"Secrets of Sulphur Springs" stars Preston Oliver as Griffin Campbell, a young boy who's just moved into the Tremont Hotel with his family. The Tremont has a mysterious history and may or may not be haunted by the ghost of a young girl who vanished 30 years earlier. Aided by his new friend Harper (Kyliegh Curran), Griffin tries to solve the mystery of Savannah's (Elle Graham) disappearance. However, it turns out that the Tremont Hotel actually has a time-traveling portal in its basement, meaning that Griffin and Harper also end up in the past.
With paranormal events happening in the hotel and Harper and Griffin's penchant for time travel, "Secrets of Sulphur Springs" is an action-filled mystery that will thrill any budding detective.
A famous book gets (another) remake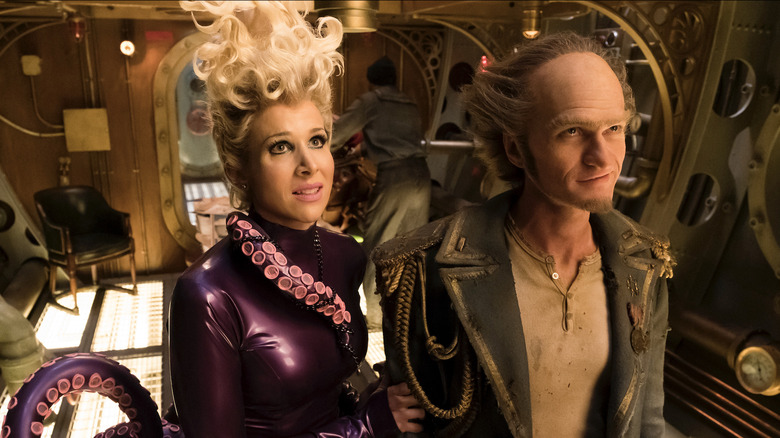 Eike Schroter/Netflix
Lemony Snicket's set of books titled "A Series of Unfortunate Events" has spawned a film and a recent Netflix TV series, all of which are absurdist stories about three children and the evil machinations of their guardian. It's all very gothic, really.
Netflix's TV series (which first aired in 2017) is excellent. Lemony Snicket (Patrick Warburton) narrates the series, describing the hilarious and offbeat situations in which the children find themselves. Neil Patrick Harris stars as Count Olaf, the down-and-out actor and guardian who desperately desires his young relatives' fortune. His three young charges are Violet Baudelaire (Malina Weissman), who is a ridiculously talented inventor, bookish Klaus Baudelaire (Louis Hynes), and the weirdly strong Sunny Baudelaire (Presley Smith). These three children are tormented by Count Olaf in improbable ways, though the resourceful Baudelaire children are always able to escape his wild plots.
This brilliantly ridiculous coming-of-age series has been nominated for multiple Emmys and has received universal praise for the acting, writing, and production design. It's playful, absurd, and darkly comedic, making it that rare series children and adults will enjoy.
Dogs and cops
Farah Nosh/Disney+
For anyone unaware, in 1989, Tom Hanks starred in a comedy-drama buddy-cop film called "Turner & Hooch." Turner is a fastidious police detective determined to get out of his small town. Hooch is a disgusting, slobbery giant dog who witnesses a murder. Hijinks ensue.
This classic '80s film got an unexpected Disney continuation in 2021. While only lasting one season, the 12-episode series has a plot similar to the original movie. U.S. Marshall Scott Turner (Josh Peck) inherits a massive dog (who naturally loves to drool all over everyone and everything) after the death of his father — the original Scott Turner. Eventually, Turner learns that his father's death may not have been an accident, causing him to investigate with the help of his new partner — Hooch Jr. Sadly, due to mixed reviews, "Turner & Hooch" wasn't renewed for a second season.
Despite its serious-seeming storyline, "Turner & Hooch" is meant for families; the violence isn't graphic, and most of the series relies on the ridiculous situations in which Hooch puts his new owner. There are lots of dog-related mishaps and comedic asides, making this a lighthearted, family-friendly show perfect for dog lovers and mystery buffs.
A classic novel becomes an endearing series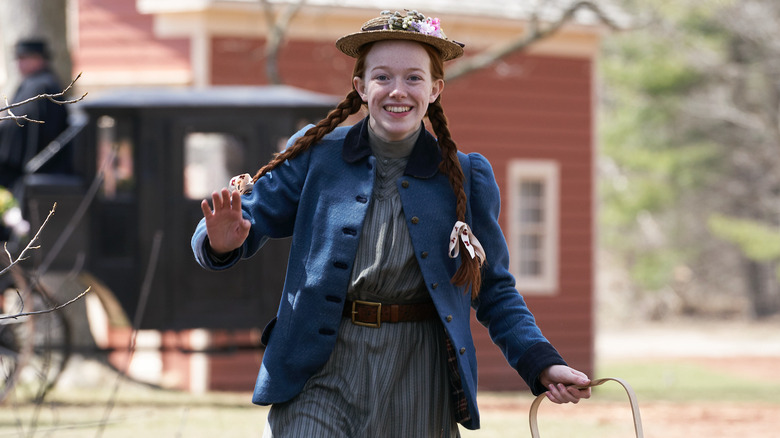 Ken Woroner/Netflix
L.M. Montgomery's "Anne of Green Gables" (published in 1908) put Prince Edward Island on the map. The beloved children's book paints a picture of a beautiful, idyllic island, told from the point of view of its vivacious protagonist, Anne Shirley. Anne, an orphan, is adopted by two aging siblings, the exacting Marilla Cuthbert and kindhearted Matthew Cuthbert, and brought to live on their farm, Green Gables.
This recent Netflix adaptation stars AmyBeth McNulty as Anne, the imaginative main character of "Anne with an E." Taken in by the Cuthberts (Geraldine James and R.H. Thomson), Anne begins to find a place for herself at Green Gables, though not without a few mishaps and misadventures. Filled with friends and clever characters, or "kindred spirits," as Anne calls them, the series navigates the troubles of being a teenager and the difficulties involved with coming of age when you feel like an outsider.
Netflix premiered "Anne with an E" in 2017 to widespread acclaim. The series is perhaps darker than its source material, especially since it's willing to tackle more serious issues such as bullying, racism, and homophobia. Unfortunately, Netflix canceled the series after only three seasons, but fans continue to enjoy this enduring classic as they've done for over 100 years.