The Hilarious Way Neil Patrick Harris Found Out About His Role In Harold & Kumar Go To White Castle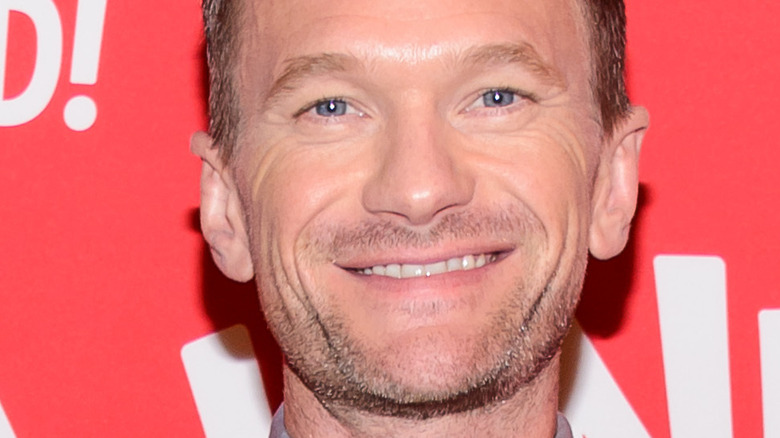 Sky Cinema/Shutterstock
Neil Patrick Harris continues to lead a prolific career filled with memorable characters, but perhaps his most notable role thus far is playing... himself? The actor sprung onto the scene as the titular character in the coming-of-age medical drama "Doogie Howser, M.D." The clean-cut, youthful character mostly shaped Harris' image until he landed a supporting role in the raunchy stoner-comedy "Harold & Kumar Go To White Castle." The 2004 film starring John Cho and Kal Penn in the lead roles saw Harris play a fictionalized version of himself that dabbled in debauchery and drugs.
In a retrospective focused on the first "Harold & Kumar" film, Vanity Fair's Joanna Robinson argues that Harris playing a fictionalized version of himself "was enough to erase that image of the cherubic, lab coat–wearing doctor." The writer also went on to note how the fictional womanizing and heterosexual Harris seen in the film paved the way for the star to land the role of Barney Stinson in "How I Met Your Mother."
"I was only getting jobs I was offered, not the ones I was auditioning for, because I had previous baggage," Harris said while speaking to the New York Times in 2006, the same year "Harold & Kumar Escape from Guantanamo Bay" was released. However, it's safe to say that Harris' career radically changed after he appeared in the first "Harold & Kumar" film. But how exactly did the actor find out about his role in the film?
Neil Patrick Harris' friend got an audition for Harold & Kumar and later told the star
While discussing his career highlights with GQ, Neil Patrick Harris opened up about how a chance phone call with a friend in Los Angeles paved the way for him to star in "Harold & Kumar." "I got a phone call from a friend that said 'I'm auditioning for this movie that you're in,' and I had no idea what he was talking about," Harris revealed.
The "Series of Unfortunate Events" star continued by telling his friend that he wasn't in any film. "I said, 'Are you being serious or are you joking?' and he said 'Are you not aware you've been written into a movie? [It's] like a crazy version of you.' So then I kinda panicked because I didn't want to be the a** of a joke... like, who's going to play me?" 
Eventually, Harris wound up agreeing to play himself in "Harold & Kumar Go to White Castle" under one condition. Notably, the creatives had a backup plan in place in the event that Harris declined the offer to parody himself. While speaking with the New York Times, co-writer Jon Hurwitz revealed that Ralph Macchio of "The Karate Kid" fame was their second option. 
Harris has since returned to the "Harold & Kumar" franchise multiple times and hasn't shied away from appreciating the opportunity. In a 2011 interview with Cinema Blend, the actor discussed how he loves that the writers are "taking what's real and totally not real, and what might be real, and just being ludicrous and blending it all together in a smoothie."