Why Dash From Dash & Lily Looks So Familiar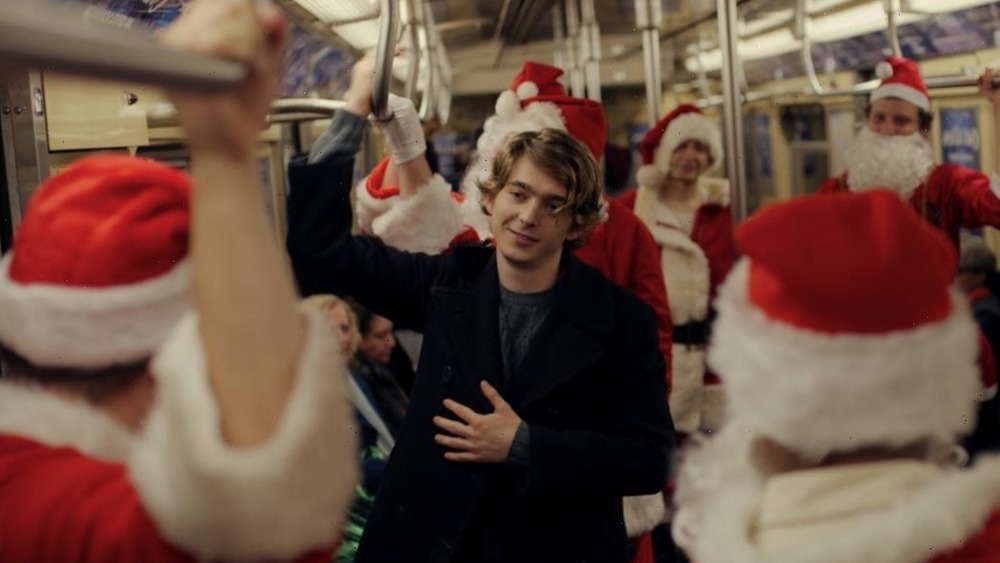 Netflix
With pretty much every single major 2020 movie pushing its release to a day far in the future, it's safe to say the world of streaming has almost single-handedly kept the film and television biz afloat in 2020. As uncertainty swirls around the coming holiday season, it seems streamers will be tasked with keeping spirits merry and bright in the weeks ahead, too. 
Netflix is more primed than most to make that happen, with the streaming giant boasting a strong slate of holiday-themed content set to hit the platform in the coming weeks. In fact, its already begun bringing the holiday cheer to the masses with the release of a delightful holiday mini-series by the name of Dash & Lily. Set amid the bustling backdrop of New York City at Christmastime, Dash & Lily follows the titular duo on a whimsical journey as they trade dares, and fall in love, via a notebook passed back and forth throughout the city.
Yes, Dash & Lily is every bit the sticky sweet romance it sounds. It's also elevated above typical schlocky holiday fare (like all those Hallmark movies we all pretend not to love) by clever writing and the endlessly charming work of its two young leads. There's a pretty good chance you recognize the faces of those leads by the way, because they've been turning up in film and television projects on the regular for a few years now. 
That's especially true of the actor portraying the jaded Dash in Dash & Lily. His name is Austin Abrams, and here's why he looks so familiar.
Austin Abrams eventually found love in the world of Euphoria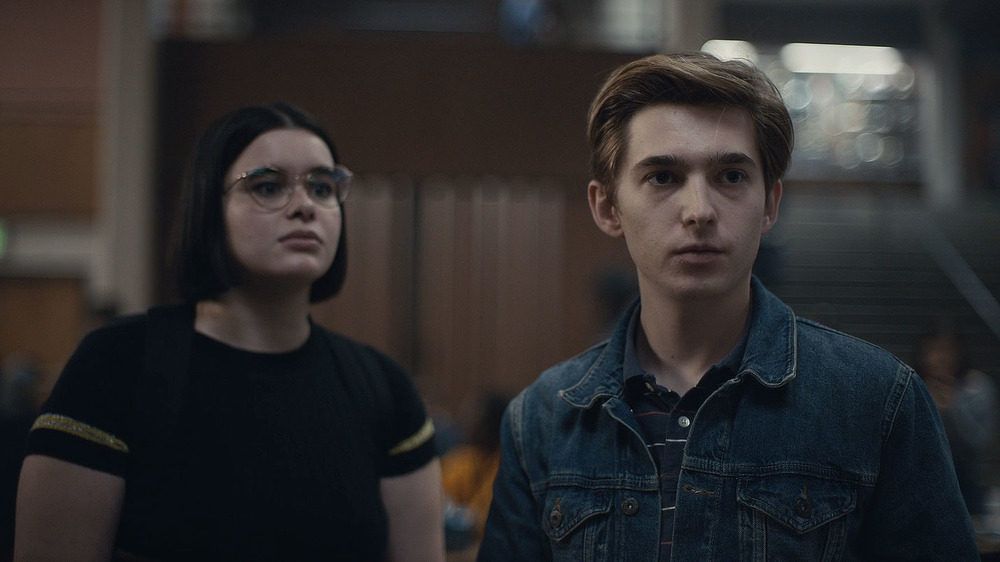 HBO
You may not realize it, but even though he's only 24, Austin Abrams has been in the acting game for nearly a decade. Over that period, he's already established himself among the ranks of young A-listers in Hollywood. Not surprisingly, his ascension to legit up-and-comer status included a memorable turn on a series rife with talent.
That show is HBO's Emmy-winning teen drama Euphoria. Now, if you've seen even a single episode of Euphoria, you know the "teen drama" label isn't an entirely accurate description of the series. Even if the central players are indeed angsty high schoolers, Euphoria separates itself from the category by allowing its characters to explore decidedly mature themes like mental health, drug addiction, sexual experimentation, and the long-lasting effects of violence and trauma. 
Unlike most teen dramas, Euphoria dares to explore those themes with a daring, near-polarizing frankness that proves as refreshingly honest as it is deeply disturbing. Austin Abrams character Ethan provides one of the sweeter depictions of young love in the complex Euphoria landscape. You should also know that Ethan spends much of his narrative in pursuit of Kat (Barbie Ferreira), a body-conscious classmate whose own sexual awakening proves ... adventurous. 
As it is, the pair's would-be courtship is as complicated as any on Euphoria. Even with limited screen time, Abrams imbues his character with a boyish charm and self-awareness that keeps you rooting for him.
Austin Abrams played a very bad bully in Scary Stories to Tell in the Dark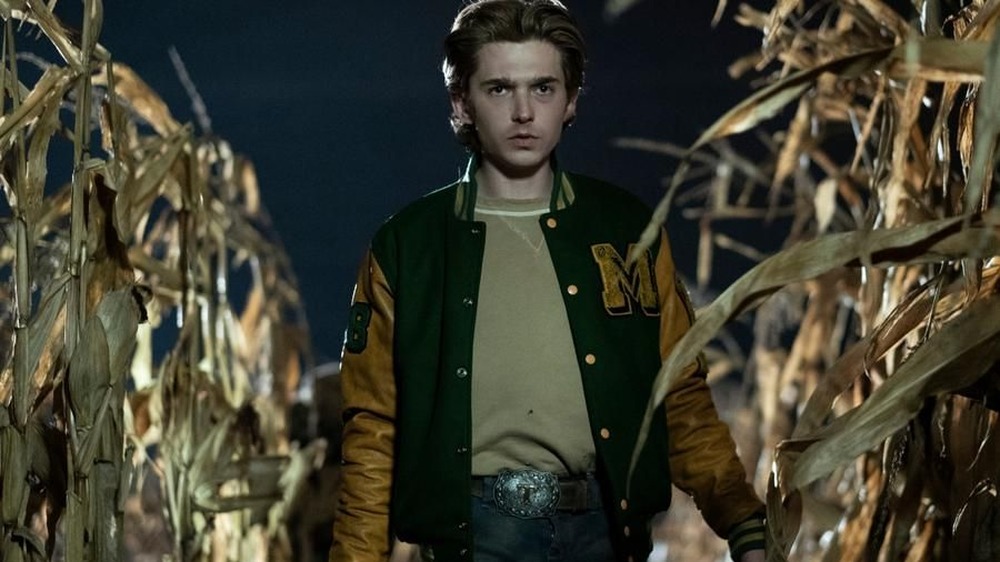 Lionsgate
Austin Abrams has made quite a name for himself in the world of television (he's appeared on decorated series like Silicon Valley, The Americans and This is Us), but the young actor has also racked up some impressive big-screen credits over the years. To date, Abrams has shared the screen with the likes of Catherine Keener (We Don't Belong Here), Ben Stiller (Brad's Status), and Booksmart breakout Kaitlyn Dever (All Summers End). He's also worked with a handful of notable directors-on-the-rise like Ruben Fleischer (Gangster Squad) and Jordan Vogt-Roberts (The Kings of Summer).
In 2019, Abrams added another impressive name to that directors list when he signed on to work with Troll Hunter and The Autopsy of Jane Doe mastermind André Øvredal, and he did so in a film produced by none other than genre maestro Guillermo Del Toro. 
That film was the mostly marvelous adaptation of Alvin Schwartz's beloved children's horror book series Scary Stories to Tell in the Dark. Collecting several of those twisted tales into a single, bone-chilling narrative, the film follows a group of teens in 1968 who unwittingly awaken a vengeful spirit that proceeds to collect victims through creepy stories unfolding in a disturbed woman's haunted journal. In Øvredal's capable hands, the deceptively kid-friendly offerings become nightmare-inducing tales of the macabre that would satisfy even the most jaded horror buff.
If you're having trouble placing Abrams' face in the film, he plays the despicable town bully Tommy Milner, who himself earns a truly horrifying fate early in the Scary Stories action. In fact, his story is arguably the creepiest of the bunch, and ensures Øvredal's fright-fest opens in fittingly sinister fashion. 
Austin Abrams made a real mess of things on The Walking Dead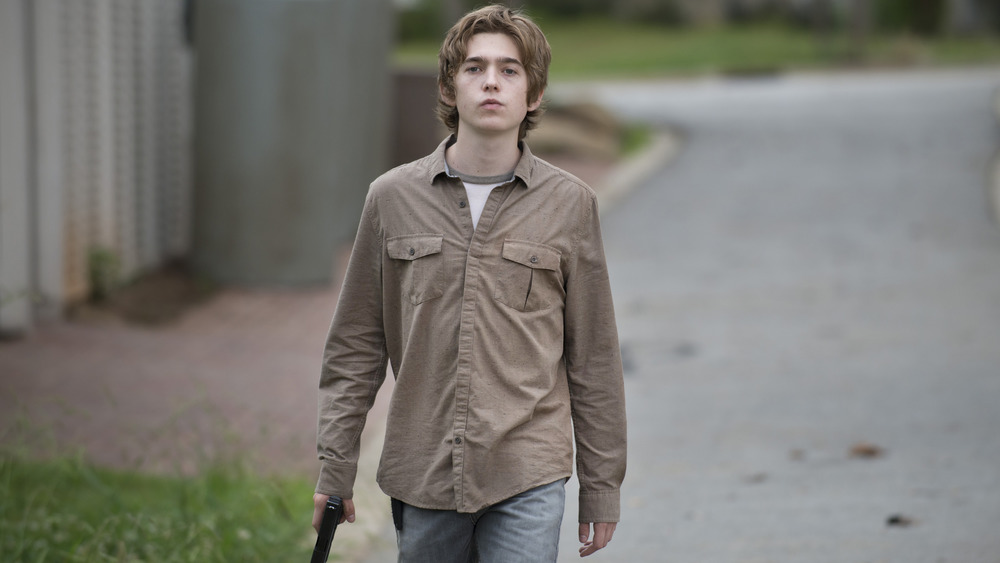 AMC
Scary Stories to Tell in the Dark wasn't the first time Austin Abrams portrayed a troubled teen who breaks bad and pays the ultimate price. In fact, one has to wonder if André Øvredal hadn't seen Abrams at work in his first "bad teen" role and cast him on the strength of that performance, because it remains one of the actor's most memorable. 
Said role came in seasons 5 and 6 of AMC's blockbuster zombie series The Walking Dead, wherein Abrams portrayed what's become one of the most reviled characters in the show's history. For the record, that's no comment on Abrams' work as Alexandrian teen Ron Anderson. Quite the opposite, actually, as Abrams turned what likely would've been yet another bratty The Walking Dead teen into a tragically flawed, three-dimensional human racked with inner turmoil. 
In case you've forgotten Ron's story, he was a citizen of Alexandria when Rick (Andrew Lincoln) and his bedraggled crew first entered the city's walls. So, too, were his abusive father Pete (Cory Brill) — who Rick eventually killed — and his doting mother Jessie (Alexandra Breckenridge) — who Rick eventually romanced. He was also the would-be beau to Enid (Katelyn Nacon), the ultimate object of Rick's son Carl's (Chandler Riggs) tweenage affection.
Needless to say, Ron had multiple bones to pick with the Grimes boys in his nine-episode run. Unfortunately, the picking of those bones led to the downfall of Ron's surviving family in what ranks among the most devastating scenes in The Walking Dead history. And yes, if you hated Ron ahead of that gruesome series exit, it was purely because Austin Abrams was so good at making him both hate-able and relatable.
If you're looking to see more of the latter and less of the former in a fresh Austin Abrams performance, check out Dash & Lily on Netflix.