Where You've Seen The Cast Of HBO Max's Sex Lives Of College Girls Before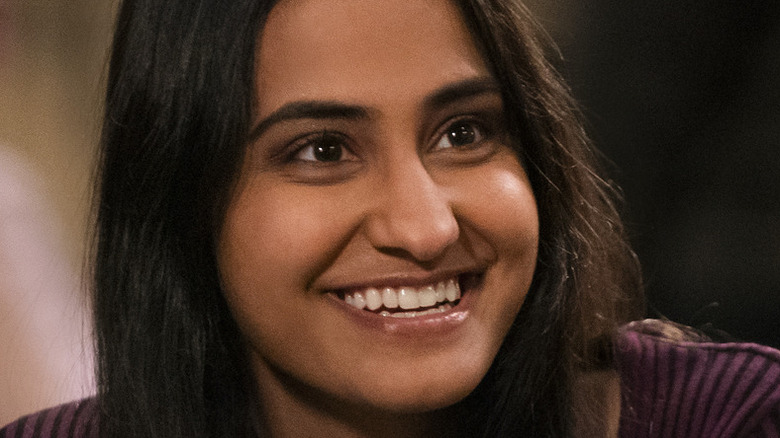 HBO Max
HBO Max's "The Sex Lives of College Girls" is one of the most relatable comedy-dramas out there for college students. Kimberly (Pauline Chalamet), Bela (Amrit Kaur), Leighton (Reneé Rapp), and Whitney (Alyah Chanelle Scott) are freshmen students attending Essex College, a fictional school in the lush Vermont landscape.
The four new friends all learn to balance an Ivy League-level academic schedule, the nuances of one-night stands, boyfriends, girlfriends, and the realities of entering adulthood. Of course, it's not as easy as they hoped it would be. But despite all the ups and downs of higher education, they explore the college experience together.
From creator Mindy Kaling, this HBO show has it all; witty commentary, fresh perspectives on social norms, and hilarious situations cut with very real issues. The cast of this undergraduate ensemble has a few familiar faces, while also bringing several new actors to starring roles. Here's where you've seen the cast of "The Sex Lives of College Girls" before.
Pauline Chalamet (Kimberly Finkle)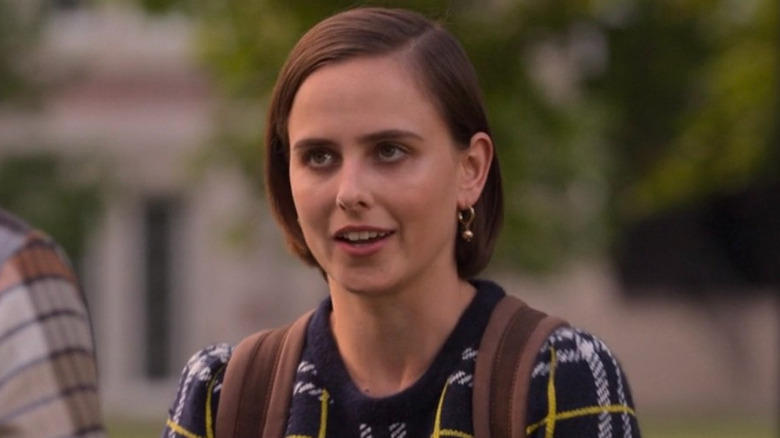 HBO Max
Older sister to Timothee Chalamet, Pauline Chalamet has been acting since 1999, and got her first role in ABC's longstanding soap "One Life to Live." 
After another appearance a decade later in USA's "Royal Pains," Chalamet took on roles in a variety of French short films until 2020. According to IMDb, she's credited as writer and director for "Cosmic Disaster," described as a "rhyming short" with two cousins rooming together; "The Group Chat," a 13-minute short about the dynamics of body positivity and friendship, and "Between Fear and Laughter" in which an American living in Paris experiences a cycle of severe panic attacks.
She landed one of her first major roles as Pete Davidson's character's sister's friend Joanne in Judd Apatow's 2020 coming-of-age comedy "The King of Staten Island." The following year, she appeared as Sveta in a French series titled "Woke: XAOC" ("Les engages: XAOC" in French). After the first season of HBO Max's "The Sex Lives of College Girls," Chalamet completed two others projects including another short, "After Dark," and an upcoming anthology film known as "What Doesn't Float." Chalamet's biggest role is her starring position as Kimberly on "College Girls," but her range of short films give audiences a chance to see her abilities in other contexts and acting in other languages.
Amrit Kaur (Bela Malhotra)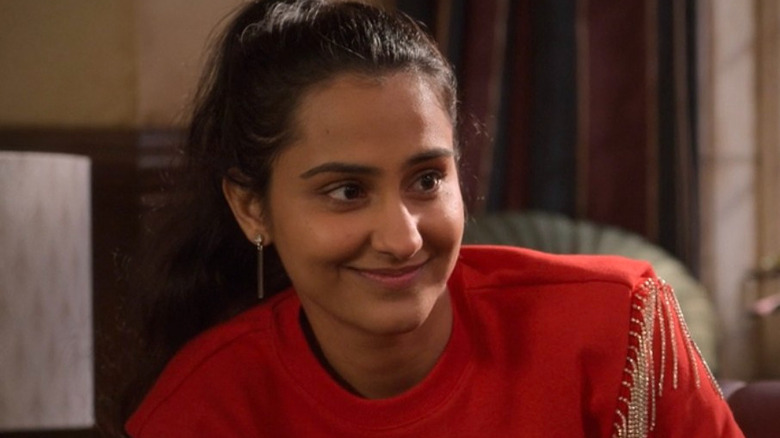 HBO Max
Before playing the enthusiastic and energetic Essex College student Bela Malhotra, Amrit Kaur started her career as an actor with a recurring role in a Canadian series "Anarkali" as Roop, which explores the unique landscape of dating in South Asian cultures. After that, she took minor roles in TV projects like a 2016 episode of CBS's "American Gothic," Amazon's "Odd Squad," Netflix's popular family comedy "Kim's Convenience," and the romantic comedy "Little Italy" starring Hayden Christensen. Since 2018, Kaur has had more single-episode appearances in popular shows like "Star Trek: Short Treks" as a space cadet, "Hudson and Rex," NBC's "Nurses," and she played a recurring role in the Candian show "The D Cut." 
Kaur's talent isn't limited to her time in front of the camera. She's credited as a producer in the 2020 short "The Heatwave" in which she also stars with Seth Mohan. Par for the times in real life, the five-minute short features a couple stuck at home during the first waves of COVID-19 when their air conditioner breaks down in the summer heat. 
Reneé Rapp (Leighton Murray)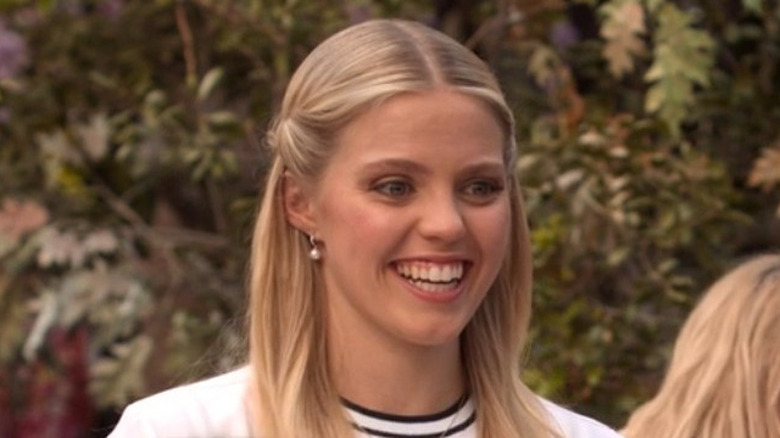 HBO Max
"The Sex Lives of College Girls" star Reneé Rapp, who plays the unpredictable yet lovable Leighton Murray, has more experience acting on-stage than on-screen, but her talent shines just as much as her "College Girls" co-stars. 
In 2019, Rapp made her Broadway debut as Regina George in a stage production of the essential teen comedy "Mean Girls." Broadway World also credits Rapp for her appearances in theatrical productions of "Spring Awakening" and "Big Fish." In 2020, Rapp played Astrid Fox in a virtual improv show "Broadway Whodunit: Murder at Montgomery Manor," a completely unscripted live murder mystery show for viewers online.
As of 2022, Rapp has released three singles titled "In The Kitchen," "Don't Tell My Mom," and "Tattoos." Each was released with an accompanying music videos, lyric videos, and acoustic versions. While her music tends to be more earnest than the general tone of "The Sex Lives of College Girls," the video for "In the Kitchen" certainly has a sense of humor — its energy is sort of like "Don't Worry Darling" except funny on purpose.  
Alyah Chanelle Scott (Whitney Chase)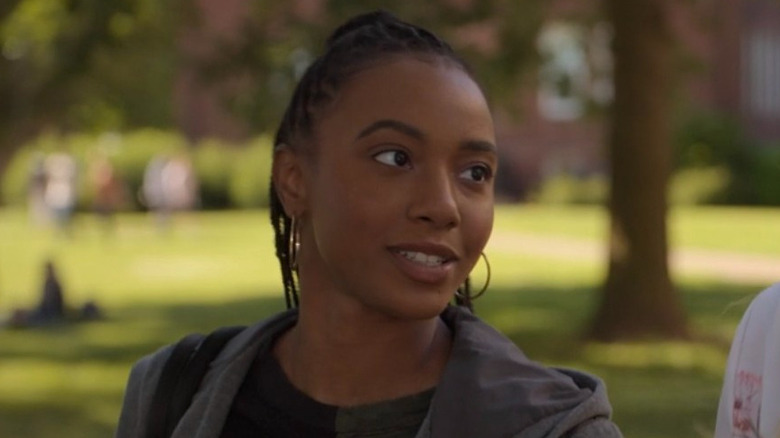 HBO Max
"The Sex Lives of College Girls" is Alya Chanelle Scott's first TV show. Her portrayal of the soccer star Whitney is unapologetically passionate. Whitney tackles a tricky relationship with the coach of her soccer team, who happens to be married. Scott is proof that it doesn't take a seasoned TV thespian to pull off slightly soapy TV drama. 
Before playing Whitney, Scott starred in the short "Walk Off" in 2019 where she starred at high school senior McKenna. The coming-of-age film tackles the struggles of getting into college, the daunting future, and the relationship between a father and son, all in 34 minutes. Scott took her talents to the stage in 2020 when she joined "The Book of Mormon" for a national tour and played the converted Nabulugi. Scott also stars in Hulu's comedy "Reboot," which follows a rebooted sitcom that returns to the air several years after the end of its original run. Despite being new to the acting game — well, new compared to most actors who star in HBO shows, anyway — Scott has proved herself and viewers should look forward to seeing more of her as her career progresses.
Midori Francis (Alicia)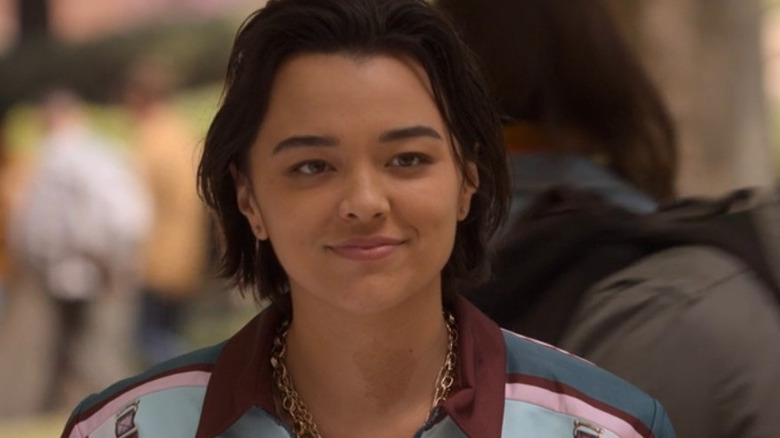 HBO Max
Midori Francis has accumulated a number of roles in widely seen series and films since she registered her first official IMDb credit in 2015. She's probably one the most famous faces currently on "The Sex Lives of College Girls" even if she isn't one of the primary four leads. Francis plays Alicia, a friend and mentor figure to Leighton at the women's center of Essex College. 
Her earliest roles include single-episode appearances in shows like Hulu's "Younger," Fox's "Gotham," and HBO's "Divorce." Between 2018 and 2020, Francis moved into movies and is credited in "Ocean's Eight," "South Mountain," and "Good Boys." As Francis moved up in the acting world, she appeared in larger roles and longer episode arcs in household shows. Viewers may recognize her as one of the title characters from Netflix's 2020 YA adaption "Dash and Lily." As of the 2022 season, Francis plays Dr. Mika Yasuda on "Grey's Anatomy," one of ABC's most watched shows. So if you're wondering where you've seen Francis before, there's also a high possibility that you're one of the millions (billions?) of "Grey's Anatomy" fans.
Gavin Leatherwood (Nico)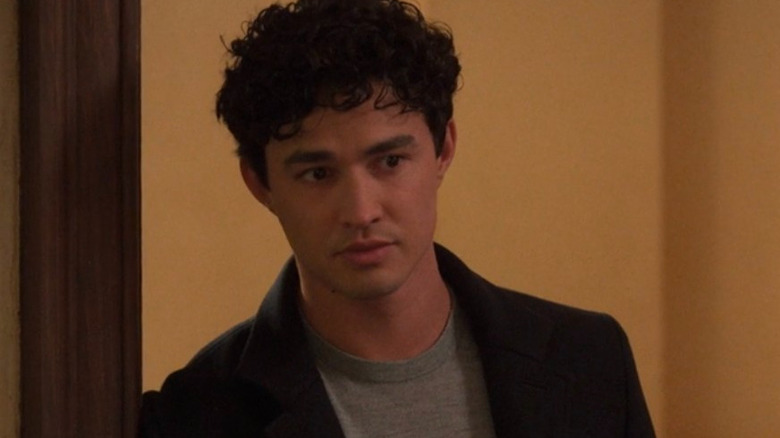 HBO Max
It's not easy to forget Gavin Leatherwood's role in "The Sex Lives of College Girls." Leatherwood plays the swooning Nico Murray, Leighton's older sibling who also attends Essex College a year or so ahead of the core group. Nico quickly becomes the apple of Kimberly's eye, but she has trouble figuring out where she stands with him.
Before his time on "The Sex Lives of College Girls," Leatherwood was probably most widely known for his time as Nicholas Scratch in Netflix's "Chilling Adventures of Sabrina" as a love interest to the teenage witch Sabrina. Aside from playing the love interest to a leading lady, Leatherwood can also be spotted making smaller appearances in shows like Freeform's "Grown-ish" and Netflix's "My Dead Ex." Like several of his "The Sex Lives of College Girls" co-stars, he is credited in several shorts in between his time on larger TV series. These include "APPyness," "Washington and Vine," "When We Were Young."
Mekki Leeper (Eric)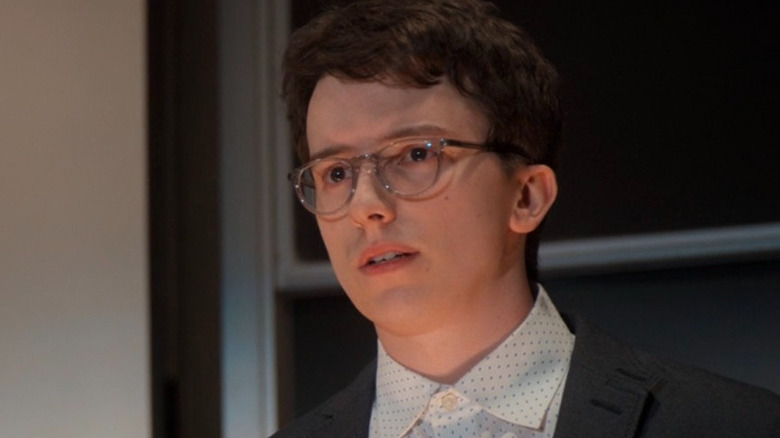 HBO Max
Mekki Leeper makes his mark in "The Sex Lives of College Girls" as Eric. In earlier Season 1 episodes, Eric plays it tough as an editor for Essex College's Catullan comedy magazine and best friend to co-editor Ryan (Conor Donnally) but tends to lighten up as the story progresses.
While "The Sex Lives of College Girls" is arguably his biggest credit, Leeper appears as an unnamed waiter in a 2018 episode of Fox's "New Girl." He was also in the 2020 live stream sketch comedy show "Two Joysticks and a Couch." 
Even though you can't technically "see" him working behind the camera, it's worth noting that Leeper also has experience in the writer's room and in the director's chair. He is credited as the writer and director of 2014's "Mag Mell," a horror-thriller film about two diplomats being held hostage. Leeper's comedic writing landed him spots writing for Comedy Central's 2019 iteration of "Crank Yankers" and the 2017 White House Correspondents' Associate Dinner.
Conor Donnally (Ryan)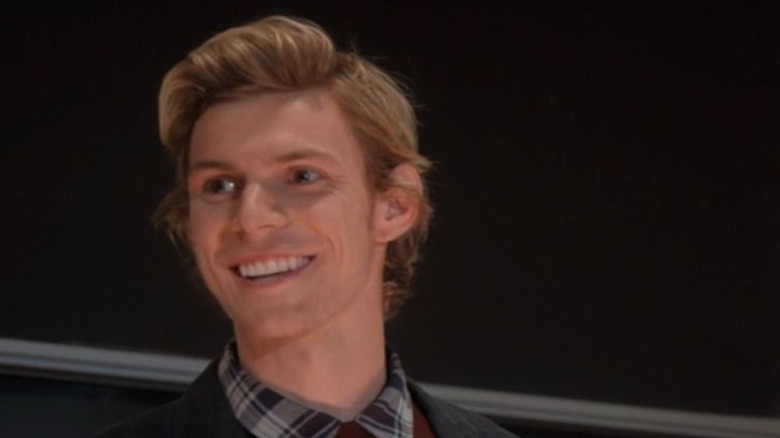 HBO Max
During Conor Donnally's time on "The Sex Lives of College Girls," his character, Ryan has become one of our least favorite people to walk the halls of Essex. Ryan is a lead editor of the Catullan magazine but uses his place of power to make several aggressive and unwanted advances toward Bela.
Thankfully, Donnally isn't always playing sleazy characters. Starting back in 2017, Donnally's credits includes a variety of films, TV series, shorts, and music videos. He landed a starring role in "Hooked" where he played Jack, an unhoused sex worker. Coming off a lead role, Donnally is credited for shorter appearances in shows such as Fox's "American Horror Story," Hulu's "Lodge 49," and the mini-series "Dude, Where's My JUUL?"
We can't forget about those music videos, of course. IMDb credits Donnally in two music videos – "I Wanna Be Brand Pitt" by Bowling for Soup and "Smoke Two Joints" by Sublime. Considering Donnally was born a year after the song "Smoke Two Joints" was released in 1992, we're presuming this was a tribute project of some sort, unless the cast of "The Sex Lives of College Girls" can travel back in time. Which is impossible ... or is it?   
Christopher Meyer (Canaan)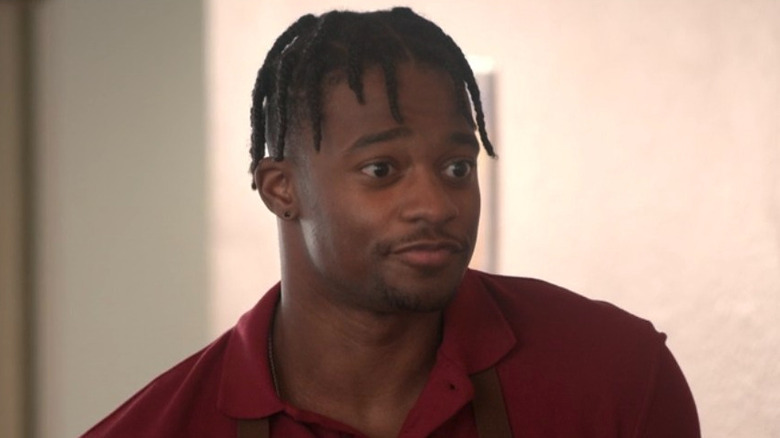 HBO Max
Christopher Meyer's character, Canaan, is an easy fan favorite. Canaan works with Kimberly at the campus coffee shop and often provides a refreshing break from the problems of the core group with his witty attitude. 
Meyer's on-screen career goes back to 2012 when he landed a 15-episode arc on ABC's "General Hospital," the longest running medical soap opera on TV. In the years after, he been on several popular shows like TNT's "Perception," The CW's "iZombie," and CBS's "Code Black." His career continued with larger roles and longer stretches in series as Fox's "Wayward Pines," CBS's "NCIS: New Orleans," Freeform's "The Fosters," and Showtime's "The Affair."
While Meyer's credits mostly consist of TV shows, he accumulated roles in the films such as 2016's "Kicks," where a group of kids go on a mission to retrieve a pair of stolen Air Jordans; "Wolves," a movie about an aspiring athlete's hopes of getting into college that came out the same year, and 2020's "All Day and a Night" where a young man is forced to deal with the consequences of a murder he committed. 
Jillian Armenante (Coach Woods)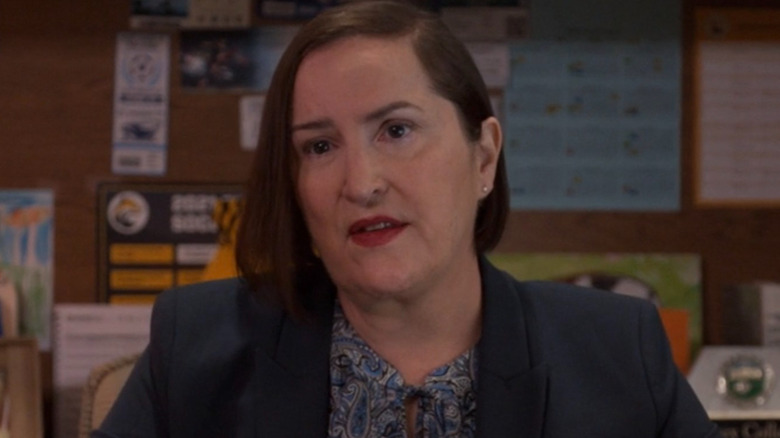 HBO Max
Jillian Armenante's casting as coach of Whitney's soccer team falls right into her repertoire. 
Armenante has amassed over 70 acting credits along with a handful of producer and director credits since the early '90s. In 1999, she got her first big recurring role in Hallmark's "Judging Amy" starring Amy Brenneman of "The Leftovers" fame. The wholesome "Judging Amy" follows mothers and daughters as they tackle the woes of life, single-parenthood, and career drama. Viewers may also remember Armenante when, back in 2006, she played the wife of a patient on "Grey's Anatomy." Her two-episode arc on the medical drama is probably memorable because her character's husband was one of the show's first big plot shocks — the bazooka shell in the body cavity that nearly takes out several main characters. 
Since then, Armenante can be spotted in well-known and beloved shows like Fox's "New Girl," AMC's "Better Call Saul," and Freeform's "The Fosters." The actress' most noteworthy credit as a producer and director is the film "Stuck."
Rob Huebel (Henry Murray)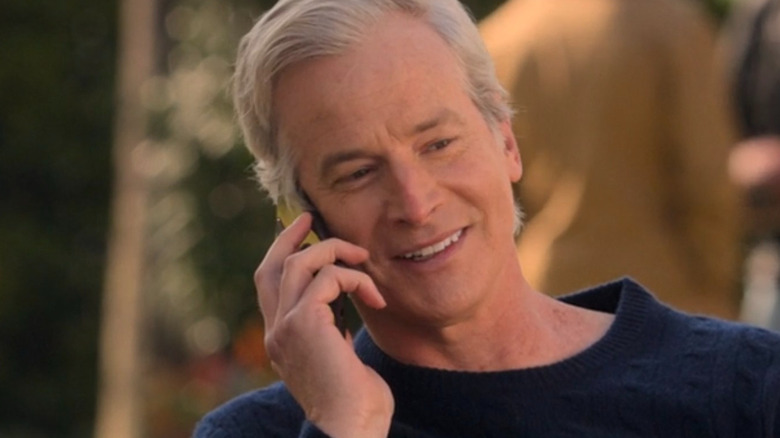 HBO Max
Rob Huebel plays Leighton's father in "The Sex Lives of College Girls." Henry Murray sends his daughter off to his alma mater as a very proud, but sometimes overly worried father. 
As one of the more seasoned actors of the show, it's not surprising that viewers might recognize Huebel from a variety of other TV series and films. Popular shows to host Huebel include the animated family comedy "Bob's Burgers," where he voices a variety of characters; ABC's "The Goldbergs" where he plays John Calabasas, and a few episodes of ABC's "Black-ish."
Huebel's comedic talents shine as Dr. Owen Maestro in the ridiculous medical mini-series from Netflix, "Medical Police." Two members of a secret branch from the CDC are tasked with hunting down criminals and solving medical-oriented crimes. But a mysterious virus threatens to wipe out the world population and the only two people to stop it seem severely unprepared. Movie-goers are likely to remember seeing Hubel in "I Love You, Man," "Seeking a Friend for the End of the World," and "The Other Guys."
Nicole Sullivan (Carol Finkle)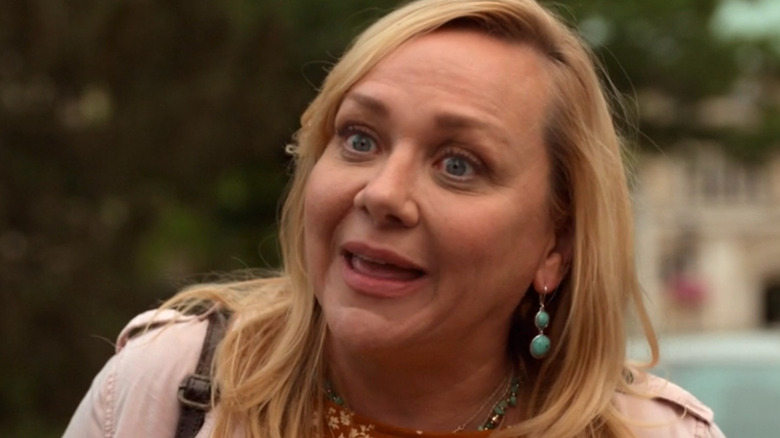 HBO Max
Nicole Sullivan is long-established in voice acting as well as regular ol' in-person acting. In "The Sex Lives of College Girls," she plays Kimberly's supportive and loving mother Carol Finkle. Her face is familiar, but if you were a kid in the early 2000s, you'll easily recognize her voice acting from some of these other shows. 
Through the original show, movie reboots, and some video games, Sullivan was the tried-and-true voice of Shego in the "Kim Possible" universe. She was also Mira Nova in "Buzz Lightyear of Star Command" and Joan of Arc in "Clone High." She's had a few major ongoing live action parts namely her stint as Holly in "The King of Queens" that primarily lasted from 2001 to 2005 and her extensive tenure as a member of the cast of the sketch comedy show "MADtv" from the mid-'90s into the early 2000s. She's also been on"CSI," TNT's "Leverage," and NBC's "Scrubs."
In recent years, Sullivan's credits have shifted back into voice acting for a both a younger audience and adult animation. She starred as Marlene in "The Penguins of Madagascar" and as Supergirl through the "DC Super Hero Girls" universe. She also pops up in guest appearances in "Family Guy," ABC's "Black-ish," and Fox's "HouseBroken."