Why Pauline Chalamet Is Comparing The Sex Lives Of College Girls To Sex And The City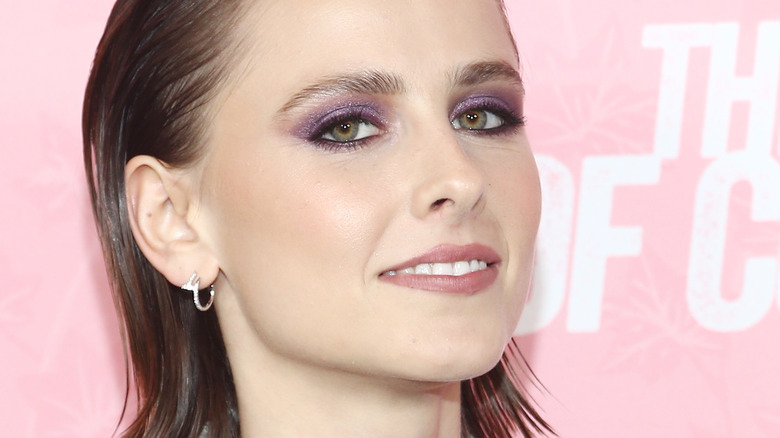 Tommaso Boddi/Getty Images
Created by Mindy Kaling and Justin Noble, "The Sex Lives of College Girls" premiered its first season on HBO Max in November of 2021. The series was then renewed for a second season just one month later. Thus we can expect at least one more season of the sexual exploits of our four college protagonists (via Deadline). The series follows four college roommates — small town girl Kimberly (Pauline Chalamet), aspiring comedy writer Bela (Amrit Kaur), wealthy legacy student Leighton (Reneé Rapp), and senator's daughter and star soccer player Whitney (Alyah Chanelle Scott) — as they navigate the first year of college, including the exploration of dating, sex and relationships.
When you hear a premise about four women's sex lives, it's likely that "Sex and the City" may come to mind. The groundbreaking HBO series showcased the dating lives of Carrie (Sarah Jessica Parker), Samantha (Kim Cattrall), Miranda (Cynthia Nixon), and Charlotte (Kristin Davis) for six years from 1998 to 2004 (and, again, with the 2021 revival "And Just Like That ...").
Well, as it turns out, at least one of the cast members of "The Sex Lives of College Girls" also sees the comparison — Pauline Chalamet.
Chalamet says there's one way in which the shows are very similar
During a December 2021 interview with Entertainment Tonight, Pauline Chalamet was asked what she thinks of the comparisons between "The Sex Lives of College Girls" and "Sex and the City." Chalamet said she agreed with the comparison — especially in one regard. Chalamet said, "One thing where there is something really cool and similar is that we're talking about four very distinct characters. And I think that our show does a really good job of four different, distinct characters. And we can all relate to each other in different ways, but I love that."
Fans of "The Sex Lives of College Girls" definitely know that the four main characters couldn't be more different from one another. Kimberly is shy and awkward without much sexual experience (at least at the show's start), while Bela is highly outgoing, loves making jokes, and is exceptionally sex-positive. Leighton, meanwhile, sticks out from the group with her often-judgmental and uppity attitude, while Whitney is more warm and welcoming. Plus, there are the differences in their backgrounds — for example, Kimberly grew up in a small town and has to take a work-study job to pay for her college life, while Leighton grew up in New York City and comes from a super wealthy family.
"Sex and the City" also sees a lot of differences between the four central characters, such as the fact that Samantha couldn't be any more comfortable with sex. At the same time, there are many topics relating to sex that Charlotte shies away from.
Kaling has addressed the comparisons as well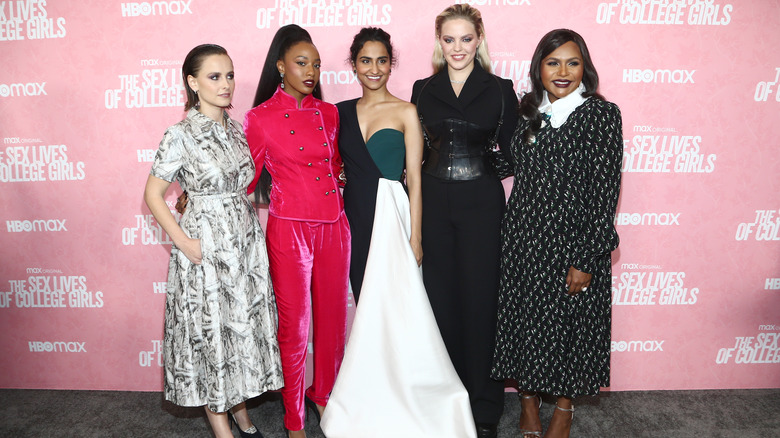 Tommaso Boddi/Getty Images
In the same interview with Entertainment Tonight, the interviewer asked Mindy Kaling what she thinks of her show being compared to "Sex and the City." 
Kaling said, "That show is iconic; I've watched every episode ... One thing that they've nailed was just these authentic friendships between women." The creator then explained how the two shows differ from one another in how they explore friendship. Kaling continued, "In that show, they came in as friends already, and, you know, in our show, we wanted to do four people who would never have been friends with each other and see how they warm up to each other and learn to really depend on and rely on them emotionally."
Kaling concluded by noting that she took inspiration from how "Sex and the City," despite being a show about sex and fashion, was able to explore more serious topics as well.