Mindy Kaling Dishes On The Real-Life Inspiration For The Sex Lives Of College Girls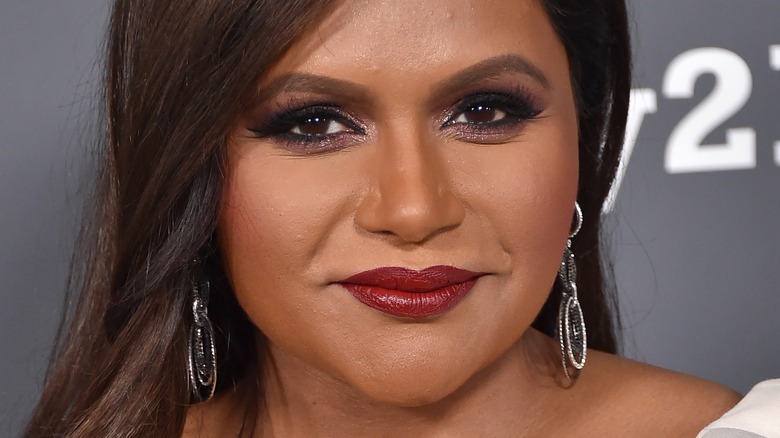 DFree/Shutterstock
Fans of Mindy Kaling's "The Sex Lives of College Girls" can't wait for the upcoming second season. An immediate hit for HBO Max, it debuted in November 2021 and went down well with fans and viewers alike. HBO was quick to confirm that a second season had been greenlit, tweeting about the renewal on December 7. Despite the challenges of filming both seasons during the COVID-19 pandemic, production on Season 2 has already wrapped, per showrunner Justin Noble's Instagram.
The hilarious series follows four roommates at the prestigious (fictional) Essex College in Vermont. Whitney (Alyah Chanelle Scott) is a rising soccer star and senator's daughter having an affair with her married soccer coach; Bela (Amrit Kaur) is a writer of color navigating the sexist world of standup comedy; Kimberly (Pauline Chalamet — Timothée's sister) is a valedictorian struggling to keep her scholarship; and Leighton (Reneé Rapp), a wealthy Manhattanite raised Republican, struggles with her sexuality amid her internalized homophobia.
Skewed older than Kaling's other current show "Never Have I Ever," which has been a big hit with Netflix subscribers, the show "tackles the challenges of being a young woman in college," as Kaling told Elle. "College campus life is fascinating; we did a lot of research on it. It's such a hotbed for activism, and it can be a really scary place, too." Kaling maintains that she and Noble explored the college experience through "the lens, as I always do, of comedy and diversity." And there's real-life inspiration for the show, too.
The Sex Lives of College Girls is partially based on Mindy Kaling's real experiences
All the characters in "Never Have I Ever" have a little bit of Mindy Kaling in them, and "The Sex Lives of College Girls" is no different. Speaking to Elle, the writer-actor-producer revealed that the show is partially based on her own life experiences. "It's an amalgam of a lot of different experiences that me and my co-creator, Justin Noble, had," Kaling told the women's mag. Both writers went to Ivy League schools, with Noble attending Yale and Kaling going to Dartmouth. During her time at the famous institution, the future star drew a cartoon for the school paper that seems almost prescient now.
In an interview with The Knockturnal, Kaling revealed how her Dartmouth days informed her latest hit show. "I went to college on the East Coast, and I loved that experience," she said. "It's really specific and I had not seen that yet on TV." But, while it was based on real life experiences, the show is also a bit of wish-fulfillment for the creators. "My college experience was as a closeted gay boy who had next to no sex," Noble told Collider. "I was the guy sitting there wanting to hang out with my female friends and know everything they were up to, and that's continued since college."
It's not only Kaling and Noble that bring "The Sex Lives of College Girls" to life, however. It's been a while since they were in school, so it was imperative they filled the writers' room with young, diverse voices. "I was a real wallflower and I needed younger people who knew what young people are like now in college," Kaling added. "I just didn't want it to seem like, this woman is so out of touch."
The Naked Party is a real tradition from Justin Noble's college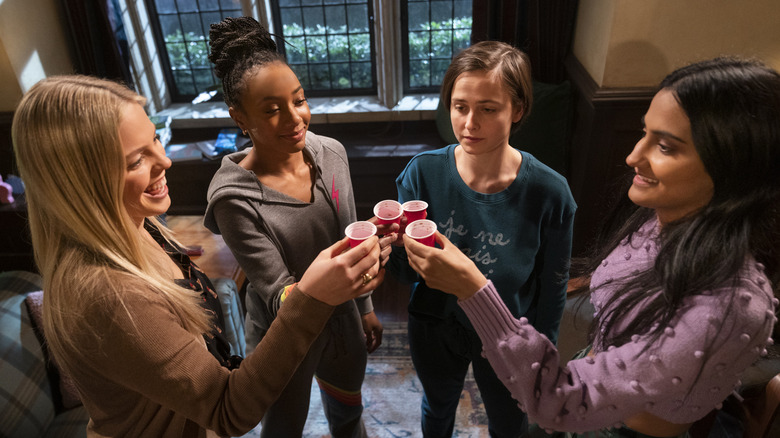 HBO Max/Jessica Brooks
As the title implies, "The Sex Lives of College Girls" is very sex-positive. The characters we see on screen are a lot more adventurous than Mindy Kaling was when she went to school, she admitted during an interview with Entertainment Tonight. "I grew up very repressed, so this show is so sexy and sexual," she said. "There are things that shock me and I'm the creator of the show!" Nothing that makes it into the show is "just shock for shock value," however, and most of it has a basis in reality. "I think people will feel it's relatable," Kaling added.
One of those real-life, sex-positive (and shocking) experiences captured in the show came from Justin Noble's own college experience. "It's a tradition at Yale, where I went to school, that they do these naked parties and they act like it's so normal, but everyone is just pretending," he told Collider. "No one in their right mind would think it's normal, but everyone's like, 'It's great. We just don't have clothes on.'" They decided during their first meeting to incorporate this bizarre tradition into the show, and it ended up appearing in the second episode.
Filming that party scene, while a little bizarre, was also very enlightening. "I found the show very titillating and fun," Kaling told Collider, adding that, despite the cast being younger than her, she "learned so much" from them. "Every day, I felt like I was learning something new," she revealed. "Some things horrified me, and some didn't. More than any show, just what we learned every day, anthropologically, was interesting."