The Sex Lives Of College Girls Season 2 - What We Know So Far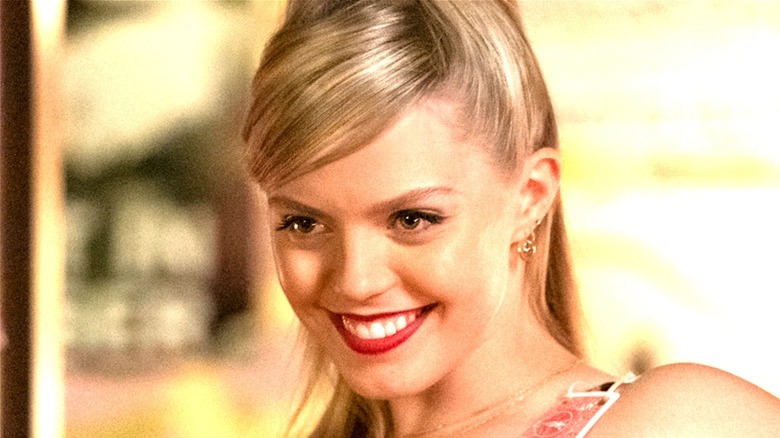 HBO Max
The comedy-drama series "The Sex Lives of College Girls" premiered on HBO Max in late November and wrapped up its first season on December 9 — but not before being renewed for a second season (via The Hollywood Reporter).
Created by Mindy Kaling and Justin Noble, "The Sex Lives of College Girls" follows four 18-year-old roommates at the fictional Essex College as they navigate their newfound freedom, including the freedom to explore their sexuality. There's Kimberly (Pauline Chalamet), a work-study student from a small town who begins her freshman year freshly dumped by her high school boyfriend. Bela (Amrit Kaur) has two major goals for the year: get accepted into the college's comedy magazine and have a lot of sex. Whitney (Alyah Chanelle Scott) is a senator's daughter and a star soccer player having an affair with her married soccer coach. And then there's Leighton (Reneé Rapp), a wealthy legacy student from New York who finds herself unable to come out as a lesbian, which gets in the way of her budding relationship with another student.
Throughout the 10 episodes of Season 1, we get to see this foursome face plenty of tribulations in their first few months of college — from sexual harassment in the workplace to relationship woes to an academic cheating scandal. We also got to see the four women grow closer and support one another throughout these hardships. Naturally, fans of the show are already eager for more following a wild cliffhanger at the end of Episode 10, "The Truth." 
So, what do we know so far about the newly announced second season of "The Sex Lives of College Girls"?
Updated April 5, 2022: This article has been updated to include information regarding Gavin Leatherwood's departure from "The Sex Lives of College Girls."
When will The Sex Lives of College Girls Season 2 be released?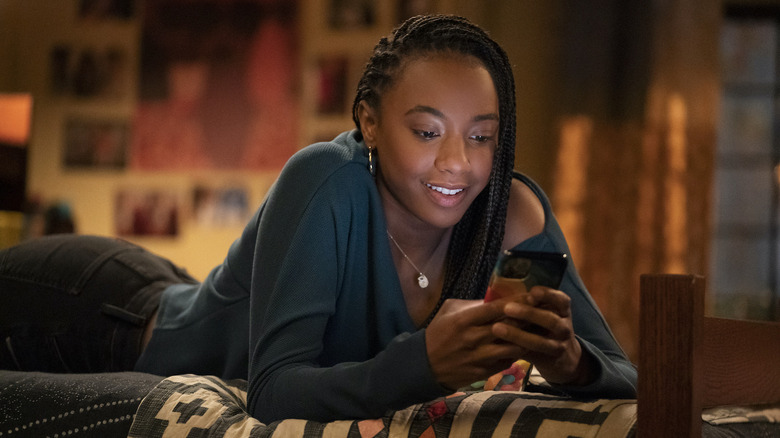 Courtesy of HBO Max
At the time of writing, there is no news on when we can expect HBO Max to release the second season of "The Sex Lives of College Girls." The series renewal was announced on December 7, just two days ahead of the release of the series finale on December 9. Considering not much time has passed since the announcement, it makes sense that we wouldn't yet have any more information on when production will begin for Season 2.
For now, we can look at another HBO Max original series, "Love Life" — which has released two seasons thus far — to speculate as to when we may get the next set of episodes of "The Sex Lives of College Girls." The first season of "Love Life" aired its final episodes on June 11, 2020 — the same day we learned the streamer renewed the show for a second season (via The Wrap). Then, the next season premiered a little over a year later, on October 28, 2021.
Keep the similarity of the renewal timing and release dates in mind, we can expect to see "The Sex Lives of College Girl" Season 2 in approximately one year, although that is a flexible estimate. Thus, a potential release date is looking to be either late 2022 or early 2023, depending on when production begins for the next season. If production begins right at the start of the new year, it's definitely more likely we'll see new episodes before the year is over.
Of course, fans of the show are itching to get those new episodes as soon as possible — but we'll just have to wait and see when production starts to speculate about the release date further.
Who will be in the cast of The Sex Lives of College Girls Season 2?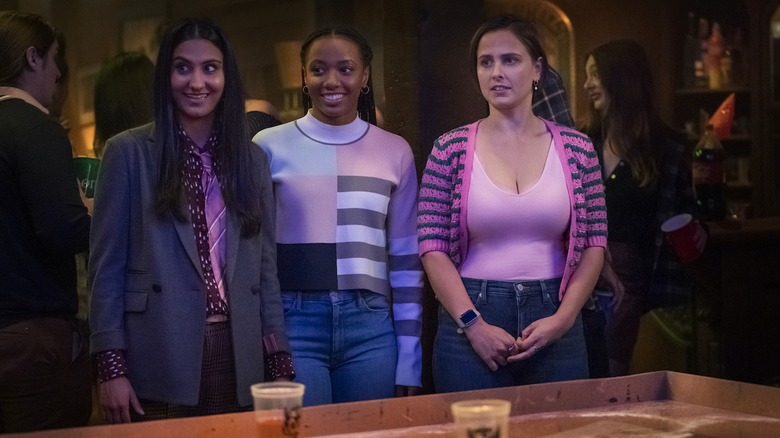 Courtesy of HBO Max
We can certainly expect our four leads — Pauline Chalamet as Kimberly, Amrit Kaur as Bela, Reneé Rapp as Leighton, and Alyah Chanelle Scott as Whitney — to return for Season 2. Season 1 left all four characters with open-ended storylines, ready for their arcs to continue into the next batch of episodes. Notably, "The Sex Lives of College Girls" marks the first major on-screen roles for each of these four stars.
Along with the central quartet, other actors we can expect to return include Midori Francis, Ilia Isorelýs Paulino, Chris Meyer, and Renika Williams. Leighton's brother, who begins a sexual relationship with Kimberly (despite his having a girlfriend). Francis plays Alicia, Leighton's love interest, who struggles with Leighton still being in the closet. Paulino and Meyer play Kimberly's coffee shop coworkers, Lila and Canaan — the latter of whom begins dating Whitney at the end of Season 1. And Williams plays Willow, a friend and teammate of Whitney's. Additionally, a few of Bela's fellow comedy writers from The Catullan will likely show up — these actors include Mekki Leeper as Eric and Sierra Katow as Evangeline.
Sadly, as he confirmed to Us Weekly, Gavin Leatherwood, who played Nico in Season 1, will not come back, citing his desire to try out other creative ventures instead. On the other hand, we can likely expect the girls' parents to make more guest appearances in Season 2. The actors playing the characters' parents include Sherri Shepherd as Whitney's mom, Senator Evette Chase; Rob Huebel as Leighton's father (and Essex alum) Henry; Nicole Sullivan as Kimberly's mother Carol; and Mueen Jahan and Kavi Ramachandran Ladnier as Bela's parents, Nevaan and Reena.
What is the plot of The Sex Lives of College Girls Season 2?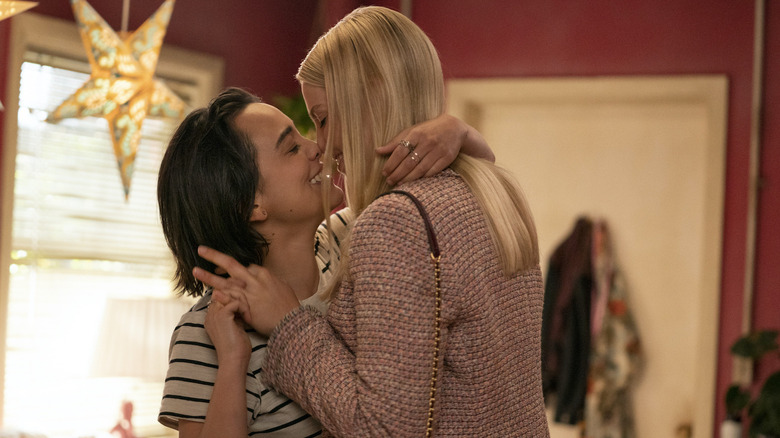 Courtesy of HBO Max
In the final Season 1 scene, Kimberly (Pauline Chalamet) reveals she is not expelled after she is caught cheating on her exam, but she does lose her scholarship. Throughout the season, Kimberly struggles with money. Her working-class roots mean the only way she affords to go to Essex is by participating in a work-study program that, along with that much-needed scholarship, keeps her afloat. Now, she has to find upwards of $20,000 a semester in order to stay in school.
Meanwhile, Leighton (Renée Rapp) and Alicia (Midori Francis) break up due to Leighton's resistance to come out. In the aftermath of the breakup, a heartbroken Leighton finally shares her truth — to Kimberly. In the next season, we can expect this Essex legacy to continue to confront her reasons for wanting to stay in the closet, hopefully with Kimberly by her side to support her.
Bela successfully gets Ryan (Conor Donnally) kicked out of The Catullan after he sexually harasses her twice. Despite this win, she faces animosity from male staffers, prompting her to quit. Afterward, two female writers from The Catullan quit, too, and pitch Bela on starting their own women's comedy magazine, so that will likely pan out in Season 2. Plus, a potential romance between Bela and Eric (Mekki Leeper) is teased in the finale.
Finally, Whitney (Alyah Chanelle Scott) admits to her mom that she is the one who had an affair with her coach (James Morosini). She has also recently started seeing Kimberly's co-worker, Canaan (Christopher Meyer), so we can likely expect their relationship to pick up in the next season. We can't wait to see what Season 2 of "The Sex Lives of College Girls" brings for Kimberly, Leighton, Bela, and Whitney.