Longtime Grey's Anatomy Fans Agree That The Show Has Found Its New Cristina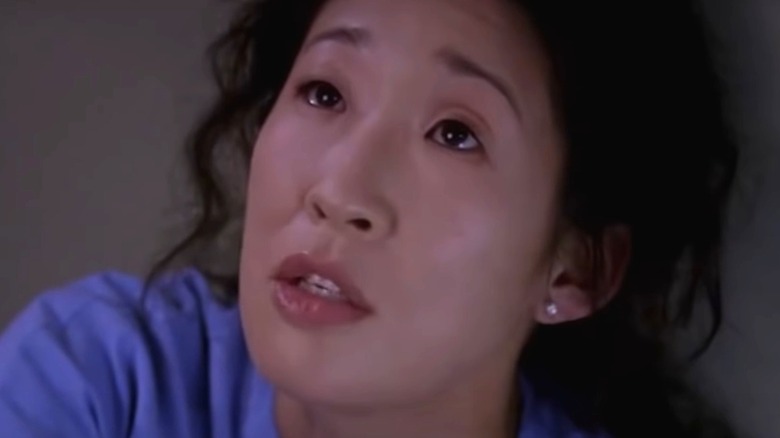 ABC
For many veteran "Grey's Anatomy" fans, the true original heart of the show is none other than Sandra Oh's Dr. Cristina Yang. With exceptional intelligence, a passionate spirit, and a startlingly dark wit, the medical professional stands as many fans' favorite character to ever appear on the show, even to this day. That makes it all the more heartbreaking to watch when Cristina exits the series at the end of Season 10. Of course, the show would continue on with plenty of other fan-favorite characters, but even eight seasons later, it's never quite managed to fill the sardonic void that Cristina left — at least, until now.
The "Grey's Anatomy" Season 19 premiere introduces a sizable cast of new interns to the hospital drama's main cast. Each of these fresh characters have intriguing personalities and backstories, such as Niko Terho's Lucas, whose shocking backstory revelation had fans in tears. However, there's one recruit that has immediately stood out to longtime fans of the series for reminding them of Cristina in the best possible way.
Mika reminds fans of Cristina
Among the new faces in the "Grey's Anatomy" Season 19 cast, medical intern Mika Yasuda (Midori Francis) has caught fans' attention for echoing a lot of what they love about Cristina. Notably, Mika professes to "have a dark sense of humor," which is definitely in-keeping with the Grey Sloan Memorial veteran.
"My fave of the group," @JY26 tweeted in reference to Mika. "Christina Jr." Other users similarly noted parallels between the two characters. "I guess we know who's going to be this season's twisted sister," @photoswiftie97 tweeted, referring to the duo name of Meredith Grey and Cristina.
It's no coincidence that Mika and Cristina possess common elements. While some "Grey's Anatomy" actors have never watched the show, Francis told Entertainment Tonight that was she was a fan growing up and was inspired by Sandra Oh's performance. "That character and seeing her, especially in the town I grew up in New Jersey and what I was seeing on TV at that time, it was not [every day] an Asian actor was so present, had so much screen time and was so messy and so good," she said. "Everyone loves Cristina Yang and that was a big deal for me as an actor."
While it remains to be seen how Francis' Mika charts her own path on "Grey's Anatomy" and in which ways she'll parallel or diverge from the legacy of Cristina, it's certainly nice for fans to have that trademark twisted wit back on the team.