Baby Groot's Designer Anthony Francisco Explains The Personal Inspiration Behind The Classic MCU Character - Exclusive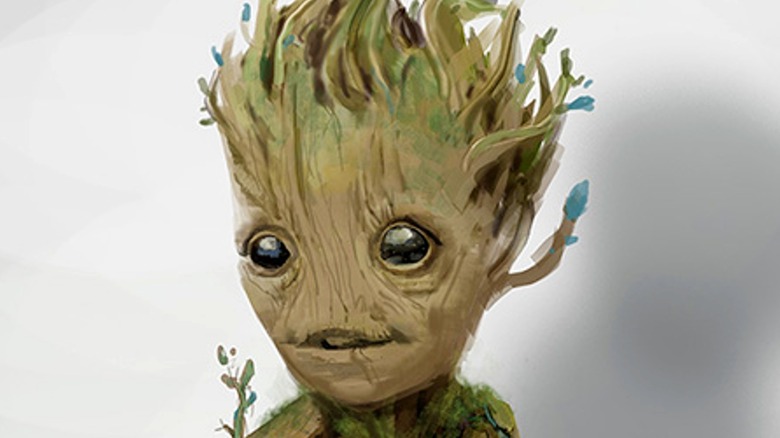 Anthony Francisco Art
As a senior artist with Marvel Studios' Visual Development Department for nearly nine years, Anthony Francisco had the life-changing opportunity to design the look for several key characters and scenes in the MCU. As such, Francisco's influences are spread throughout several chapters in Marvel's sprawling superhero saga, including three "Thor" films, "The Avengers" chapters "Infinity War" and "Endgame," the first two "Ant-Man" films, and its upcoming threequel "Ant-Man and the Wasp: Quantumania."
In addition, Francisco designed the look of Dora Milaje — the fierce group of female warriors — for "Black Panther" and conceptualized the look of the legendary Marvel character Namor, the chief nemesis in the upcoming "Black Panther: Wakanda Forever." But no design is closer to Francisco's heart than Baby Groot for "Guardians of the Galaxy: Vol. 2."
Francisco's work with Marvel began in 2014 on the blockbuster "Guardians of the Galaxy" for writer-director James Gunn. Of course, one of the most emotional moments in the film comes when the giant tree-like alien, Groot (voice of Vin Diesel), sacrifices himself to save his fellow Guardians. All was not lost, though, as a stick limb from Groot was nurtured to grow into a new version of the character, and in 2017's "Guardians of the Galaxy: Vol. 2," Francisco's design concept of a young version of Groot — appropriately dubbed "Baby Groot" — materialized on the big screen. In an exclusive interview with Looper, Francisco revealed that he didn't have to look any further than his own home to find inspiration to create the beloved character.
Baby Groot is modeled after Francisco's son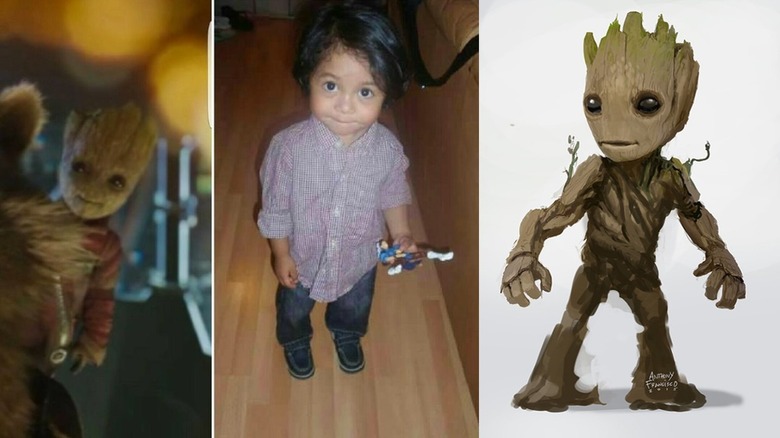 Anthony Francisco Art
Anthony Francisco, who is of Filipino heritage, said he tries to work personal elements from his life and culture into every one of his designs. In the case of Baby Groot, it was Francisco's young son whom he modeled the character after. "When I think about my son at that young age — almost like the size of what Groot could be — he was 3 or 4, was not that tall and moved the way the character moves," Francisco recalled. "It all made a lot of sense."
Before he arrived at the conclusion of designing Baby Groot in his son's likeness, Francisco said he tried to imagine other toddlers to model the character after, "but they were not proportioned like my son — the designs had an awkwardness to them."
"[I was saying to myself, 'I don't think] they can't dance,'" Francisco said. "I had to make it work because James [Gunn] said, 'This is going to be the best opening sequence you would ever get because this guy's going to be dancing around.'"
Luckily for Francisco, his son had all the right moves. "Watching my kid dance was also an important part of it," Francisco explained. "When I design stuff, I have to take into consideration the movement of the character, how the form follows function, and how it would work."
The Balete Tree in the Philippines also inspired Baby Groot's design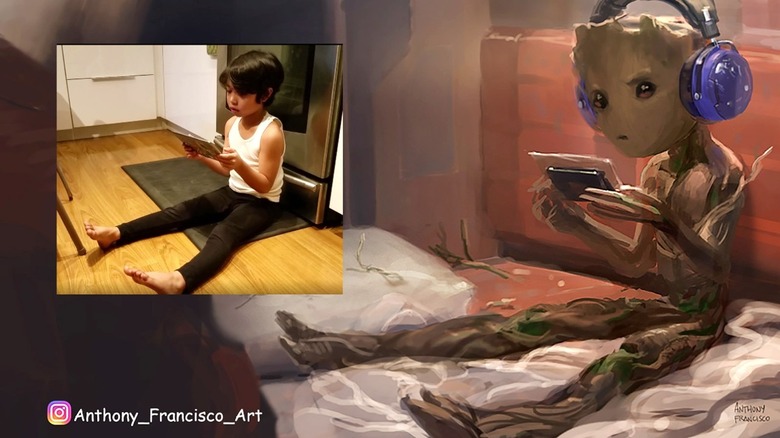 Anthony Francisco Art
In addition to Baby Groot, Teen Groot — whom Anthony Francisco also designed — includes elements of the artist's Filipino culture.
"Most of my designs have a touchstone of the Filipino elements that I've grown up with, either visually or in stories. It's always something I gravitate to when trying to get inspired," Francisco noted. "For Baby Groot, in particular, it was for the textures. I could have used any tree, maybe, but I clearly remember these roots coming down from the Balete Tree and how that actually fits to anatomy a lot better. You put the plates on top — the little bark plates to cover it up — it was a natural progression from my kid being the inspiration for Baby Groot to elements from the Balete Tree. I'm really happy it came out the right way."
Anthony Francisco is currently working on his new multimedia project, "Creature Chronicles." Fans can follow his work on his website, Twitter, and Instagram.