12 Terrifying Shows Like SyFy's Chucky To Watch Next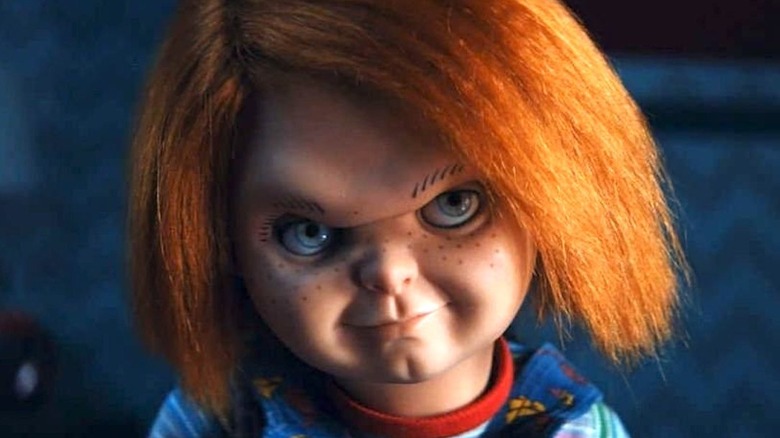 SyFy/USA Network
The 1988 slasher film "Child's Play" put a new spin on an old formula, with a diminutive doll at the center of a blood-soaked and wickedly comedic horror film. The film went on to become the genre's newest franchise, spawning a series of sequels that continued into the 2000s. A reboot in 2019 reinvigorated the franchise, but despite its success, the decision was made to return to the continuity of the earlier films when a TV series was greenlit a year later.
The eponymously titled "Chucky" was developed by Don Mancini, who had been a writer on every "Child's Play" film before the reboot. Actor Brad Dourif returned to voice the deranged doll, who turns up decades later in a small town and whose demonic presence sparks waves of death and destruction. Meanwhile, the series serves as both a sequel and a prequel, with a flashback story that explores the origins of Chucky himself and the human killer whose soul inhabits his body. 
Debuting in 2021, "Chucky" has been met with raucous applause for its twisted violence, black comedy, and gothic atmosphere. Whether you're a longtime "Chucky" stan, or a newcomer to the series, maybe you're looking for something new that captures the same feeling as the SyFy slasher. Well look no further, because we've found some new lil buddies for you.
Ash vs Evil Dead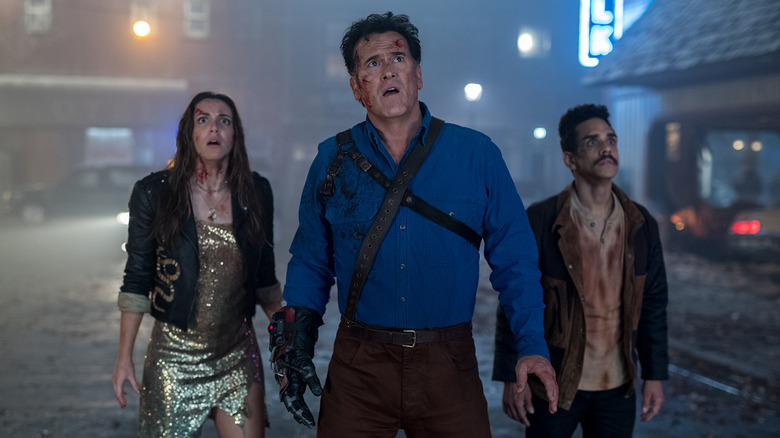 Starz
The most obviously comparable for SyFy's "Chucky" is "Ash vs Evil Dead." In addition to being a small-screen supernatural horror slasher full of demonic possessions, black comedy, and buckets of blood, the series is also a revival of a classic '80s franchise. Like "Chucky," "Ash vs Evil Dead" is not quite a reboot, but instead a direct continuation of the "Evil Dead" film series that eschews connections to a more recent reboot. Similarly, the original film's star, Bruce Campbell, is back in the title role, this time more than 20 years after the last film.
Series creator Sam Raimi is also back to oversee the continuing adventures of the chainsaw-handed Ash, who in the intervening years has done almost nothing with his life. When we meet him again, the now-aging Ash is a stock boy at a local store called Value Stop, and in his off hours he's a simple slob slurping beer in a trailer. But when a new danger rises, Ash is joined by his friends Pablo (Ray Santiago) and Kelly (Dana DeLorenzo), who force him off the couch to do battle with a horde of Deadites who've returned to destroy mankind.
A totally unexpected TV relaunch that recaptured the magic of the original, "Ash vs Evil Dead" landed to universal acclaim from critics and fans who lauded its return. Running for three mighty seasons, it may be one of the best horror TV shows of the decade.
The Haunting of Bly Manor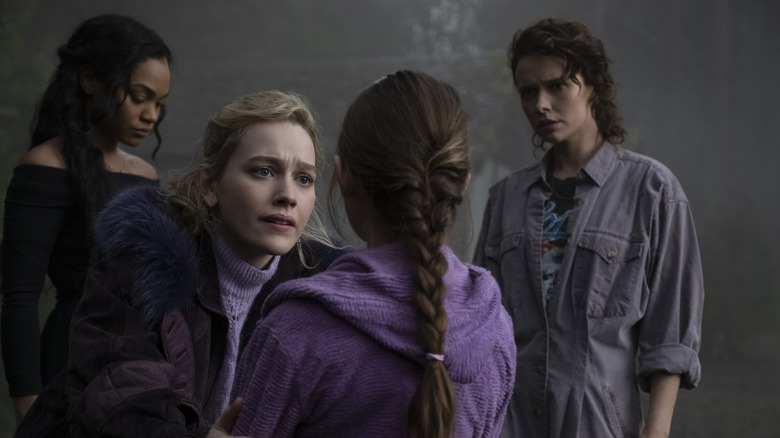 Netflix
If you don't mind ditching all of the dark comedy and focusing on the horror elements in "Chucky," you'll probably enjoy "The Haunting of Bly Manor." A spiritual sequel to the 2018 miniseries "The Haunting of Hill House," this 2020 follow-up is a new adaptation of the gothic horror novella "The Turn of the Screw," which has been adapted to film more than once. In fact, an adaptation with Mackenzie Davis and Finn Wolfhard was released the same year. This one didn't feature any big names, but what it lacked in star power it more than made up for in scares.
Former child star Henry Thomas is Henry Wingrave, who needs the help of a caretaker when he gets sudden custody of Flora (Amelie Bea Smith) and Miles (Benjamin Evan Ainsworth), his niece and nephew. To that end, Henry hires Dani Clayton (Victoria Pedretti), an American au pair, to be their custodian at his gothic manor in England. But unbeknownst to Clayton, the manor is also home to a sinister apparition that continues to terrorize the mansion. With some of the story told in flashback, we learn about Dani's past, the manor, and the Wingraves' connection to the ghoulish ghost that haunts them.
Less outright slasher horror, "The Haunting of Bly Manor" delights in its eerie atmosphere and sheer terror. If you're looking to have your spine tingled, it should be at the top of your list.
What We Do in the Shadows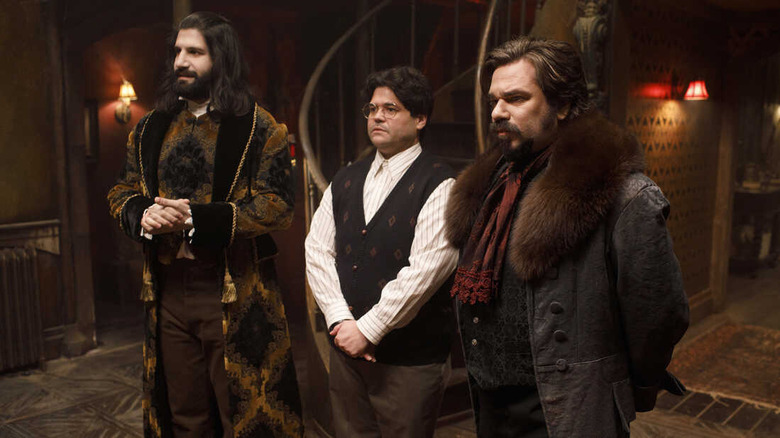 FX
Dipping our toes back into comedy — in fact much deeper than you'll even find in "Chucky" – the Jemaine Clement series "What We Do In the Shadows" is a big laugher first, gothic horror second. Based on the 2014 cult film of the same name, "What We Do in the Shadows" follows a family of ancient vampires residing in the otherworldly no-man's land between New Jersey and Manhattan called Staten Island.
Produced in the same mockumentary style as the film, this TV extension introduces four regal unliving bloodsuckers, each one more ancient than the last, including Colin (Mark Proksch), a day-walking, basement-dwelling energy vampire and office drone who relishes in feeding on people by annoying them; Laszlo Cravensworth (Matt Berry), a 300-year-old English noble who is married to Nadja of Antipaxos (Natasia Demetriou), a Greek vampire who is more than five centuries old. They're led by Nandor the Relentless (Kayvan Novak), a 700-year-old Iranian vampire and veteran of the Ottoman wars.
A darkly humorous comedy that delights in the surreal and the bizarre, "What We Do In the Shadows" somehow took a silly, one-note satire and turned it into a laugh-a-minute horror series that has been the darling of critics since its debut. Not without its share of blood and chills, it's the series to check out if you want something on the more comical side.
Creeped Out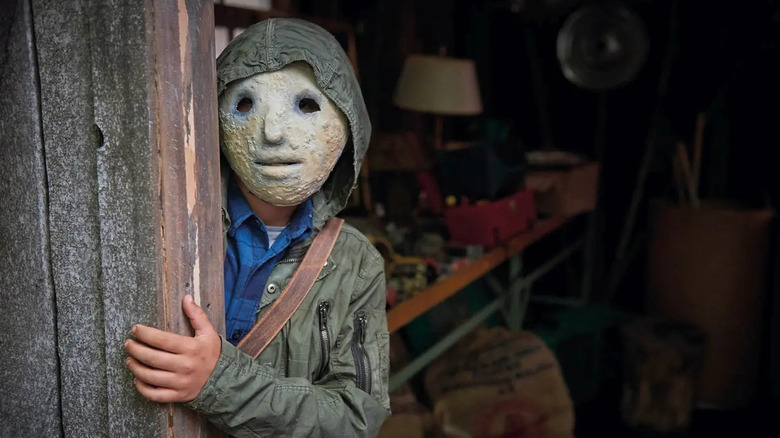 CBBC
The first of a few anthology series on this list, "Creeped Out" tells a series of strange stories punctuated by loads of hair-raising horror. While nearly every episode of the series introduces a new cast in a different situation, each with its own unique story, they almost all focus on a teenager in the midst of a terrible and terrifying ordeal, often bringing it upon themselves with their own hubris. Like the anthology classic "Tales from the Crypt," "Creeped Out" also boasts a nightmarish host who introduces each story in the form of The Curious, a masked man who collects stories.
Each episode usually concludes with a lesson, a moral, or a word of warning, whether it's to be careful what you wish for or to be cautious about what lurks in the dark. But whatever episode of "Creeped Out" you put on, you're guaranteed some good spills, thrills, and spooky scares. From violent revenge slasher stories to ghoulish demons and ghostly hauntings, "Creeped Out" features any number of different kinds of horror tales to shiver your soul — just don't expect anything too graphic or adult. 
Much more family-friendly than "Chucky," you'll find "Creeped Out" a nice change of pace because it's a horror series you can watch with the young ones. At the same time, there's still enough unnerving imagery and unsettling ideas to leave adults bailing for the blankets too.
Marianne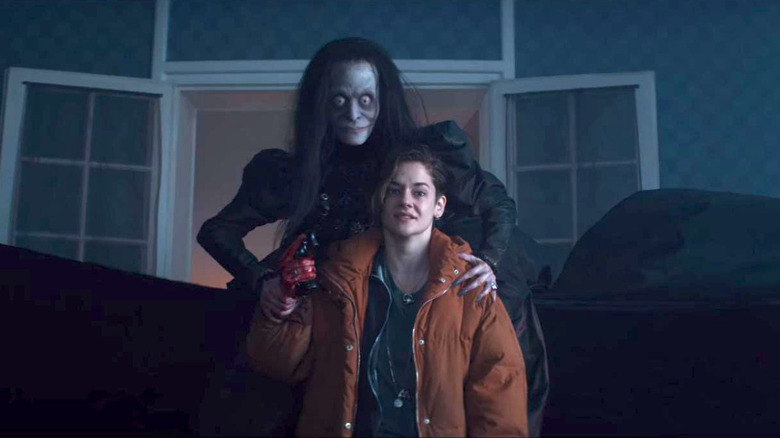 Netflix
Horror knows no geographic boundaries, and some of the best films in the genre come from outside of the United States, with classics like "Suspiria," "Ringu," and "Let the Right One In." Well, television horror is no different, and one series you should check out if you love "Chucky" is the French show, "Marianne." A single season eight-episode series that aired in the U.S. on Netflix, it sees a best-selling horror writer coming face to face with her own monstrous creations.
Following a retirement from writing, author Emma Larsimon (Victoire du Bois) is visited by an old friend whose mother, Marianne (Clara Brajtman), believes she's a witch from one of her old stories. A devilish spirit that had once tormented Emma with visions and nightmares, the witch seems to have inhabited Marianne, and is now alive and in the very real world, bringing chaos and murder. Realizing that her stories are coming to life, Emma tries to re-write events to stop the bloodshed, crafting a new ending for her characters. But the villainous witch only becomes more vengeful and bloodthirsty.
A story that descends from mystery to madness, "Marianne" was described by Rotten Tomatoes' critical consensus as "pure nightmare fuel." While it's sure to appeal to any fan of violent slashers and psychological horror, be warned: this French series may be even more terrifying than "Chucky."
Ratched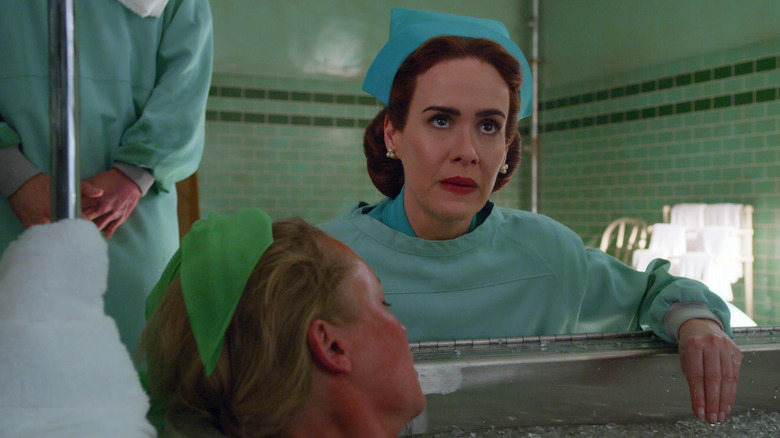 Netflix
The last decade has seen a bevy of TV prequels to classic films that have shined on the small screen, and a few have come in the horror genre, such as "Hannibal." But there's another that is rarely mentioned, perhaps because its predecessor wasn't a horror movie — "Ratched," a prequel to the Oscar Award-winning drama, "One Flew Over the Cuckoo's Nest." The film, led by Jack Nicholson, might not seem like it would result in a disturbing mystery and horror slasher, but that's what we got in the prequel.
Focusing on the dark and twisted past of the film's villain, Nurse Ratched, the series takes place decades earlier in the 1940s where we meet the young version of the character. Sarah Paulson inherits the role, made famous by Louise Fletcher, as a more innocent-looking, but equally terrifying Ratched. She is a headstrong, ambitious nurse who seeks a job at a California hospital. She claims to want to be involved in their work in psychiatric medicine, but her real motives soon become clear — her deranged, violently psychotic foster brother is a patient there, and is being treated following his trial for a brutal murder.
Part crime thriller, part psychological horror, "Ratched" — like "Chucky" — explores the origins of one of cinema's most famous evil icons. Airing in 2020, it received strong reviews for its dark atmosphere and creepy thrills.
American Horror Stories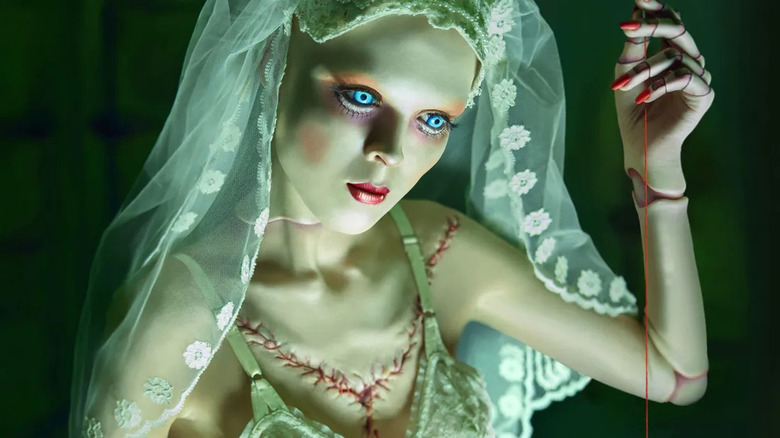 FX
The second anthology we recommend if you enjoyed "Chucky" is the 2021 series "American Horror Stories," which of course spun out of the wildly successful "American Horror Story." But while the former focused on a single story each season, the anthological spin-off provided a new story each episode, with a diverse set of tones and themes, some of which match "Chucky" quite well. This includes its off-kilter attitude and dark, violent imagery, and, more specifically, the episode "Dollhouse" that sees human victims become horrifying living dolls.
Admittedly, the series got off to a bit of a rocky start, with many fans divided. Its defenders praised the series' high-class production, strong writing, haunting visuals, and its ability to deliver different stories every week. Its critics, meanwhile, weren't thrilled with its repeated connections to older "AHS" stories, as some fans were looking for something entirely new. But there has been no such disagreement over its second season, as the sophomore effort has received an improved response from fans and critics alike, buoyed by its doll-based season premiere.
If you want a series that will provide you with an entirely new spooky terrifying tale each week, "American Horror Stories" should be next up on your watch list.
Evil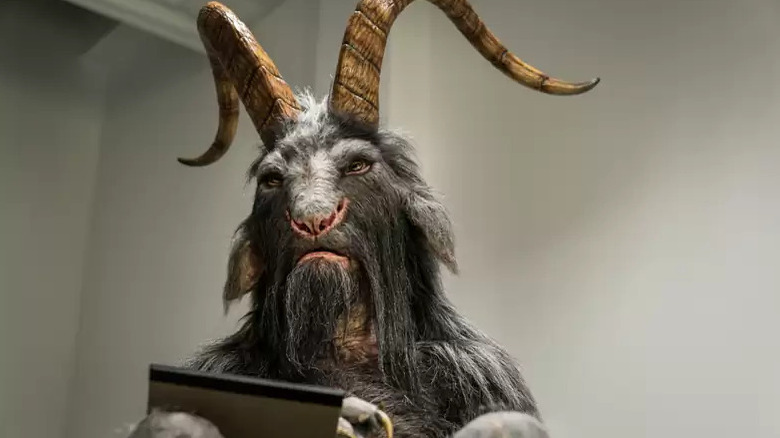 Paramount+
If you love the more supernatural aspects to SyFy's "Chucky" series, don't miss "Evil," starring Mike Colter ("Luke Cage"), Aasif Mandvi ("The Daily Show"), and Katja Herbers ("Westworld"). Created by the husband and wife team of Robert and Michelle King, "Evil" is not an anthology, but a traditional procedural in the vein of "The X-Files," "Buffy the Vampire Slayer," or "Fringe," which offers up new stories each week. The series introduces Dr. Kristen Bouchard (Herbers), a criminal psychologist and skeptic who works with a religious believer and a scientific tech consultant (Mandvi) to pursue new cases involving the supernatural.
With many cases involving angels and demons, spiritual possession, and ancient prophecies, Bouchard teams with seminary student and reporter David Acosta (Colter) to help separate the ordinary from the extraordinary. Initially brought in by the New York DA's office to handle a case involving a man supposedly possessed by a hellish demon, she works with Acosta to determine whether the man is telling the truth, or is just trying to get off on an insanity plea. Eventually, the two wind up working well together and formalize their partnership, investigating other instances of the paranormal in weekly adventures.
Though maybe not as violent and graphic as "Chucky," "Evil" has been a delightful surprise for fans of the supernatural, with plenty of thrilling horror stories.
Slasher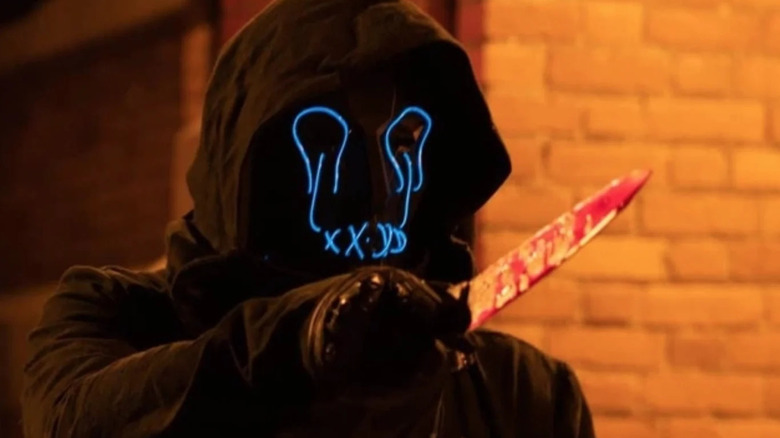 Netflix
While "Evil" may veer slightly from the violence and bloodshed seen in "Chucky," our next recommendation embraces it with no apologies — 2019 horror series "Slasher." The last anthology on our list, this series focuses entirely on murderous killers, with a number of different deranged murderers slicing and dicing their victims. Though it's struggled to find a consistent streaming home in the United States — debuting on horror service Chiller, then moving to Netflix, while currently airing on Shudder — it's never failed to deliver consistent pulse-pounding scares.
But while the series is an anthology, it tells a complete single-season story each year, much like "American Horror Story." Each eight-episode season introduces a new cast of characters and deadly masked slasher out to rack up a massive body count. Season 1 introduces Sarah and Dylan, a young couple who move back to their hometown. After their arrival though, the town is struck by a string of murders that seem to be mimicking a serial killer who terrorized the region decades ago, killing Sarah's parents. 
The show's second season, "Guilty Party," is an homage to '80s slashers, as a group of former camp counselors with their own secrets are stalked by a bloodthirsty killer. Seasons 3 and 4 each feature another masked murderer, while a fifth season titled "Ripper" is due in 2023, centered on a female killer murdering the wealthy elite in a twisted form of social revenge.
Bates Motel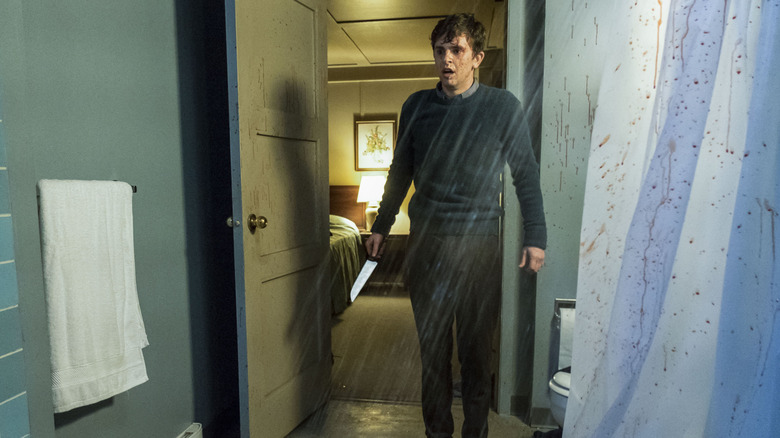 A&E
Just as "Chucky" has proven to be more than a reboot, exploring the past and origins of the killer doll, the prequel series "Bates Motel" is much more than a reimagining of the classic Hitchcock film, "Psycho." The iconic 1960s film that practically invented the psychological horror genre, "Psycho" was eventually followed by three sequels and a TV movie itself, with several attempting to provide a compelling backstory for the madman Norman Bates. Ultimately, it would be the 2013 series — not quite a prequel, not quite a reboot — that did it right.
Taking place in the modern day, we meet Norman (Freddie Highmore) as a teenager living with his mother, Norma (Vera Farmiga), after the death of his father. Norma purchases an old motel in an attempt to start a new life, but right away there are horrific problems, after a violent attack leads to a murder they have to cover up. Before long, the troubled young Norman — whose disturbing relationship with his mother takes center stage — begins to lose his grip on reality, forcing them both into more desperate situations. 
A captivating thriller and chilling shocker, "Bates Motel" ran for five stunning seasons, even retelling the events of the classic "Psycho" in its final year. Deeply unnerving, the series is true psychological terror at its finest, and was, like "Chucky," the worthy successor to a decades-old classic that fans had been waiting for.
Shining Vale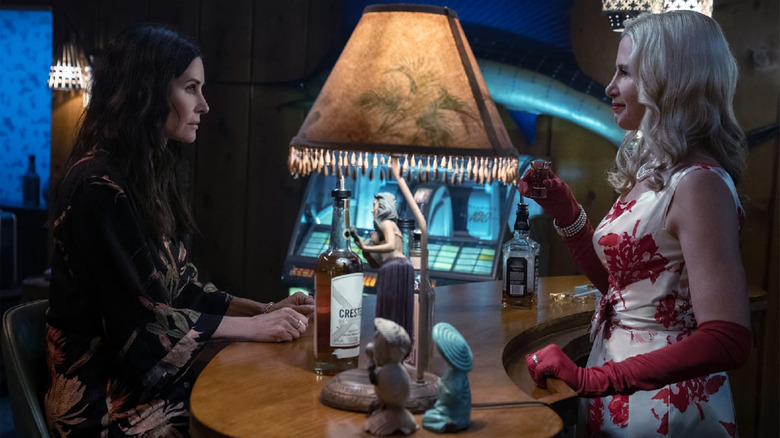 Starz
A surprising horror story that nobody saw coming — or at least, nobody expected to be quite as good as it turned out to be — "Shining Vale," like "Chucky," uses horror, hauntings, and possession to explore themes of trauma. Starring "Friends" alum, Courtney Cox, and a supporting cast that includes Mira Sorvino, Greg Kinnear, Sherilyn Fenn, and Judith Light, the series is a supernatural mystery, a hilariously twisted dark comedy, and a moving drama all in one.
It follows Pat Phelps (Cox), a Brooklyn-based author who moves her family out to a gothic manor in Connecticut, much to her teenage kids' chagrin. Struggling to keep her home life in order, Phelps is an unhappy woman and her writer's block is risking her career as her publisher wants her next manuscript soon. But when she discovers the house is occupied by the ghost of a 1950s housewife (Sorvino), and suddenly begins churning out pages of new writing, she isn't sure if she's being haunted ... or possessed. Spiraling into paranoia, Phelps can't be sure of what's real and what's not, and begins to feel trapped in her own living nightmare.
But as much as "Shining Vale" is about hauntings and horror, it has even more to say about depression and mental illness, which it does with a surprising amount of insight and sensitivity. Ultimately, what could have fallen into offensive, tone-deaf schlock is somehow elevated into top-notch horror with an important message.
If you or someone you know needs help with mental health, please contact the Crisis Text Line by texting HOME to 741741, call the National Alliance on Mental Illness helpline at 1-800-950-NAMI (6264), or visit the National Institute of Mental Health website.
Wednesday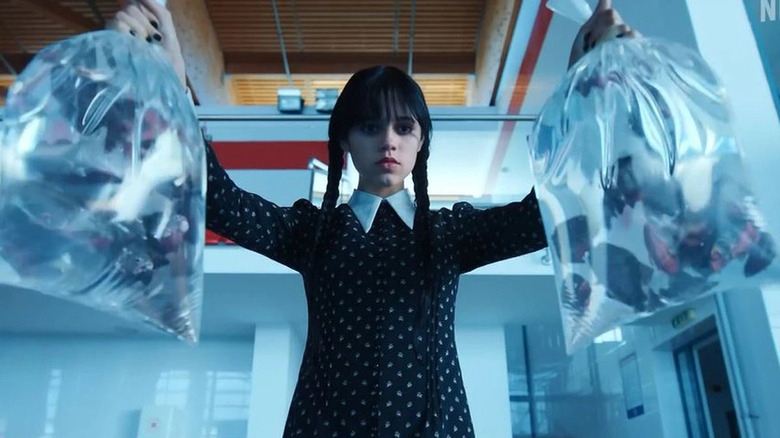 Netflix
Arguably the biggest appeal for SyFy's "Chucky" series is its reinvention of a beloved and iconic horror franchise. While many audiences may scoff at yet another new take of a fan favorite, "Chucky" has become one of the surprisingly successful revivals of an old classic. But there's another beloved series that's just making a comeback, with a revival of "The Addams Family." Focused on the morose, dark-haired family daughter and set to debut in November 2022, this new series is eponymously titled "Wednesday."
Originating as a comic strip in the 1930s, the family of spooky ghouls and creepy kids may be best known for the 1960s sitcom adaptation, and of course, a pair of 1990s films. This new version is produced by Tim Burton ("The Nightmare Before Christmas") and stars Jenna Ortega as teenaged Wednesday Addams, who decides to investigate a spate of brutal murders at her school, Nevermore Academy. But more than just a murder mystery, "Wednesday" is a coming-of-age horror thriller that sees its young heroine dealing with emerging psychic abilities that make growing up even more difficult than it already is.
An exploration of the macabre, with an appropriately dark but humorous bent, "Wednesday" looks to be another revival of a celebrated classic that will tickle your funny bone and curdle your blood. With a cast that includes Luis Guzmán, Catherine Zeta-Jones, Fred Armisen, and Christina Ricci with music from Danny Elfman, it's also brimming with all-star talent.