12 Best Shows Like The X-Files That Fans Should Watch Next
Though it inspired numerous shows in its wake, it's hard to compare "The X-Files" to anything else. The series was so singular in its tone, vision, and style that it remains just as beloved today as it was when it premiered nearly 30 years ago. 
There are a number of elements within the show that have cemented its legendary status. First, there's the cherished dynamic between our two leads, Fox Mulder (David Duchovny) and Dana Scully (Gillian Anderson). The witty banter, the long, drawn-out will-they-won't-they dynamic of their relationship, all alongside Duchovny and Anderson's excellent chemistry, make them one of the most beloved crime-fighting duos in television history. The show's sci-fi elements are just as compelling, with the aliens, monsters, and other supernatural phenomena keeping viewers enthralled for a compelling 11 seasons – the less-than-satisfying reboot notwithstanding.
If you have finished watching all of "The X-Files" you might find yourself unsure of what to watch next that could possibly live up to the standard the show set. We share your concerns, and though there is nothing out there quite like "The X-Files" out there, there are a few shows that adapt some of the best elements of the show and make them their own. Whether it be the odd couple pairing of the lead characters, a creepy focus on the supernatural, or some good old-fashioned existential pondering, these shows might just make you want to believe again. Keep reading to find your next television obsession.
Evil
"Evil" is one of the very best television shows of the last few years, and it owes a lot to "The X-Files," which in some ways is its spiritual predecessor. This former CBS series now airs on Paramount+ and follows Dr. Kristen Bouchard (Katja Herbers), a forensic psychologist and the mother of four daughters. The Catholic Church hires Kristin to look into potentially supernatural phenomena alongside priest-in-training David Acosta (Mike Colter). They are joined by Ben Shakir (Aasif Mandvi), a level-headed tech expert.
The premise of "Evil" is similar to "The X-Files" in that a believer and a skeptic (or in this case, two skeptics) come together to investigate mysterious questions that may or may not have any satisfying answers. Mulder and Scully fans will likely enjoy the relationship between Kristen and David, which has as much unresolved sexual tension and philosophical debates as their predecessors.
For fans looking for something genuinely chilling, "Evil" has that, too. The investigators tackle hauntings, possessions, miracles, and everything in between, all while facing their own demons (sometimes literally). Whether not the phenomena in question are supernatural or not doesn't really matter in the end –- it's human beings' capacity for acts of evil that really haunt our brave investigators. If you're particularly nightmare-prone, maybe don't watch this one right before bed.
Fringe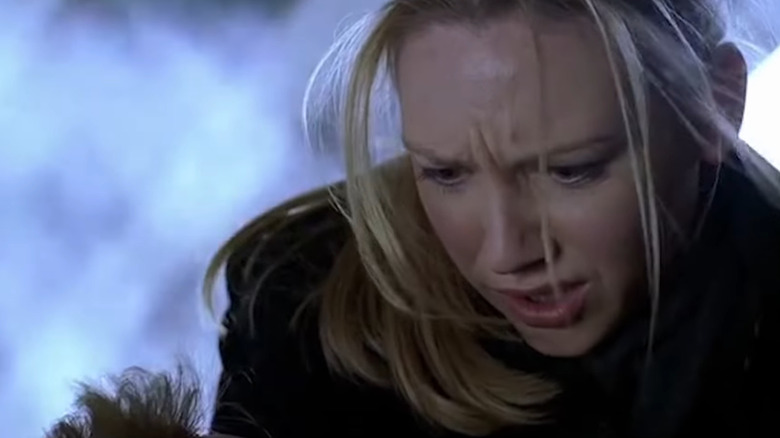 Fox
Out of all the shows that have aired since "The X-Files" premiered, "Fringe" may be the series that has the most in common with the beloved sci-fi classic. The series follows Olivia Dunham (Anna Torv), an FBI agent who is assigned to the Fringe Division, where she begins investigating unexplained events or phenomena. Olivia is joined by Dr. Walter Bishop (John Noble), a scatterbrained scientist who was previously institutionalized. Walter's son, Peter (Joshua Jackson), a brilliant grifter, also joins the team, along with FBI Agent Astrid Farnsworth (Jasika Nicole). The cast is clearly talented and the storylines are strong.
The similarities between "Fringe" and "The X-Files" are plentiful. The premise of the series is obviously similar, as is the show's episode structure, which alternates between "monster-of-the-week" episodes (to steal a famous term from "The X-Files") to episodes that deal with the show's larger mythology. Olivia and Peter's relationship is also one of the driving forces of the show, and their dynamic –- Olivia's logical single-mindedness and Peter's brilliance and charm –- is comfortingly familiar. 
It may be a show about unexplained phenomena and scientific experiments gone wrong, but, at its heart, "Fringe" is really a show about the power of love. If that doesn't soothe your cynical heart, we don't know what will.
Twin Peaks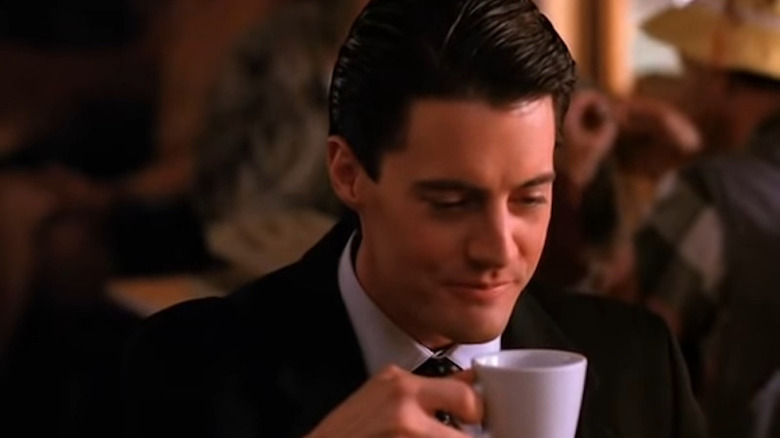 ABC
Like "The X-Files," "Twin Peaks" is a crime drama where not everything is as it seems. The series follows FBI agent Dale Cooper (Kyle MacLachlan), who is sent to a small Washington town to solve the murder of a teen girl named Laura Palmer (Sheryl Lee). What begins as a simple murder investigation quickly evolves into something more as Dale learns more about the eccentric locals and the drama of Laura's high school friends.
It's hard to describe "Twin Peaks" because, in many ways, it's a show that defies explanation. Filled with eerie visuals, vexing dream sequences, and some of the oddest characters you've ever seen on television, the world of "Twin Peaks" is frequently inscrutable, even to those that exist within it.
Fans of "The X-Files" might like "Twin Peaks" precisely because of this inscrutability. Indeed, "The X-Files" had a few of its own Twin Peaks-like episodes and was not afraid to go to some pretty weird places over the course of its run. "The X-Files" fans are also primed to enjoy the Pacific Northwest setting of "Twin Peaks," as "The X-Files" was primarily filmed in Vancouver, which contributes to the lush, haunting atmosphere of the show. David Duchovny even appears as a memorable character for a few episodes. If you haven't yet dipped your toes into the world of "Twin Peaks," there's not much else we can say without spoiling the show for you, so you're just going to have to trust us with this one.
Bones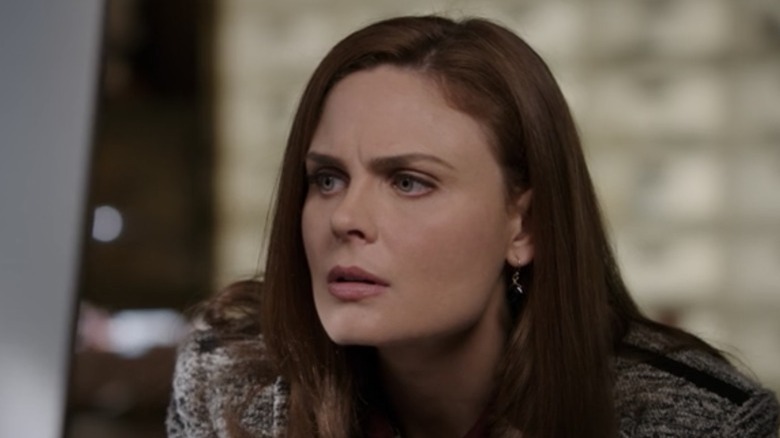 Fox
One of the most enduring aspects of "The X-Files" is the complicated, angsty, but always loving relationship between Mulder and Scully. Their unique dynamic inspired countless other television duos in their wake, and they are in many ways the blueprint for modern crime-fighting partners. One of the clearest homages to Mulder and Scully is the central relationship in the Fox series "Bones."
The show follows Temperance Brennan (Emily Deschanel), also known as "Bones," a forensic anthropologist at the Washington D.C. Jeffersonian Institute. One of the most well-regarded scientists in her field, Bones is also a successful crime author. Bones is paired with Seeley Booth (David Boreanaz), an FBI agent who trusts his instincts more than he does scientific facts.
You can probably see where this is going. Bones and Booth are both skeptics in their own way. Bones doesn't believe in (or understand) Booth's insistence on trusting his instincts, while Booth thinks it takes more than scientific fact-finding to solve a crime. They eventually learn to work together, begrudgingly coming to respect each other's unique skill sets and ways of seeing the world. Like Mulder and Scully, their chemistry is undeniable, and the whole "witty banter at crime scenes" schtick never gets old. It's also an unexpectedly funny show, as Bones' lack of understanding of social rules and the awkwardness of many of her assistants in the lab make for plenty of hilarious mishaps.
Rizzoli & Isles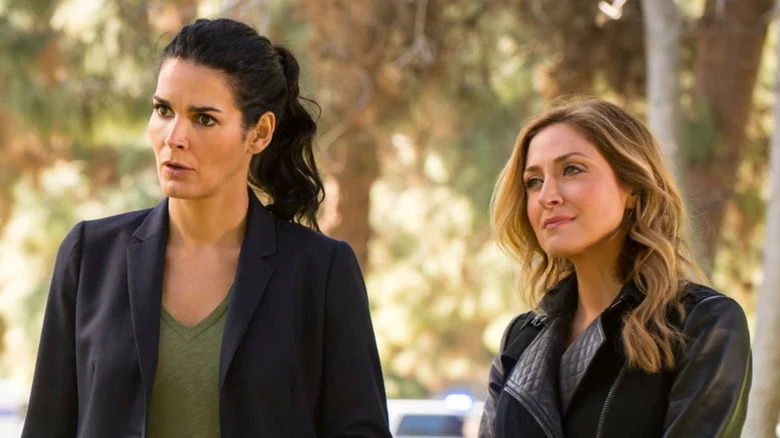 TNT
"Rizzoli & Isles" is another show that is clearly indebted to "The X-Files." A classic crime-fighting drama, the series follows the odd-couple pairing of its title characters. Jane Rizzoli (Angie Harmon) is a tough, assertive detective and the only woman in Boston's homicide division. Dr. Maura Isles (Sasha Alexander), the new medical examiner, seems to care more about the dead than the living and doesn't pay much attention to social conventions. While they initially butt heads because of their contrasting temperaments, they eventually learn to work together and become good friends in the process.
"The X-Files" connection is clear from the very first episode. Jane believes in good old-fashioned leg work and following her instincts, while Maura is strictly a woman of science and fact. While they are sometimes perplexed (or annoyed) by each other's way of doing things, they come to realize they make a pretty good pair. Sound familiar? The most obvious difference between Mulder and Scully as opposed to Rizzoli and Isles is that the latter are two women, and their relationship isn't romantic — at least on the surface. However, many fans read it that way, and the writers' refusal to ever go that route is arguably one of the show's biggest shortcomings.
"Rizzoli & Isles" is a classic detective drama, and there aren't any supernatural elements thrown in the mix. Still, if cheeky flirting over dead bodies and reading into subtext is your thing, you might want to give this one a shot.
Hannibal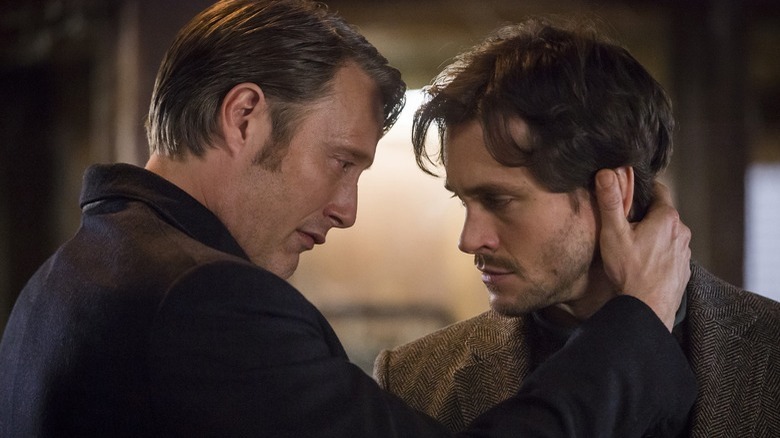 NBC
There are times when "The X-Files" episodes get pretty disturbing, what with all the ghouls and parasitic creatures. If gory abomination is your thing, check out "Hannibal," the NBC series starring a central "The X-Files" alum. Based on the book series by Thomas Harris, "Hannibal" is a prequel to the 1991 "The Silence of the Lambs" film. The show focuses on Hannibal Lecter (Mads Mikkelsen) and his unique relationship with FBI criminal profiler Will Graham (Hugh Dancy).
Will has a special ability that allows him to get into the heads of criminals, and he is intent on catching a serial killer terrorizing the Baltimore area, not knowing the culprit is his friend and therapist, Hannibal. Will is aided by his team at the FBI, including his boss, Jack Crawford (Laurence Fishburne), and psychologist Dr. Alana Bloom (Caroline Dhavernas). Hannibal's own psychiatrist, Dr. Bedelia Du Maurier (Gillian Anderson), also becomes embroiled in Hannibal's deadly game.
Though he's known for his obsession with aliens, Mulder actually specializes in behavioral analysis and criminal profiling, which aligns him with Will Graham and the world of "Hannibal" as a whole. "Hannibal" is all about psychology and profiling, but it's also about the inscrutability of the human mind and the fact that it is often difficult to parse out why we act the way we do. Fans of "The X-Files" may be drawn to the fraught relationship between Will and Hannibal, as well as Anderson's portrayal of a therapist with the world's most interesting patient.
Lucifer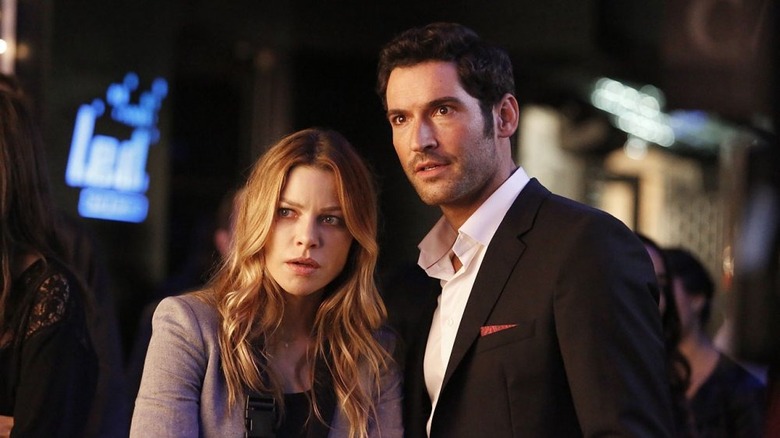 Warner Bros. Television Distribution
"Lucifer" is not your typical cop show, which is why fans of "The X-Files" should check it out. Based on comic book characters created by Neil Gaiman, the series follows Lucifer (Tom Ellis), the devil himself, who has come to Los Angeles because he is bored of life in hell. At first, Lucifer just runs a club in LA, content on satiating his desire for pleasure. Things start to change for Lucifer when he meets Chloe Decker (Lauren German), an LAPD detective who is called to investigate a murder outside of his club. Normally, Lucifer can use his devilish charm to get the truth out of anybody, but something is different about Chloe.
Lucifer begins working as a consultant for the LAPD, and he finds that Chloe may be the only truly good person he has ever met in Los Angeles, contradicting his beliefs about the irredeemable nature of humanity. Lucifer is joined on Earth by his demon henchwoman, Mazikeen (Lesley-Ann Brandt), who begins to question her place on Earth. Even more strange than the devil and a demon roaming the streets of LA is that Lucifer finds himself in therapy with Dr. Linda Martin (Rachael Harris), an exceedingly patient woman who has her work cut out for her.
Chloe and Lucifer's flirty will-they-won't-they dynamic will appeal to fans of "The X-Files," as will Chloe's by-the-books mentality and Lucifer's free-wheeling ways. And, unlike your average cop show, "Lucifer" has a supernatural element that ups the ante significantly.
Castle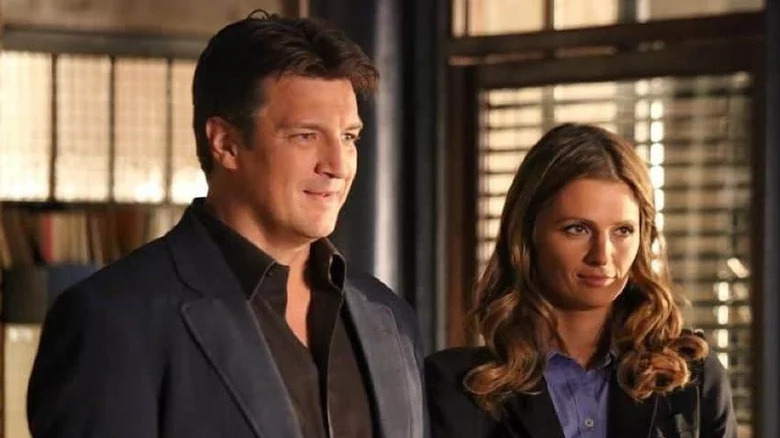 ABC
Like many procedurals in the post "X-Files" era, the premise of "Castle" might sound familiar to you. This well-loved series follows Rick Castle (Nathan Fillion), a bachelor playboy and successful mystery novelist who teams up with serious, dedicated NYPD detective Kate Beckett (Stana Katic) after a copycat killer begins recreating scenes from his books. Castle is excited by the prospect of working with a real-life detective, so he decides to shadow Beckett on the job, using what he learns as research for his next book.
Like all good odd-couple pairings of this sort, Castle and Beckett clash at first. She is annoyed by his immaturity and lack of professionalism, while he doesn't understand the austere devotion she has to the job. But, as you might have been able to guess, they eventually begin to develop feelings for one another, and, along the way, discover that they actually make a pretty good team.
Nothing will ever live up to the iconic pairing of Mulder and Scully, but Castle and Beckett might give you a hint of their spooky bond. Castle is a wacky know-it-all, while Beckett doesn't like silliness to get in the way of the job, which sounds like a match made in heaven if you ask us.
Person of Interest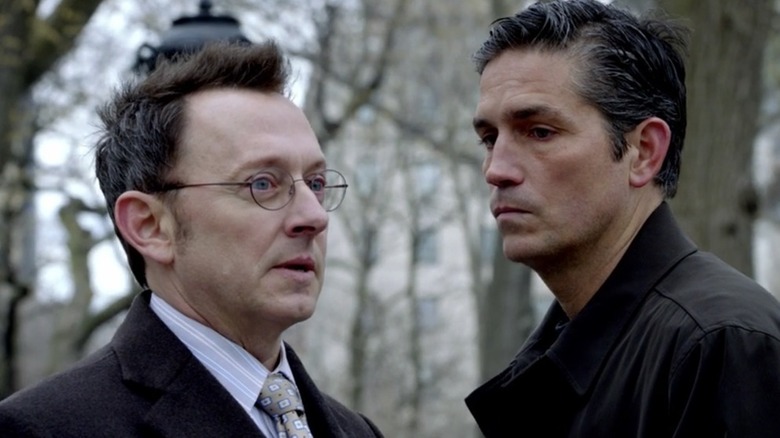 CBS
Plot-wise, "Person of Interest" doesn't have a ton in common with "The X-Files." However, what the two shows do have in common is an affinity for underdogs and an obsession with government securities. Further, both shows cleverly use the structure of a network procedural to produce something much greater than the sum of its parts.
"Person of Interest" follows Harold Finch (Michael Emerson), a billionaire software engineer who created a program to stop acts of terrorism. His program has fallen into the hands of the government, but he has kept a portion of it –- known as the Machine –- that he uses to stop violent crimes before they happen. Finch is joined by a stoic CIA agent, Reese (Jim Caviezel), who forms a bond with NYPD homicide detective Carter (Taraji P. Henson). The team later expands to include Sameen Shaw (Sarah Shahi), a former doctor and military operative, and Root (Amy Acker), an assassin and hacker who thinks people are "just bad code."
"Person of Interest" initially appears to be a fairly average crime show, but it slowly reveals itself to be something much more. The Machine's ragtag team of crime-fighting specialists find themselves questioning the nature of humanity, the meaning of life, and the necessity of hope. When the Machine eventually faces off with Samaritan, a rival program that cares little for the sanctity of life, the importance of these existential questions becomes even more apparent.
The Twilight Zone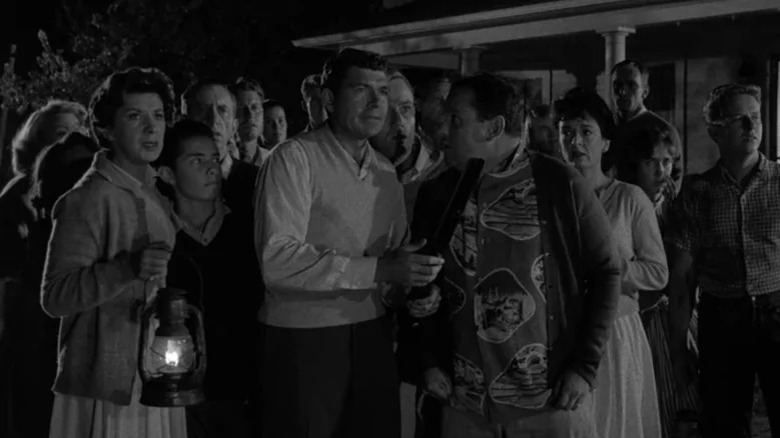 CBS
While "The X-Files" may have seemed unprecedented when it aired, it's not without its own influences. The most obvious antecedent to "The X-Files" is "The Twilight Zone," an iconic anthology series that ran from 1959 to 1964. Created by Rod Serling, the show was a mashup of genres, often delving into themes of science fiction, fantasy, horror, dystopian fiction, and even comedy. While many episodes of "The X-Files" implicitly tackle some of the issues discussed in "The Twilight Zone," the Season 11 episode "The Lost Art of Forehead Sweat" is an explicit homage to "The Twilight Zone," with Mulder even doing his best impression of Rod Serling.
Rod Serling wrote prolifically for the show, and he was very clear about the issues he wanted to address. "The Twilight Zone" often made allegorical references to things like nuclear war, McCarthyism, mass hysteria, racism, and conformity. In fact, Sterling actually began work on "The Twilight Zone" after networks rejected his teleplay about the murder of Emmett Till. The series is also known for its shocking twist endings, which rarely give viewers a satisfying conclusion.
One of the most beloved, groundbreaking sci-fi series of all time, the influence of "The Twilight Zone" can't be overstated. It's obvious that "The X-Files" owes a lot to its predecessor, even if the format of the shows is quite different. Filled with ideas from some of the best sci-fi writers of the time, "The Twilight Zone" is a must-watch for fans of the genre.
Mindhunter
Though Fox Mulder has been relegated to a derelict basement office by the time we meet him, he was once a rising star at the FBI. To be more specific, Mulder was once considered one of the best criminal profilers the FBI had, having worked out of the Behavioral Science Unit. If you're a fan of crime dramas you've probably heard of the unit, as it became famous because of the show "Criminal Minds," where it was known as the BAU. "Criminal Minds" is a rather silly work of fiction, however, and if you want to know the real story behind the Behavioral Science Unit, you're better off turning to David Fincher's brilliant Netflix series "Mindhunter."
"Mindhunter" takes place in the 1970s and looks at the origins of the Behavioral Science Unit, focusing on its founders: veteran FBI agent Bill Tench (Holt McCallany), rookie agent Holden Ford (Jonathan Groff), and psychologist Wendy Carr (Anna Torv). Working out of Quantico, the trio begins interviewing convicted serial killers about their crimes, hoping to better understand their psychology and build a manual for criminal profiling.
Unlike "The X-Files," which varies in tone and is sometimes downright goofy, "Mindhunter" is a dark, brooding show that takes its subject very seriously. With the detail-oriented eye of Fincher at the helm, it's also a beautifully composed series that will have you marveling at its design while it sends shivers up your spine.
Warehouse 13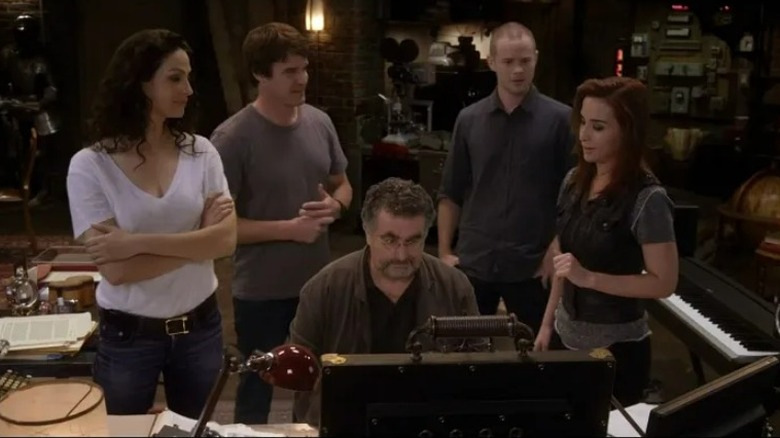 Syfy
The Syfy series "Warehouse 13" has a lot in common with "The X-Files." The show follows two Secret Service agents assigned to work out of Warehouse 13, a top-secret building in rural South Dakota that is said to house the world's most important supernatural artifacts. Myka Bering (Joanne Kelly) is a by-the-books agent with an eidetic memory who was once a rising star within the agency. Her partner, Pete Lattimer (Eddie McClintock), is more of a rule-bender and has the unique ability to sense and predict the "vibes" of a situation, good or bad.
Together, Myka and Pete travel across time and space to recover lost artifacts and investigate reports of new ones. While they are initially unhappy with their assignment to the warehouse, they come to understand its importance. Myka and Pete are joined by a few other agents and interested parties while working at Warehouse 13, along with several other unique figures from history, such as H.G. Wells (Jaime Murray), who they discover was actually a woman.
As is par for the course in procedurals, Myka and Pete have a familiar odd couple dynamic that gives the show plenty of charm. Myka and Pete's relationship is (mostly) platonic, which is a welcome relief within the genre. The supernatural elements of the show are really quite interesting, as the metaphysical revelations just keep piling up as time goes on. If that sounds like your cup of tea, then don't hesitate to jump right in.