How You Can See Winnie-The-Pooh: Blood And Honey In Theaters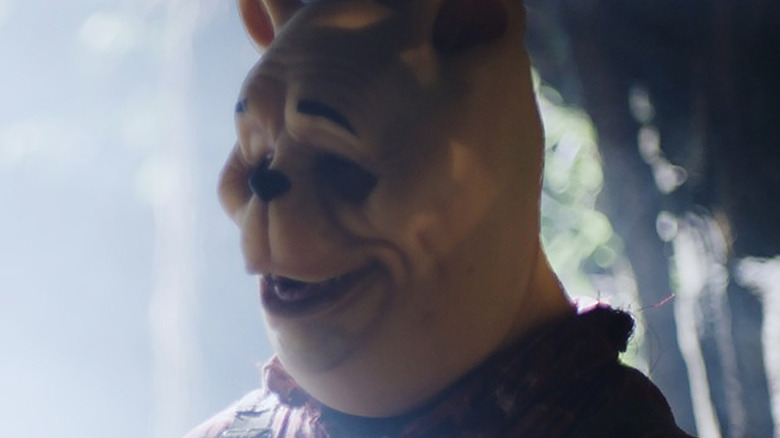 ITN Studios
Recently, audiences were treated to a trailer for the unorthodox slasher "Winnie-the-Pooh: Blood and Honey." The trailer for the horror film depicts beloved children's icons Winnie-the-Pooh and Piglet going on a violent rampage through the Hundred Acre Wood after they have been abandoned by a now-adult Christopher Robin, who is headed off to college. Director Rhys Waterfield explains to Variety, "Christopher Robin is pulled away from them, and he's not [given] them food, it's made Pooh and Piglet's life quite difficult ... Because they've had to fend for themselves so much, they've essentially become feral."
It's a hilarious premise, especially for horror fans that might enjoy a bit of campy humor in their slasher movies. The movie was made possible when A.A. Milne's beloved "Winnie-the-Pooh" books entered the public domain, opening up the realm of possibilities for how creatives can incorporate "Winnie-the-Pooh" characters into new stories. Waterfield added, "When you try and do a film like this, and it's a really wacky concept, it's very easy to go down a route where nothing is scary and it's just really ridiculous and really, like, stupid. And we wanted to go between the two."
Since the trailer's debut, viewers have been tickled by the concept of a children's book character in such a dark and bloody retelling. And now, after the trailer went viral, "Winnie-the-Pooh: Blood and Honey" has landed a theatrical release date.
Winnie-the-Pooh: Blood and Honey will be given a one-day theatrical release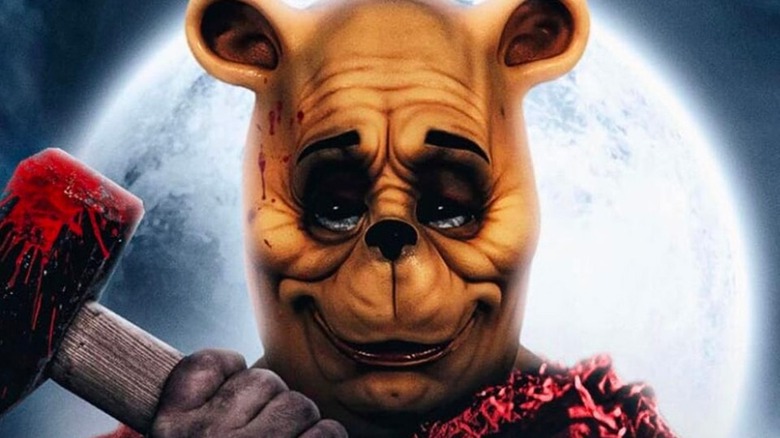 Jagged Edge Productions
According to The Hollywood Reporter, "Winnie-the-Pooh: Blood and Horror" will get a U.S. theatrical release on February 15, 2023. The catch is that it's a one-day event from Fathom Events, so for any eager fans who desire the theatrical experience, time will be limited. According to the report, hundreds of theaters nationwide will view the film to audiences. Worldwide, Altitude will distribute the film in the United Kingdom, and Cineplex will show it in Canada. More theatrical release dates in other territories are still to come.
This is a major win for Rhys Waterfield and everyone who worked on the low-budget horror film. According to the source, Waterfield did some additional shoots for the indie and is already planning a potential sequel, along with a dark retelling of Peter Pan that is in the works.
With this new and inventive twist on traditional IP that audiences are widely familiar with, we could expect some interesting films in the future, especially if other filmmakers get the same idea. We are also being treated to a slasher parody of The Grinch this holiday season, so it remains to be seen if this is a horror trend that is catching on.