Winnie The Pooh Looks Absolutely Terrifying In This Eye-Opening Horror Adaptation
If you've ever felt a desire to be absolutely terrified by your favorite Disney character, you'll be excited to know that anything is possible, and the wait is almost over. Everyone's favorite loveable, stuffed with fluff resident of the Hundred Acre Wood, Winnie the Pooh, recently received a horrifying makeover for his debut slasher film, "Winnie the Pooh: Blood and Honey." And, of course, Pooh's adorable sidekick Piglet is out for blood as well.
That's correct. Outlandish and exciting things happen when a character becomes public domain. And according to The Independent, the beloved AA Milne character did just that in January 2022. When something becomes public domain, it can be used for any other creative works without repercussions and without paying royalties, per the University of California. So that explains how this cuddly little bear ventured far, far away from any of his wholesome Disney roots and was able to make the transformation from a friendly stuffed animal to a monstrous and murderous bear straight out of a nightmare. Here's what you need to know about the upcoming honey-soaked horror flick.
Pooh Bear has left the woods and is out for blood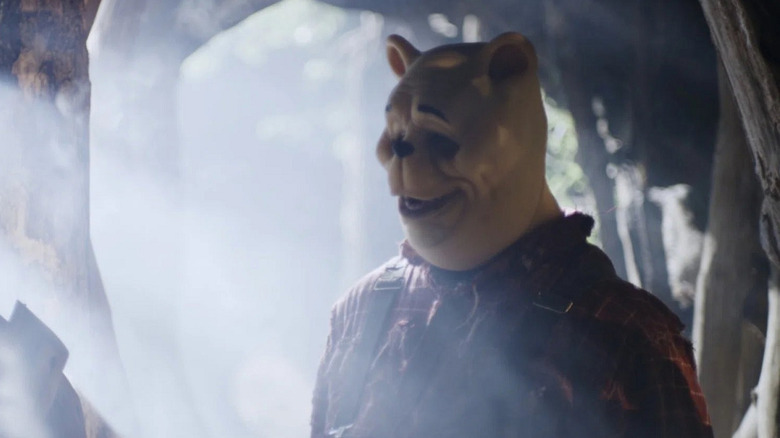 Jagged Edge Productions
Written and directed by Rhys Frake-Waterfield, "Winnie the Pooh: Blood and Honey" stars Amber Doig-Thorne, Danielle Scott, and Maria Taylor (via IMDb). In an interview with Variety, Frake-Waterfield gives potential viewers a little tease of what to expect from the movie, saying, "Christopher Robin is pulled away from them, and he's not [given] them food, it's made Pooh and Piglet's life quite difficult." Those difficulties, it seems, cause the formerly lovable pair to regress. "So they've gone back to their animal roots," Frake-Waterfield explained. "They're no longer tame: they're like a vicious bear and pig who want to go around and try and find prey."
In the original "Winnie the Pooh" storybooks, Pooh and Piglet are best friends, so at least we have that consistency to go off of. However, that appears to be where the similarities to the source material end, and the not-so-cuddly stuffed-animal rage begins. It's difficult to tell if the character itself is a man in a mask or a lifesized version of the yellow bear, but from the early images, it's easy to see that he's someone or something you wouldn't want on your tail. It's clear that Pooh and Piglet have left the woods and are out for blood.
No one is safe from "Winnie the Pooh: Blood and Honey."