Ginny And Georgia's Biggest Unanswered Questions From Season 1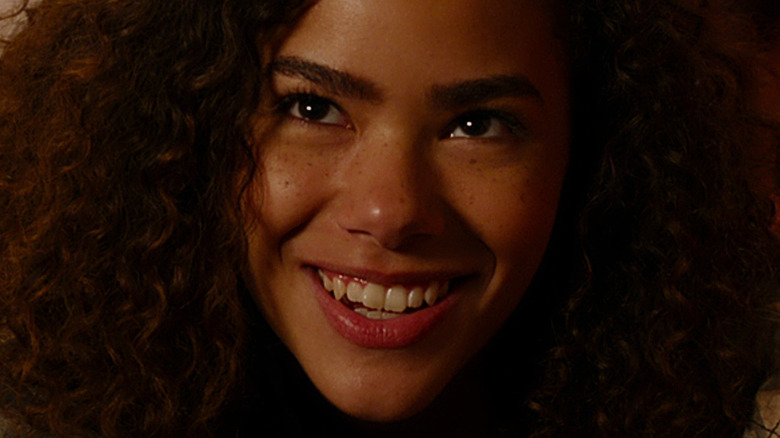 Netflix
Released on Netflix at the beginning of 2021, "Ginny & Georgia" brings audiences a new take on a close-knit mother-daughter relationship. Move over Lorelai and Rory from "Gilmore Girls" — there's a new alliterative dynamic duo in town.
While the mother-daughter relationship in "Gilmore Girls" is relatively drama free (aside from those pesky college years), the tale between the young and bubbly mom Georgia (Brianne Howey) and her moody teen daughter Ginny (Antonia Gentry) is anything but. The series dives into some pretty serious topics including mental health, death, and financial woes. Georgia has Ginny at the young age of 15 and does everything she can to keep her family safe. Sometimes, that means keeping the darker parts of her past a secret. Georgia also has a much younger son Austin (Diesel La Torraca) from a different man. Austin is a gentle child who's often bullied for being different.
In Season 1, the young family has picked up and moved to a new town in order to start over. Unfortunately, Georgia's past seems to be catching up with her, leaving her family shattered by the end of the season. Naturally, we have a few burning questions that we hope will get answered in Season 2. The series showrunner Debra J. Fisher announced on her TikTok that Season 2 has wrapped, and she hopes to have it on Netflix "mid-to-late December at the earliest" (via DigitalSpy). So, with that knowledge, here are 10 of the biggest unanswered questions from Season 1.
Just in case you need the warning, there are spoilers ahead for "Ginny & Geogia" Season 1. 
What will happen to Ginny and Austin on the road?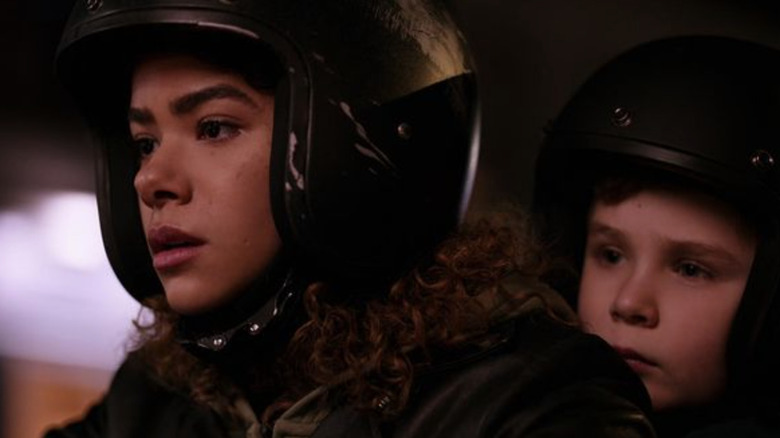 Netflix
"Ginny & Georgia" is filled to the brim with intrigue surrounding Georgia's past life. She's reluctant to divulge any information about who and where she comes from and keeps her main focus on moving ahead and doing what she thinks is best for her family. As the show progresses, audiences see that Georgia became pregnant with Ginny when she was 15 years old. Prior to that, it's discovered that Georgia was sexually assaulted by her stepfather, resulting in her running away from home. After the mysterious demise of her ex-husband Kenny, she finds herself in the town of Wellsbury.
Eventually, Ginny learns the terrifying truth about her mother — well, part of the truth, at least. It happens to be the case that Georgia is responsible for Kenny's death. The news weighs heavy on Ginny who has her own internal demons and struggles due to growing up with such a young and beautiful mother. She constantly feels as though she's in her shadow. Due to Georgia's wild childhood, she's sheltered Ginny in the hopes that she won't experience all the upheaval she did.
Once Ginny discovers the truth, Ginny packs up her younger brother Austin, climbs on a damaged motorcycle, and rides off into the darkness. Where they're going remains a mystery — one that we hope will be answered in "Ginny & Georgia" Season 2.
Is Paul really a good guy?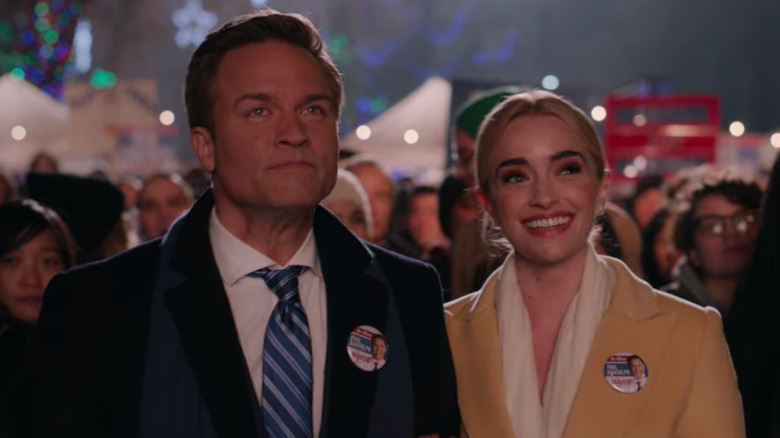 Netflix
A main plot point in Season 1 of "Ginny & Georgia" is the romantic entanglements that the two leading ladies get mixed up in. For Georgia, she's run away from her actions involving the death of her ex-husband Kenny and moved to Wellsbury, where she meets Mayor Paul Randolph (Scott Porter). At first, Paul seems like a good match for Georgia; he's seemingly nice, successful, and kind to her children. The two get closer during Paul's re-election campaign.
Georgia has her eyes on Paul because he represents stability, but near the end of Season 1, it looks like Paul may be just as conniving as Georgia herself. Perhaps Season 2 will show this newly engaged power couple working together to keep all the bodies they've buried a secret. However, it's just as conceivable that Georgia has met her match in Paul. It could be that he likes Georgia for her sketchy past, as his history is just as sketchy. The only difference is that Georgia does what she has to in order to survive and protect her family, while Paul might just do bad things because he can.
It's possible that Georgia escaped one monster just to run into the arms of another. Is Paul a wolf in sheep's clothing?
Will Joe and Georgia get together?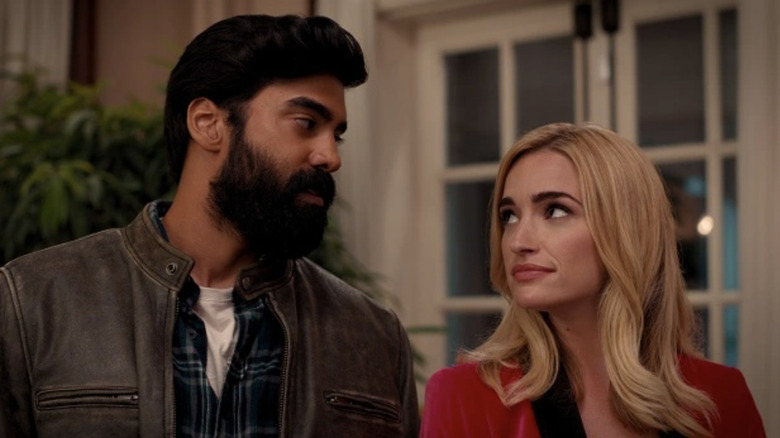 Netflix
The other side of Georgia's romance option is good ol' reliable Joe (Raymond Ablack). Joe and Georgia seemingly meet for the first time at his restaurant the Blue Farm Café, however, Joe realizes that he briefly met Georgia long ago when they were teenagers. In fact, it's him telling Georgia about his hometown Wellsbury that influences her to move her family there years later for a fresh start.
As Season 1 continues, audiences see a spark between Joe and Georgia that seems more authentic than what she's developing with Paul. It's easy to see that Paul represents stability for Georgia, while what she has with Joe is real. Unfortunately, Georgia doesn't even seem to register her feelings for Joe, nor does she register his feelings for her. This results in her accepting Paul's proposal — something that likely caused many viewers to scream "You belong with Joe!" at their TV screens. Naturally, there's a Reddit thread arguing who Georgia should end up with.
Paul and Georgia share a capacity for deviousness, but truly, we argue that all she wants is to feel safe for her family. Let's hope she leaves the drama and possible homicidal tendencies in the past and picks Joe in Season 2.
Will Ginny and Marcus get together?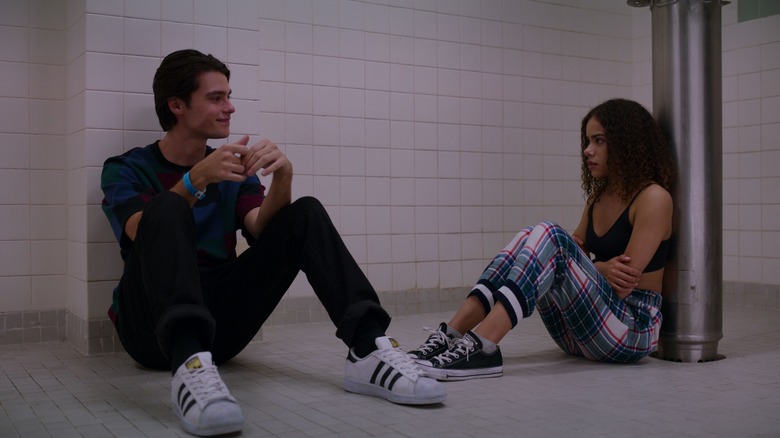 Netflix
Now that Georgia's romantic entanglements have been addressed, that's take a look at Ginny's. Due to the fact that her family is constantly moving around, Ginny has never truly had a group of friends — at least, not until she moves to Wellsbury. Since Georgia is so strict with Ginny regarding boys, Ginny's experience with them amounts to functionally nothing. However, all this changes when she meets Marcus (Felix Mallard) and Hunter (Mason Temple).
Marcus is Ginny's neighbor and twin brother to her new friend Maxine (Sara Waisglass). He's brooding, he's a bad boy, he's mysterious, and he's completely off-limits. He's a walking red flag, in other words. However, both Ginny and Marcus feel like they can bond over their shared trauma and issues with mental health and depression. Therefore, Ginny finds it difficult to stay away from him even though she probably should.
On the other side, Hunter is the complete opposite of Marcus. He's kind, friendly, open to talk about his feelings for Ginny, respectful, and a part of her group of friends. The two quickly begin dating, which causes a problem when Ginny secretly cheats on him with Marcus. On paper, Hunter is probably the better choice for Ginny, but it's her shared trauma that's bonded her with Marcus. As far as the audience goes, hopefully Season 2 will resolve the debate between Team Hunter and Team Marcus.
Will we meet Austin's Dad?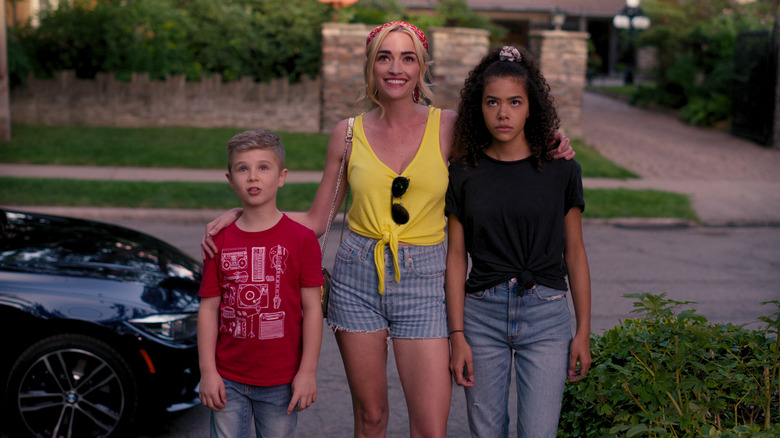 Netflix
Ginny's father is introduced in Season 1, Episode 8, "Check One, Check Other." While audiences see his relationship with Georgia through flashbacks in multiple prior episodes, it's this episode that brings him back into Ginny and Georgia's lives. After running away from home, Georgia meets Zion (Nathan Mitchell) in a bar when both are underage and pretending to be older. They soon begin a whirlwind romance that results in Georgia getting pregnant. While it's clear that the two love each other, their relationship is highly dramatic and always leads to heartbreak. Whenever the two are together, they burn bright and fast. For the sake of their daughter, the two decide once and for all not to be together.
The father of Ginny's younger brother Austin is not Georgia's murdered ex-husband Kenny, nor is he Zion. This begs the question, who is Austin's father, and will we get to meet him in Season 2?
The answer is yes, as it's been confirmed that Aaron Ashmore has been cast to portray Gil Timmins, Austin's father (via Deadline). It seems as though Season 1 focuses on Georgia's complicated relationship with one of her ex's, and Season 2 is going to focus on the other.
Will Georgia be exposed for killing Kenny?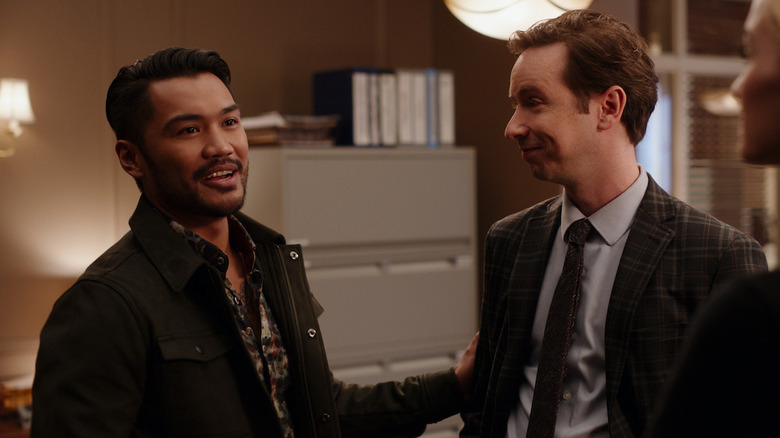 Netflix
Season 1 slowly unravels the story of Kenny, Georgia's ex-husband. Initially, we're told that Kenny dies from a heart attack, but the whole thing just smells fishy. After he dies, Georgia packs up her kids and leaves abruptly. Once they arrive in Wellsbury, Georgia has to fight to get money from Kenny's will despite being his widow. Audiences discover that Georgia has financial troubles she's hiding and that she needs this money. Now here's the twist — while Georgia did, in fact, murder Kenny, it wasn't for his money; it was because of something far worse.
Georgia kills Kenny after she discovers that he is sexually harassing Ginny. Determined not to let Ginny experience the same trauma that she did as a child, Georgia takes matters into her own hands and gets rid of Kenny. Unfortunately for Georgia, Kenny's family hires private investigator Gabriel Cordova (Alex Mallari Jr.) to uncover the mysterious circumstances surrounding his death.
In order to stop any further investigations, Georgia digs up Kenny's body and steals it so that no one can look further into his death. But by the end of Season 1, Gabriel gets a call from someone who mentions the disappearance of Georgia's first husband. We can presume evidence is likely to point more and more in Georgia's direction in Season 2.
If you or anyone you know has been a victim of sexual assault, help is available. Visit the Rape, Abuse & Incest National Network website or contact RAINN's National Helpline at 1-800-656-HOPE (4673).
Is Ginny's friend group ruined for good?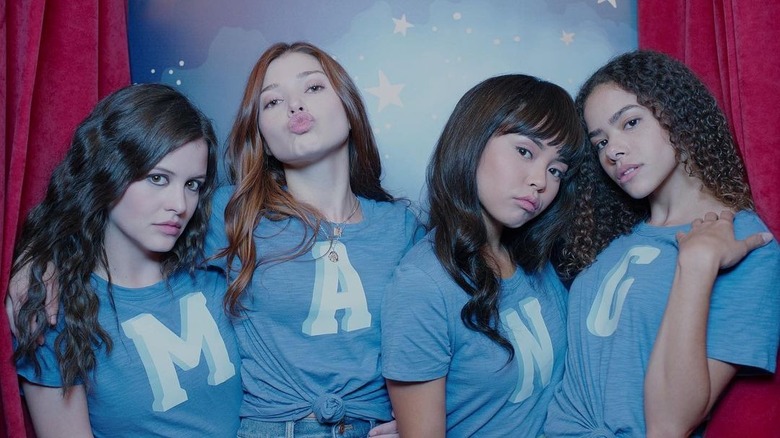 Netflix
Upon moving to Wellsbury, Ginny is pleasantly surprised to develop a group of good friends. She becomes close with her neighbor Maxine "Max" Baker, who introduces Ginny to her two other friends, Abby (Katie Douglas) and Nora (Chelsea Clark). The four teens give their friendship the nickname "MANG," with each letter representing one of the girls.
Unfortunately, Ginny loses her friends just as quickly as she gains them once her affair with Marcus becomes public. Marcus is the twin brother to Max, and Max is left deeply unsettled upon finding out the truth. On top of that, Ginny is already in a relationship with someone else who happens to be friends with the other girls, so no one is impressed with Ginny's actions.
The end of Season 1 sees everyone pretty much mad at Ginny for what she's done. Marcus tells the group that the affair between him and Ginny wasn't anything serious for him, which clearly breaks Ginny's heart as it was serious for her. Whether or not Marcus actually means what he says doesn't really matter to Ginny, because at the end of the day, he says it in front of everyone.
Will Georgia's bad finances ruin her and Paul?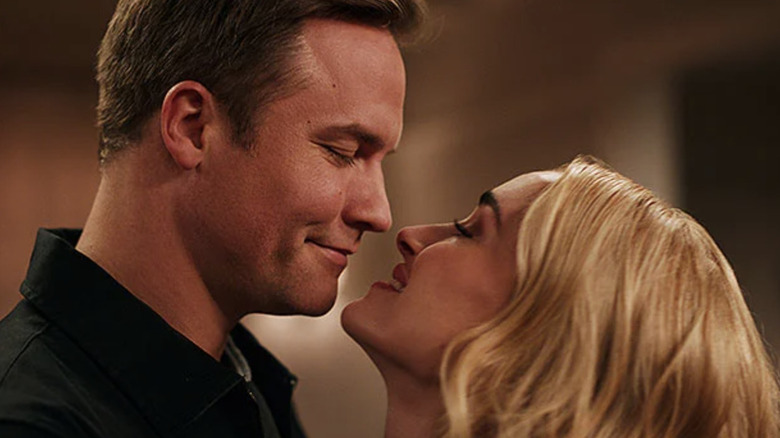 Netflix
Georgia spends the majority of Season 1 worrying about finances and seems to be deeply struggling. While she goes out of her way to get a job working with her future fiancé Mayor Paul Randolph, she is often seen fighting for money from her ex-husband's will. Although she finally gets paid at the end of Season 1, Paul uncovers some troubling news while he's at Georgia's house babysitting Austin.
Paul stumbles across various credit cards in the kitchen that are all under Austin's name. Austin is only 9 years old, therefore the chances of him legally having any credit cards — much less a whole pile — is absurd. When Paul questions Georgia, she seems to have an explanation for everything, which puts Paul's mind at ease. However, now that the two are engaged, it's likely that finances will come up again. Therefore, the question remains if the money from Kenny's will be enough to dig Georgia out of whatever debt she's in. Season 2 will also have to answer if Paul will begin to wonder what type of woman he's marrying as the truth comes crashing down on him. Maybe he won't mind her financial problems, or maybe it will be a huge moment of contention.
How will Season 2 tackle Ginny's mental health?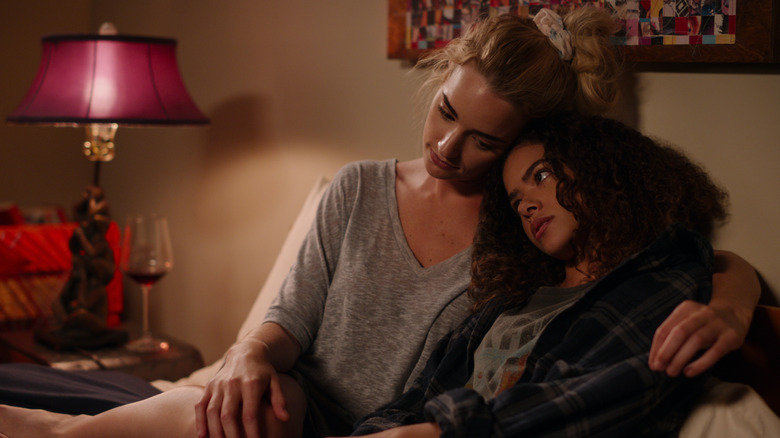 Netflix
"Ginny & Georgia" tackles some pretty serious topics. From Georgia's sexual assault to Ginny's feelings of depression, the series doesn't shy away from addressing uncomfortable issues. Of course, due to the nature of these topics, "Ginny & Georgia" has to walk a delicate line.
Throughout Season 1, Ginny struggles to find self-worth. It's difficult to watch as she harms herself with a lighter when she feels at her lowest, or when she feels like she has no power in her situation. Her helplessness feelings are something that she shares with Marcus, who feels lost after the death of his best friend from cancer.
So far, Georgia is unaware of her daughters struggling mental health and self-harming habit. This is something that might be addressed in Season 2 as a way for these two women to come together. Perhaps they will see that they've both gone through impactful things in their lives. It might allow them to truly see one another in a way that they never have before.
If you or anyone you know is having suicidal thoughts, please call the National Suicide Prevention Lifeline​ by dialing 988 or by calling 1-800-273-TALK (8255)​.
What will Hunter's role be in Season 2?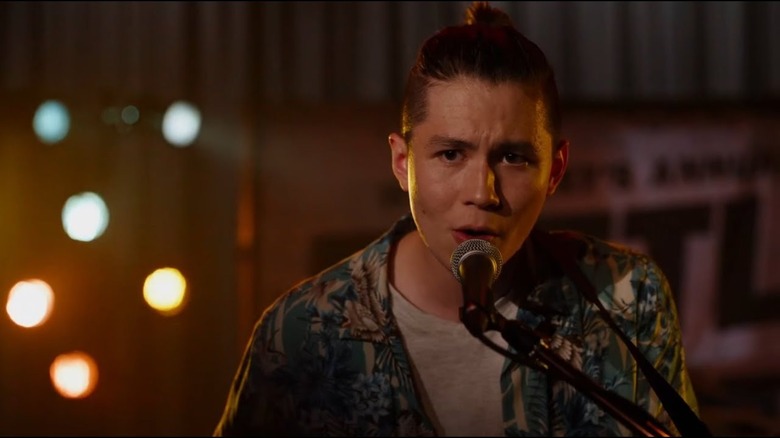 Netflix
In Season 1 of "Ginny & Georgia" Mason Temple portrays Hunter, Ginny's sweet and emotionally available boyfriend. Unfortunately for him, he doesn't share a deep connection with Ginny, which is something that seems to be missing in their relationship. For example, when Hunter sees her scars, Ginny casually brushes them off and he never gives them a second thought. Hunter never once wonders if her scars are a deeper indicator of Ginny's mental state. At the end of the season, Hunter learns about the affair between Ginny and Marcus, leaving him heartbroken and understandably upset.
What does this mean for Hunter moving forward? Will his relationship with Ginny develop any further in Season 2? Or has the character served his purpose in building drama between the show's will-they-won't-they couple Ginny and Marcus?
According to Seventeen, Temple is set to return for Season 2 of the show, suggesting that Hunter's time with Ginny might not be over. This makes sense. Aside from being Ginny's boyfriend, Hunter was friends with everyone in the group way before Ginny transferred to his school. Perhaps it's her who will be left out in the cold, as her friends are all upset at Ginny for her betrayal.