The Most Iconic TV Couples Of All Time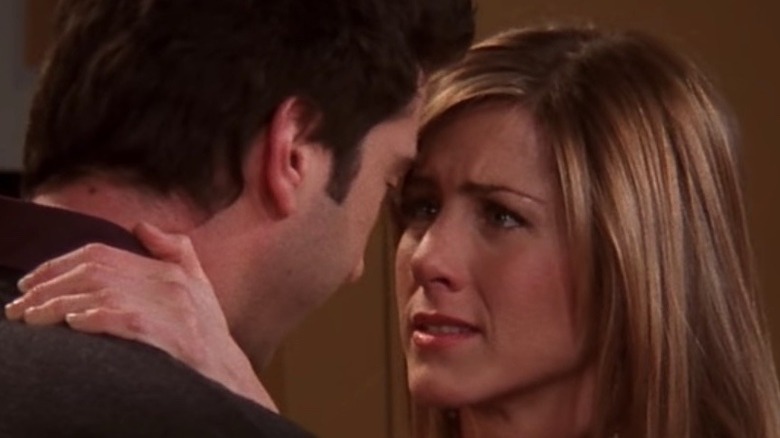 NBC
Just about every television show out there has a couple that viewers are supposed to root for — or root against, as is sometimes the case. Whether or not romance is a focus of the show, love is a vital element of the human experience, as well as a valuable tool for deployment by writers, directors and actors. Will Rachel get off the plane? Will Dwayne crash Whitley's wedding? Will David and Maddie ever get together? The plights of couples have often made for some of the most memorable moments in television history.
Many such shows have made liberal use of the will-they-won't-they trope, which rarely fails in creating compelling TV relationships — many of which appear on this list. Whether it be a drama, a sitcom, a reality show — pretty much anything short of a game show — it's a recipe for success that stretches back decades.
With this in mind, let's take a look back at the icons, the relationships that in our minds are still going strong, even if the television cameras stopped filming years ago. Some are already likely coming to your mind ... read on to see if they made the list.
Lucy and Ricky (I Love Lucy)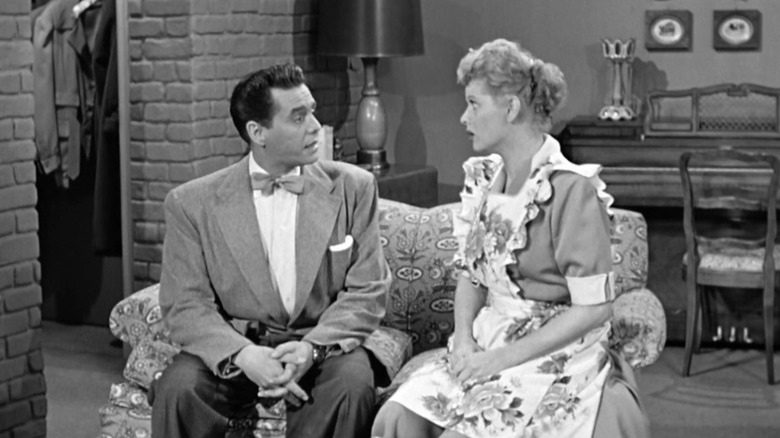 CBS
"I Love Lucy" — selected in a 2012 poll as the best TV show of all time — is all about the married life of the Ricardos, Lucy and Ricky. The couple was played by real-life husband and wife Lucille Ball and Desi Arnaz, of course, who were married for 20 years. But what audiences saw on screen, week after week from 1951 – 1957, were two uproarious, loving, charismatic characters they'd fall in love with in the '50s — and new audiences continue to fall in love, all these years later. If you need proof, look no further than the new season of "The Plot Thickens" podcast or the next film from Nicole Kidman, both of which are focused on the most beloved redhead in pop culture history.
Throughout the run of the show Lucy would devise troublemaking schemes, often revolving around her desire to enter show business, with Ricky frequently catching her in the act. Ricky wanted Lucy to remain a traditional housewife, and would frequently get frustrated with things like her affinity for shopping. But as the title indicated, by the end of each episode all would be forgiven, because Ricky (like the rest of us) couldn't help but love Lucy.
Ross and Rachel (Friends)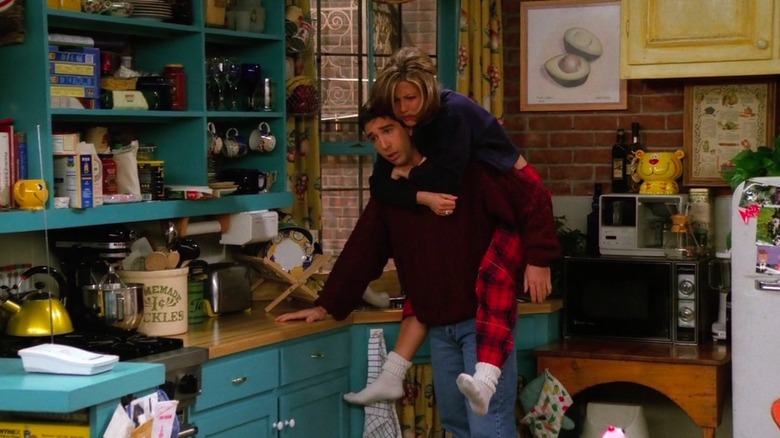 NBC
Arguably the most famous will-they-won't-they couple, Ross (David Schwimmer) and Rachel (Jennifer Aniston) spent 1994 to 2004 teasing audiences with where their relationship was headed. 
Beginning with the pilot, it was clear that Ross's high school crush on Rachel had never really gone away. What came next was a full season of Ross pining, Rachel finally realizing she had feelings for him as well — just as he began dating someone else. This poor timing led to a now-classic scene with a drunk Rachel leaving Ross a voicemail declaring she was over him. The next day, Rachel would watch Ross listen to the voicemail and ask: "When were you ... under me?"
From there, they dated for a year — their longest time "on" — before the explosive breakup led to Ross's declaration that they were "on a break." In the subsequent seven or so seasons, the pair never really officially got back together — although they went through a lot together. These adventures included Ross accidentally saying Rachel's name during his wedding to someone else, the pair getting drunk-married in Vegas, and a one-night stand that lead to a pregnancy and their choice to co-parent the child.
After all that, it was no surprise that they did end up together — after Rachel got off that plane.
George and Louise (The Jeffersons)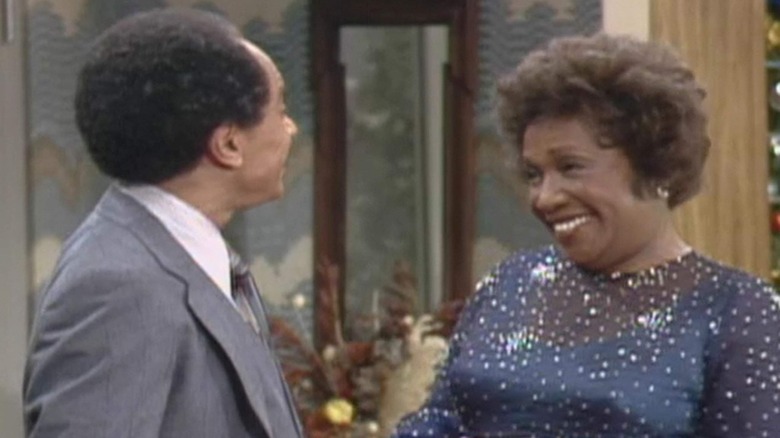 CBS
"The Jeffersons," which ran from 1975 to 1985, is notable for many reasons, beginning with it being one of the longest-running sitcoms ever (with a whopping 253 episodes), as well as being cited by many as the first television series to depict an interracial couple. But beyond that, "Jeffersons," a spinoff of "All in the Family," did something else quite radical: it depicted a successful, well-off Black couple in George (Sherman Hemsley) and Louise (Isabel Sanford), who lived in a luxury high-rise apartment in Manhattan. 
Looking back now, the concept might feel simple, but as a 2012 retrospective on the show pointed out, "[it paved] the way for future sitcoms like 'The Cosby Show' and 'The Fresh Prince of Bel-Air.'"
George and Louise, were a lovable, charming center for the show with successful, respectful marriage. "Louise kept George in tow and that's how it lasted that long," Sanford said in a 2016 interview. "George really loved Louise. You know, he was hot-headed, I'll give you that, but he listened to her and what she said was the last word, whether he thought he had the last word or not, she had the last word ... Nobody would put up with George like Louise."
Mike and Carol (The Brady Bunch)(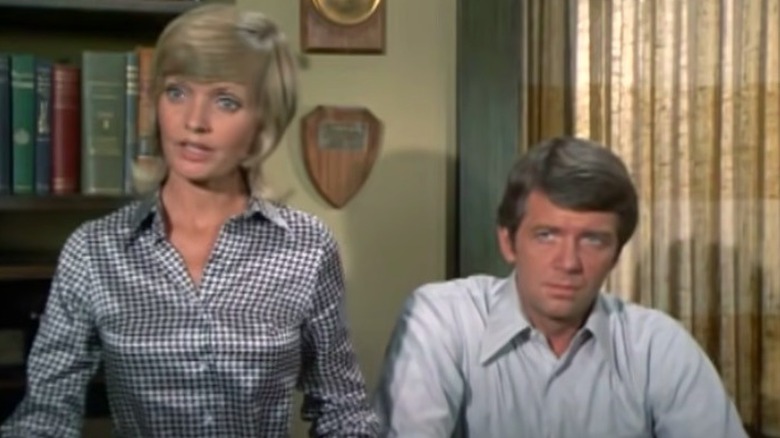 ABC
When "The Brady Bunch" was on air from 1969 to 1974, blended families weren't exactly showing up on screen left and right. But when Mike Brady (Robert Reed), a widower with three sons, married Carol (Florence Henderson), a woman with three daughters, a new kind of family became the basis for what would become an immensely popular television series.
Today, Mike and Carol are best remembered for their roles as parents — Mike appeared in TV Guide's 2004 list of best TV dads of all time, while Carol showed up in Yahoo's 2009 list for the best television moms. Throughout the series, audiences watched Mike and Carol tackle the challenges of raising children with the same love and care for their stepkids as their own. 
While the series was often about the overall dynamic of the Brady brood, it's important to remember that the blended Brady family existed because Mike and Carol fell in love. As a couple, their love dramatically impacted six young lives for the better — and each episode left viewers with the sense that wonderful things could grow from two people finding each other. 
Jim and Pam (The Office)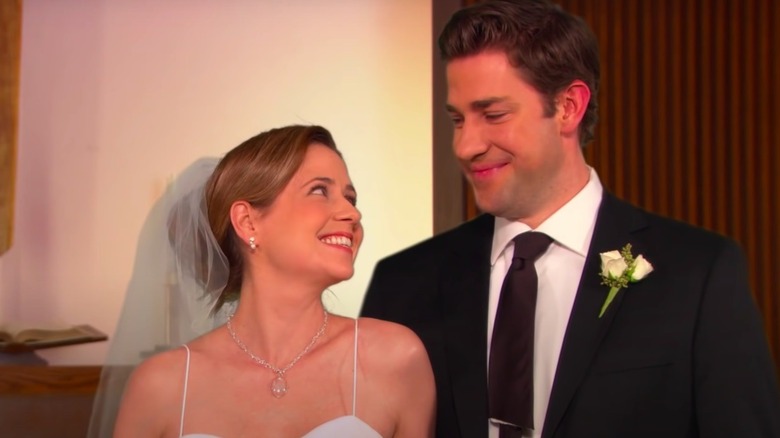 NBC
The American version of "The Office" began airing in 2005 and, from the get go, salesman Jim Halpert (John Krasinski) and office secretary Pam Beasley (Jenna Fischer)t were set up as the show's will-they-won't-they couple. 
Beginning as friends, Jim's crush on Pam became obvious right away, but Pam was engaged; their friendship dynamic included some moments of borderline flirting, right up until Pam didn't end up marrying Roy. After some near-misses and inconvenient timing, the two finally got together in the Season 3 finale, and throughout the rest of the series, the couple stuck together through various challenges. By Season 6 the two were married, with Pam already pregnant with their first child. By the show's 2013 conclusion, they had a second child and were making plans to move to Austin.
In a 2019 interview with ET Canada, Krasinski was asked if he thought Jim and Pam would still be together, years after the finale. Krasinksi emphatically replied, "We have to still be together!" Fans would undoubtedly agree.
Kevin and Winnie (The Wonder Years)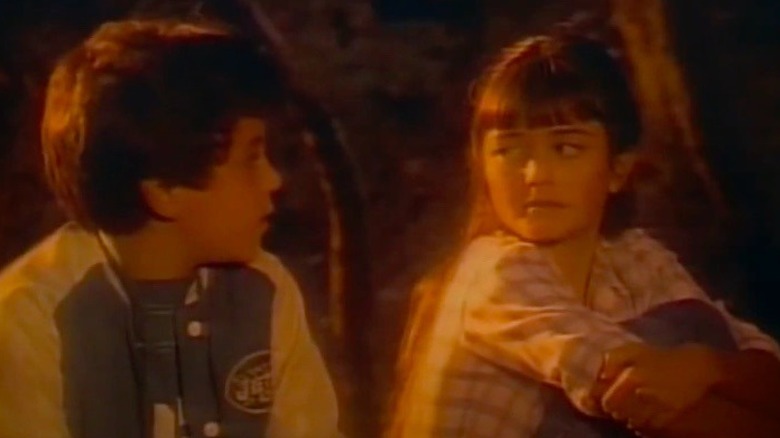 ABC
The youngest couple on this list, Kevin (Fred Savage) and Winnie (Danica McKellar) of the 1988 coming of age series "The Wonder Years" represent young love. The two shared their first kiss in the pilot episode, setting up an on and off relationship. After the two both dated other classmates for a while, Kevin and Winnie eventually came to confront their feelings for each other.
Notably, the two did not end up together. Through the narration of an older Kevin, audiences found out at the end of the series that Winnie moved to Paris to study art history, while Kevin remained in the United States and became a writer, although the two did keep in touch while Winnie was abroad. When she returned, she was greeted by Kevin at the airport — along with Kevin's wife and young son. The fact that these childhood sweethearts didn't stay together only added to the significance of their relationship, as so few young relationships stand the test of time. Over the years, it seemed their love for each other didn't disappear, it just evolved.
Florida and James (Good Times)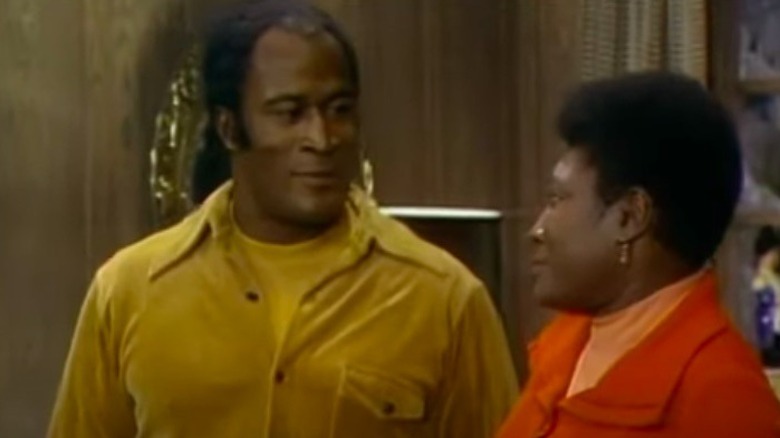 CBS
When "Good Times" premiered in 1974, it made TV history as the first sitcom to portray an African American two-parent family. It ran for six seasons, ending in 1979 with a total of 133 episodes. Focused on Florida (Esther Rolle) and James Evans (John Amos), the show brought audiences the laughs, struggles and love shared with their three children, who all lived in a public housing project in a poor, predominantly Black neighborhood of Chicago.
Florida and James were former high school sweethearts, now faced with married struggles like James' unemployment and bills to be paid. Through it all, the love for their children remained steady.
This loving partnership made it all the more heartbreaking when James died in a car accident (behind the scenes, Amos had creative differences with the show's producers). Regardless, the relationship of James and Florida gave audiences many great moments, and remains one of the most endearing in TV history.
Homer and Marge (The Simpsons)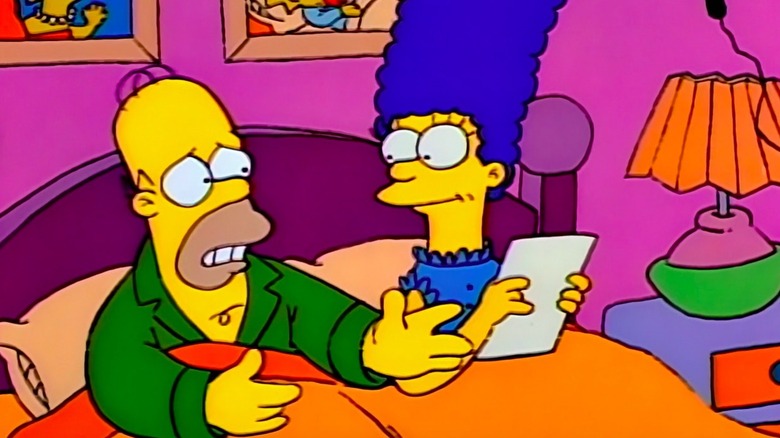 Fox
"The Simpsons" has been on the air for a whopping 33 seasons, and although it's a satirical depiction of American life set against the backdrop of Springfield and the dozens of series regulars who live there, at the center of it all is Homer and Marge.
For a show to last so long, audiences have to genuinely come to care for its characters as if they are members of their own families — and while Bart, Lisa and Maggie might be reminiscent of many people's siblings, it is Homer and Marge whose arguments, struggles, laughs and love strike a chord.
Sure, Homer may be immature, lazy and arrogant, but voice of reason Marge loves him anyway and Homer, in his own way, clearly loves Marge just as much. Perhaps the love between them was never more apparent than in "I Married Marge" (Season 3, Episode 12), which used flashbacks to showcase how Homer and Marge got together, as told by Homer to the kids. 
In the now-classic episode, we learned that Marge's family disapproved of him but, when Marge got pregnant, they quickly married. As Homer's mini-golf career proved insufficient, he took a job at the Nuclear Power Plant, returning home to Marge just in time for the birth of Bart. The episode showcased Homer's desire to provide for Marge and his family and that Marge is so much happier whenever Homer was around. 33 seasons later, that love is still going strong.
Carl and Harriette (Family Matters)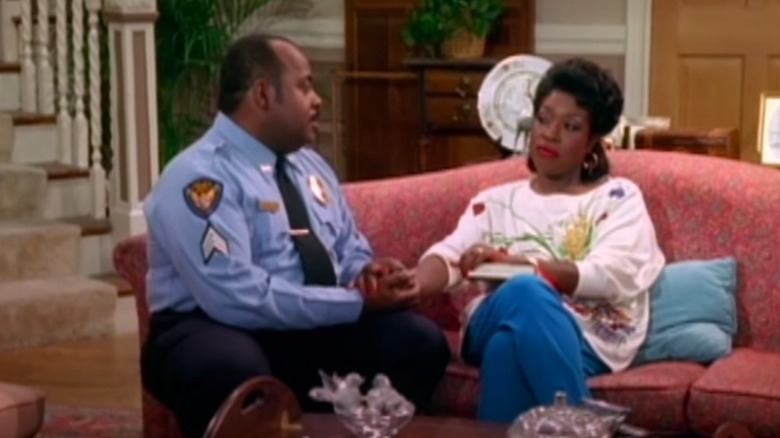 ABC
"Family Matters," which ran from 1989 to 1998, showcased the everyday lives of the Winslows, an African-American middle class family. Spearheading the family was married couple Carl (Reginald VelJohnson) and Harriette (Jo Marie Payton, replaced by Judyann Elder in the final season), equal partners in raising their three kids.
Throughout the series, the teenage kids had love interests of their own — Laura (Kellie Shanygne Williams) and Steve Urkel (Jaleel White) acted as this show's will-they-won't-they — but the couple that took the cake as having the most chemistry was these loving parents, Despite having been married for decades with teenage kids, their relationship always remained very much at the forefront of the series — well, that and Urkel, the show's breakout character.
In a 2019 interview, Payton and VelJohnson reflected on the relationship of their characters, and what it meant to represent Black love. 
"For me, it was so natural," said Payton. "I didn't really think about the fact that we were chocolate, both of us were chocolate ...  I just thought it was wonderful that we could show that sexuality ... It was so beautiful, and you guys liked it so much because it was so natural and so genuine."
"We just loved each other," VelJohnson agreed. "She is the easiest person to love."
Niles and Daphne (Frasier)
NBC
Many fans of "Frasier" (which ran from 1993 to 2004) seem likely to say that the romance of Niles (David Hyde Pierce) and Daphne (Jane Leeves) was one of the best parts of the show. 
When they first met, Daphne had been recently hired by Frasier (Kelsey Grammar) as the in-home health care worker for his father Martin (John Mahoney), and Niles was still married to his cold, eccentric wife Maris. Much of their relationship in the first seven seasons of "Frasier" involved one-way pining from Niles's end — even though the two of them clearly had chemistry — which made for some of the show's funniest moments (such as when Niles pretended to be married to Daphne for the sake of an ex, but enjoyed it too much). Things changed when Frasier — loopy from pain medication — revealed to Daphne that Niles was in love with her, making Daphne the pining one. 
The two eventually got together — mere moments before Daphne was supposed to marry someone else — making for arguably the most satisfying moment of the series. In the ensuing, final four seasons, audiences saw them develop their relationship, get engaged, elope in Vegas and even have a child together. 
A 2020 article called their relationship "one of TV's greatest love stories," and looking back now with fondness, it's hard to disagree.
Alice and Tasha (The L Word)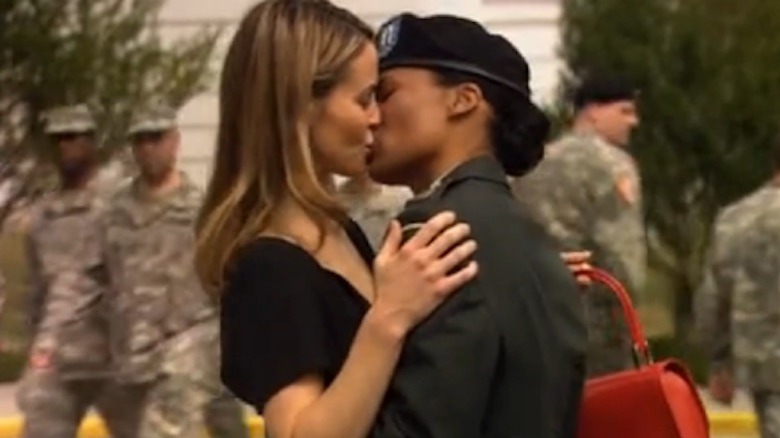 Showtime
Nowadays, lesbian couples on television is a fairly common sight ("Orange is the New Black," "Glee," "Sex Education" and "Grey's Anatomy" have all showcased memorable relationships between women), but first there was "The L Word," a 2004 – 2009 series that broke ground depicting the lives of queer women unlike anything ever shown on television before it. 
Within the show, audiences got to see plenty of couples to root for — or against — as these women dated and fell in love. But one of the most notable couples from the series was Alice and Tasha, who faced challenges that included Tasha's homophobic colleagues from the Army National Guard. Navigating hardships together, the two eventually broke up, as Tasha came to realized she had feelings for someone else.
Despite their differences, Tasha and Alice still remain a fan favorite all these years later — and an iconic TV couple.
Meredith and Derek (Grey's Anatomy)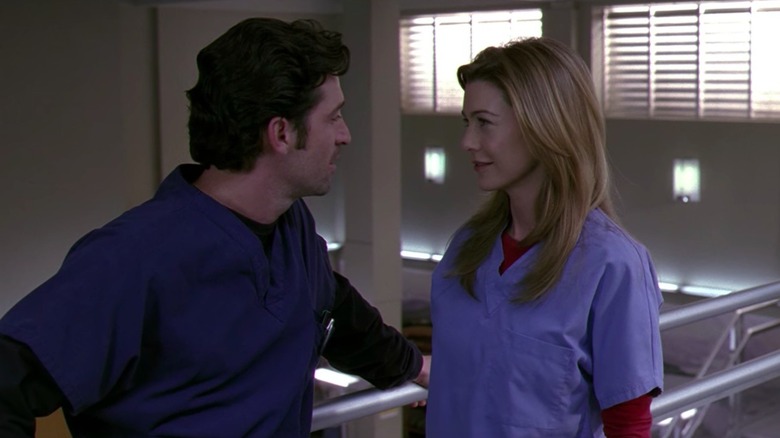 ABC
As "Grey's Anatomy" hit the airwaves in 2005, the romance between Meredith (Ellen Pompeo) and Derek ((Patrick Dempsey) became watercooler fodder. From there, the attraction and chemistry remained a constant, driving the plot forward.
In real life, it wasn't just audiences who couldn't deny the chemistry between the two. Pompeo's husband, Chris Ivery wasn't sure he could keep up.
"The poor guy had no idea what he was getting into," Pompeo said in a 2021 interview. "I remember in the beginning it was really hard for him. He was like 'This is not what I signed up for. You go to work and make out with that. I like Patrick and everything, he's a good dude, but like really?'"
After many hurdles (including Derek's estranged wife showing up), the two eventually chose to be together, getting married and starting a family. The romance ended, however, when Derek died in a car crash —a death that wrecked Meredith, as well as their fans. A whopping 90,000 people signed a Change.org petition asking showrunner Shonda Rhimes to somehow bring Derek back.
Philip and Vivian (The Fresh Prince of Bel Air)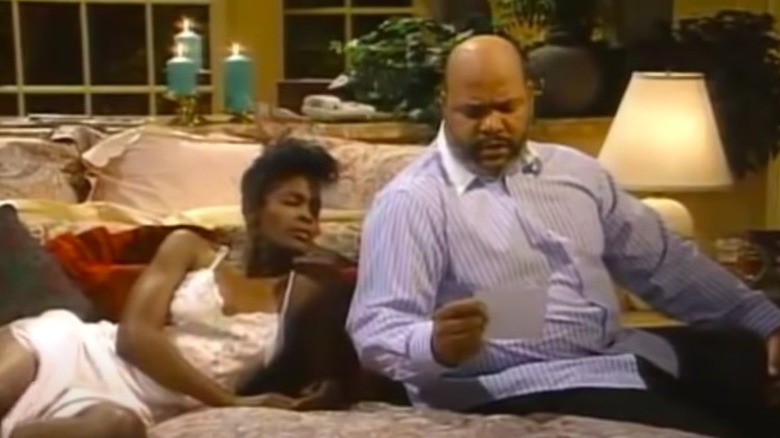 NBC
The most famous elements of the 1990 – 1996 series "The Fresh Prince of Bel Air" are likely its iconic theme song and the breakout role of Will Smith, then known predominantly as a radio-friendly-rapper. But another memorable aspect was always the relationship between Philip (James Avery) and Vivian (Janet Hubert, replaced by Daphne Maxwell Reid in Season 4), the aunt and uncle of Will, who he came to live with. 
Throughout the series, the duo remained equal in the relationship, raising their kids — and Will — as a team, without one ever overshadowing the other. It was always clear how in love they were, even after decades of marriage. In a scene during Season 2, as Philip and Vivian lovingly embraced, they were told: "Would you two knock it off? You're married, it's time you start acting like it." In response, Vivian shot back: "This is why I got married!"
Monica and Chandler (Friends)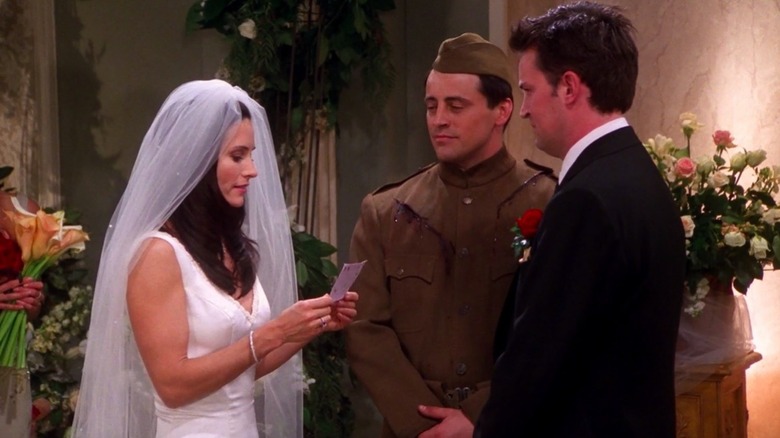 NBC
Acting as something of a foil to Ross and Rachel was the other main "Friends" couple: Monica (Courteney Cox) and Chandler (Matthew Perry). But unlike their counterparts, everything between Monica and Chandler happened very smoothly.
Having been platonic friends for years, it took a drunken night in London for the two to cross the line and sleep together, but once they did, they were in it for the long haul. By the end, they were happily married parents to adopted twins, and their loving dedication to one another was a pleasure to watch develop.
"The first time [they got together] ... when Monica popped up from beneath the sheets, there was just this explosion from the audience. It was a combination of a laugh/gasp/cry/shriek," executive producer Scott Silveri said in a 2019 interview. "They were just blown away by it. It was so intense, for the second or third takes, instead of watching the monitors, I just turned around and watched the audience." 
Dwayne and Whitley (A Different World)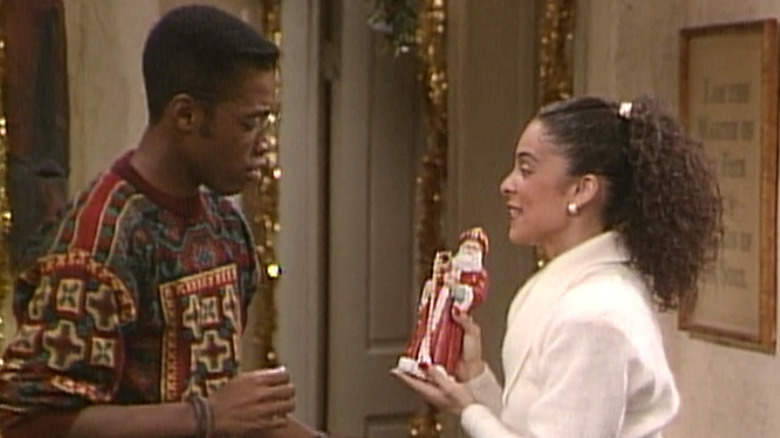 NBC
Whitley Gilbert (Jasmine Guy) and Dwayne Wayne (Kadeem Hardison) more or less became the focus of "A Different World" — which ran from 1987 to 1993 — after the departure of its initial spin-off protagonist Denise Huxtable (Lisa Bonet) following Season 1. The move paid off, as Whitley and Dwayne's on-again, off-again relationship became the backbone of the show — resulting in a relationship that fans remain passionate about.
One of the first significant interactions that the pair had came near the end of Season 1, when Whitley loaned Dwayne money for a date with Denise. By Season 2, the two had developed a friendship, and from there romantic tension developed. Fully drawing out said tension, both Whitley and Dwayne dated other people before finally getting together. They eventually had a brief engagement, then Whitley became engaged to someone else — leading to a very memorable scene that had Dwayne showing up at the wedding and begging Whitley to come back to him.
"Baby, please, please!" he shouted as he was dragged away. Whitley then ran into Dwayne's arms, and the two got married immediately. By the end of the series, Whitley and Dwayne were expecting their first child and planning to move to Japan.
"It's boy meets girl, girl's not interested in boy, boy's not interested in girl," Hardison recalled in a 2021 interview. "Then the writers came up with some great idea to put boy and girl together, and then we ended up married and happily ever after."
Carrie and Mr. Big (Sex and the City)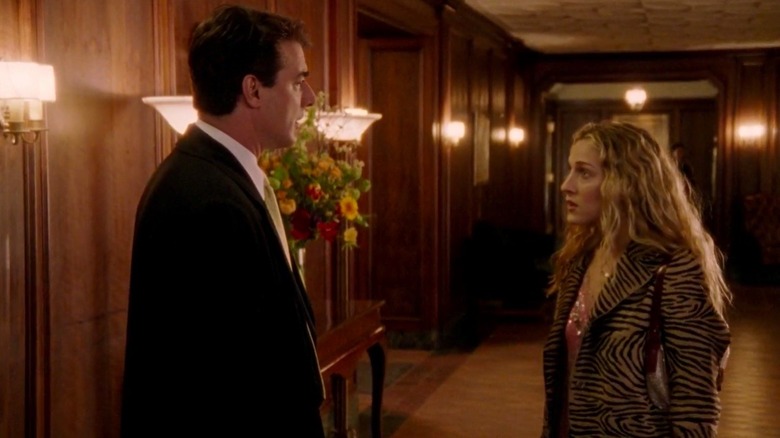 HBO
Carrie (Sarah Jessica Parker) and Mr. Big (Chris Noth) may not have been the healthiest couple on "Sex and the City" — perhaps Miranda (Cynthia Nixon) and Steve (David Eigenberg) or Charlotte (Kristin Davis) and Harry (Evan Handler) would earn that title — but they were, by and large, the most recognizable.
Despite being utterly infatuated with each other, Carrie and Big faced plenty of obstacles as a couple. Most of them boiled down to Big having a fear of commitment — or at least a fear of committing to Carrie, which became evident when he married a much younger woman after their second breakup.  But Carrie was never able to fully quit Big — even cheating on her next serious boyfriend Aiden (John Corbett), which ultimately ended that relationship . Ultimately, Carrie and Big got back together in the series finale — and in the first "Sex and the City" film, they were married.
The couple may be iconic, but they haven't remained popular among fans over the years, largely because Big is now seen in retrospect as a flaky commitment-phobe. Even the show's creator, Darren Star, didn't love the pair. 
"I think the show ultimately betrayed what it was about, which was that women don't ultimately find happiness from marriage," Star said in a 2016 interview, explaining that Carrie and Big weren't designed to walk down the aisle together. "Not that they can't. But the show initially was going off script from the romantic comedies that had come before it. That's what had made women so attached. At the end, it became a conventional romantic comedy ... But unless you're there to write every episode, you're not going to get the ending you want."
David and Keith (Six Feet Under)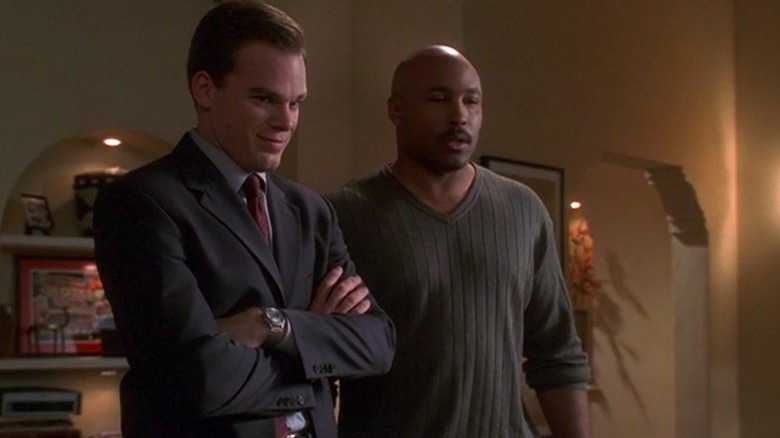 HBO
When HBO's "Six Feet Under" began airing in 2001, queer characters on television were few and far between, and those who did appear on screen were typically supporting or minor characters. That changed with "Six Feet Under," which introduced a gay lead character: David Fisher, portrayed by Michael C. Hall.
In the beginning, David hadn't come out to his family yet and was struggling to reconcile his faith with his sexuality. In a serious relationship with Keith (Mathew St. Patrick), David eventually became confident enough in his sexuality to begin a family with him, and their relationship became a cultural touchstone for television. Suddenly, a gay couple was at the center of one of TV's most acclaimed shows, depicting all the ups and downs but always remaining loving and supportive of one another.
"I felt enormously proud and humbled being charged with playing a character who was unique in the television landscape," Hall said in 2016 of the role. "It's a gratifying thing, as gratifying as anything I've done. People saying that spending time with the character, seeing that relationship, helped them change their idea of a gay couple, or to have people say the existence of David and his story gave them strength at a formative time, is amazing."
Sam and Diane (Cheers)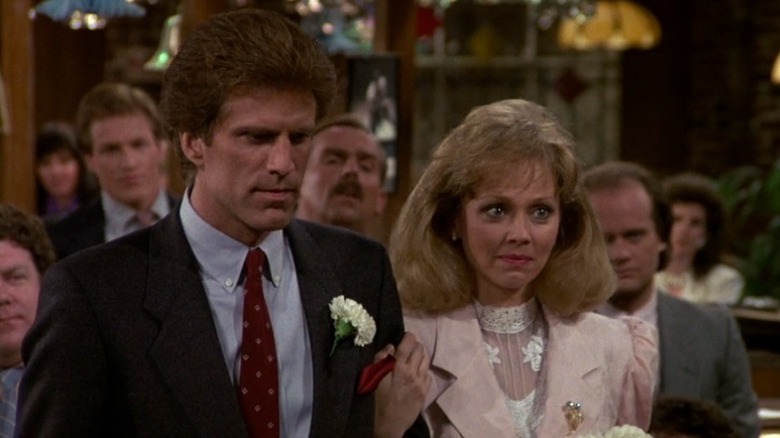 NBC
Before there was Niles and Daphne on "Frasier" — or "Frasier" at all — there was Sam (Ted Danson) and Diane (Shelley Long) on "Cheers." The character Frasier Crane was initially introduced into the series as a love interest for Diane, following one of her breakups with Sam. Of course, Diane and Frasier were never going to last, because Diane and Sam remained a key romance of the show's early seasons.
Sam and Diane became a walking example of opposites attracting; the polar opposite to her level-headedness, the ex-pitcher-turned-bartender frequently frustrated the intellectual — but their chemistry and attraction was undeniable. Years after Shelley Long left the show (and was replaced by Kirstie Alley, whose Rebecca provided another love interest for Sam), Diane returned for the series finale, which had the two reconciling and getting engaged again with plans to move to Los Angeles together. 
When their flight was delayed, Sam and Diane decided to end their relationship once and for all. In some ways, it's shocking that the two didn't end up together; in others, it was clearly not meant to be.