Black Panther Producers Won't Give Any Details About A Third Movie Until Wakanda Forever Drops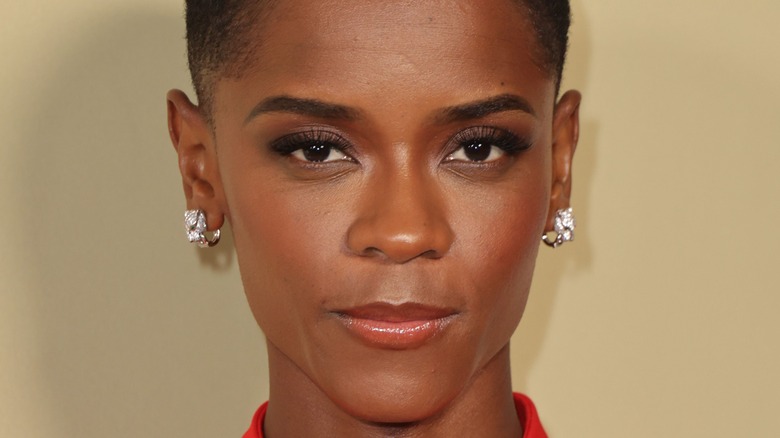 Momodu Mansaray/Getty Images
We're just two weeks away from the release of the highly-anticipated "Black Panther: Wakanda Forever," and press is ramping up for the next installment of the Marvel Cinematic Universe.
Following the tragic passing of King T'Challa, "Wakanda Forever" focuses on the nation dealing with the loss of their protector now that their borders are open to the world after the events of "Black Panther." When an outside force, Talokan, led by Namor, takes advantage of that vulnerability, many of Wakanda's leaders must band together to protect their home. Most of the original cast returns, including Letitia Wright (Shuri), Lupita Nyong'o (Nakia), Danai Gurira (Okoye), Winston Duke (M'Baku), and Angela Bassett (Queen Ramonda). "Wakanda Forever" also introduces two comic book fan favorites to the MCU, with Tenoch Huerta and Dominique Throne playing Namor and Riri Williams, respectfully.
With the "Wakanda Forever" press tour fully underway, reporters have put many of the cast, producers, and even director Ryan Coogler's secrecy to the test, trying to squeeze any information out of them. In typical Marvel fashion, none of the cast or crew have spilled any secrets, but they have revealed many exciting details about the sequel. According to studio President Kevin Feige, Marvel Studios has been trying to bring Namor to the big screen since day one. In another interview, long-time producer Nate Moore shot down those Doctor Doom rumors, suggesting the character was never a part of the script.
With information surrounding the future of the MCU popping up every day — like yesterday's "Wonder Man" news – fans are eager to know when "Black Panther" will return for the third time. It turns out fans will have to wait a little longer to get any official announcement from Marvel Studios.
Don't expect any Black Panther 3 announcements soon
It's impossible to satiate the ever-growing desires of MCU fans, so it's only natural that people are curious about a potential "Black Panther 3" before "Black Panther: Wakanda Forever" even hits theaters.
Producer Nate Moore recently sat down with Collider, where the outlet brought up the idea of another sequel. Given that Marvel Studios is already giving Riri Williams a spinoff series, Collider asked if fans will get an official "Black Panther 3" or if the Wakandan characters will just feature in future MCU projects. While Moore didn't immediately dismiss the idea of "Black Panther 3," he revealed that Marvel Studios and director Ryan Coogler want to wait to see how audiences react to "Wakanda Forever" before deciding.
"That's a great question. To be honest, this is not me trying to not answer the question. We really want to see how audiences receive the film, and I think Ryan's really interested to see how the film plays before we decide," Moore told Collider. "There are certainly ideas we've floated around of what a third film could be if we get to make it. But until the movie comes out, we're a bit superstitious in that way. We don't want to count our chickens, because you never know what's going to happen."
It's a no-brainer that some "Wakanda Forever" characters will reappear in the MCU. Namor, Riri, and whoever is the new Black Panther are all a given, but "Wakanda Forever" could be the last time we see some of these characters. On the one hand, ending the "Black Panther" series with the sequel could be a fitting tribute to Chadwick Boseman. However, a trilogy could be even better with the right story.