12 Movies You Need To Watch To Survive Your 20s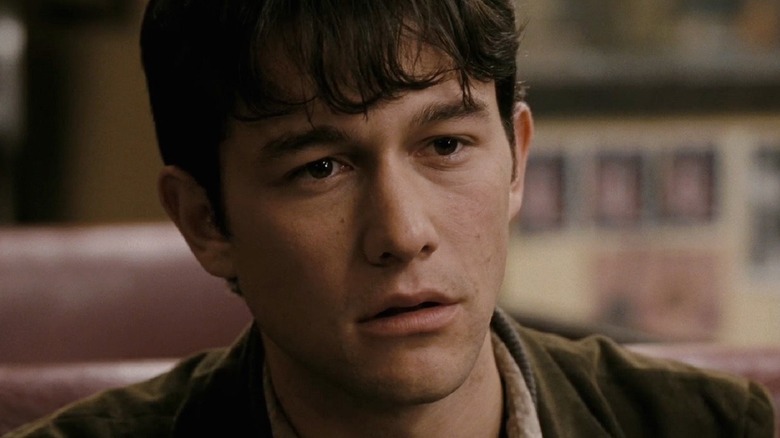 Searchlight Pictures
The movies have spent a great deal of time evaluating and reevaluating the adolescent experience. Yet, while teen angst — not to mention the trials and tribulations of high school — offers plenty of fodder for drama, in many ways our 20s can be even more fraught. By the time we hit our third decade, we're not considered kids anymore, but we may not feel like we're adults either. After all, unlike reading and math, no one teaches us how to be a grown-up. As a result, everything from working our first adult job to finding a long-term romantic partner is a learning experience. More importantly, our experiences in our 20s are often a wake-up call that life isn't going to unfold exactly the way we expected when we were younger.
Given the splash of cold water that this time in life can be, the films that have taken it as their subject can offer a lifeline for 20-somethings who feel flustered and alone in their confusion. Whether it's the challenge of making mature adult decisions, the confusion of evolving relationships, or the pain of realistically reexamining our dreams, the movies shine a light on the struggles we encounter in our 20s but often don't talk about above a whisper. That's especially true of the following 12 films. While they don't all revolve around 20-something characters, they will nonetheless resonate with anyone who's trying to figure adult life out.
1. The Devil Wears Prada (2006)
"The Devil Wears Prada" is often remembered for Meryl Streep's stellar Oscar-nominated turn as Miranda Priestly, and rightly so. Her performance is a pitch-perfect portrait of a boss who demands perfection from herself and expects nothing less from those who work for her. But for Andy Sachs (Anne Hathaway) — the recent college grad she hires to be her second assistant — Streep's icy editor-in-chief also becomes a cautionary tale. 
Andy moves to New York City with her boyfriend, with dreams of becoming a writer for hip publications like "The New Yorker." However, with few entry-level options available, she applies for a position at a high fashion magazine, a topic she knows nothing about. Surprisingly, Priestly hires her anyway, and soon Andy becomes immersed in the world of couture. Yet as the job takes over more and more of her life, everyone around Andy — especially her boyfriend Nate (Adrian Grenier) — notices it's changing her as she starts to prize appearances over everything else. This leaves her isolated from the friends who previously anchored her and even more dependent on the people at work to validate her evolving morals.
"The Devil Wears Prada" is an astute coming-of-age tale about how life can change you if you let it, even if that wasn't your intention. It's admirable that Andy wants to excel at her new job, but when success means losing track of who you are and what's meaningful to you, it comes at too high a price.
2. Clerks (1994)
"Clerks" is the film that introduced director Kevin Smith to the world, but part of the reason it made such a cultural impact is that it captures a certain ennui, specific to many people in their 20s. The movie depicts a day in the life of Dante (Brian O'Halloran), a disaffected clerk at a Quick Stop convenience store who's called into work even though it was supposed to be his day off. As the movie unfolds, Dante complains about his lot in life, hangs out with his best friend Randal (Jeff Anderson) — the clerk at the video store next door — and moons over his ex-girlfriend from high school Caitlin Bree (Lisa Spoonauer), while overlooking all the thoughtful things his current girlfriend Veronica (Marilyn Ghighiotti) does for him.
Dante is unhappy in his dead-end job, but also refuses to go back to school so he can do something else with his life. Instead, he coasts along in a sea of indecision where nothing's too great, but nothing's bad enough to make him change either. It's a state of complacency that many adults can relate to, presented in Smith's uniquely funny, talky way. For 20-somethings though, the meaning goes deeper, as the story speaks to the overwhelming realization that each decision we make takes us in one direction while cutting off others, slowly narrowing down what's possible for us. It's a reality that could keep anyone working at the Quick Stop for years.
3. The Farewell (2019)
"The Farewell" centers on Chinese-American Billi (Awkwafina), who returns to the country of her birth when she learns that her grandmother — whom she refers to as Nai Nai — has only a short time left to live. However, Billi's family has chosen not to tell Nai Nai that she's dying. Instead, they've decided to stage a hastily planned wedding in China to ensure the whole family has the opportunity to see her one last time. Billi feels that keeping Nai Nai's prognosis from her is unethical, yet she comes to understand her family's actions intend to shield her grandmother from the emotional burden of her illness.
Billi is 30 years old, but she's far from settled. Right before she discovers the news about her grandmother, she learns she didn't receive a fellowship that could have marked a turning point in her career. So just like the rest of her family chooses to lie about Nai Nai's health, Billi chooses to lie about the fellowship to prevent her family from worrying about her. Both of these lies are what make her visit to China so meaningful, especially when it comes to the wisdom Nai Nai passes along to her.
"The Farewell" is frequently melancholic but also surprisingly funny in its exploration of cultural differences and the immigrant experience. Plus, while the movie's story was inspired by something that happened in director Lulu Wang's family (via The Hollywood Reporter), it includes plenty of moments that will be familiar to anyone who's grappled with the loss of a loved one or looked back on their childhood and wondered what could have been.
4. Up In The Air (2009)
George Clooney was in his late 40s when he starred in "Up In the Air" as Ryan Bingham — a man whose job laying people off keeps him on the road the majority of the year. However, the film also featured Anna Kendrick in her breakout role as Natalie Keener, a young Cornell grad who was recently hired at Ryan's company. Natalie's youthful perspective and go-getter attitude have led her to propose a new, more efficient way to fire people via video conferencing. It's a process that would permanently ground Ryan, so to expose Natalie to the nuances of what he does and why it should happen in person, Ryan takes Natalie to several cities throughout America to demonstrate the techniques of his trade.
Throughout the film, the pair regularly clash over Ryan's attachment-free lifestyle — even as Natalie maintains romantic notions about how her life should unfold, especially regarding the person she wants to marry. When Natalie's boyfriend dumps her via text midway through the film, it sets up one of the most insightful and instructive scenes. Natalie shares the huge things she was expecting from her life by 23, while Ryan and his love interest Alex (Vera Farmiga) explain that as you get older you learn timelines aren't that useful. As Alex observes, "Life can underwhelm you." It's a succinct lesson for any 20-something whose life isn't what they anticipated, as well as an incisive glimpse at how our perspectives change as we get older.
5. Bridesmaids (2011)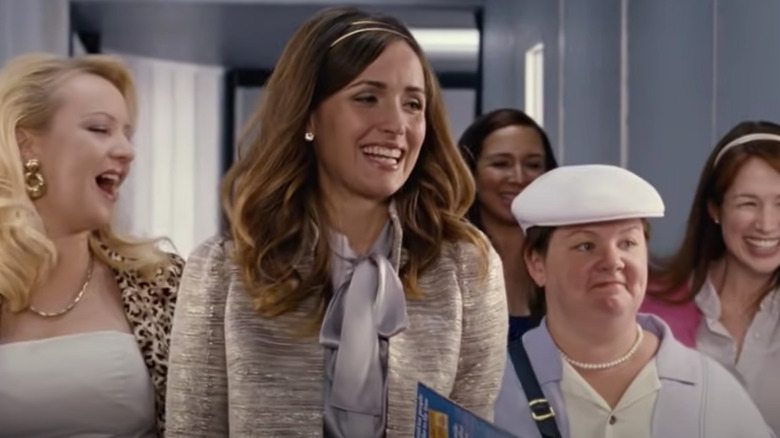 Universal Pictures/YouTube
"Bridesmaids" is a rare female-centric comedy, but it portrays a moment in life that pretty much anyone is likely to recognize. The movie stars Kristen Wiig as Annie — an adrift woman who was forced to close her bakery during the financial recession and has been struggling to figure out what to do with her life ever since. Just as Annie is reaching her lowest point, her best friend Lillian (Maya Rudolph) announces her engagement and appoints Annie as her maid of honor. As Annie attempts to fulfill her duties — and compete with wealthy, put-together bridesmaid Helen (Rose Byrne) for Lillian's friendship — her downward spiral only gets worse.
Almost everyone is likely to go through something similar, although perhaps not quite as dramatically — or hilariously — as it unfolds in "Bridesmaids." When our friends start getting married, it can feel like we're losing them. They're no longer looking to us as their go-to person, and learning to share them with another is a surprisingly big adjustment — and the panic only gets worse if they seem to have their lives figured out in ways we can only imagine. "Bridesmaids" is a poignant, funny film ideal for anyone who's struggled with the fact that our lives and relationships — both platonic and romantic — tend to evolve starting in early adulthood, whether we want them to or not.
6. Office Space (1999)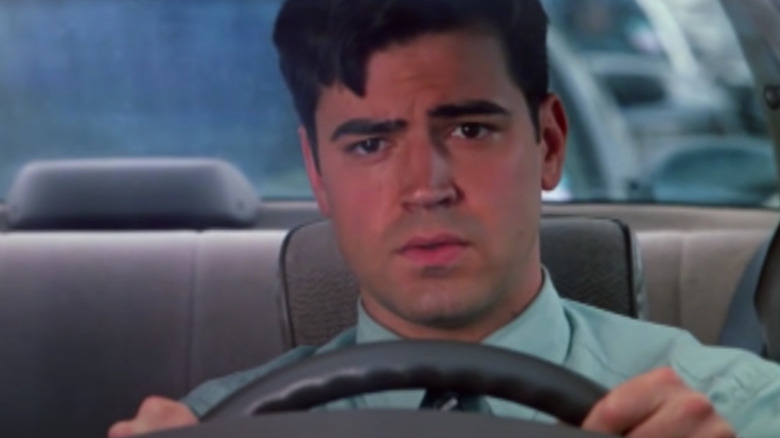 Twentieth Century Fox/YouTube
When we're young, many of us are told we should aspire to a white-collar career at a company where we can climb the corporate ladder. But the realities of corporate life are rarely explained — especially the horrors of working in a tiny cubicle doing meaningless work. "Office Space" skewers the annoyances and indignities of this environment with ruthless precision through the story of Peter (Ron Livingston) — a young adult who hates his job at the company Initech. When the film starts, Peter is stuck in a rut that consists of an awful daily commute, a job that he finds utterly unmotivating, and a boss (Gary Cole) he can't stand.
However, when Peter tries hypnotherapy and the doctor (Michael McShane) dies just as he's putting Peter under, Peter emerges from the experience changed. Suddenly he's no longer willing to do things he doesn't want to, and the thing he wants to do the least is work. He barely goes into the office anymore, he no longer wears uncomfortable suits, and he finally asks out the waitress (Jennifer Aniston) he's been crushing on. Peter is happy for the first time in years, but he also realizes that his current path may be even less sustainable than the one where he mindlessly sat in his cubicle day after day. "Office Space" is a hilarious send-up of office culture that any worker will relate to — even as it ultimately concludes that we all have to find something that makes life worth living. And sometimes that means we have to accept that everything else in our lives will just be tolerable.
7. tick, tick... BOOM! (2021)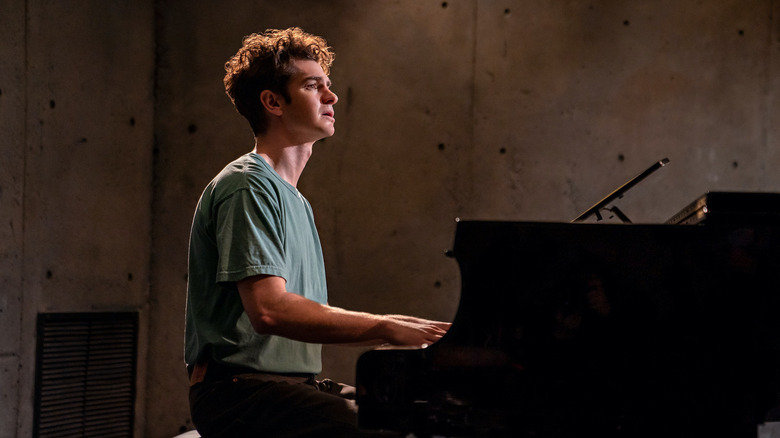 Netflix
If you're a 20-something looking for a film that you can identify with and sing along to all at the same time, the musical "tick, tick... BOOM!" offers the perfect combination of toe-tapping tunes and relatable story. Directed by Lin-Manuel Miranda and based on the semi-autobiographical musical by "Rent" creator Jonathan Larson (as per Entertainment Weekly), the film stars Andrew Garfield as Larson, who's feeling pressure to succeed as both his 30th birthday and a workshop for his new musical approach. As a result, the "tick, tick" of the title will reverberate with anyone who feels the clock ticking down to an impending milestone. Jonathan sees the workshop as potentially his last opportunity before he abandons his dreams and takes a corporate job like his best friend Michael (Robin de Jesus), who gave up on acting to work in advertising.
The movie delves into the quarter-life crisis that can come from holding onto a vision of the future you want — even as all signs suggest you may never achieve the life you envision — and how this can lead to rifts with friends and romantic partners who may be just as lost as you are. Still, the best thing about "tick, tick... BOOM!" is that it tells its story through music, summing up Jonathan's dilemma with catchy compositions and meaningful lyrics that create a set of songs that viewers can use to soundtrack their similar experiences.
8. Someone Great (2019)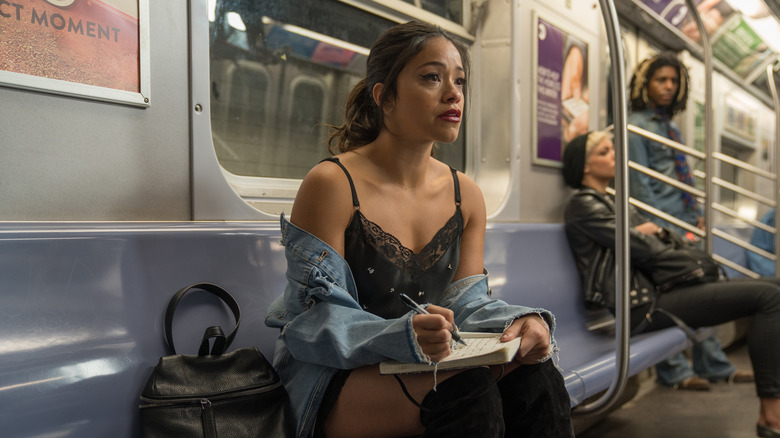 Sarah Shatz/Netflix
Sometimes the romances we thought would last forever in college don't seem nearly as durable after we graduate. That's certainly the case for Jenny (Gina Rodriguez) in "Someone Great." Her sweet relationship with Nate (LaKeith Stanfield) frays as the pair start their lives as 20-something professionals in New York City — reaching breaking point when Jenny gets her dream job in San Francisco and Nate decides against moving across the country with her. Jenny is devastated by the breakup and turns to the only people she can, her college pals Erin (DeWanda Wise) and Blair (Brittany Snow), who join her for one last epic night before she leaves for the West coast.
"Someone Great" shows a humorous, often moving depiction of Jenny's gradual realization that it's time to move on to a better future. Even as she mourns the past and her relationship with Nate, her resilience illustrates how sometimes growing up is about letting youthful romance go. The movie is also a celebration of female friendship in all its messy realities, and how even when we're at our lowest, having friends that support and care for us can make the journey that much easier. 
9. Moonlight (2016)
When we meet Chiron as a young boy (Alex Hibbert) in Miami in the opening moments of "Moonlight," he already seems emotionally shut down. Bullied by the other boys at school, and neglected by his drug-addict mother (Naomie Harris), Chiron is in desperate need of a stable force in his life. The movie — a winner of the Best Picture Oscar — provides a snapshot of Chiron's struggles at three stages of his life: childhood, adolescence (Ashton Sanders), and young adulthood (Trevante Rhodes). Throughout the film, Chiron struggles with who he is —including his identity as a Black gay man — as well as how to fit in and find love.
While the movie depicts the experiences of one unique young man, it'll resonate with anyone who's ever felt different. By the time Chiron reaches young adulthood, he's isolated, lonely, and making money in a way his younger self would've hated him for. So when Kevin (Andre Holland), the only classmate who was ever nice to him, reaches out, it feels like Chiron has been offered a lifeline. "Moonlight" leaves the question open of whether Chiron can turn his life around, but Kevin's presence in his life — and the comfort he provides — offer a sliver of hope.
10. Look Both Ways (2022)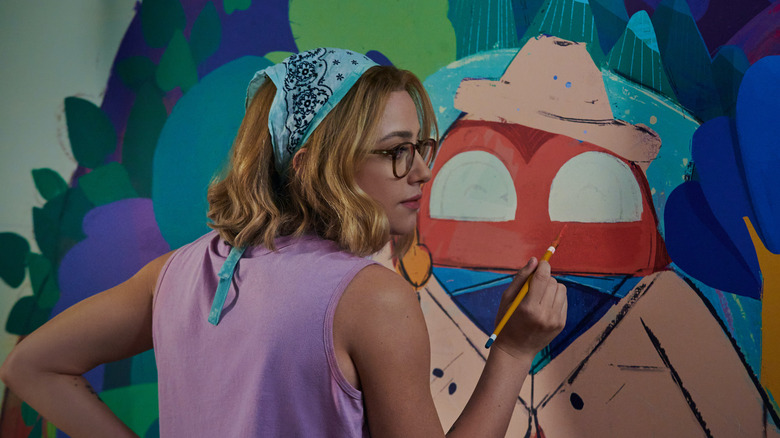 Felicia Graham/Netflix
"Look Both Ways" tells the story of the way one woman's life diverges based on her response to a single turn of fate. In one scenario, Natalie (Lili Reinhart) learns she's unexpectedly pregnant on the eve of her college graduation and decides to move back in with her parents in Austin and have the baby. In the other, she discovers she isn't pregnant, leaving her free to pursue her original plan of moving to Los Angeles to follow her dream of making animated movies. "Look Both Ways" suggests that where we end up in life can hinge on a single decision. At the same time, though, it indicates we can continue to chase our dreams even when the odds seem stacked against us.
In many ways, child-free Natalie's path to becoming an animator is every bit as winding as that of the Natalie that has a baby in her early 20s. Moreover, the movie defies the age-old Hollywood wisdom about soulmates by having Natalie find the right partner just where she is — a potent demonstration of the fact that adult romances can be as much about choice and timing as anything else. "Look Both Ways" will be meaningful to anyone who's reached a fork in the road and is struggling to decide which way to go. While we would never be able to experience the possibilities in the same way Natalie does, it offers plenty of food for thought about the power of decisions and their consequences.
11. Frances Ha (2012)
Greta Gerwig stars as the 27-year-old title character of "Frances Ha," an apprentice at a modern dance company in New York City whose dream of becoming a full member is looking increasingly unlikely. This comes as a huge blow to Frances and hits even more as she watches her friends climb higher and achieve more than she has — professionally and personally. Directed by Noah Baumbach, "Frances Ha's" meandering narrative and black-and-white photography reflect Frances' struggle. The stagnation of her career leaves her feeling like all the color has been drained from her life, and the uncertainty and lack of stability in her career see her moving from apartment to apartment looking for a place she can afford on her meager salary.
Frances is the epitome of a flailing 20-something. As the friends she had come to rely on — especially her best friend Sophie (Mickey Sumner) — move on to new phases of their lives, Frances seems to be fumbling through her existence with no Plan B. She often comes across as remarkably immature, making poor decisions and refusing to adjust to the reality of her situation — something that makes her both endearing and relatable. Yet, by the end of the film, she seems to have found a sort of equilibrium, a conclusion that indicates that sometimes the only way out of tough times is getting through them.   
12. 500 Days of Summer (2009)
Finding lasting romance often depends on shedding our fairy-tale notions of what love is supposed to be. This is where things start to go wrong between Tom (Joseph Gordon-Levitt) and Summer (Zooey Deschanel) in "500 Days of Summer," who meet when Summer is hired at the greeting card company where Tom works. Summer is clear from the start that she's not interested in a relationship with Tom, but Tom — who still believes in things like soulmates and love at first sight — falls in love with Summer anyway and is then surprised when she abruptly breaks things off. From the start, Tom is too caught up in his own notion of who Summer is and what their relationship should be to notice that his fantasy and reality don't always line up.
The appealing "500 Days of Summer" uses a nonlinear structure to tell a boy meets girl story that doesn't adhere to the traditional rom-com beats — flicking backward and forward in Tom and Summer's unusual relationship. By tracking Tom and Summer's relationship from beginning to end and beyond — until Tom finally starts to move on from the woman he thought he could spend the rest of his life with — the movie tells some hard truths about the realities of modern-day romance — realities that many will learn for themselves in their 20s, even if Tom isn't among them.