Read This Before You See Tick, Tick... Boom!
This content was paid for by Netflix and created by Looper.
"Tick, Tick... Boom!" is the sound of your next Netflix musical obsession.
Directed by Lin-Manuel Miranda, the upcoming film is the long-awaited adaptation of the classic off-Broadway musical. It's getting a limited theatrical release on November 12, and it'll hit Netflix on November 19, and as you might expect, it has some stellar talent both in front of and behind the camera.
The film tells the semi-autobiographical story of Jonathan Larson, a young theater composer living in New York City in 1990. Jon is having a lot of anxiety about his impending 30th birthday because he's not where he thought he'd be. He's making ends meet by working in a diner and still trying to break into the world of musical theater. He's toiling away on what he hopes will be the next great American musical, which he'll be showcasing in a few days in front of some very powerful people who can make or break his future. And the whole time, the AIDS epidemic is ravaging Jon's community, making him very aware of the fact that time is finite.
But there's quite a bit you should know about this exciting new musical before you check it out on Netflix, from the creative talents involved to the true story behind the film. So make sure you read this before you watch "Tick, Tick... Boom!"
Lin-Manuel Miranda and Jonathan Larson, together at last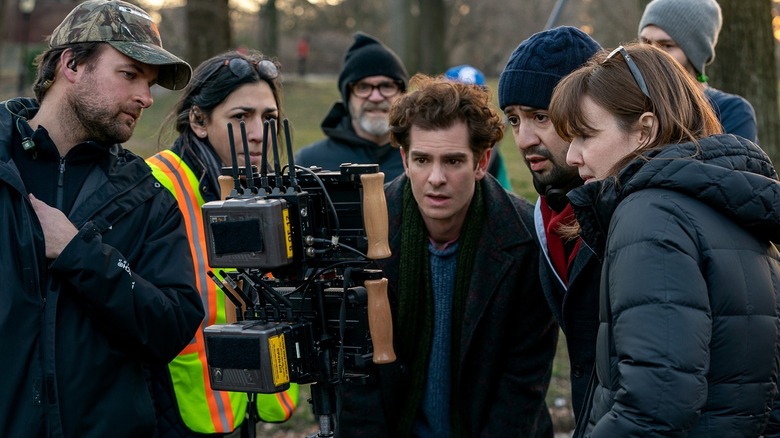 Macall Polay/Netflix
"Tick, Tick... Boom!" brings together two Broadway icons. The first is Jonathan Larson, the composer behind "Tick, Tick... Boom!" Of course, Larson is best known for writing "Rent," which became an era-defining, Tony- and Pulitzer-winning smash after his death in 1996. His groundbreaking musical about a diverse group of New York artists chasing their dreams in late '80s/early '90s opened Broadway up to people and stories that had never been there before. It was also a huge influence on Lin-Manuel Miranda.
Miranda saw "Rent" on his 17th birthday in 1997, and it inspired him to start writing one-act musicals. How so? Because "Rent" meant Broadway had room for the different things — both formally and culturally — that Miranda wanted to do. "The show exists, and people go, 'That's for me. I can do that show,'" Miranda told Playbill in 2015. He was again inspired by Larson when he saw "Tick, Tick... Boom!" during its initial off-Broadway run in 2001. Miranda, of course, went on to create "In the Heights" and "Hamilton," which changed what's possible on Broadway more than anything since "Rent." (And like Larson, Miranda won the Tony for Best Musical with his Broadway debut.)
Now, Miranda is making his feature directorial debut with an adaptation of "Tick, Tick... Boom!" from screenwriter Steven Levenson, who won a Tony for writing the book for "Dear Evan Hansen." Miranda is keeping Larson's legacy alive by bringing the work of the man who inspired him to a global audience.
Tick, Tick... Boom! has a bomb cast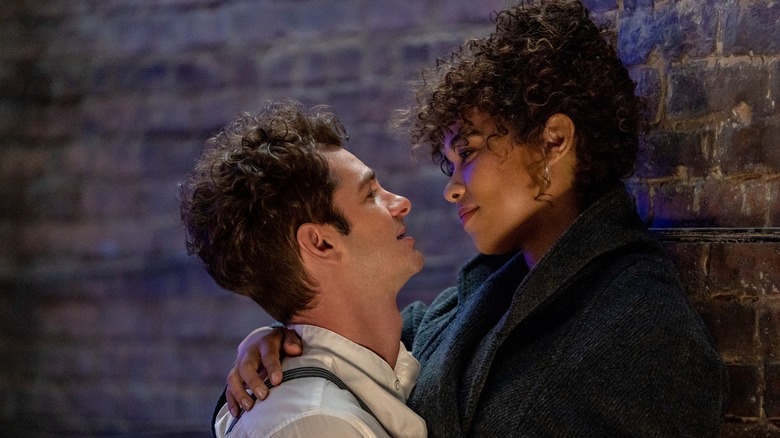 Macall Polay/Netflix
Lin-Manuel Miranda and producers Brian Grazer, Ron Howard, and Julie Oh have assembled an impressive cast for "Tick, Tick... Boom!" For proof, look no further than the lead character. Jonathan Larson is played by Andrew Garfield, the Oscar-nominated, Tony-winning star of films like "Hacksaw Ridge," "The Social Network," "The Amazing Spider-Man" and the 2018 Broadway revival of "Angels in America." Ever the professional, Garfield learned how to sing for the film, telling Stephen Colbert that the decision to test his range "was kind of a shot in the dark."
So how did Miranda learn about Garfield's secret skill? Well, the two were connected by their mutual massage therapist, who told Miranda that Garfield had a beautiful singing voice ... even though he had no idea if the actor could carry a tune. But after training for a year, he certainly shows off some impressive pipes in the movie.
The cast also includes "Love, Simon" star Alexandra Shipp as Jonathan's girlfriend Susan, a dancer who's considering taking a job teaching in the Berkshires because she's tired of paying New York City rent, as well as three-time Tony nominee Robin De Jesús as Jonathan's best friend, Michael. De Jesús originated the role of Sonny in the Broadway production of "In the Heights," so this is a reunion for him and Miranda.
The supporting cast features musical superstar Vanessa Hudgens and Tony nominee Joshua Henry as Karessa and Roger, respectively, singers in Jon's show. Emmy-nominated "Pose" star Mj Rodriguez stars as Carolyn, an aspiring fashion designer who works with Jon at the Moondance Diner, and Tariq "Black Thought" Trotter plays H.A.W.K. Smooth, a busker. Plus, "The West Wing" star Bradley Whitford appears as legendary Broadway composer Stephen Sondheim, and "Transparent" star Judith Light plays Jon's agent, Rosa Stevens.
Jonathan Larson's legacy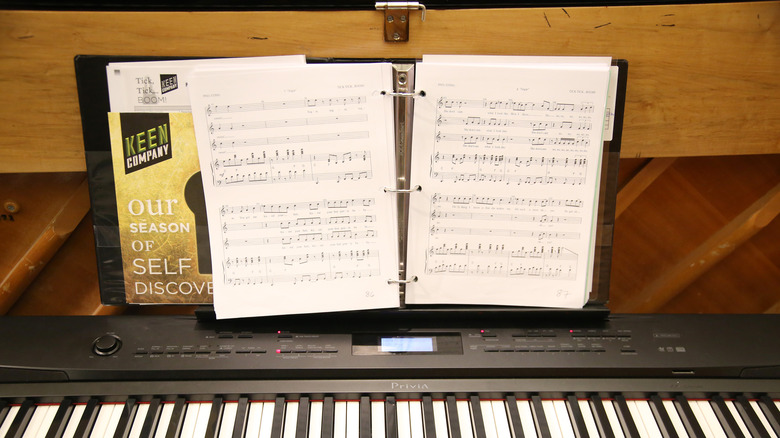 Walter Mcbride/Getty Images
The theme of "Tick, Tick... Boom!" is about chasing your dreams and doing what you're meant to do with the limited time you have in life. And it's a theme made extra poignant by the tragic death of Jonathan Larson. He died suddenly from an aortic dissection due to undiagnosed Marfan syndrome at the age of 35 ... on the morning of the first off-Broadway preview for "Rent." He became the success he dreamed of being, but he didn't get to experience it. 
But the man who wrote the song "No Day but Today" made the time he did have count, impacting the lives of millions of people through his work — even long after his death. And that's also true with the upcoming Netflix movie. After all, the film adaptation of "Tick, Tick... Boom!" is coming out over 30 years after Larson pioneered it as a solo work, 25 years after his untimely death, and 20 years after its off-Broadway premiere. And as his father, Allan Larson, told Playbill in 2016, "We constantly get reminders that Jonathan has influenced, not just Lin-Manuel, but a whole generation of theater people, creators and the actors, and to me, that's a hell of a legacy." It certainly is — one that will be continued thanks to Miranda and Andrew Garfield.